This sweater blazer is one of my favorite and most worn blazers. It makes any casual outfit look more polished, and I love how it gives you the look of a blazer but the comfort of a cozy sweater. It's one of those pieces that's so good you want to get it in every color. I own it in camel and white. The camel-colored sweater blazer is a great transitional piece right now, and I love wearing the white one during the spring and summer on cooler nights or in air-conditioned buildings. I will say it runs very big, so I suggest sizing down. I take an XXS in this blazer for reference, and I usually never buy an XXS, haha (I typically take a size 4 or 2 in J.Crew blazers.) So today, I wanted to share three of my favorite ways to style a sweater blazer to give you some inspiration on how to wear this versatile piece.
How to Style a Sweater Blazer
Since I LOVE this sweater blazer so much, here are some of my favorite outfits. All made up of versatile pieces you might already have in your closet, like a white button-up, bootcut jeans, white sneakers, a black leather tote, and more! I'm sharing how to wear a camel blazer specifically, but really, you can use this outfit inspiration for any sweater blazer out there – no matter the color or texture.
Take note of the key pieces here to create a similar look or get creative and come up with a whole new style of your own (and if you do, tell me all about it in the comments!!!)
Let's get into it!
Camel Blazer Outfit Ideas
Turtleneck with Blazer and Jeans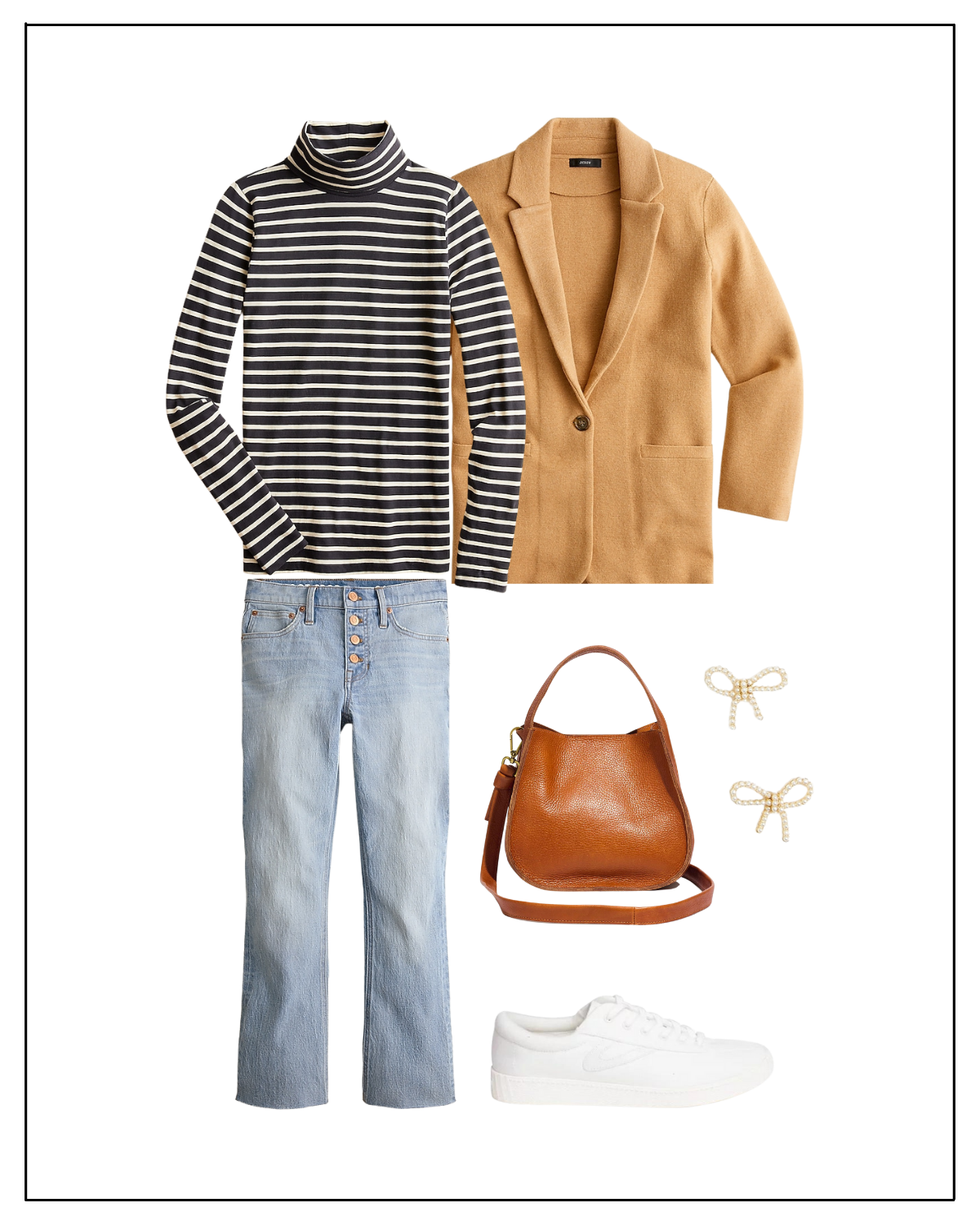 Striped Turtleneck T-shirt / Sweater Blazer / Demi-Boot Jeans / Leather Crossbody Bag / Pearl Bow Earrings / White Sneakers
This is one of my favorite ways to wear a sweater blazer. I start with a long sleeve black and white striped turtleneck T-shirt. These turtlenecks are such a great basic piece, and they come in so many colors. Tuck the turtleneck into a pair of jeans. Lately, I've been loving demi-boot jeans; if you've never tried this style of denim, you must! And the wash on this high-waisted pair is gorgeous. For shoes, slip on some white sneakers. These are definitely my favorite pair. I love how they look, and they're very comfortable. Accessorize with a leather crossbody bag and these lovely pearl bow earrings. Lastly, put on a camel sweater blazer, and instantly this casual outfit looks a little more polished.
Brunch with the Girls
White Eyelet Ruffleneck Mini Dress / Sweater Blazer / Tan Mules
For those days that start chillier but end up beautiful and warm, try this simple spring outfit. Start with a spring dress like this one, then just add heeled mules, the camel sweater blazer, and some gold accent jewellery. Find more of my favorite spring dresses here. Easy peasy lemon squeezy!
Work to Weekend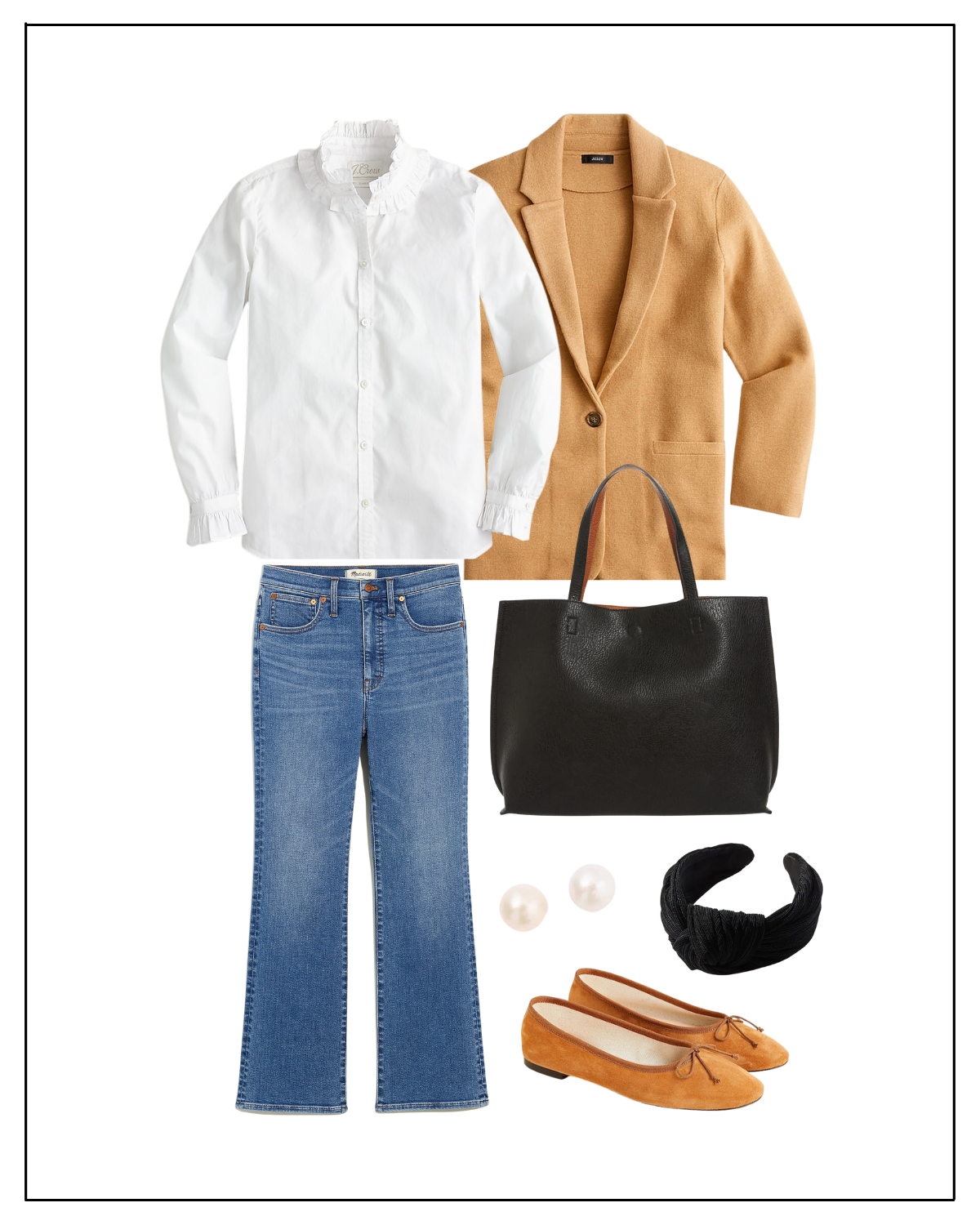 White Ruffleneck Button-Up / Sweater Blazer / Demi-Boot Jeans / Black Reversible Tote Bag / Pearl Stud Earrings / Black Headband / Suede Ballet Flats
Another way I love styling a sweater blazer is with a button-up shirt. I love the frilly details on this white ruffle neck button-up. It's such a pretty version of a classic wardrobe staple. I'd style it with your favorite pair of jeans, again loving demi-boot jeans at the moment. This outfit would look equally as good with a pair of ballet flats or heels for a little height. Or, with a pair of black pants or black faux leather leggings for a more formal look. Accessorize with pearl earrings, a black twist headband, and a tote bag. This reversible faux-leather tote bag is under $50 and is wonderful. All that's left is to put on your sweater blazer, and you're good to go.
Holiday Party Ready
Laurel Green Smocked-Waist Midi Dress / Sweater Blazer / Madewell Booties
I recently featured this dress in my spring dress picks, but the beautiful green color gives me all the casual holiday party vibes. Whether it's Easter or Christmas, or a baby shower or a bridal party – this dress just works. Depending on the season and occasion, you can pair with booties, wedges, sandals, white sneakers, and more. For this outfit specifically, I've paired it with tan booties that match the sweater blazer.
Transitional Outfits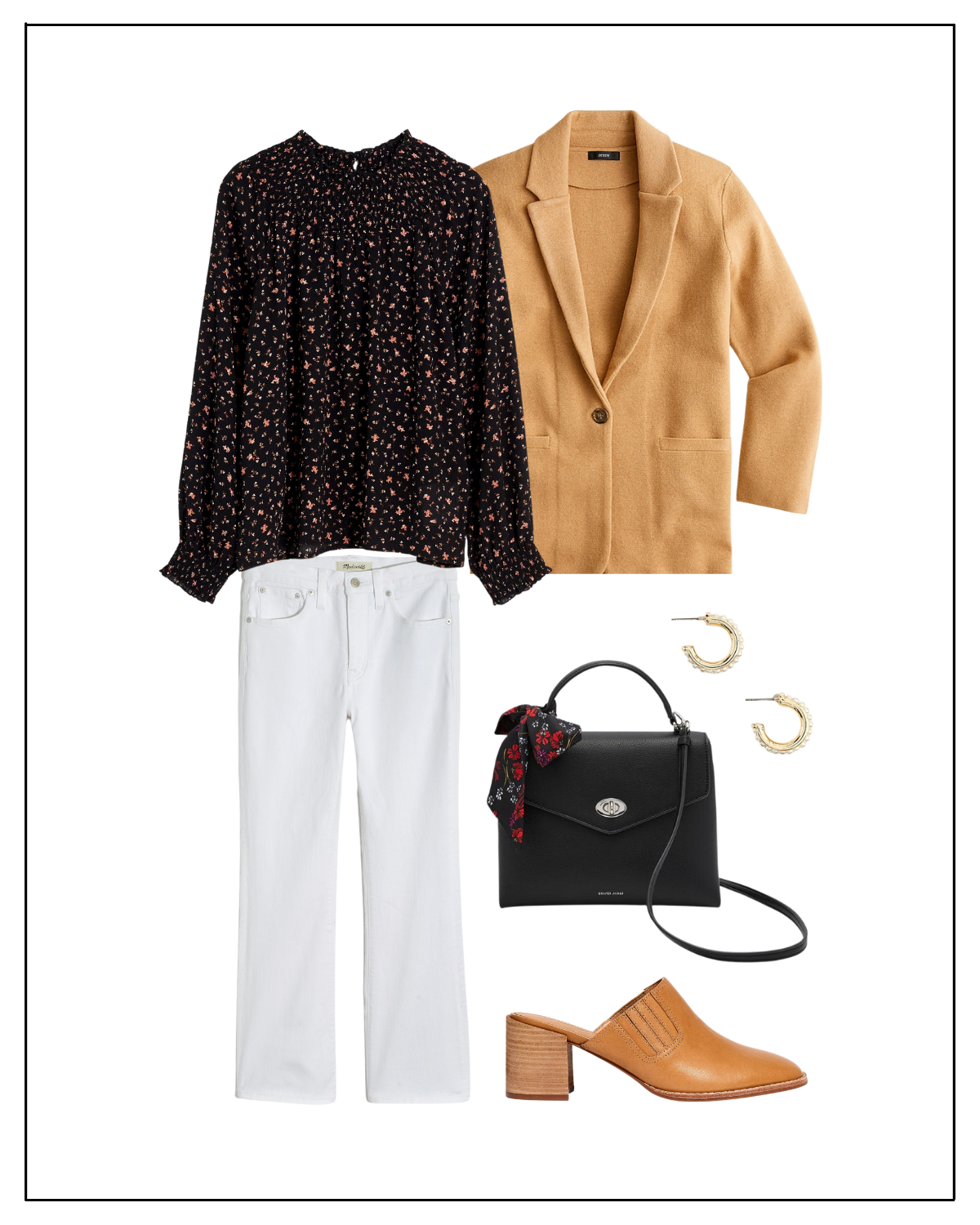 Smocked-Neck Ruffle Floral Blouse / Sweater Blazer / White Demi-Boot Jeans / Pearl Hoop Earrings / Black Bag / Leather Mules
Here's how to style a sweater blazer for spring. Hard to imagine that warmer temps are on the horizon, but I can't wait to finally be able to wear something like this. This black ruffle floral blouse would look great with a pair of white demi-boot jeans (I swear it's a coincidence that all three of these outfits include this style of denim, haha.) Style it with pearl hoop earrings, a black bag, and heeled leather mules. Then wear this sweater blazer overtop as a light layer. It's such a great transitional piece to have in your wardrobe for spring.
How will you style your sweater blazer?
Whether you're rocking a camel, white, black, or even pink sweater blazer, I hope this roundup of outfit ideas comes in handy. If you have go-to sweater blazer outfit, drop it below!