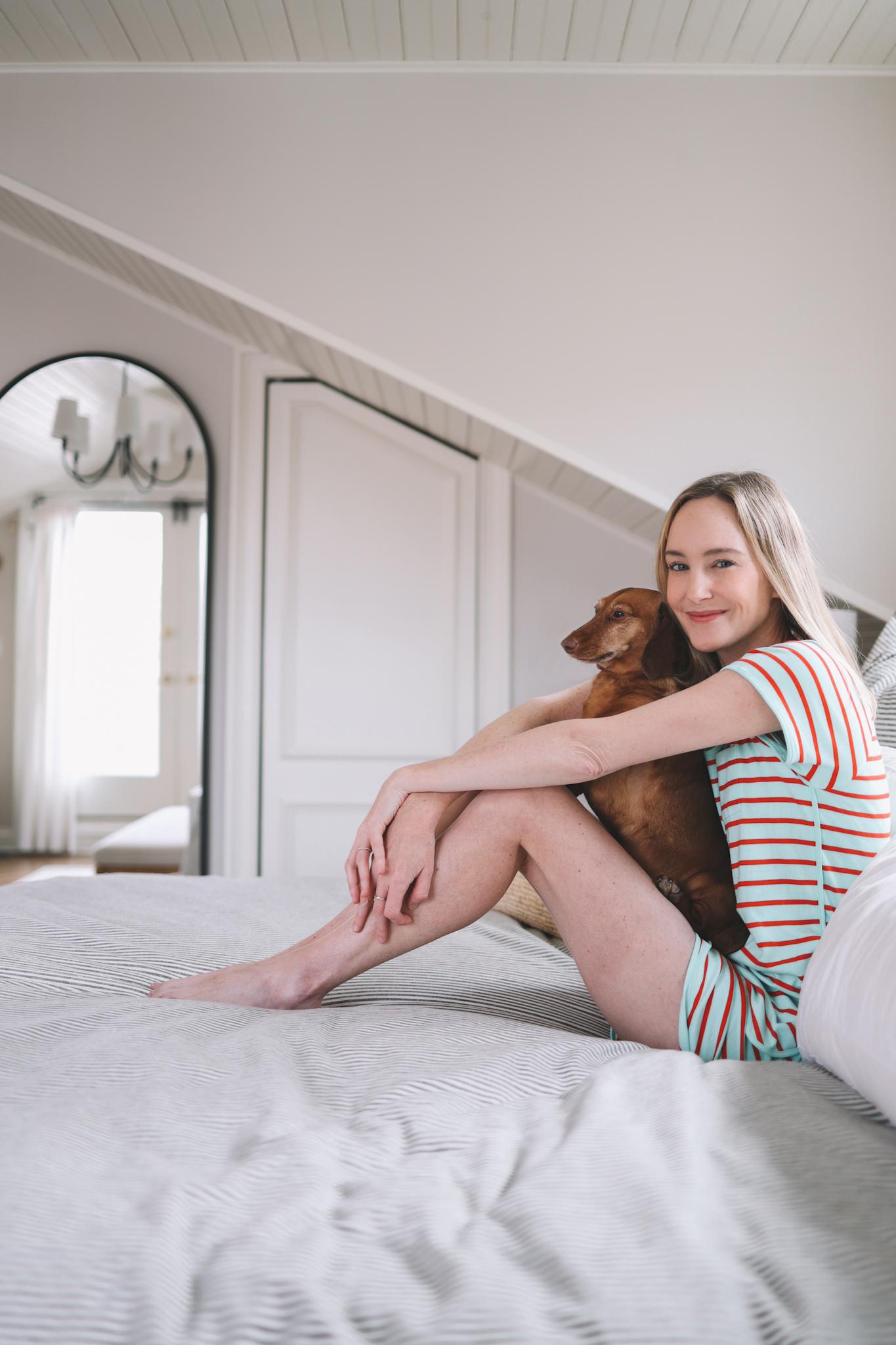 LAKE x Atlantic-Pacific Pajamas / Mirror / Bedding in Gray (Try Quince's version!) / White Shams /  Chandelier / Nightstands (Smaller here.) / Rug / Curtains / Lamps / Bed / Bench
WHERE HAVE I BEEN?!
For the longest time, Carly has repeatedly told me how insanely wonderful LAKE pajamas are. She lives in them, she said. I was never really that passionate about pajamas, though, and just kept wearing my ratty years-old set. 😆

But my friend Grace recently started working for LAKE. (Our parents went to high school together!) And she sent me a couple of the brand's pairs to try. And whoaaaaaa. I'm a changed girl, everyone. They're amazing. They're so cozy and comfy—the ones I'm wearing here are made from luxuriously soft Peruvian pima cotton knit—and they wash like a dream.
Even better is that one of my favorite bloggers, Blair of Atlantic-Pacific, teamed up with the company to create the happiest line of pajamas ever. I can't help but wake up on the right side of the bed when I wear them. :) The watermelon colors also remind me that warmth is just around the corner.
Above are some of my favorites from the stunning collection! Congrats, Blair!
Shop the post:
LAKE x Atlantic-Pacific Pajamas / Mirror / Bedding in Gray (Try Quince's version!) / White Shams /  Chandelier / Nightstands (Smaller here.) / Rug / Curtains / Lamps / Bed / Bench