Mark & Graham Amalfi Italian Suede Tote (Giving one away in today's post!) / Camel Blazer (The long length is great! And have you seen this houndstooth one? Also obsessed with this plaid one from B.B. Dakota. I own it and it's so flattering!) / Hudson Jeans (Old; please tell me what your favorite high-rise jeans are! I'm in the market for my first pair. 🙈) / Pearl Button-Down Blouse (Machine-washable!) / Kate Spade Pumps (No longer available in leopard but obsessed with this pair! And this pair is pretty fantastic, too.) / Ray-Ban Sunglasses
Two things today:
I'm giving away a gorgeous monogrammed Amalfi Italian Suede Tote from Mark & Graham today! It's crafted in Florence, and it's made from beautiful hand-stitched, textured suede. It has dual top handles in two different lengths so you can carry it as a tote or a handbag, and it's HUGE but doesn't look it. As much as I love small bags, they're just not practical for my everyday life right now. This tote, though, is incredibly spacious and it has tons of interior pockets for organization. We didn't have time to monogram mine for this giveaway, but if you win, Mark & Graham will emboss your initials into the suede with colored foil. SO. PRETTY.

To enter to win, simply comment on this blog post–anything your little heart desires, as long as it's PG and relatively friendly–and leave your e-mail in the following non-spammy format: Kelly [at] kellyinthecity [dot] com

.

Want an extra chance to win

? Head to Instagram and follow the directions on my IG post! Easy-peasy. Winner will be announced and contacted in one week.
I need help picking out my first pair of high-waisted jeans. I've heard amazing things about Madewell's curvy jeans, so I'm thinking about ordering those! But I'd LOVE to any other insight you might have. Right now, I can only zip one pair from my closet, and they're very uncomfortable! 👶🏼 I've been told, though, that high-waisted jeans do wonders for people–especially new moms!–so I'm looking forward to finding a go-to pair. Preferably a pair that's super soft and stretchy, with a larger waist so I'm comfy when I sit down. Again, any advice is appreciated! THANK YOU, FRIENDS!
Have a great Saturday. ❤️ And don't forget to enter my Lilly giveaway!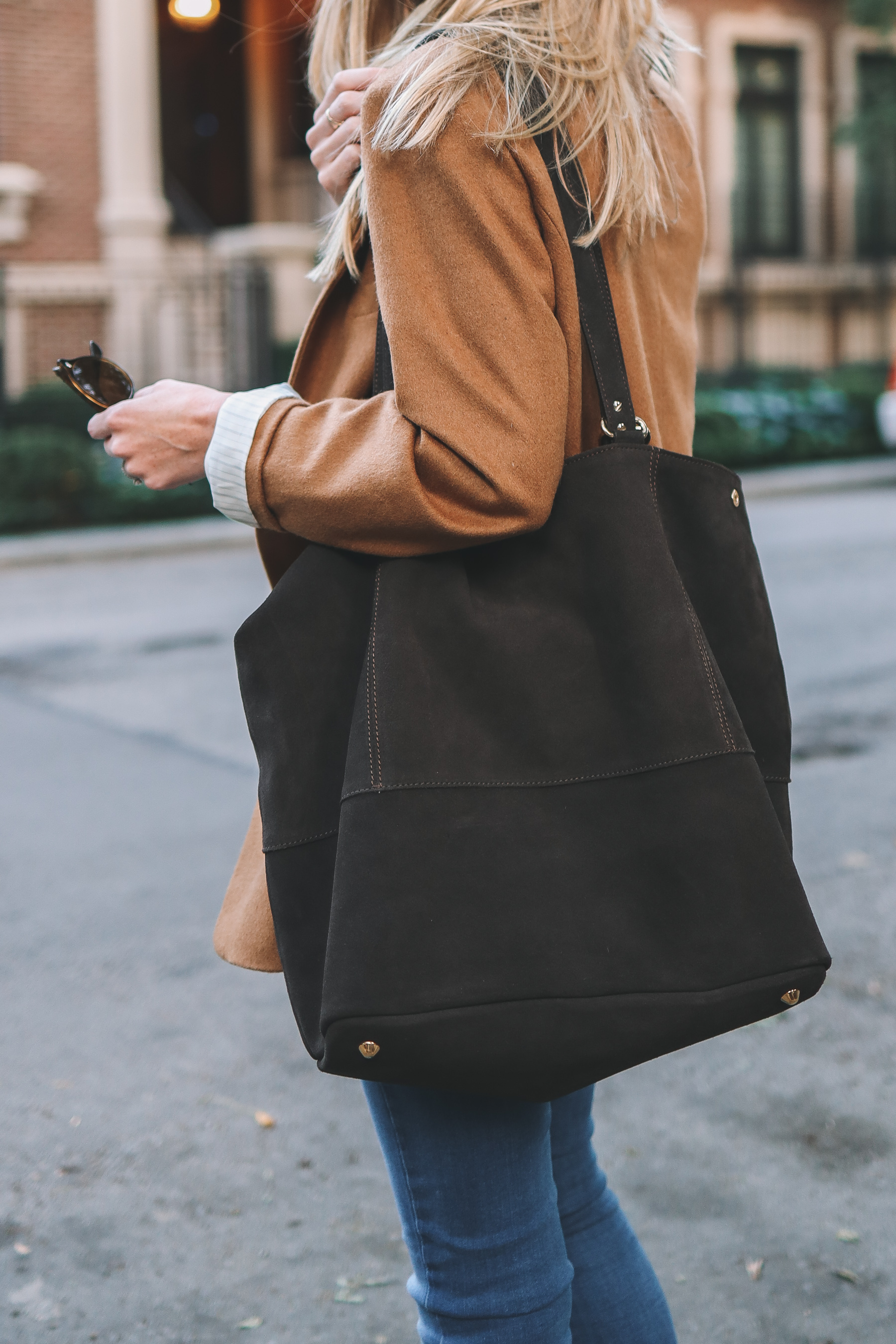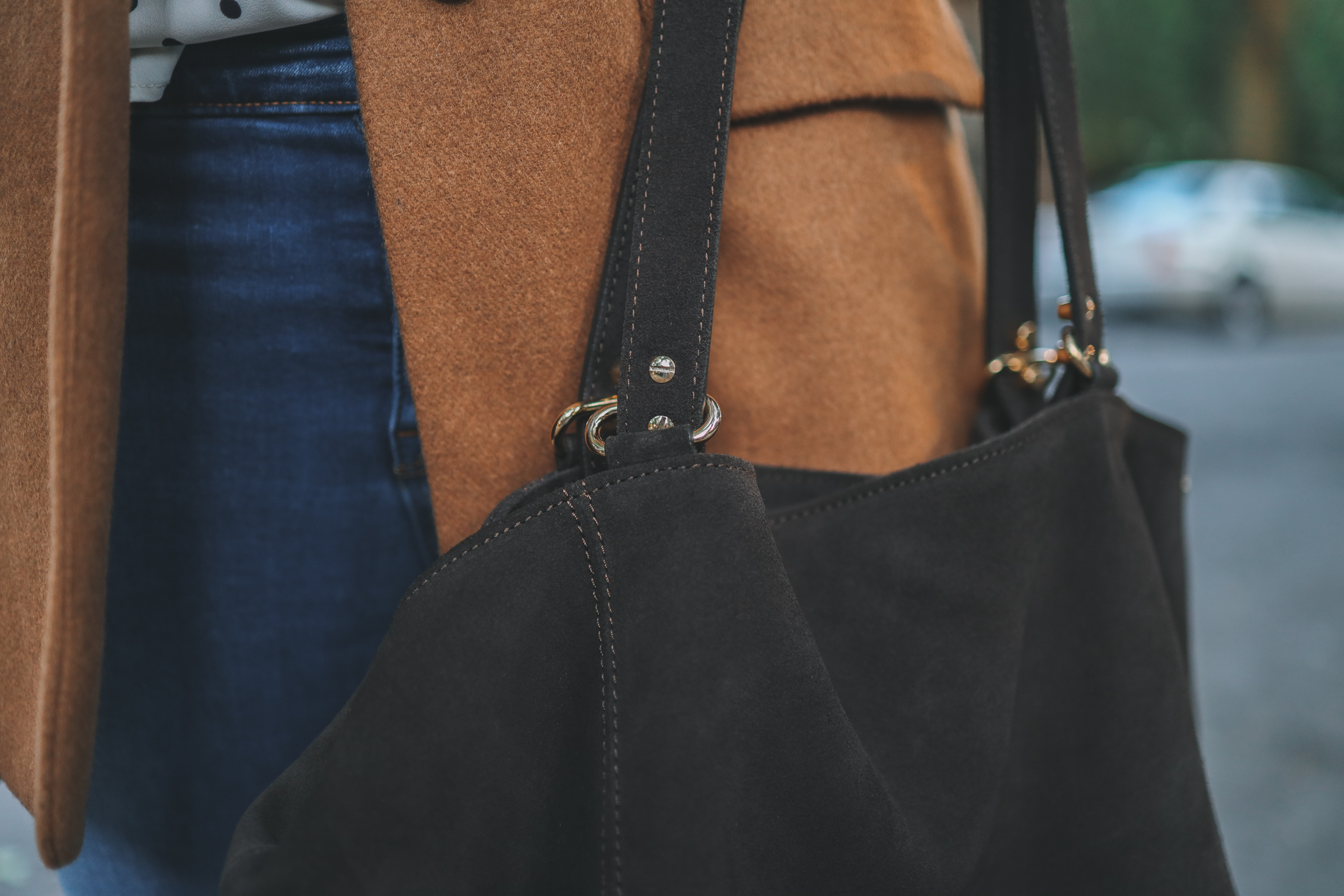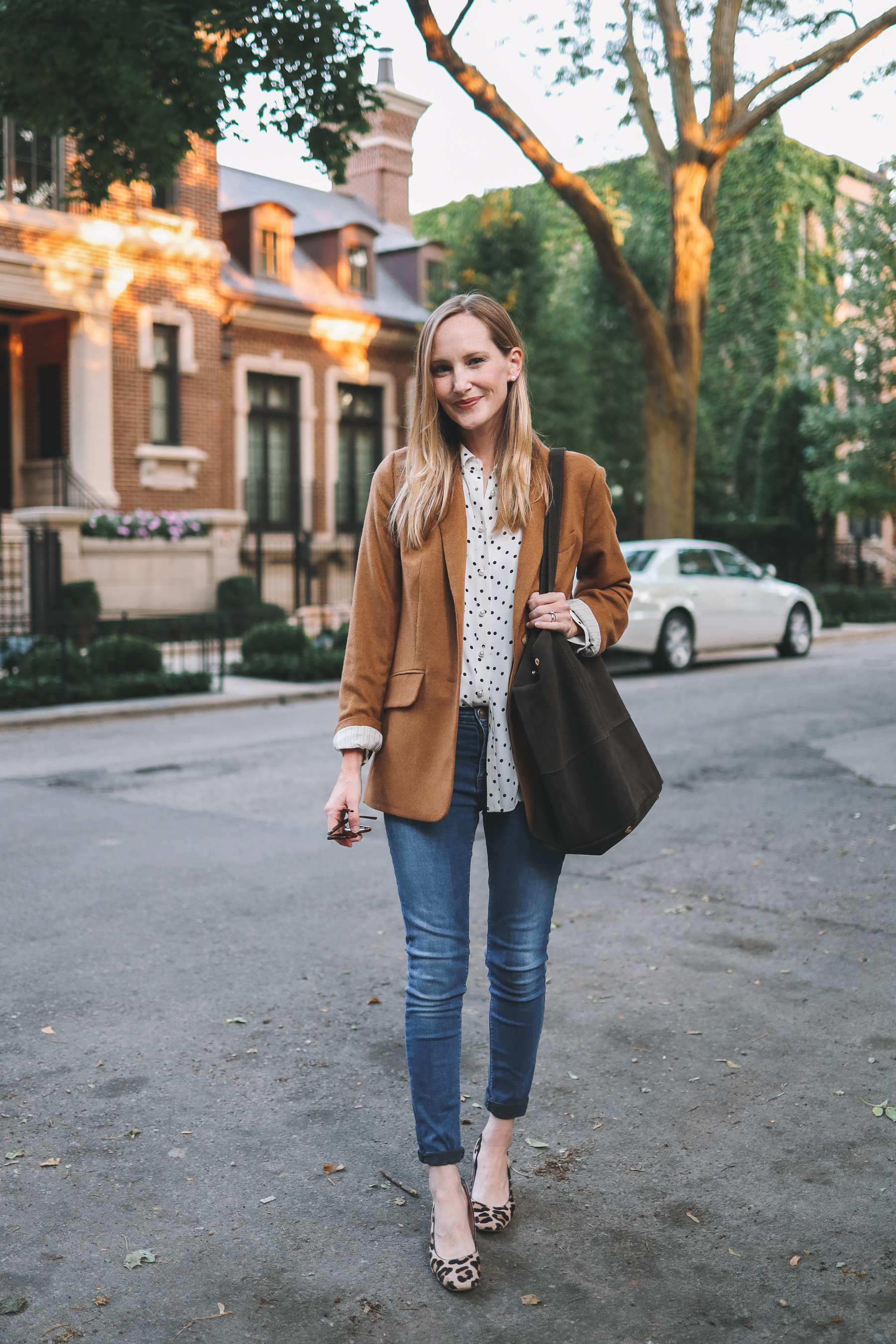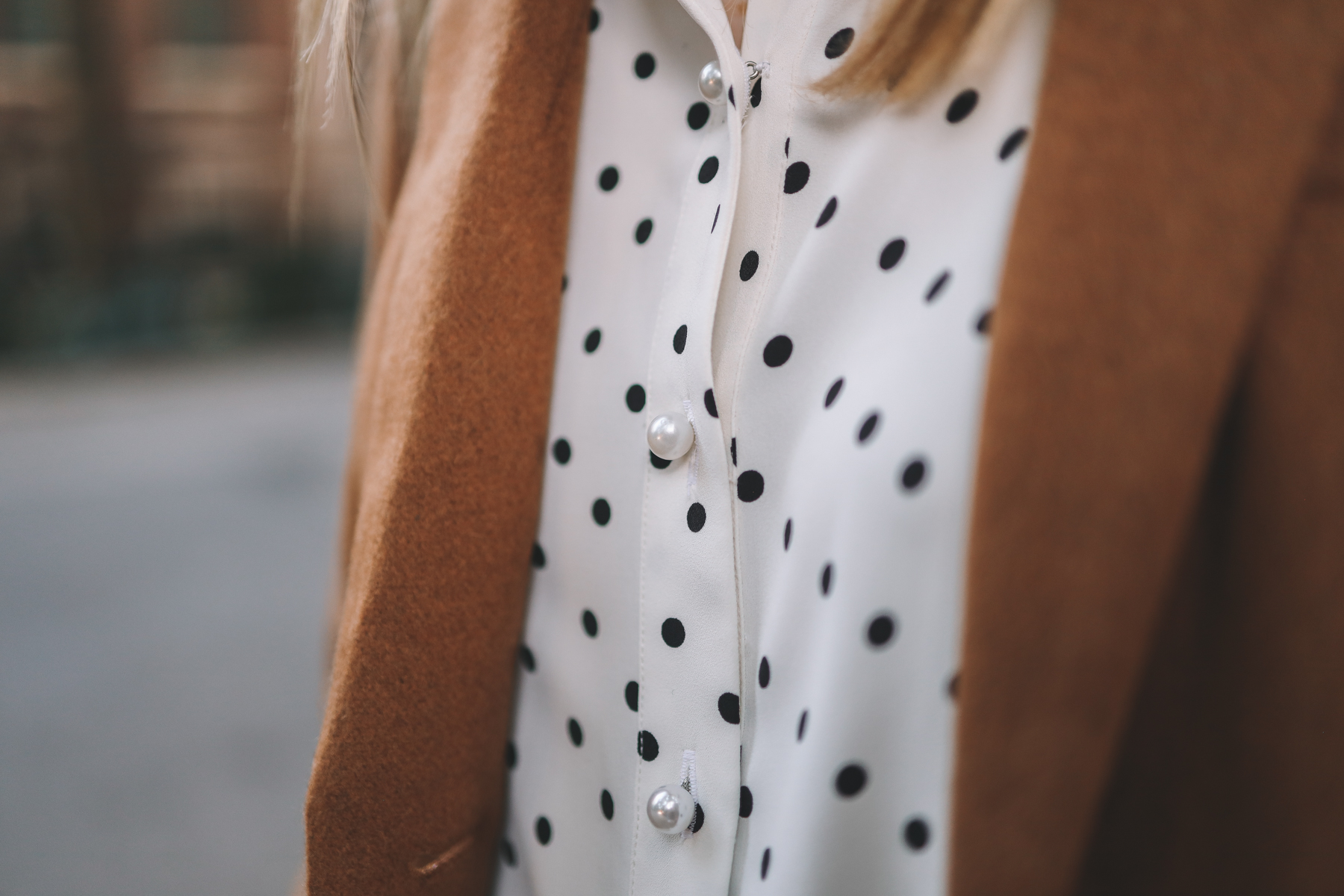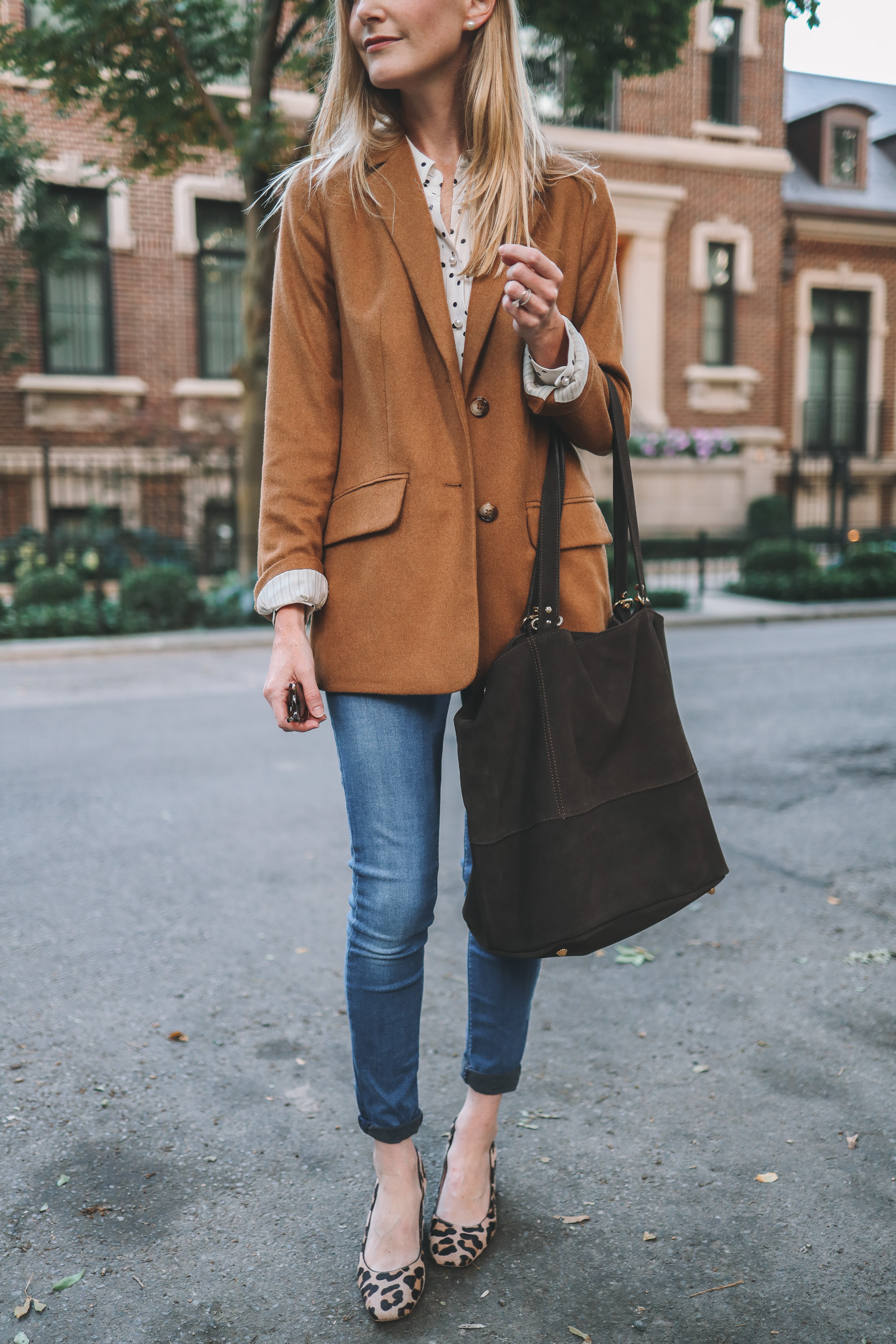 Shop the post:
Mark & Graham Amalfi Italian Suede Tote (Giving one away in today's post!) / Camel Blazer (The long length is great! And have you seen this houndstooth one? Also obsessed with this plaid one from B.B. Dakota. I own it and it's so flattering!) / Hudson Jeans (Old; please tell me what your favorite high-rise jeans are! I'm in the market for my first pair. 🙈) / Pearl Button-Down Blouse (Machine-washable!) / Kate Spade Pumps (No longer available in leopard but obsessed with this pair! And this pair is pretty fantastic, too.) / Ray-Ban Sunglasses
Shop New Arrivals from Mark & Graham: