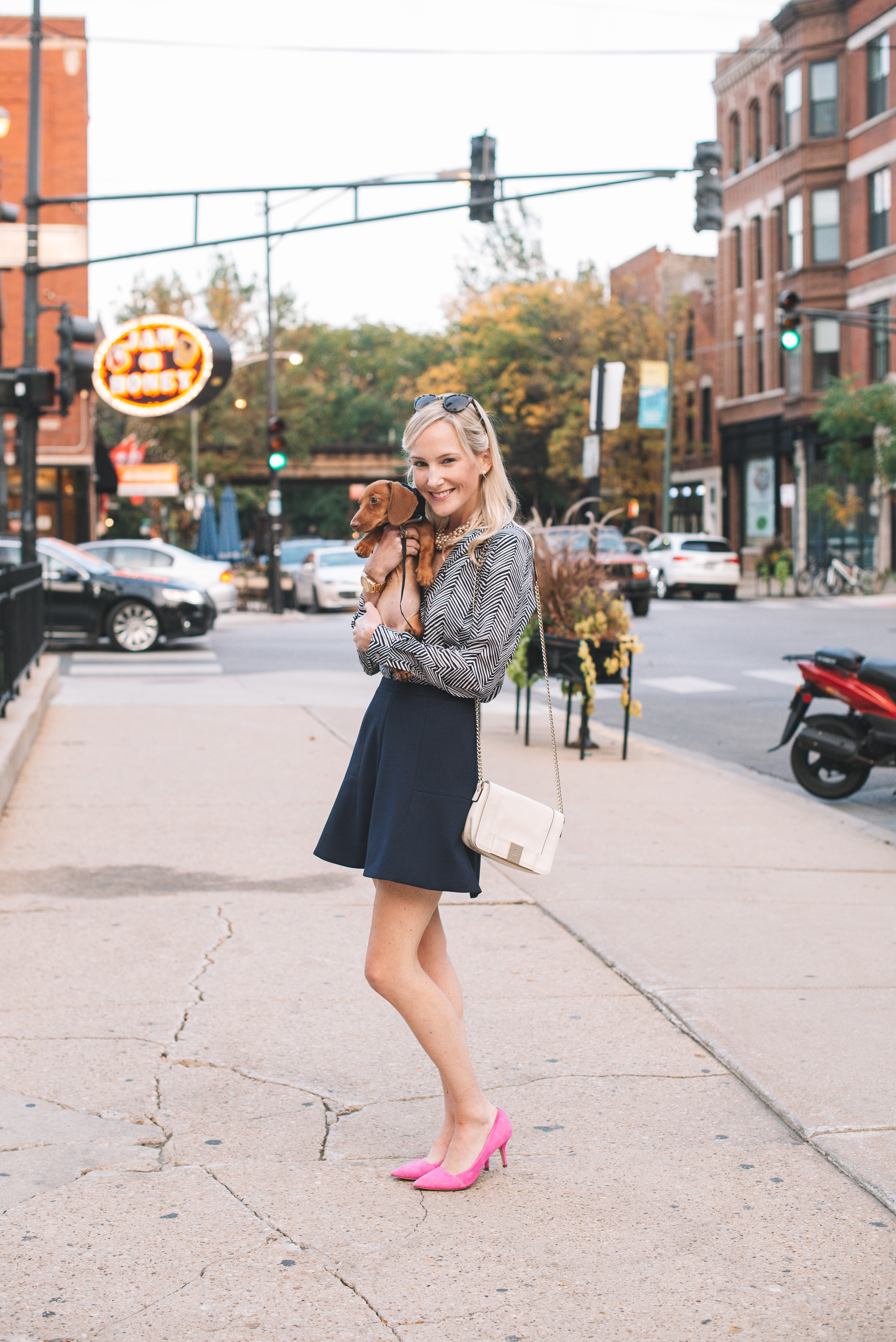 ShopBellaC Top (c/o) — Last seen on the blog here! / J.Crew Skirt / Fornash Necklace (c/o) / Emma McKinstry Bracelet (c/o) / Kate Spade Bag (Old, similar here) / C.Wonder Pumps (Sold out, but similar here, here and here… and obsessing over these kitten heels!) / Michael Kors Watch (But have you seen the new Tory Burch watches?!) / J.Crew Earrings
While change is certainly good, I've learned that moving to a new city (heck, even moving to a new neighborhood in the same city) comes with a lot of headaches. One of the biggest annoyances I've experienced so far is finding my "people," like my general practitioner, dentist, optician, gynecologist, dry cleaner/tailor, vet and hair stylist. (etc., etc., etc., ugh.)
Deciding on them–and then visiting them–is time-consuming and downright exhausting. Do you go with the Yelp reviews? The suggestions you've received from people you kind of know? Which one is closest to your apartment? Intuition? Eeny, meeny, miny, moe?
This is going to make me sound like a complete nut job, but the one I've been stressing over most is the hair stylist. And by "majorly stressing," I mean "trying to avoid thinking about it and hoping my roots will naturally lighten on their own." (Heh.) To be fair, I've been traumatized in the past with new stylists. There was the time one gave me a bob when I asked for a trim. (Exaggerating a little, but I lost a lot of hair.) Or the time one dyed my hair green. (Brownish-green, but still.) Or the time one forgot to take the foils out in time, and fried my locks. (Thanks for calming me down, Mom.)
So, yeah. I actually considered flying back to New York just so I could go to my old salon on the Upper East Side, which I'd been going to for years. (Can't recommend it enough, by the way, to anyone who's looking for a new stylist in NYC. Dao's my girl!) But in the end, I decided to be a somewhat rational human for once, and visit a lovely looking salon down the street from me that had good reviews online.
And it worked out. Huzzah! Granted, there's only so much one can do with lifeless, baby-fine hair, but I'm perfectly happy with the results. And so relieved.
Onto finding the rest of my people! The optometrist is up next. (Who probably should have been addressed first, as I'm on my last pair of contacts, haha.)