As the temperature drops and the leaves start to fall, I start reaching for all things warm and cozy. Hot coffees replace ice lattes, throw blankets make their way out of the linen closet. And cardigans start making their way back into my wardrobe. Always there when I need them, bringing extra warmth to my outfits when I need it most. 
A cardigan is truly a girl's best friend. Over the years I've had lots of different favorites. Even now, I basically live in my Alex Mill striped cardigan (which conveniently doubles as a regular old sweater). With so many cuts, textures and patterns to choose from, I've set out to write a sort of cardigan primer. 
Herein is a list of (some of) the different kinds of cardigans, general styling tips, and some outfit ideas! I hope to do my beloved cardigans justice.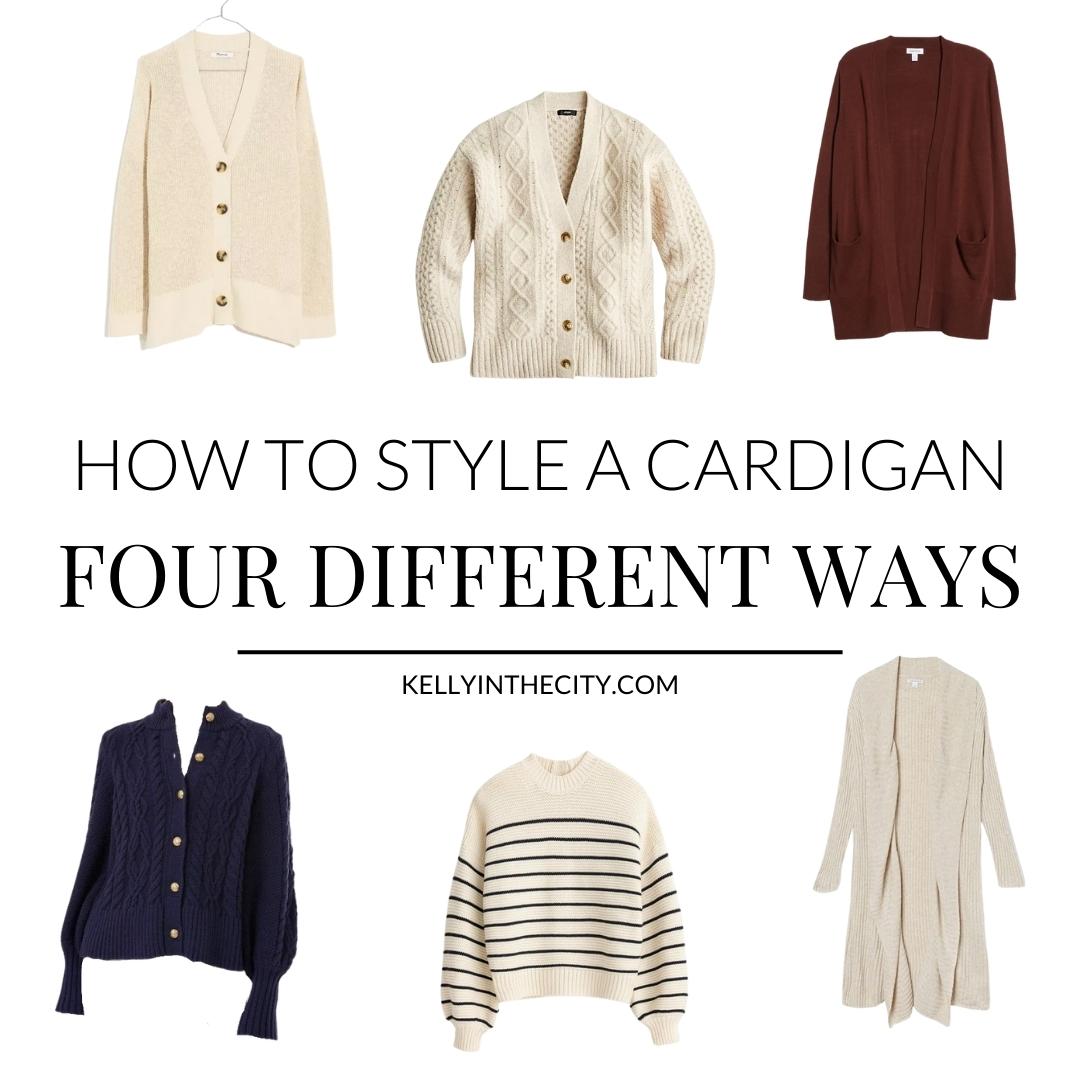 How To Style A Cardigan
Different Types Of Cardigans:
Long cardigans, or dusters – These are super cozy! I see them styled casually most often and that's how I like to style them as well. They're just effortlessly cool and seriously comfy.
Short cardigans – This more cropped style looks really good with high waisted pieces. It's a very modern cut, and if you're a big fan of hooded cardigans, you can easily find hooded versions of short cardigans as well. 
Wrap cardigans – Wrap cardigans are characterized by their flowy silhouette and lack of any sort of closure. They have less structure than, say, a chunky knit. This is a good option to wear over a form fitting dress or pencil skirt. Because these often come with belts, they are similar to belted cardigans. Just a bit more open and flowy. 
Kimono cardigan – The more laid back cousin of the wrap cardigan! The fun aunt really. Kimonos are usually lightweight and flowy. Less Fall and more Spring, although you could definitely get away with it during any season when paired with the right layering pieces.
Knit cardigans – Another very cozy option, knit cardigans add a lot of extra warmth. Very practical, and very stylish. They can really add texture to a look as well, with lots of variations like cable knit, knitted wool, or fair isle. 

What To Wear With Cardigans
I am a firm believer that there is a cardigan for every look. Seriously, it gets cold in Chicago. We need all the extra layers we can get! Even if you don't live in a particularly cold climate, a cardigan can really come in handy. They're even great to grab on a balmy summer night. If you pick the right piece you could really wear a cardigan with anything. 
My favorite way to wear them is over a t- shirt and jeans – a cute cardigan can really bring a casual outfit together. It's also fun to try layering them over my summer wardrobe! Which, by the way, is an easy way to lengthen the lifespan of your favorite dress or tank top. 
Then, of course, wearing other Fall staples, like boots or a scarf with your cardigan will really enhance the look! So many options, so many opportunities to express yourself through style!
Tops To Wear Under Cardigans
Even though cardigans are super versatile, there are some tips you can keep in mind to make the most of each of your cardigan outfits! Here are some examples: 
Let's say you're having a classic white tee and jeans day. A cool cardigan with a bold, all over print can really elevate your look. 
A blouse with a statement collar looks super cute under a simpler, solid colored cardi. And, a blouse with a mock or turtleneck calls for a cardigan with a more rounded neckline. 
Lastly, a tank top or camisole can be a good choice for pretty much any of these! Get ready for a ton of mixing and matching as you add more and more cardigans to your wardrobe!
4 Outfits With Cardigans
Long, Textured Cardigan with Jeans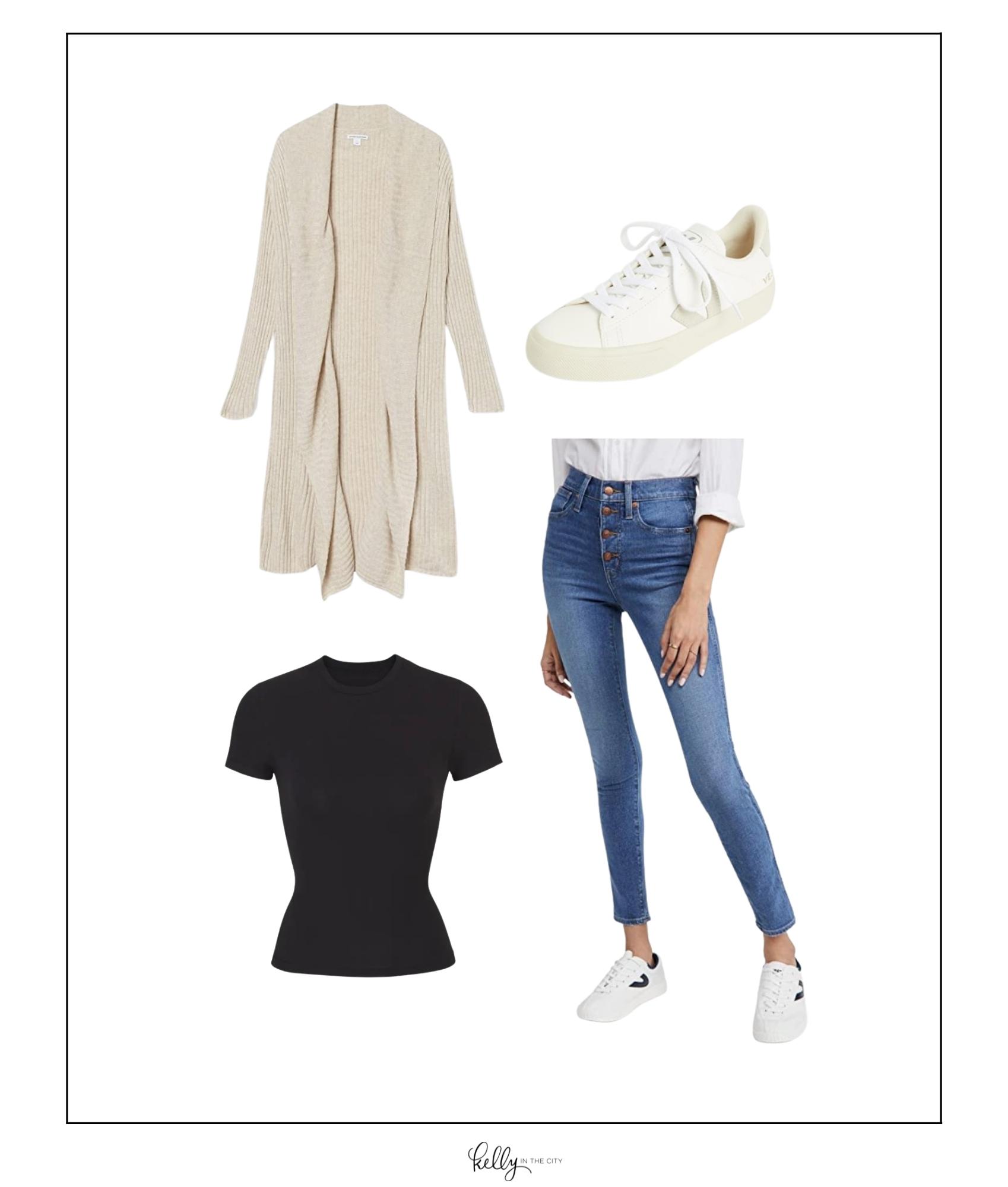 I love the textural details of this cardigan! It's so cozy, and the perfect cardigan for these colder, winter months. Honestly, it's like a blanket you can wear! It's definitely a statement piece, so I would wear it to dress up more casual outfits. 
When I say casual, I mean a pair of skinny jeans and a gray or black t-shirt. I like the idea of a more dressy, heeled shoe with this cardigan – makes for a good mixture of preppy and casual! But, you can definitely still rock this look with some classic sneakers. 
2-in-1 Button-Back Crewneck Sweater/Cardigan 
This Alex Mill cardigan is a major favorite of mine. You might have seen me wearing it on Instagram, and you've definitely noticed it all over my blog. I just love the nautical feel of the stripes. And the really neat thing about this cardigan is that it transforms! Turn it around and it becomes a regular sweater. 
For this outfit, however, we're featuring the buttons. So to style this cardi, grab a button down and some straight leg jeans. A pair of mules will keep the outfit dressy but casual. 
Chunky Cardigan Over Dress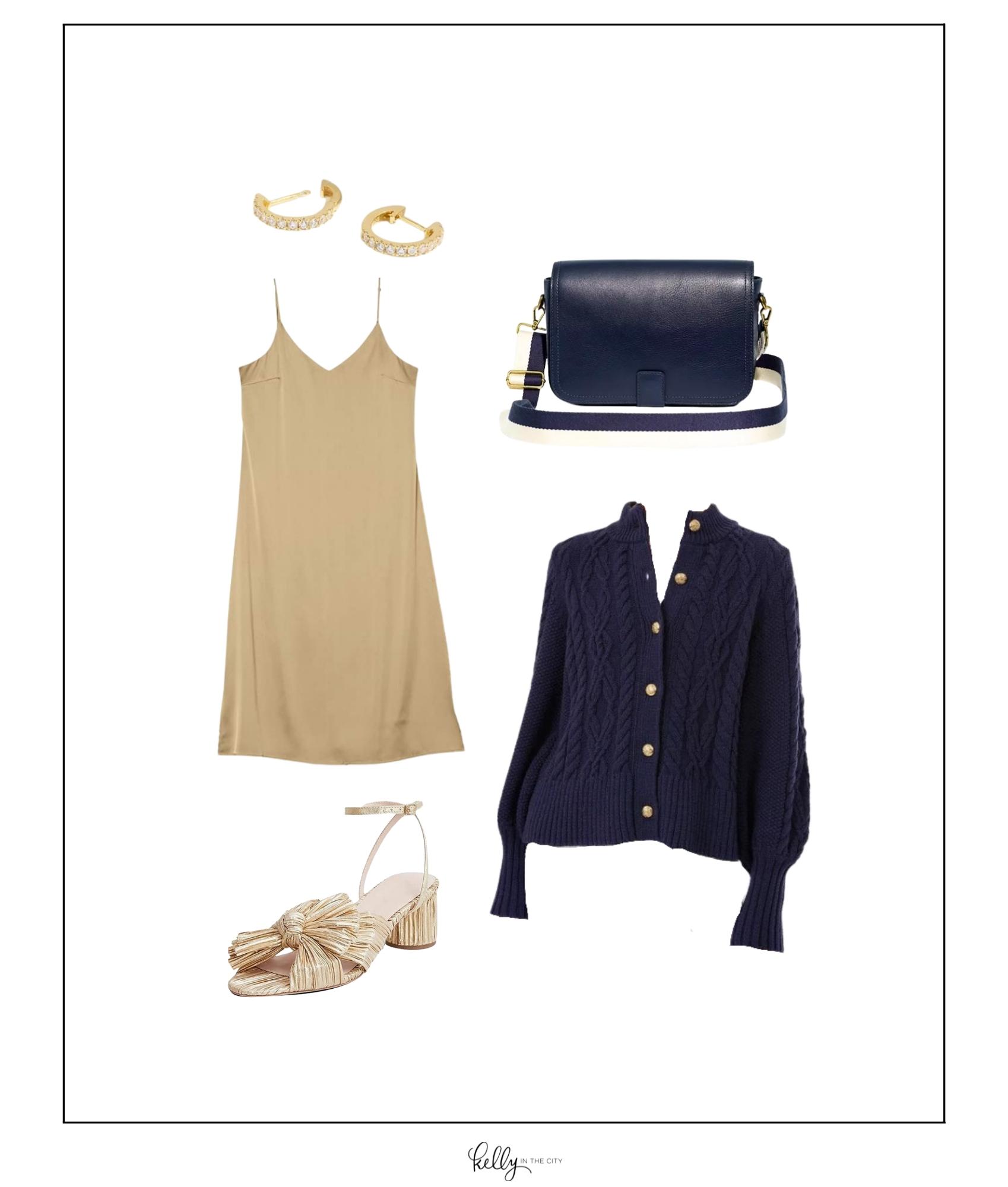 A chunky cable knit cardigan is a winter wardrobe must. This navy blue one by Tuckernuck has a more elegant silhouette than your average granny sweater, with its high neckline and bishop sleeves. And the gold button details are just too cute! 
This cardigan is perfect for layering a more glam look, like a slip dress and a pair of glittery heels. Complete the look with an evening bag and some matching jewelry and you have an excellent party outfit.
Open Front Cardigan With A Casual Tee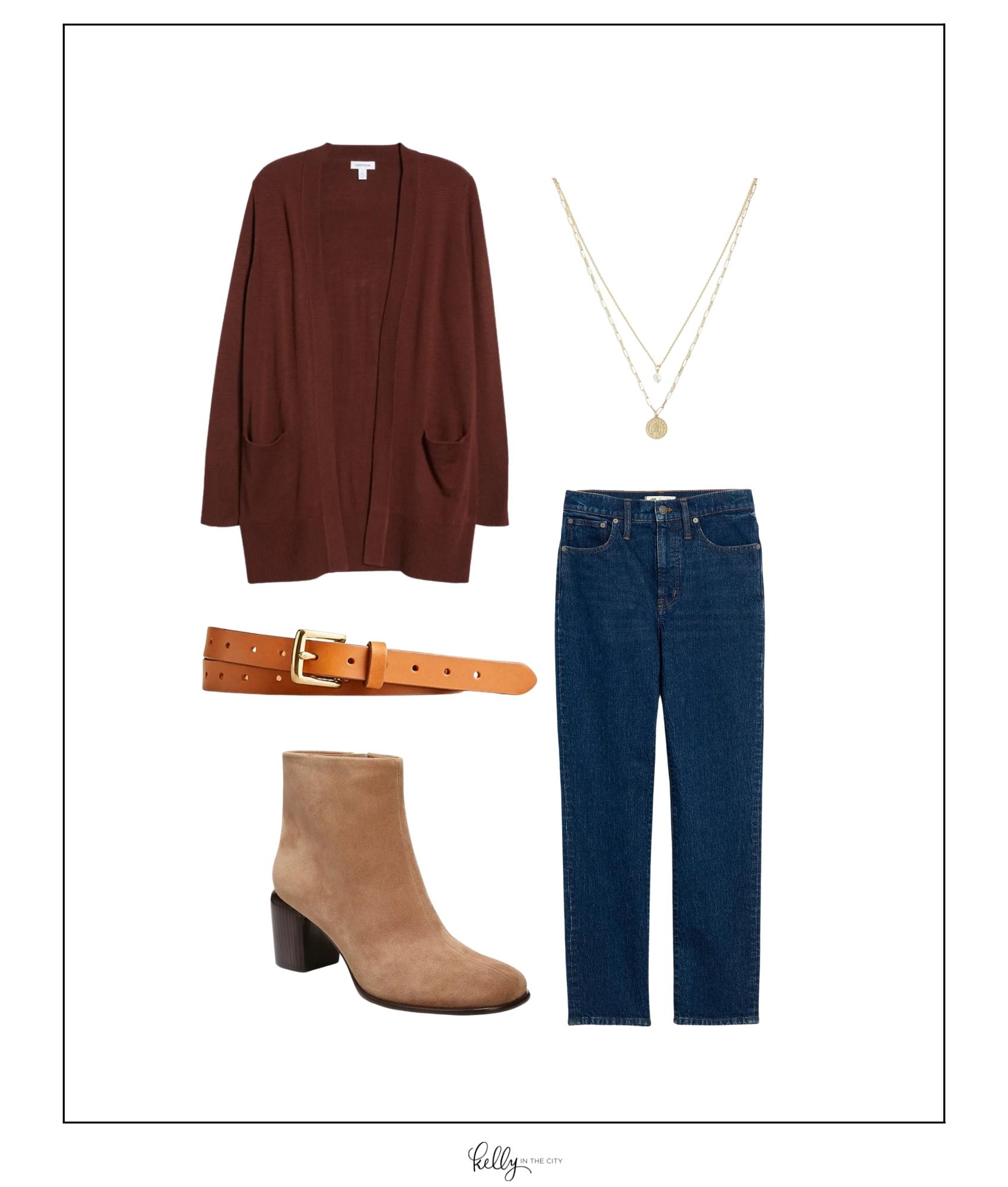 An open front cardigan is much more relaxed and casual than the other options I've listed. To style an open front cardi, just throw it on over a pair of jeans and your favorite t-shirt. I love this one from Nordstrom, especially when paired with cute matching tan boots.

What type of cardigan will you buy next?
Cardigans are so classic. And when you have something that's been around this long, you know they're never going out of style. 
Other than the styles I mentioned today, you can also find zipped cardigans, cardigan sweaters, open cardigans, cardigan vests, and so many more. So, what type of cardigan will you rock next? 
Let me know in the comments below – I love hearing from you guys! You can check out more of my favorite looks, here. And for more on all things fashion, home decor and lifestyle, follow my blog and Instagram.