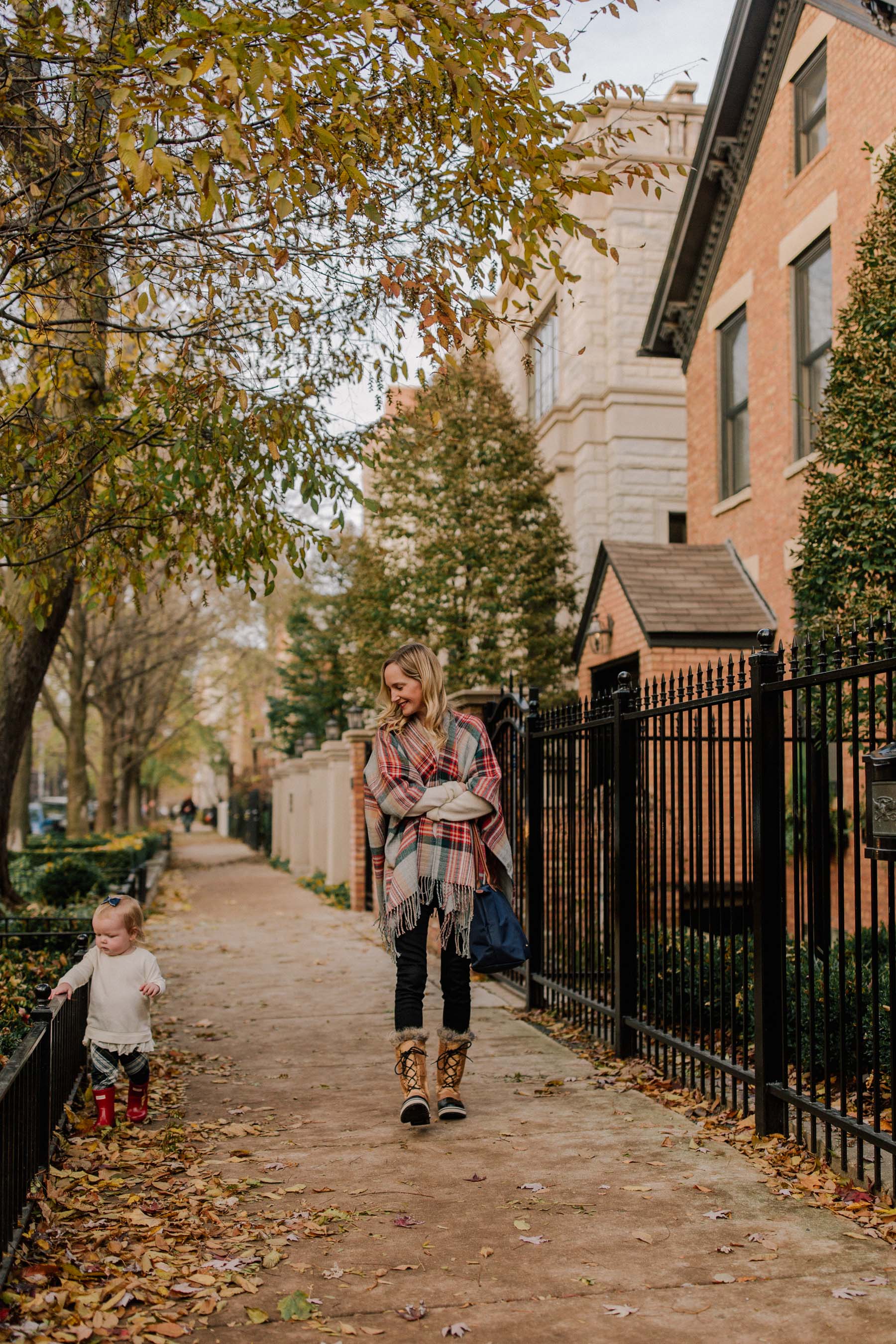 Sorel Tofino II Boots / Plaid Cape / Rag & Bone Jeans / Cashmere Sweater (Also love this one.) / Longchamp Tote / Emma's Plaid Leggings & Ruffled Top Set (Leggings still available here and here. And dying over this dress and this dress.) / Emma's Boots
Mitch and I have kind of been in disbelief that Thanksgiving is this Thursday, so we took this past weekend to ourselves. We did go get breakfast and see marble lookalike quartz slabs on Saturday morning… and then we attended the Lights Festival later that night. (Ah-mah-zing!) But besides that, we played and rested and visited the park. Very low-key, and it was lovely. :)
We go to the park a LOT. There are a dozen of 'em within walking distance of our house, and I feel very lucky for that. We actually do have a backyard, but it's heavily shaded and not in the best shape. And while we'd love to fix it up in a few years, that's not really in the cards right now. So currently, the surrounding parks serve as our backyard, and it's pretty great.
I thought I'd take today to talk about my favorite "park footwear" for the winter. No, I don't slip on pumps or loafers–or even sneakers this time of year… because Chicago's great outdoors are cold and muddy. When December hits, my Sorels are my go-to boots for romping around with Emma.
I did break them out a little early for the purposes of this post. ;) (It was, in fact, on the warmer side when these pics were snapped.) But guys. They're SO great. I know I've spoken about this on the blog before, but I started wearing Sorels when I graduated from college and moved to New York. I was freezing walking to and from work, and I told my dad that I couldn't take it anymore, haha. He recommended Sorel boots, which he wore during his Air Force days. He assured me that once I had them on my feet, I'd be fine.

And right he was. I marched myself over to Bloomingdales–conveniently only a few blocks from my apartment–and purchased this pair of Sorels… and never looked back. ;) I'm dating myself, but I still own them, and it's been over a decade! I now own the Tofino II boots as well, though, which you see in these photos.
I adore the Tofino boots. I found that they run a little small (despite the product description), so I'd recommend going up a half size. (I normally wear a size 7.5, and I sized up to an 8.) But they're fabulous. They're waterproof, and they feature an acrylic faux fur collar, polyester fleece lining and rubber sole. They're also the warmest boots ever.
Okay. I have to admit that I say that about every pair of Sorels that I try. But seriously: if you live in a place that's unbearable during the winter, you need these boots. While they're sure to keep your toes insanely toasty, they're also adorable! (Oh, and they're super comfy. As we know, my feet are very sensitive, and I've never experienced pain or rubbing with the Tofinos.)

In terms of hats, gloves and scarves, Bloomingdales has a line called Aqua which carries some fabulous stuff. (See some faves above.) I love this cape, which features a really cute preppy plaid, and I'm definitely regretting not getting this adorable red beret. Love that the cape and beret are "one size fits all," which makes for perfect gifts, too!
If you love these boots, you will also love my this pair of LL Bean boots.
And with that, here are some cute pics of Emma and me walking to the park. :)
Shop the post:
Sorel Tofino II Boots / Plaid Cape / Rag & Bone Jeans / Cashmere Sweater (Also love this one.) / Longchamp Tote / Emma's Plaid Leggings & Ruffled Top Set (Leggings still available here and here. And dying over this dress and this dress.) / Emma's Boots

In collaboration with Bloomingdales, but all opinions are my own. As always, thank you so much for supporting the partnerships that keep Kelly in the City up and running!
SaveSave
SaveSave