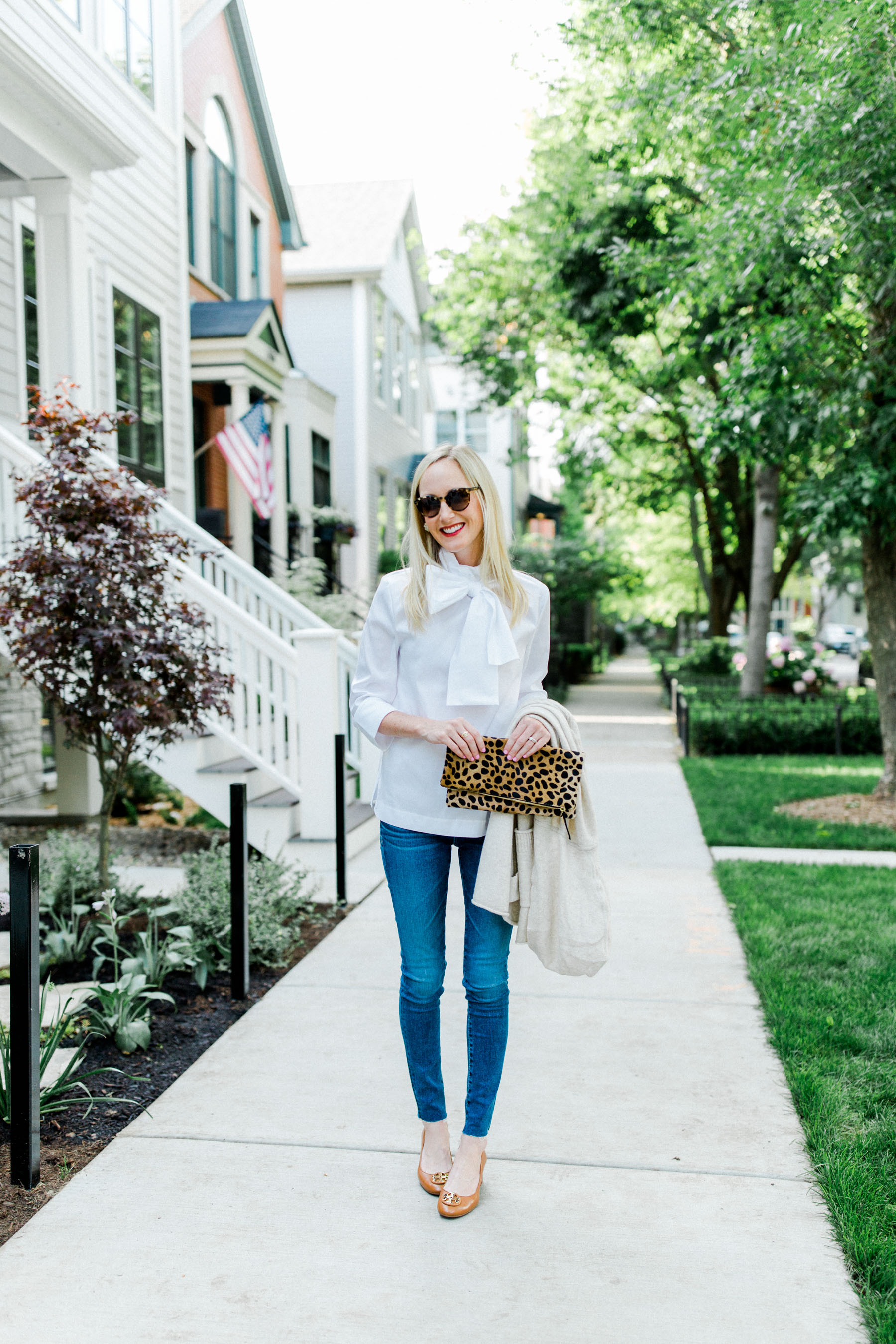 Bow Neck Top (On sale! Similar here, also on sale.) / Hooded Cardigan (On sale! Similar here, also on sale.) / AG Legging Raw Hem Ankle Skinny Jeans (On major sale, and still available! I also recently purchased this pair from Hudson, and they're just as amazing… just a different look. Read my full review on the AG Legging Jeans here.) / Tory Burch Pumps (On sale! They run TTS. Also, a newer version of my Tory Burch boots and my Tory Burch flats are included in the sale!) / Kendra Scott Bracelet c/o (Similar Kendra Scott bracelet on sale here.) / Lisi Lerch Earrings c/o (Similar earrings on sale here.) / Clare V. Clutch (Gingham version on sale here!)
I'm unreasonably proud of myself when my weekend posts are completed and all scheduled to go by Friday. I guess because it rarely happens. ;) But… huzzah! #momfeat
This adorable bow top is one of my favorite buys from the sale because it's stretchy and super soft, and makes such the statement. It's also still in stock, which is nice!
If the AG jeans are sold out, I'm crazy about this (sale) pair from Hudson, which I reviewed here. Such a steal, and don't they look awesome?!
In other news, I'm headed home to Chicago today and I can't wait to snuggle my Emma. (And hug my Mitch.) Watch my Insta Stories, though. I'm sure there were some ridiculous ones from Jess' bachelorette!
Over and out. <3
Shop the post:
Bow Neck Top (On sale! Similar here, also on sale.) / Hooded Cardigan (On sale! Similar here, also on sale.) / AG Legging Raw Hem Ankle Skinny Jeans (On major sale, and still available! I also recently purchased this pair from Hudson, and they're just as amazing… just a different look. Read my full review on the AG Legging Jeans here.) / Tory Burch Pumps (On sale! They run TTS. Also, a newer version of my Tory Burch boots and my Tory Burch flats are included in the sale!) / Kendra Scott Bracelet c/o (Similar Kendra Scott bracelet on sale here.) / Lisi Lerch Earrings c/o (Similar earrings on sale here.) / Clare V. Clutch (Gingham version on sale here!)
Note: You can comment on today's post for another chance to win the $200 Nordstrom e-gift card giveaway! Rules: You may enter by commenting on every eligible blog post that goes live now through Friday, July 28th. (Probably six chances in total.) We'll be very clear about which posts are eligible; don't worry! The winner will be selected at random and announced on the 28th. She (or he!) will receive a $200 e-gift card that day. GOOD LUCK!
SaveSave