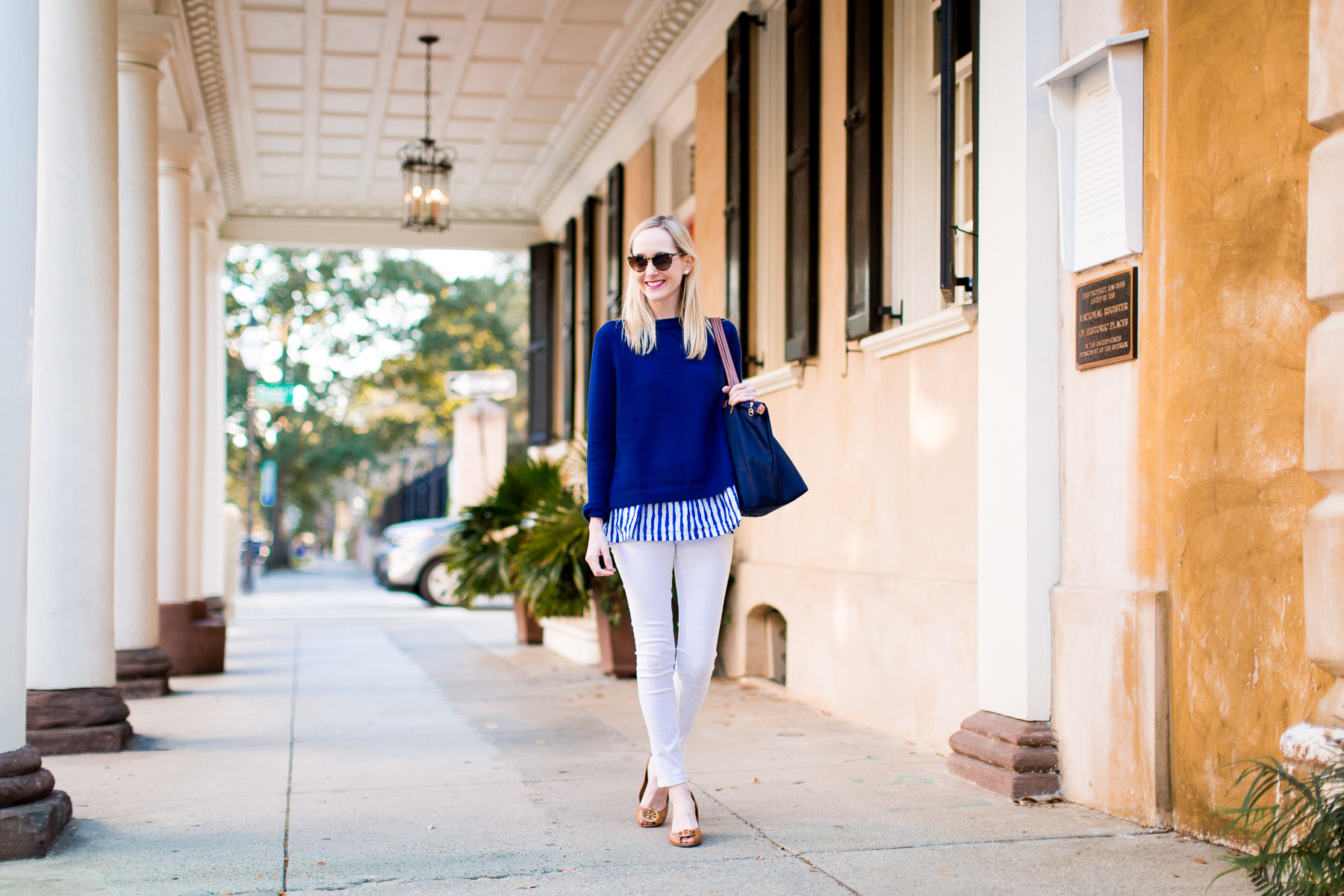 Vineyard Vines Sweater c/o (Love this dress in the same print, too, which is also available at Nordstrom) / Longchamp Tote (So great for travel! And love the backpack. Maybe for LA?!) / Tory Burch Wedges (So comfy. Couldn't recommend more.) / Rag & Bone Jeans (Crazy soft and they don't stretch out.) / Monica Vinader Bracelet c/o
It's Saturday! So let's do this post in bullet points, shall we?
I'm off to Kentucky today for Shaheen's baby shower! I'm so excited to meet Shaheen's family and friends, and to celebrate Baby T with her. :) Here come the bloggers in their OTK boots!
This is my last set of photos from Charleston, and I'm a little sad about it. (See more: post one, post two, post three and post four.) Can you get over Beth's amazing photography skills?! I kid you not, she'd never ever done a photoshoot before, and she's responsible for all these pics! Actually, Tara might be responsible for a couple of 'em as well, haha. But, like, WOW. Beth, you have a future… (Love you both!)
I love, love, love this sweater from Vineyard Vines. The bottom is actually a tank top, and you can pair it with other sweaters, which is awesome. I'm crazy about this dress in the same print, too, which is also available at Nordstrom.
Emma is going to take swim lessons at Goldfish Swim School in Wicker Park and we CANNOT WAIT. Already looking into cute bathing suits…
Mitch is currently working on his post for this week, and it should go live within the next few days. It's all about his winter staples–just sneaking it in!–and it's sure to be hilarious. ;)
I talked about this on Instagram, but Mitch built me shelves in my closet for all my shoes, and it's been a game-changer. I'm so organized! I apparently also have a pretty significant shoe problem. Definitely need to donate and/or sell a few pairs!
I'm thinking about trading in the rest of my old Nikon gear for an 85mm lens. I know I'd get a ton of use out of it, but it's a huge investment. (Despite the trade-in factor.) Bah! Took me years to finally pull the trigger on my dream camera, and lord knows it's going to be years before I actually pull the trigger on this guy…
Last night was really slow for the Larkin family. We saw Jens Lekman on Thursday night and got very little sleep as a result, and decided to stay in Friday because of it. SO NICE. Lounged on the couch, watched TV and had a glass of wine. Can't remember the last time we truly relaxed like that.
My brother and sister-in-law are headed to Chicago in a couple of weeks, and my parents are coming back at the end of April! I'm beyond happy. Missing my family a lot these days, and I can't wait to spend some quality time with them.
On the family front, my other brother starts his new job this coming week. So proud of you and love you so much, Danny!
We're finally caught up on "This is Us." Anyone else hooked?! It's so hard waiting a full week for a new episode!
I'm hardcore in spring mode, despite the freezing temps here in Chicago. Did you see these shoes?! So excited to wear them in LA in a few weeks.
Mitch is in the middle of automating our house, and right now he's super into smart "light switches." I have no idea what this means, but he's soon going to write a big post on how he's automated our house. I'm interested to read it, haha!
We need a cute long pillow for the middle of our bed. Thoughts on this one? It's probably too big, but I LOVE it!
How beautiful is this white lace dress?
If you read my "One Month Challenge" post, things are going really well. I can't believe it! So far, my biggest challenge has been getting out of the house with Emma in the morning and in the afternoon. Not sure if that one is doable, considering Girlfriend has her fair share of meltdowns when she's tired. But so far, things are good, and I dare say I'm happier.
What are you guys up to this weekend?!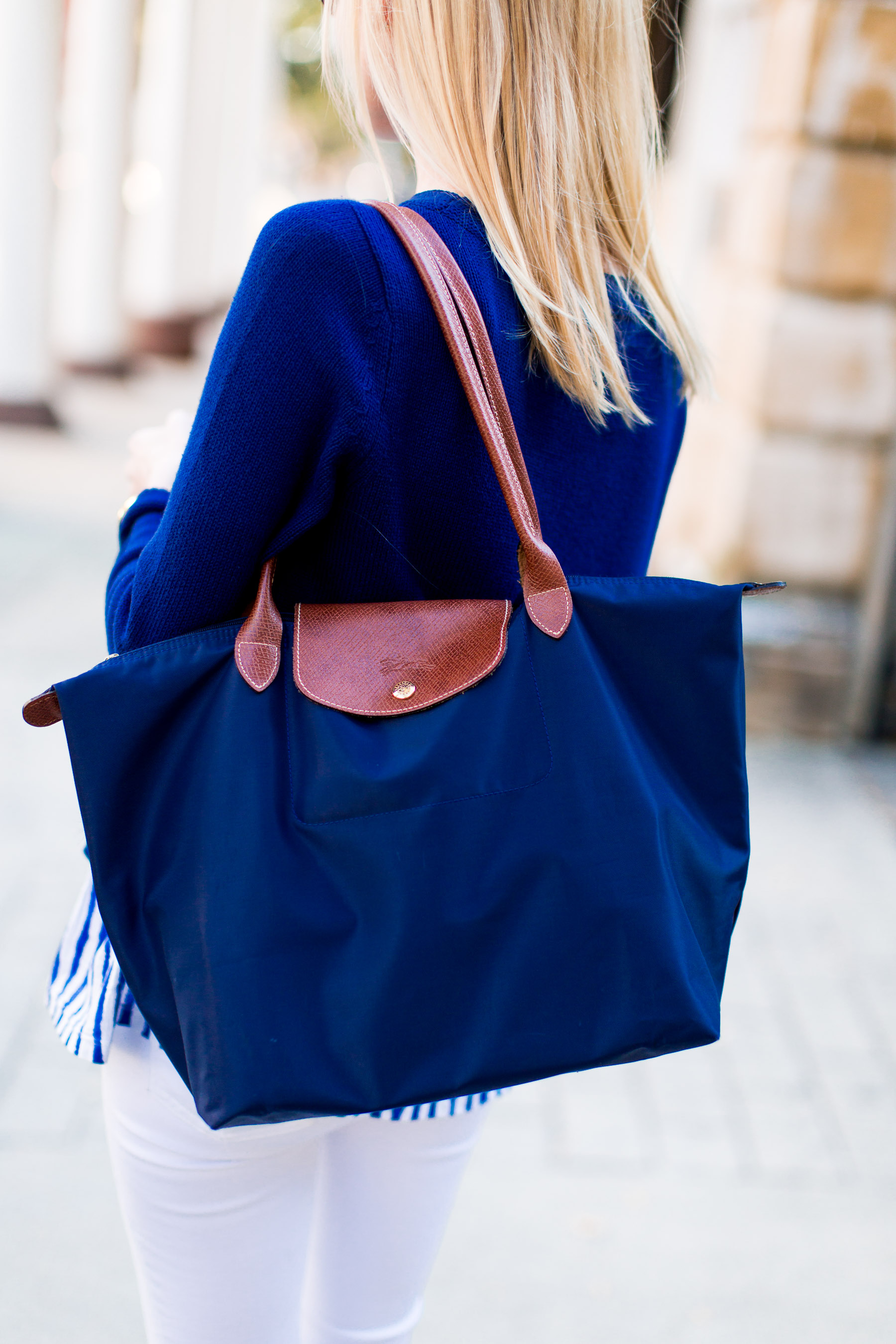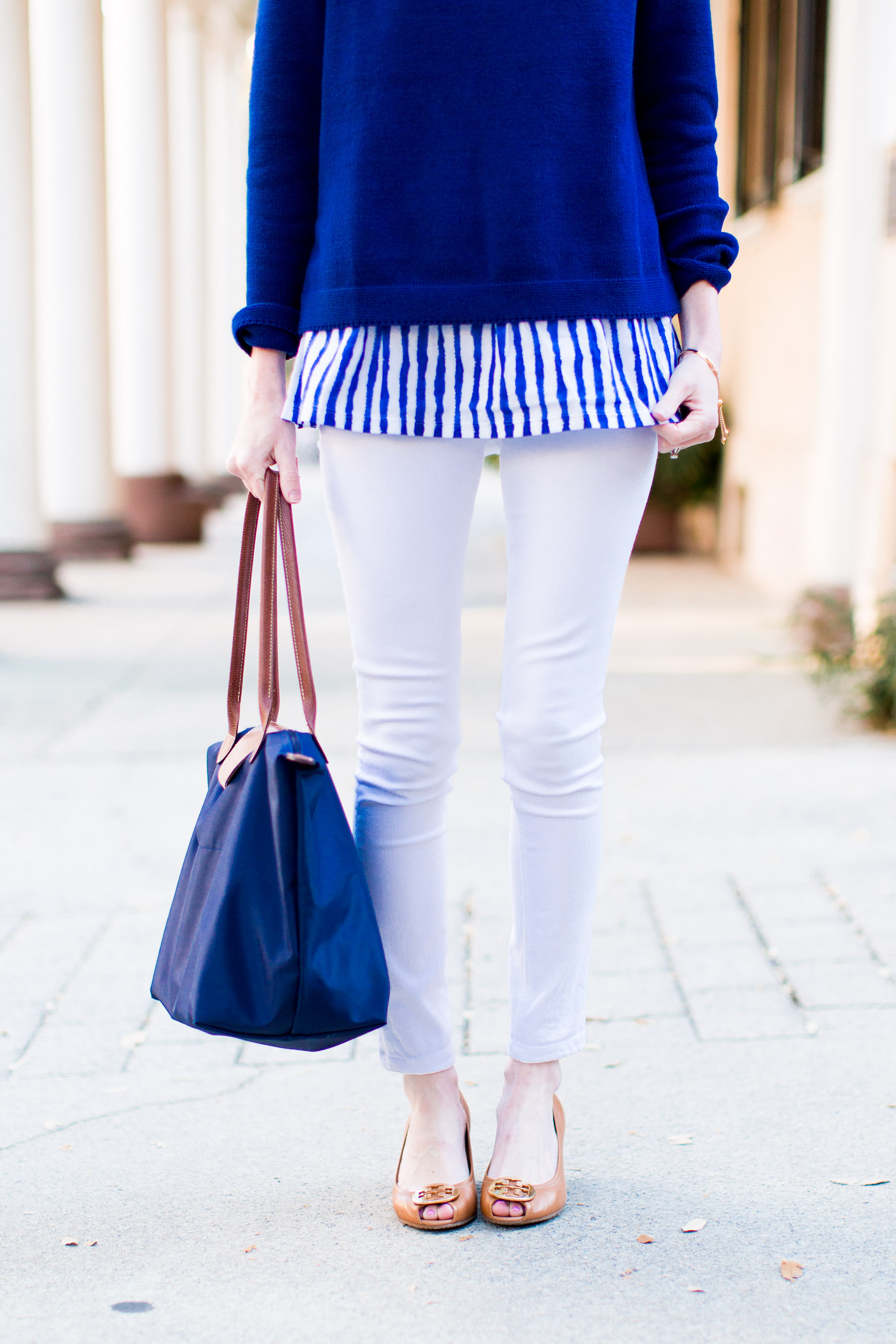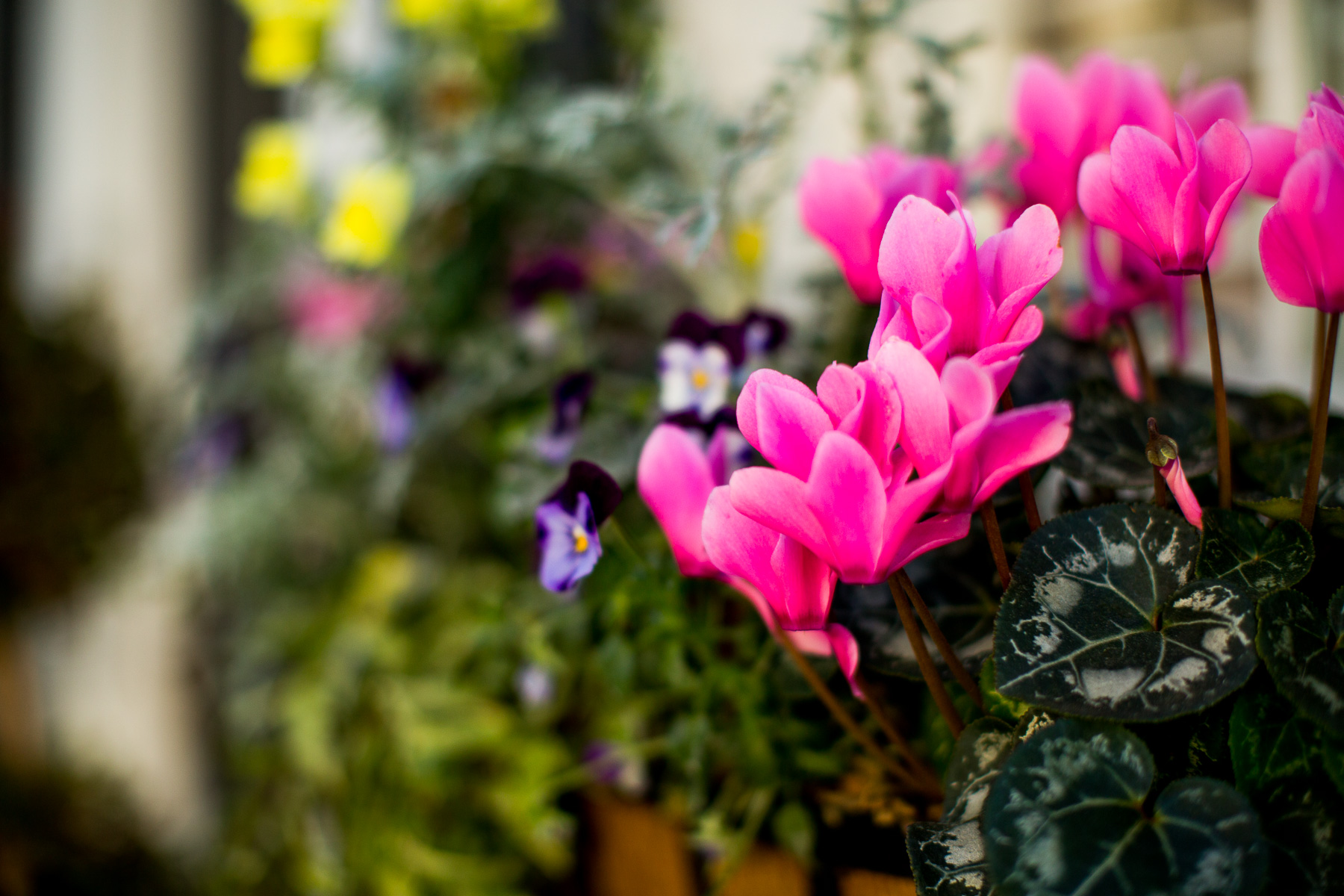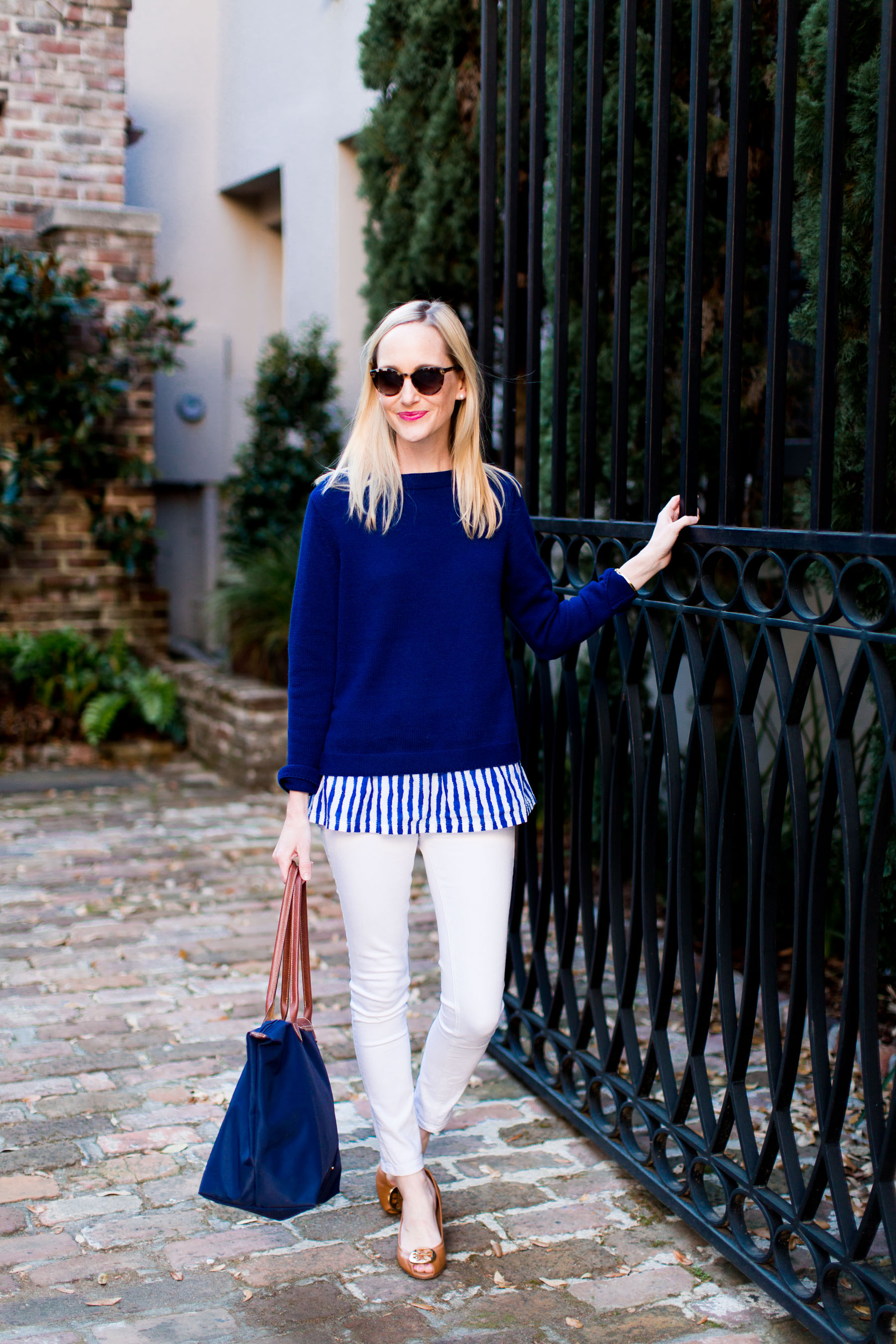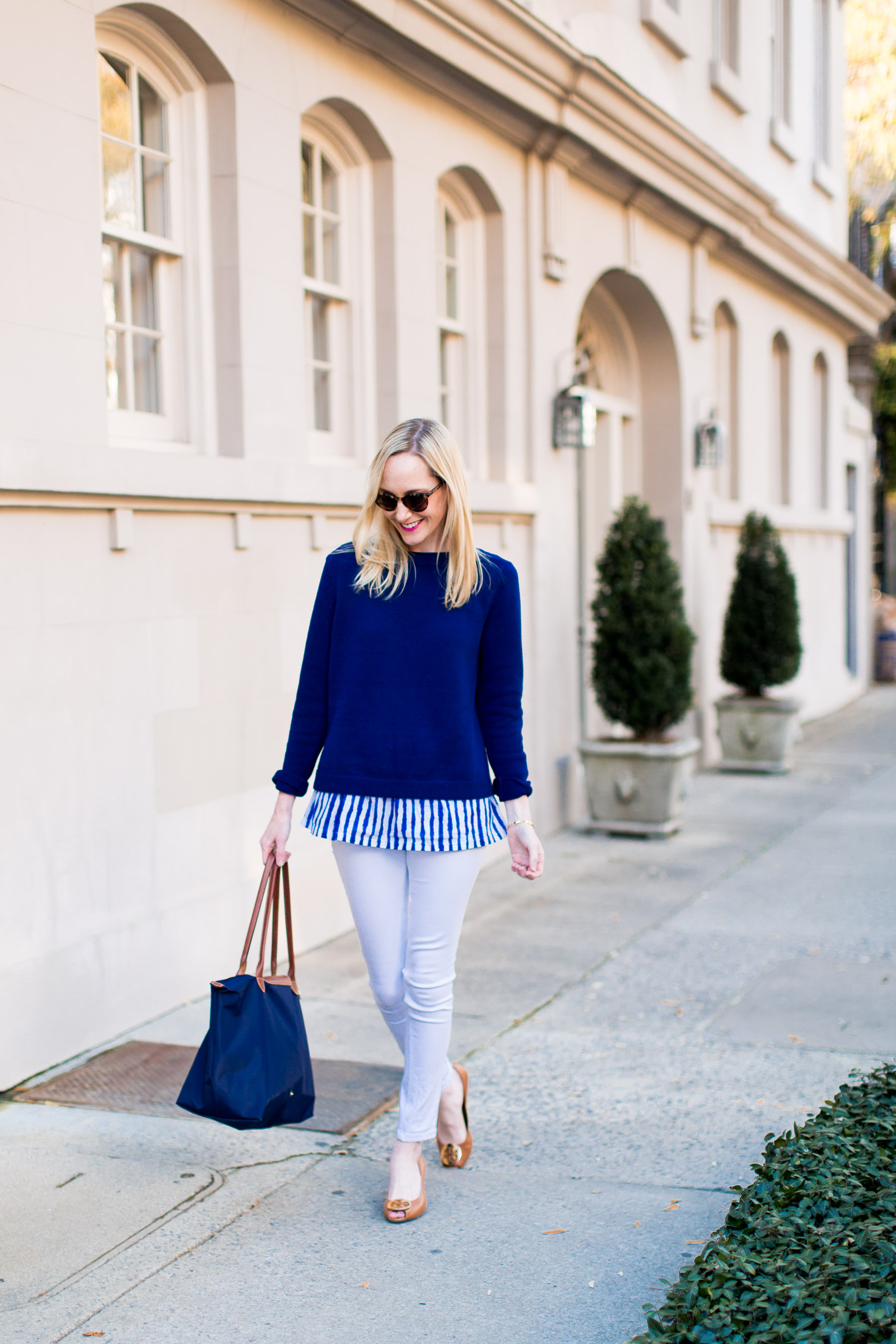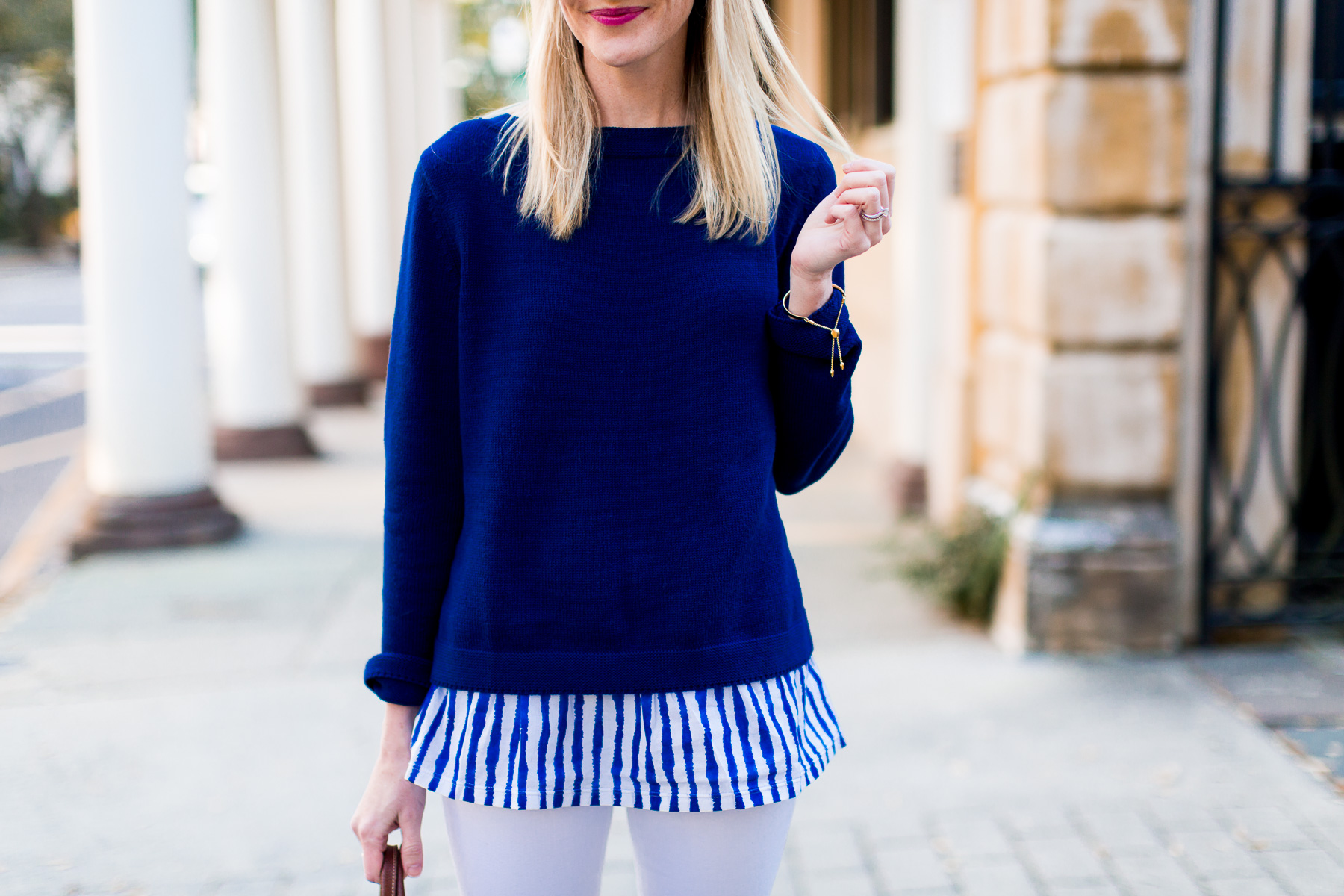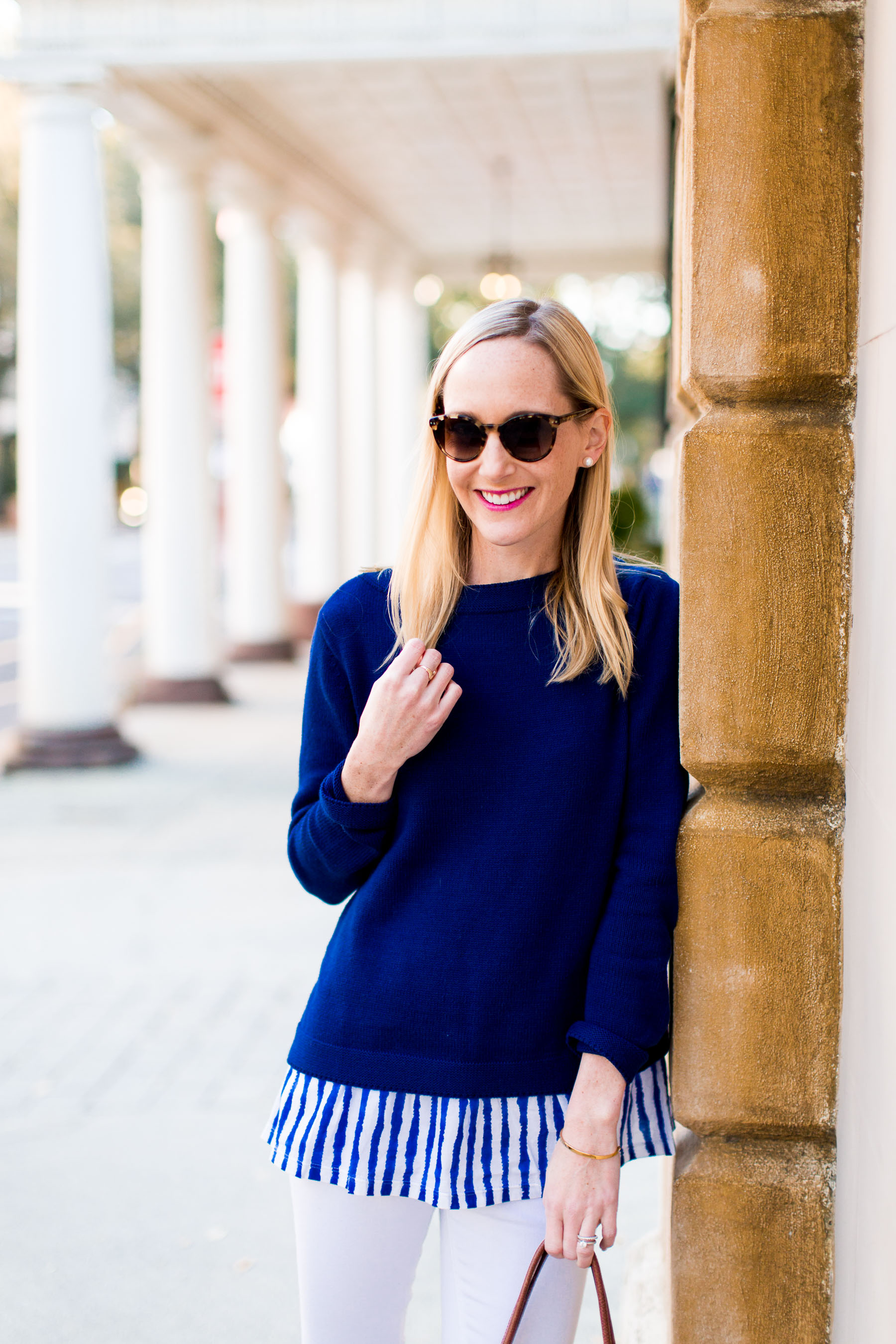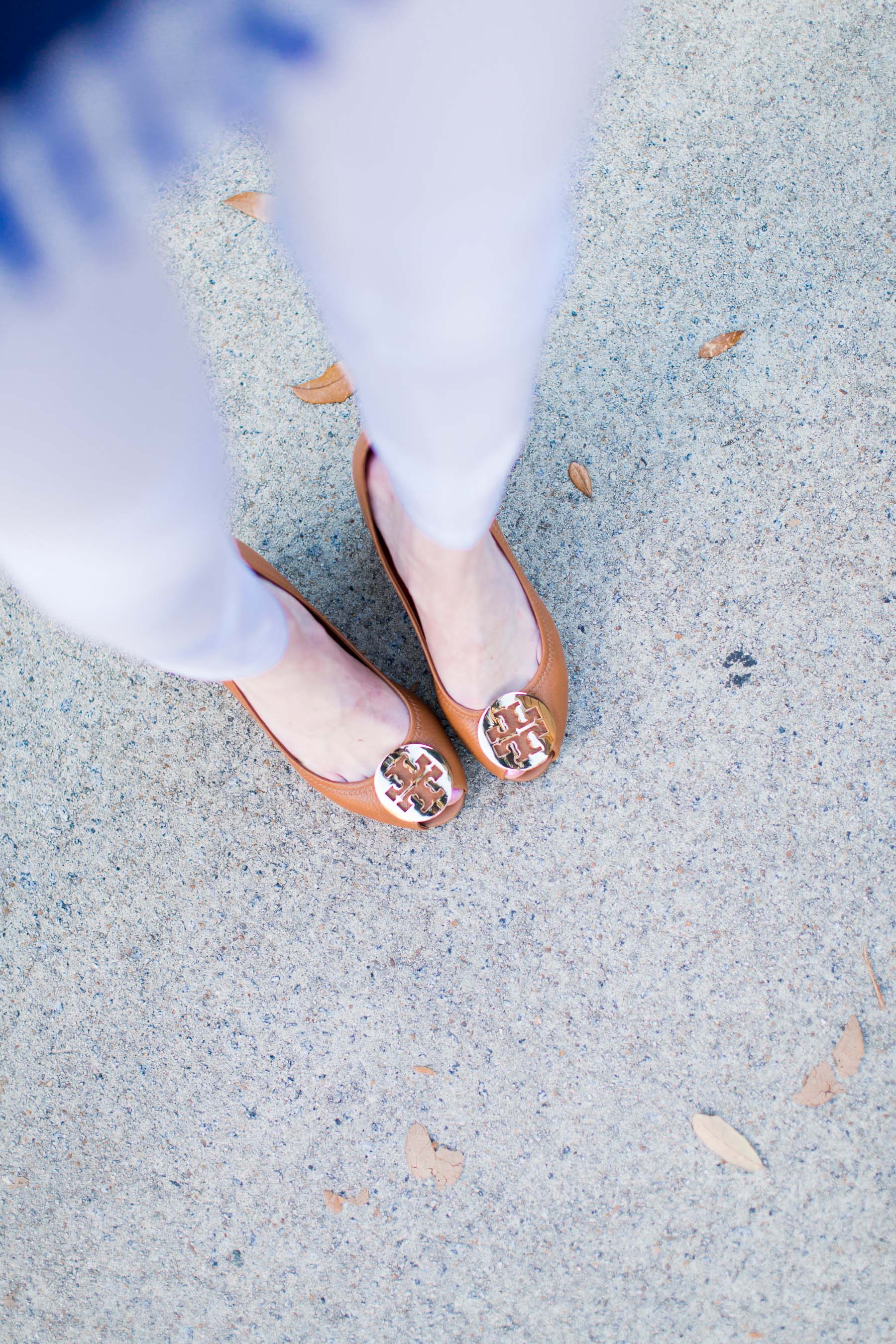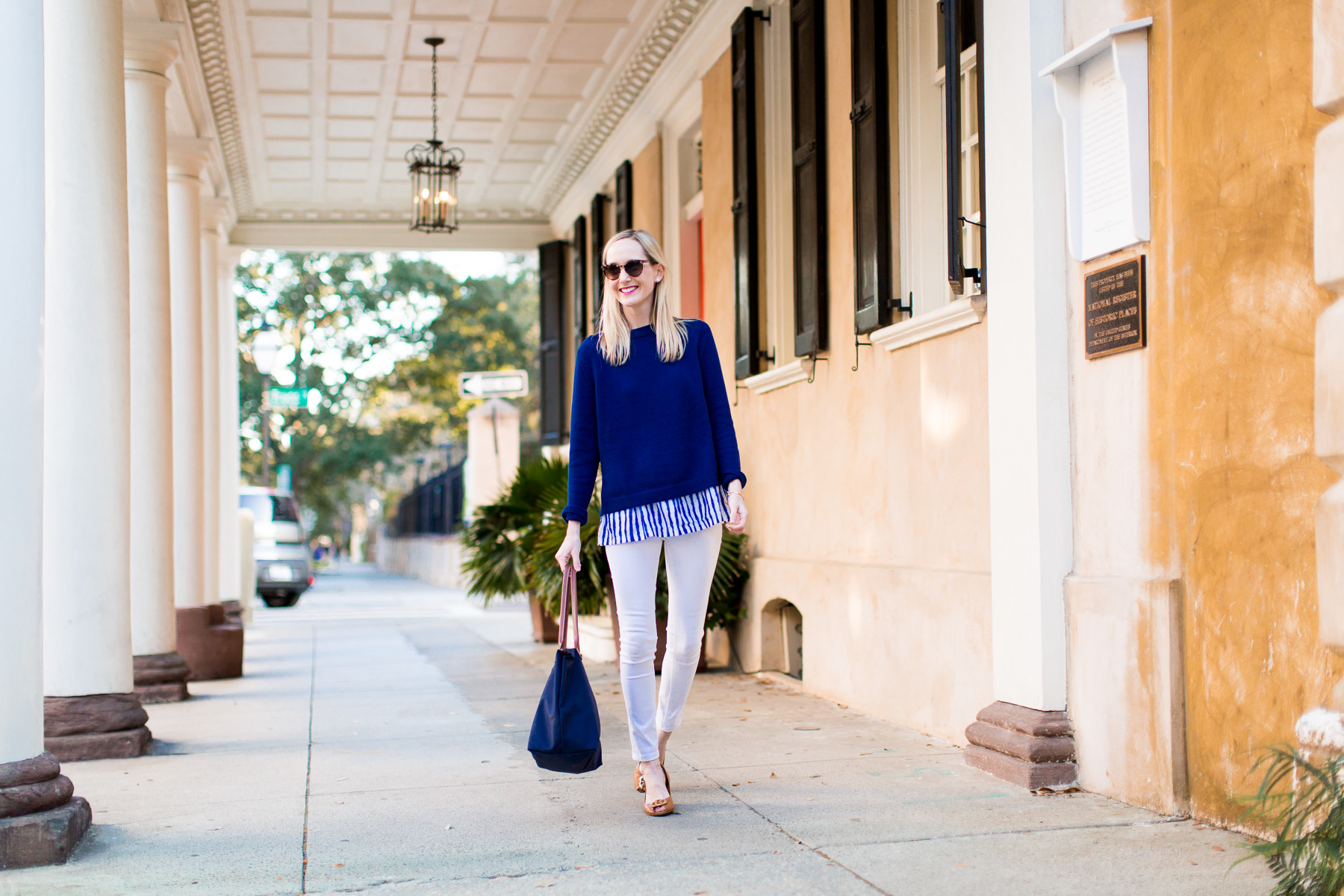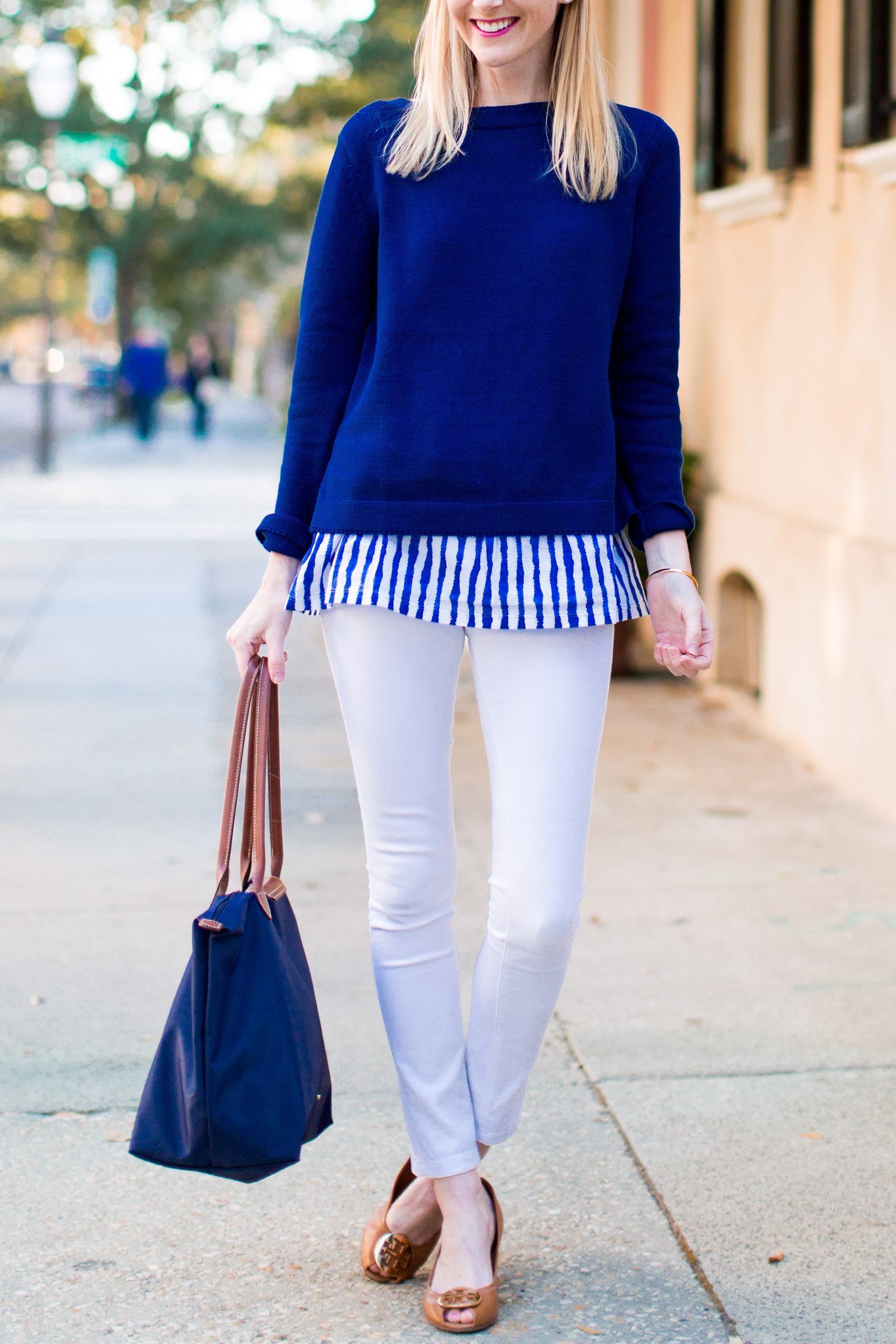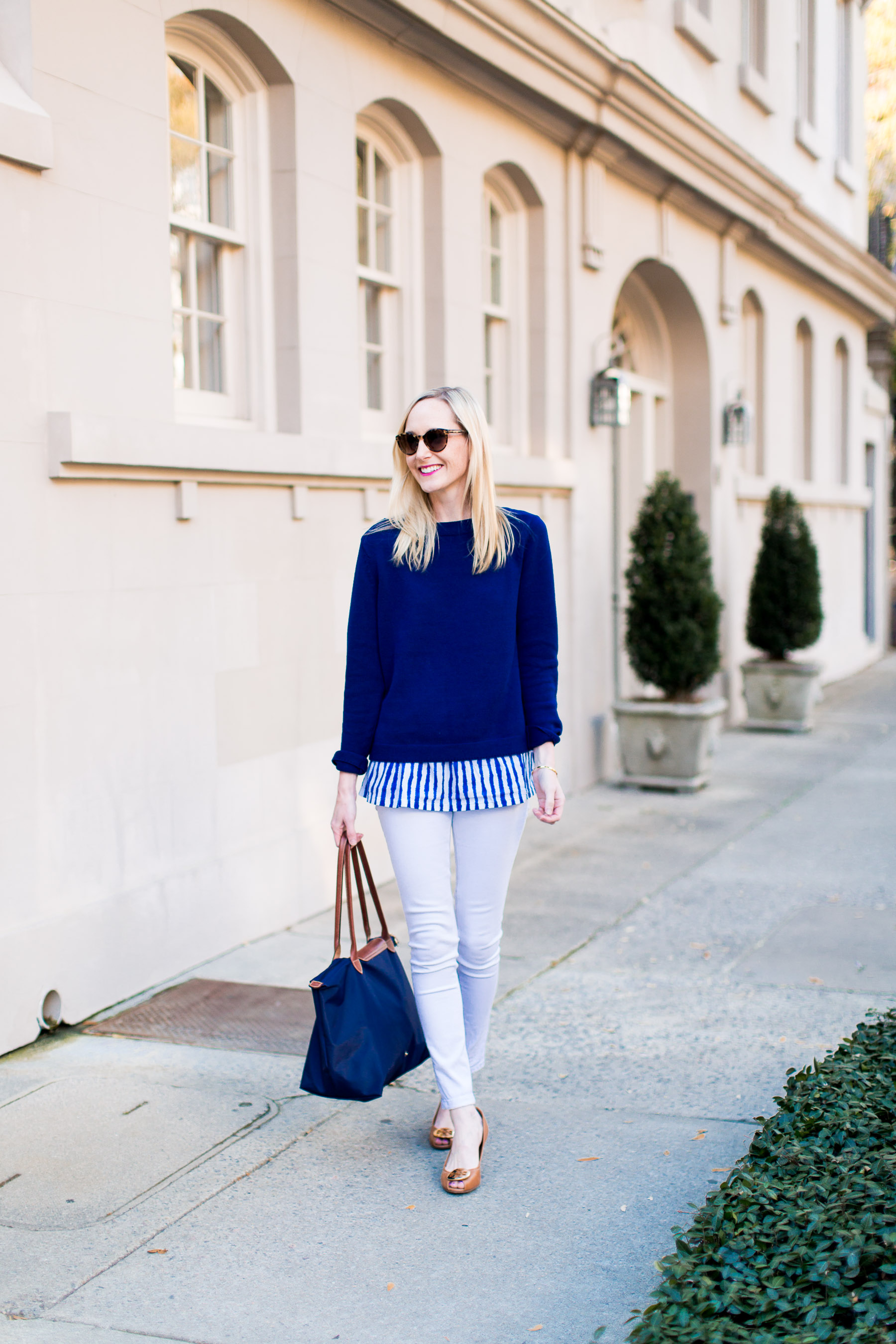 Shop the post:
Vineyard Vines Sweater c/o (Also love this dress in the same print, also available at Nordstrom) / Longchamp Tote (So great for travel! And love the backpack. Maybe for LA?!) / Tory Burch Wedges (So comfy. Couldn't recommend more.) / Rag & Bone Jeans (Crazy soft and they don't stretch out.) / Monica Vinader Bracelet c/o