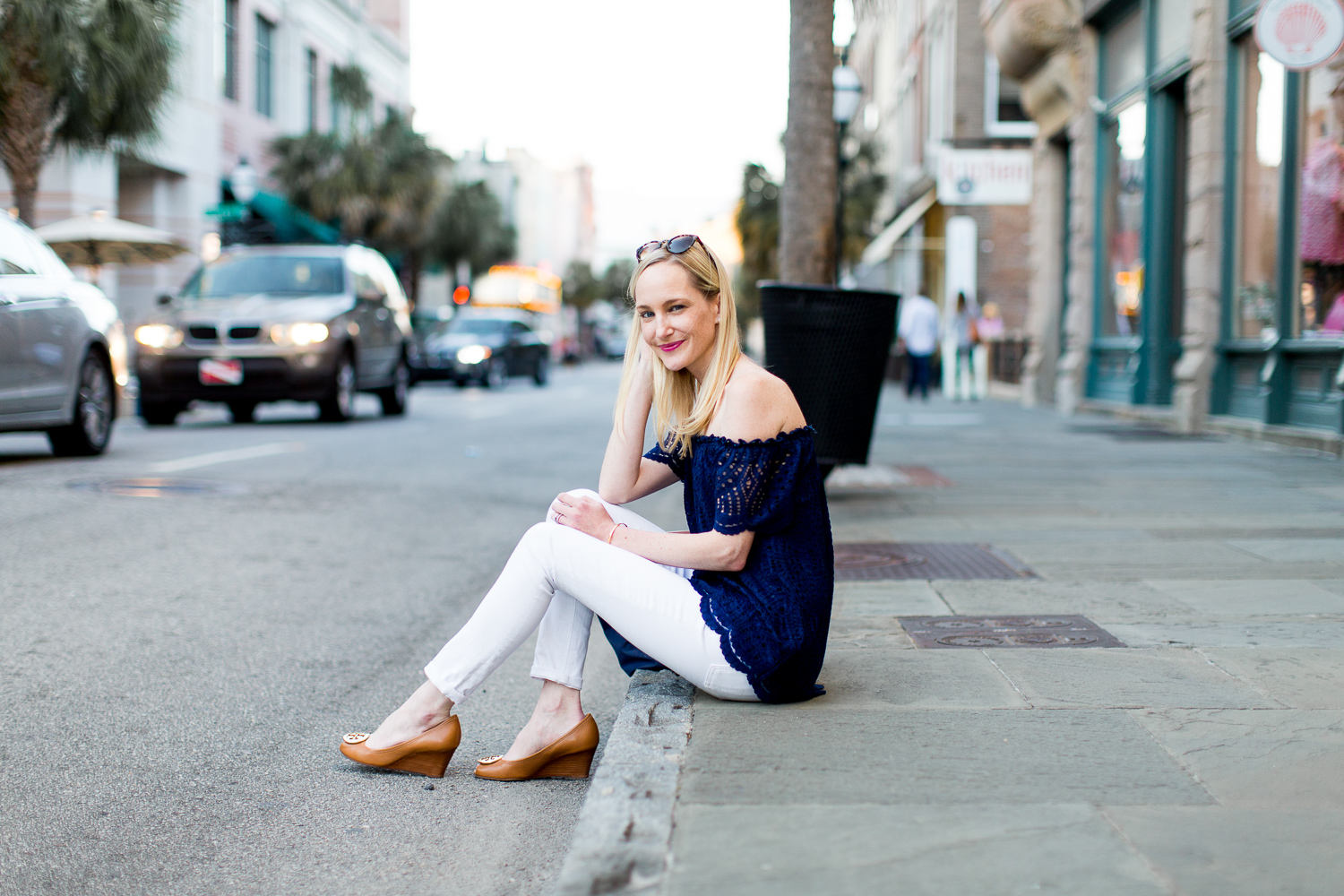 Lilly Pulitzer Top / Rag & Bone Jeans (Best white skinnies ever! And part of the Shopbop sale. Use code "GOBIG17" to take up to 25 percent off, and shipping is free. Here are some favorites. These are my favorite regular jeans, and I love this darker wash, too.) / Tory Burch Wedges / Longchamp Tote
Anyone else really struggle upon returning from an awesome trip? I just didn't want vacation to end, haha. And now I'm behind on everything not because of the trip, but because I'm still in vacation mode. Get your act together, Kelly! That laundry is not going to do itself!
Anyway, I have a big Charleston post that's going up next week, which'll go more in depth about where we stayed (the Kings Courtyard Inn, and it was incredible!), what we did, where we ate and what I enjoyed most about one of the country's most charming cities. But this afternoon (sheesh), I thought I'd share what I wore during our first night there. These photos were taken on King Street, right outside the hotel, which is just one reason I loved the Kings Courtyard Inn so much: it's located in the middle of the Historic Downtown area on the city's best shopping street! I can't even tell you how often we came and went; it was just so easy.
But back to these photos. Beth, my college roommate, took all my pics while we were down and Charleston, and she was an absolute riot. When I'm traveling without Mitch, I often times just don't snap outfit photos since… it's kind of a weird thing. ;)
Hey, [Friend/Family Member]! Can you just take like 50 photos of my outfit right now? Oh wait, you chopped my head off in all of them. Can we try that again?
Yeah, no. Not torturing those I love like that. ;)
Beth was so into it, though! And hilarious. And weirdly amazing at it?! Okay, not "weirdly" amazing. I never doubted the girl's artistic ability for a second. We put on some amazing air guitar concerts in Connecticut back in our prime…
But I don't think I've ever laughed so much during an outfit shoot. My favorite part? It's a toss up:
Beth taking her first "detail" shot. Tara and I couldn't stop cracking up. Beth, I'm so proud of you for finally getting all the parts of the shirt in one photograph. I love you!
Beth diverting the camera away from me to capture the cadets walking down the street. They were clueless, but we were in hysterics.
Beth, Mitch would like to hire you to take over some of his shooting responsibilities. You down?! ;)
Okay, it's Friday afternoon, and I should probably shower so that Emma and I can go to the park when she wakes up from her nap. But a few quick notes about this look:
The jeans
These are my favorite white skinny jeans in the entire world. They're crazy soft and don't stretch out throughout the day. And I'm not sure whether this is just pure coincidence and me just being less of a disaster, but I find that they don't stain as much as my other white jeans. I get at least three wears out of them before they go into the washing machine, and I love that! The best part? They're included in the Shopbop sale, which ends tomorrow. Take advantage, because they almost never go on sale! Use code "GOBIG17" to take up to 25 percent off… and as always with Shopbop, they ship free. (Oh! My favorite regular jeans are included, as is this darker pair.)
The top
I love this top. I was a bit late to the party with the off-the-shoulder trend, but I'm fully on board now. I love the lace, the scalloped detailing, and the somewhat flowy cut. Paired with white skinnies, it easily takes me from day to night… and I'm all about that when traveling!
The shoes
I know I talk about this often, but finding shoes that don't kill my feet is really hard. And it's a straight-up miracle when I find heels or wedges that I can walk around in all day without pain. These Tory Burch wedges? They fall into the miracle category. They also go with everything. I already know that the black pair is in my future…
The tote
I always travel with this navy Longchamp tote. Since it folds up, it takes up almost no room, and it holds a ton. (Including my giant camera.) I only have the tote, but my mom has the backpack, and she loves it. I'm considering it for our trip to LA, as we'll have Emma with us and it would be so nice to be completely hands-free!
The sale
Just a reminder that the Shopbop sale ends tomorrow! Here are some favorites, and check back later for more. I currently have my eye on this top and these shoes (the price!). Oh, wait. And this top, this top and this top. All the tops, haha. (Remember: Use code "GOBIG17" to take up to 25 percent off your order, and shipping is free.)
Over and out! Be back later!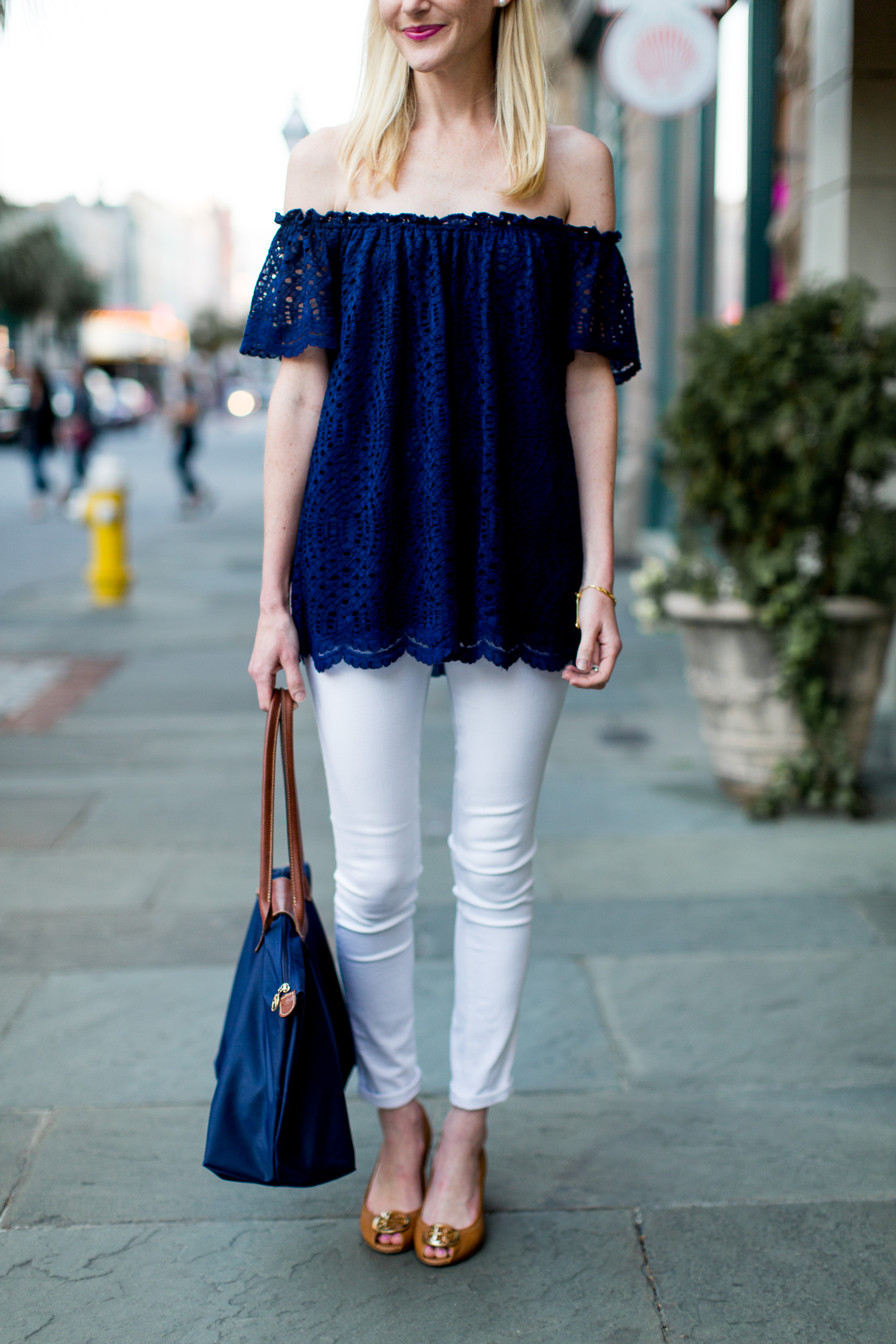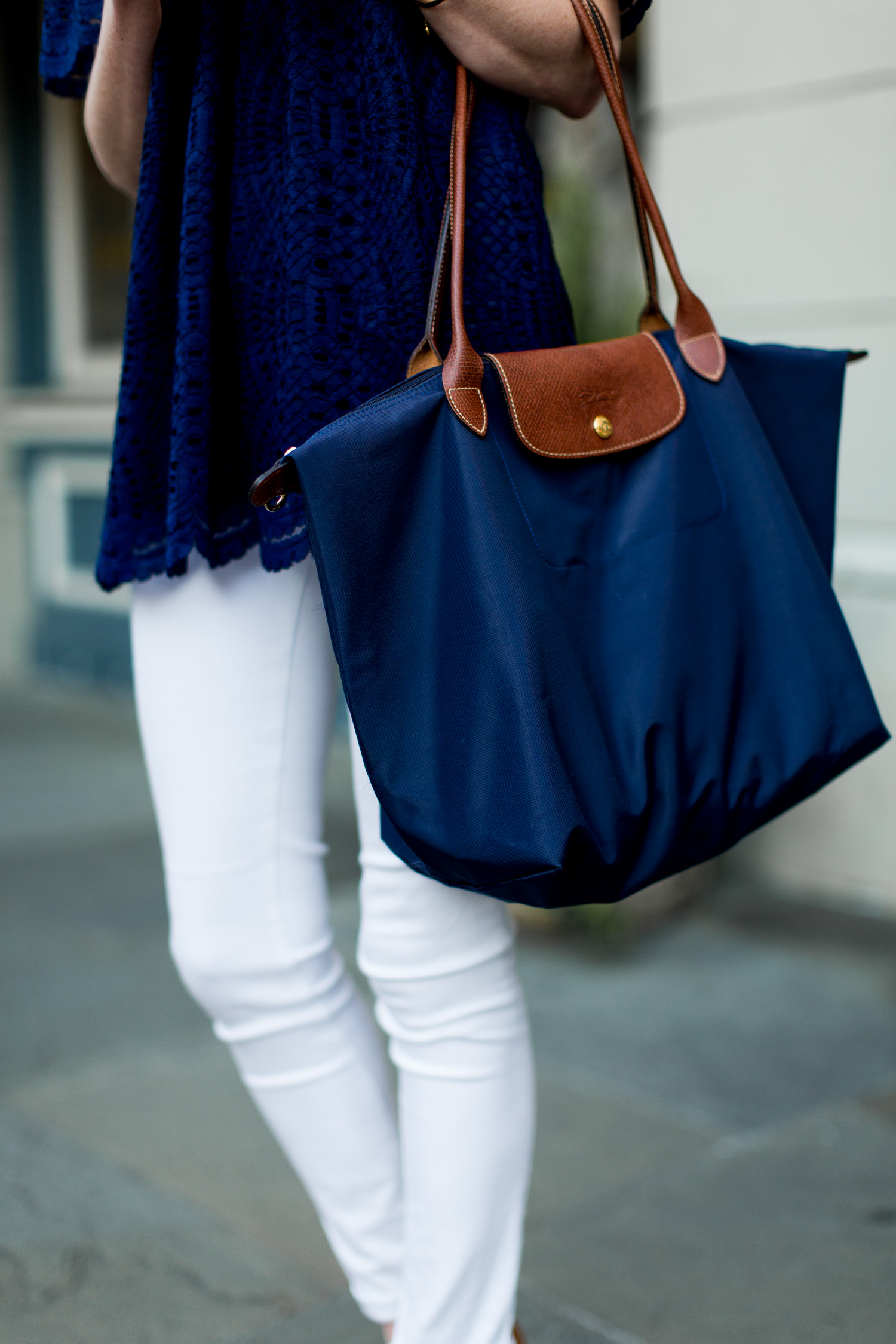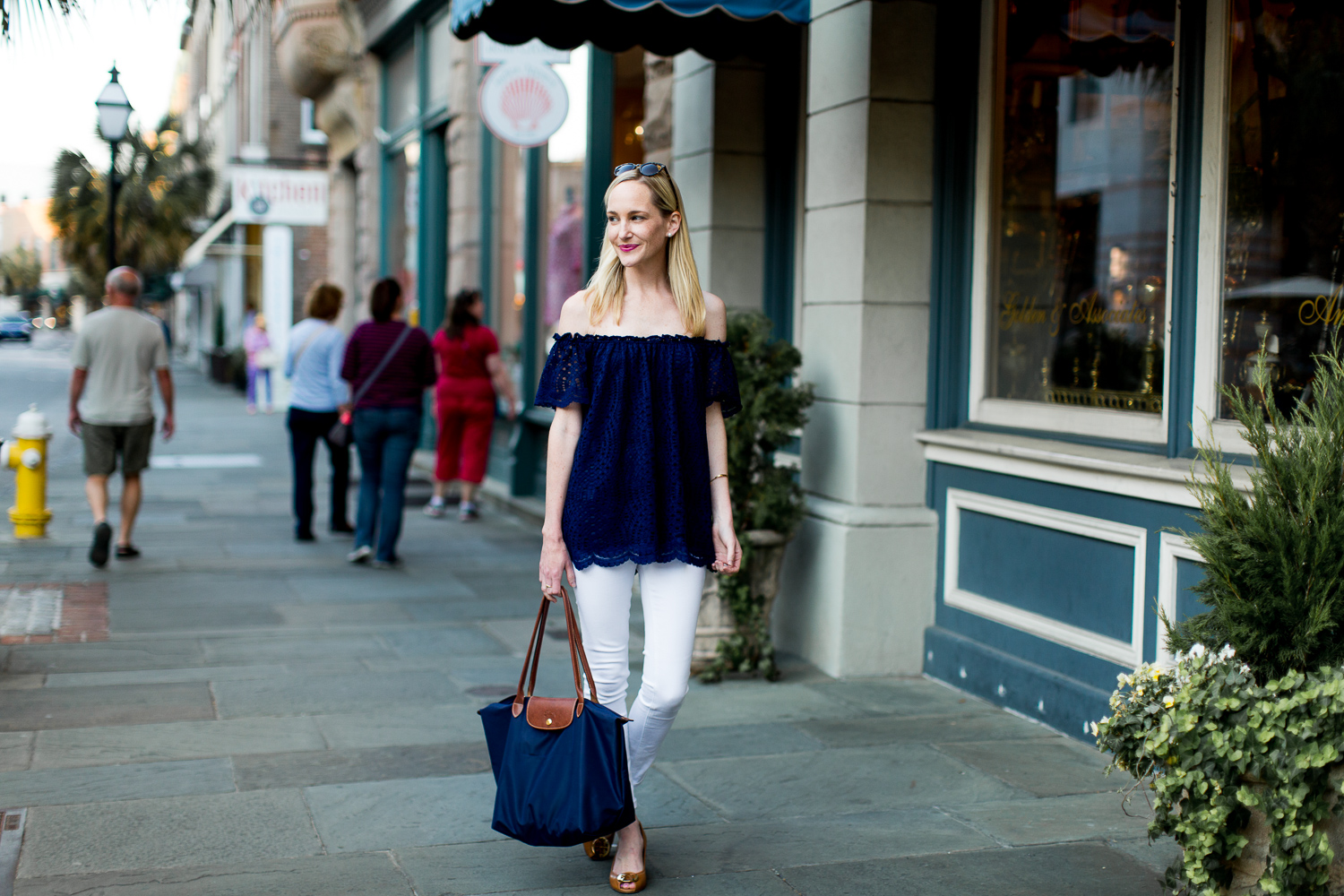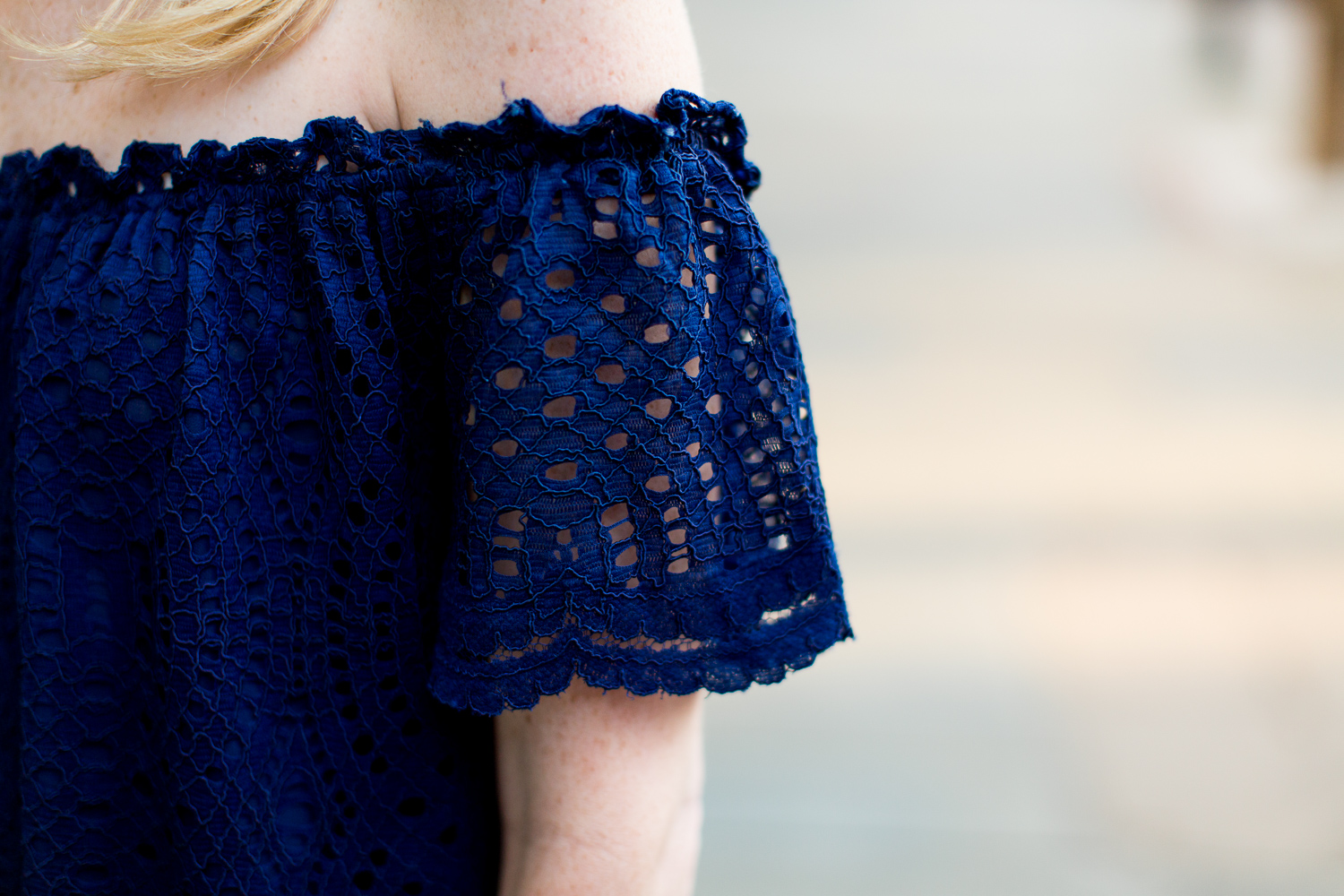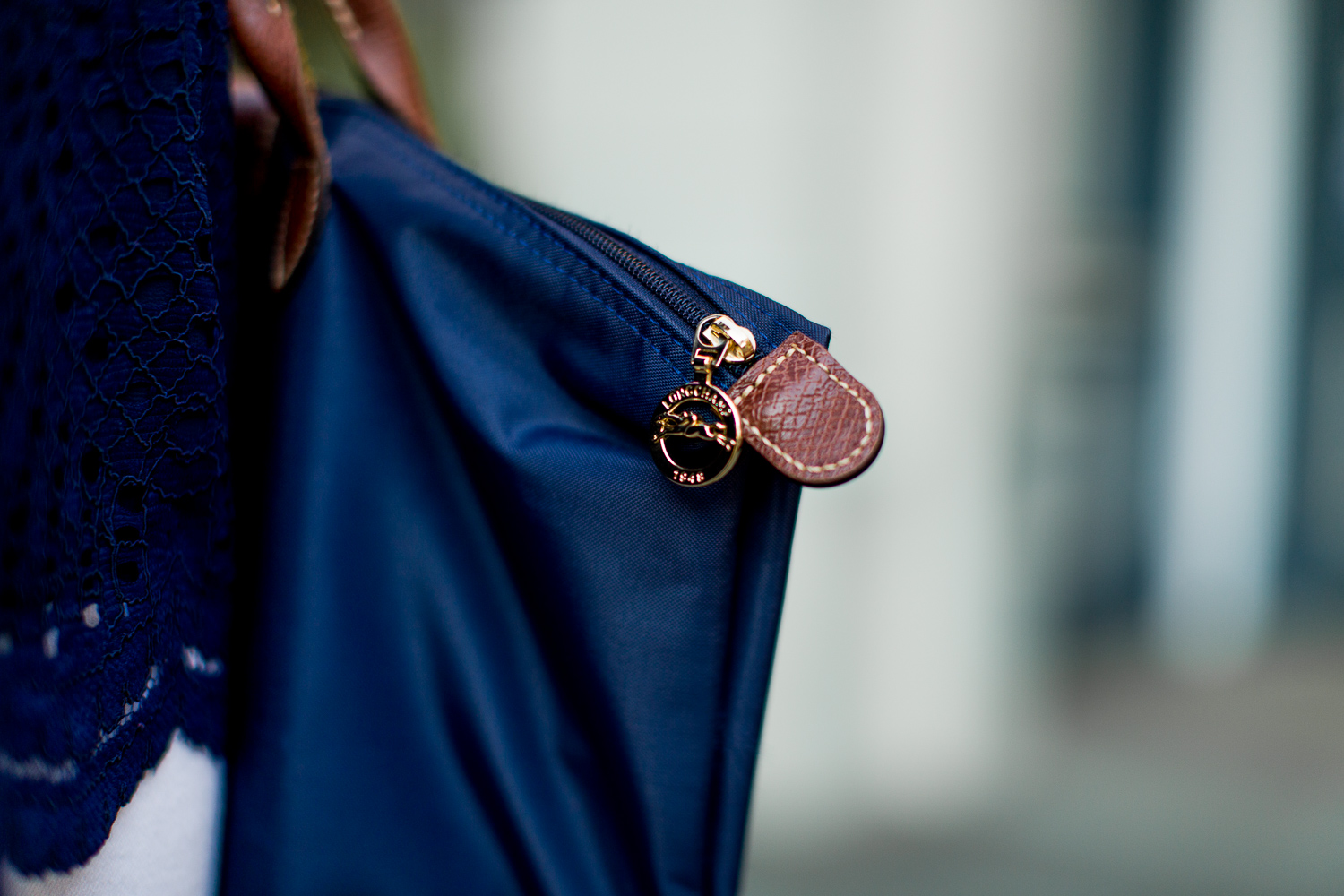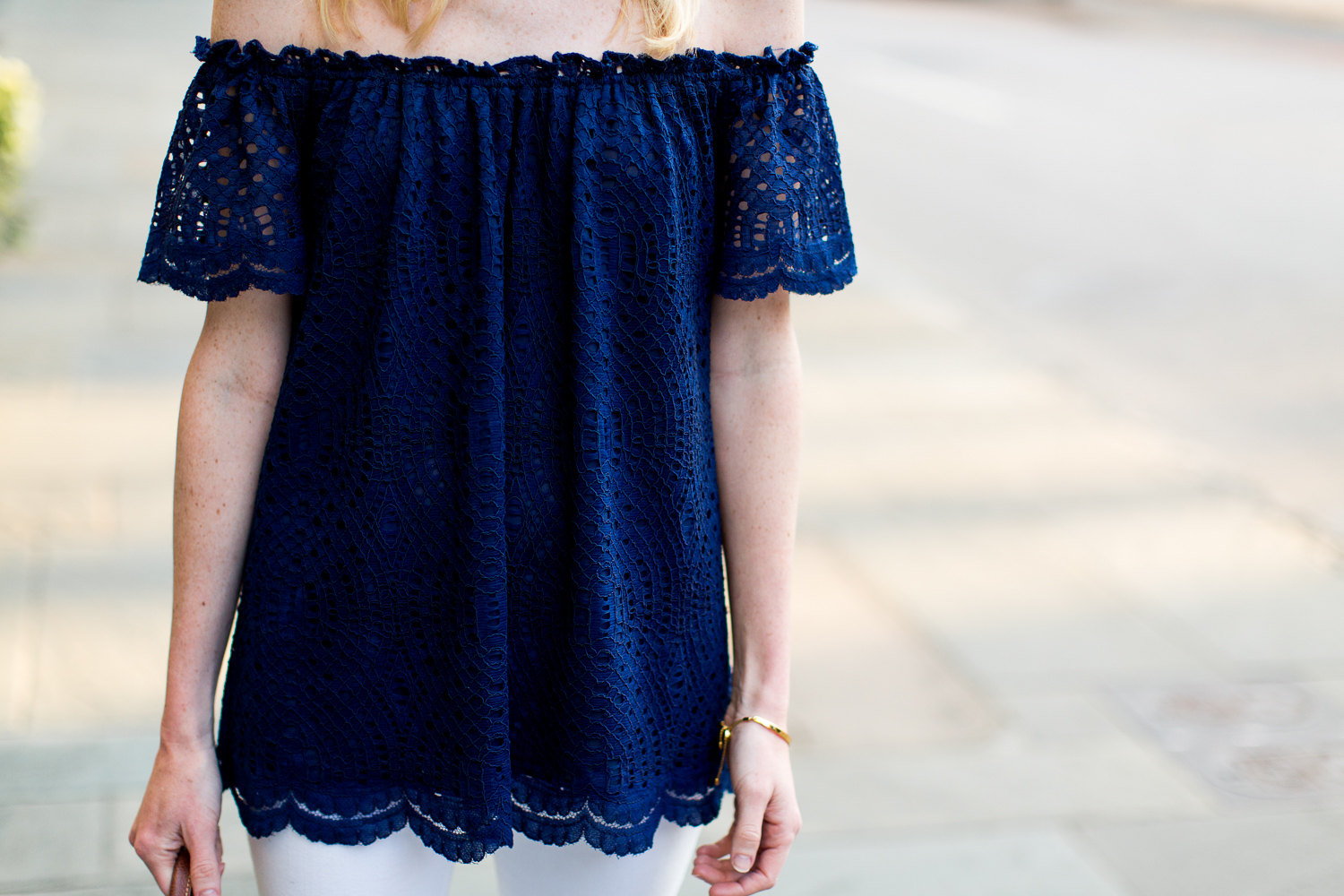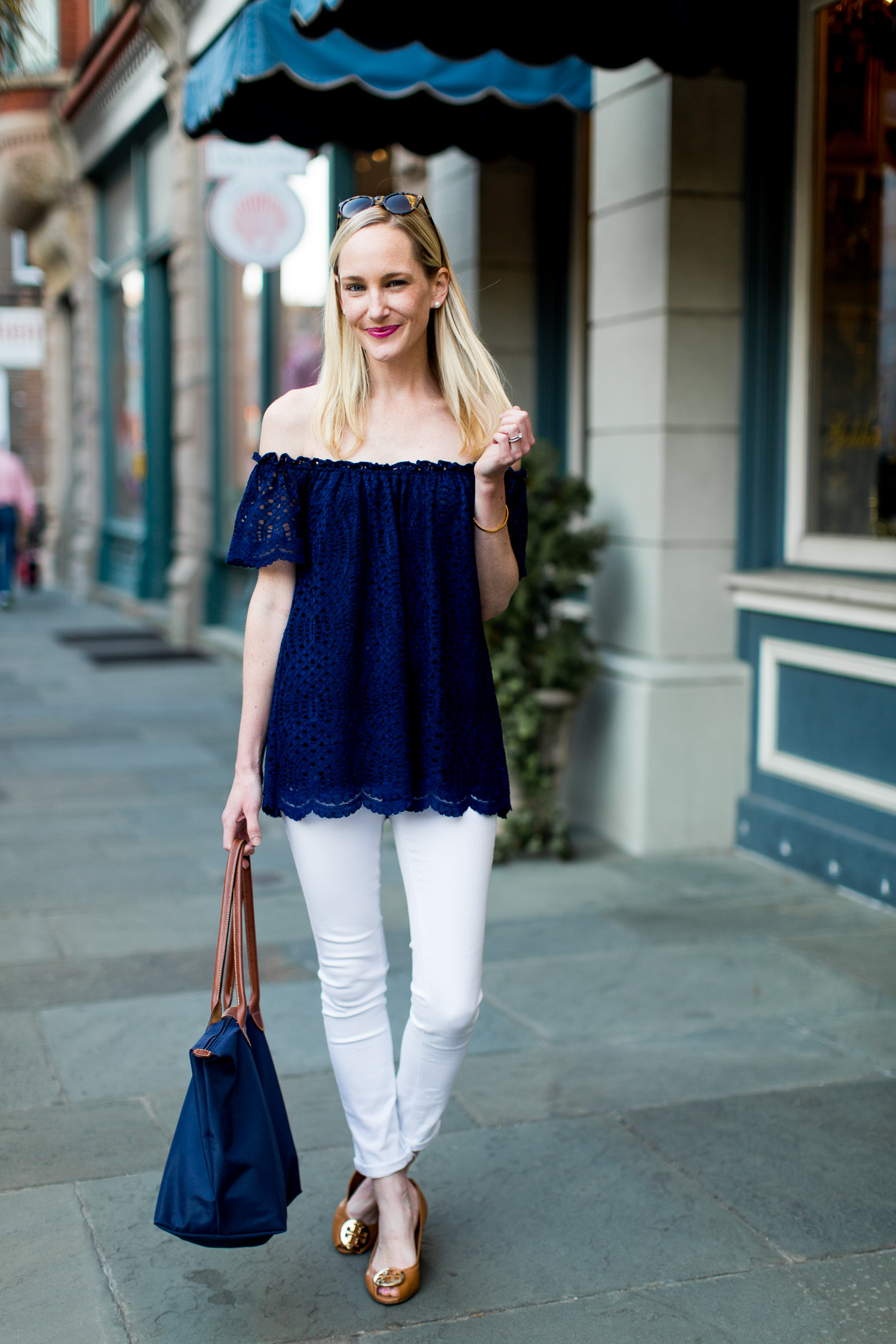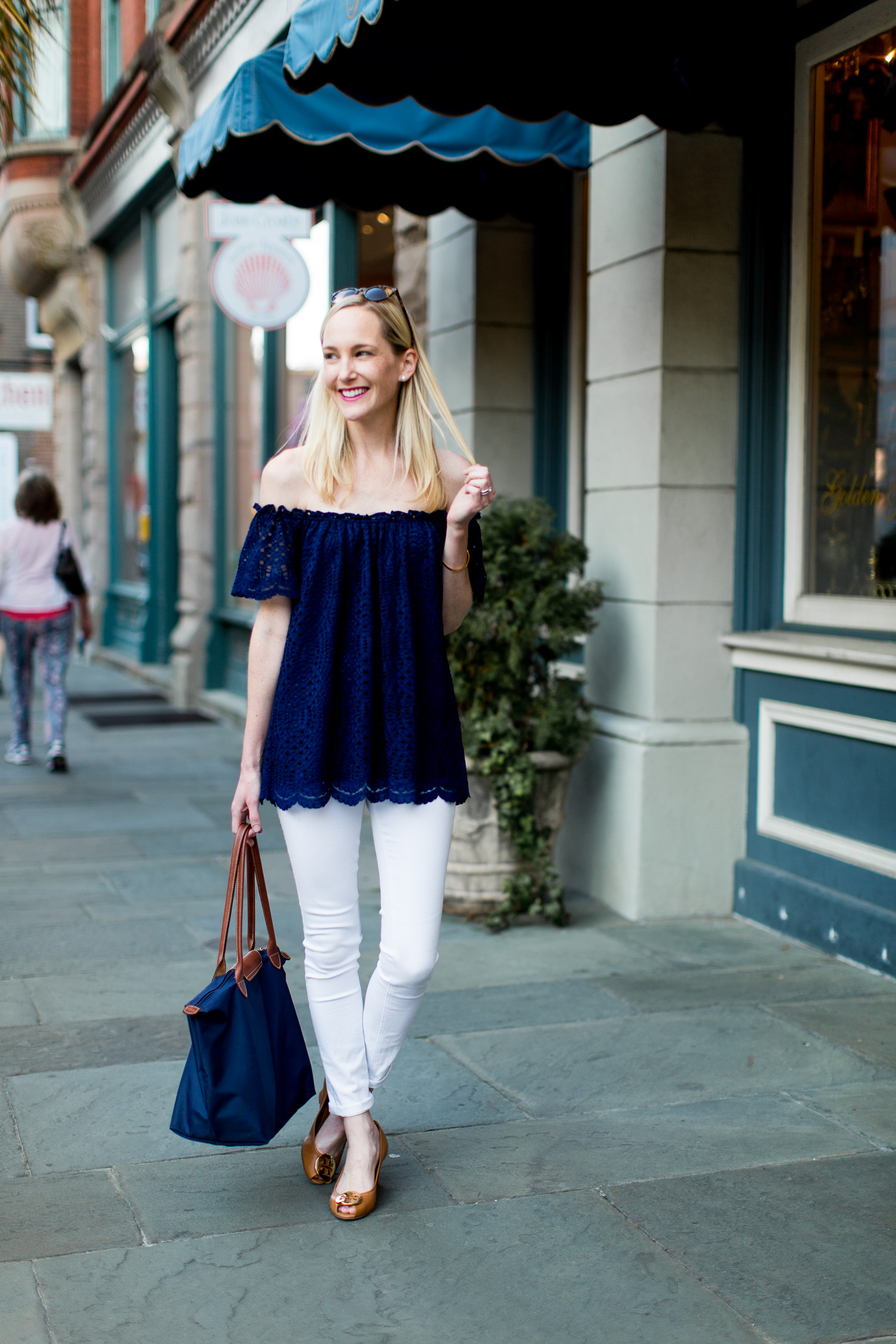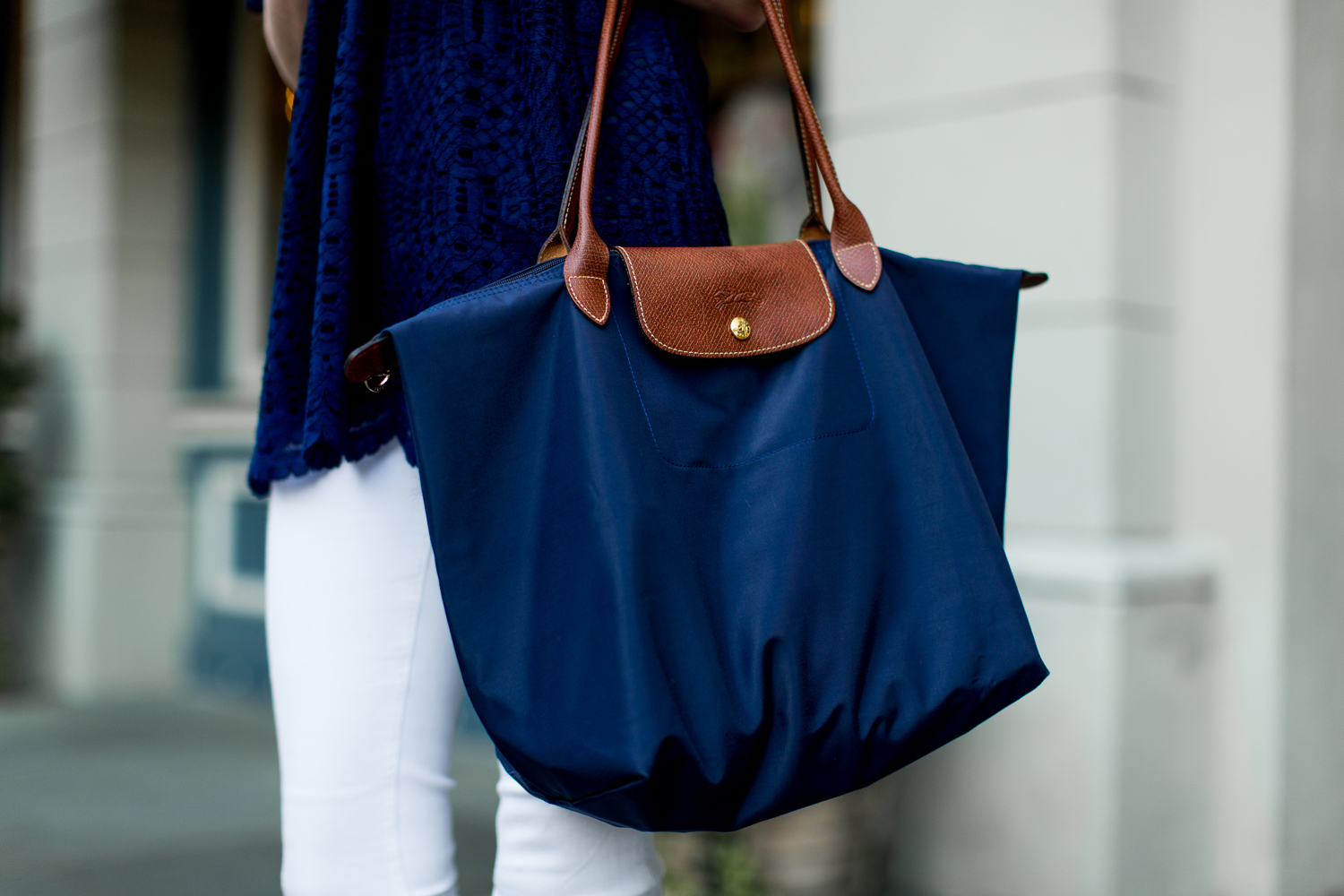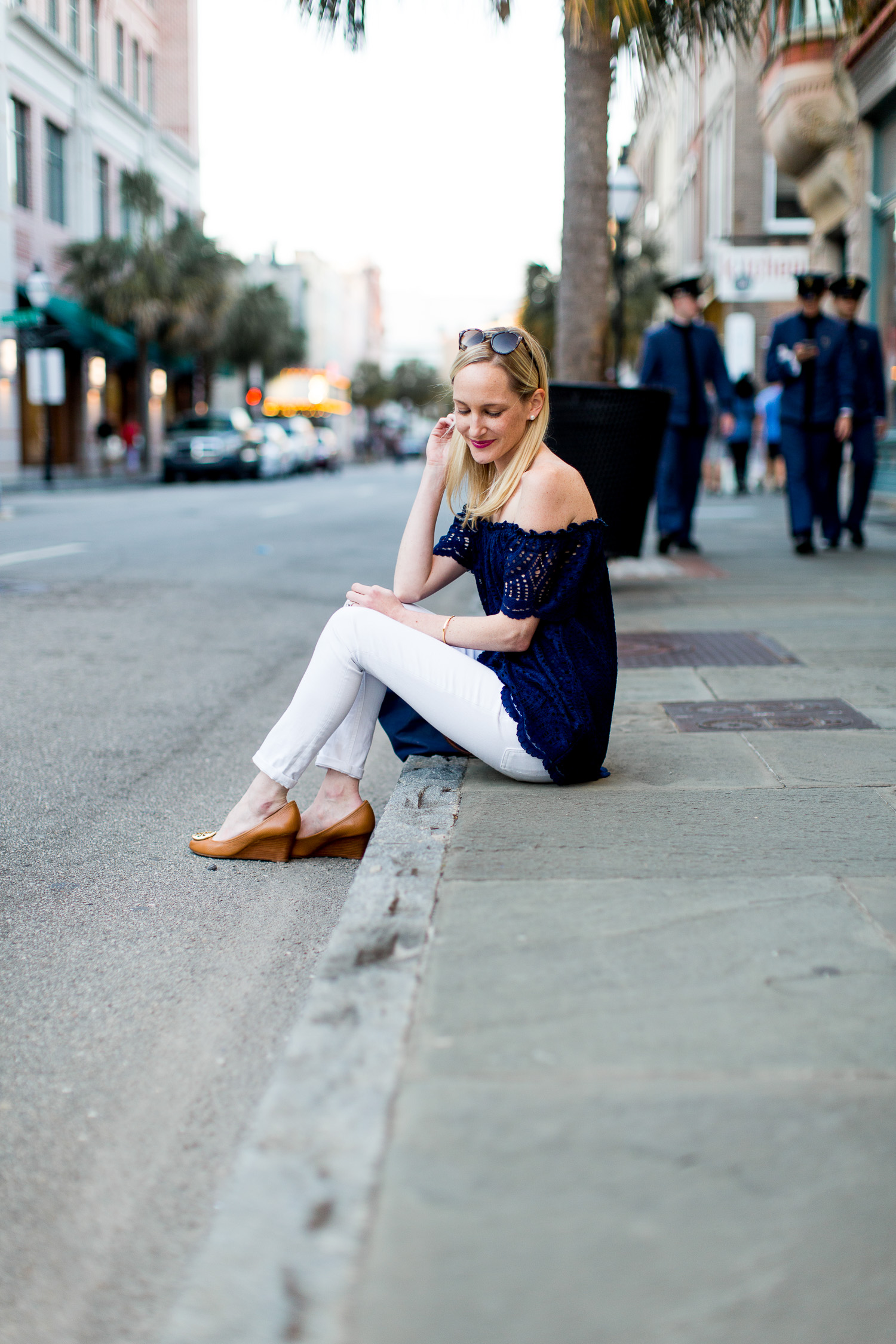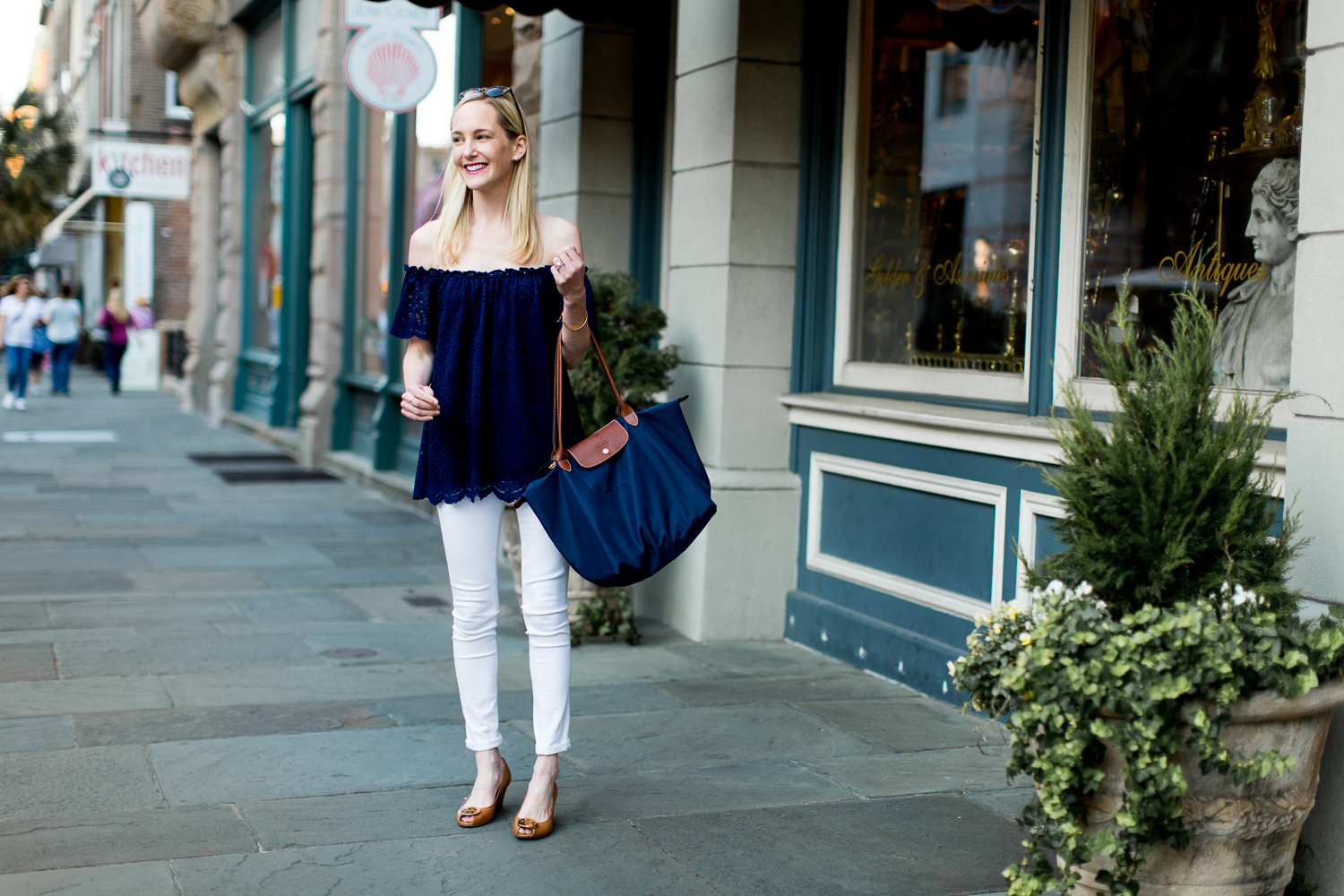 Shop the post:
Lilly Pulitzer Top / Rag & Bone Jeans (Best white skinnies ever! And part of the Shopbop sale. Use code "GOBIG17" to take up to 25 percent off, and shipping is free. Here are some favorites. These are my favorite regular jeans, and I love this darker wash, too.) / Tory Burch Wedges / Longchamp Tote
Shopbop Sale ends tomorrow:
Clothing

Shoes