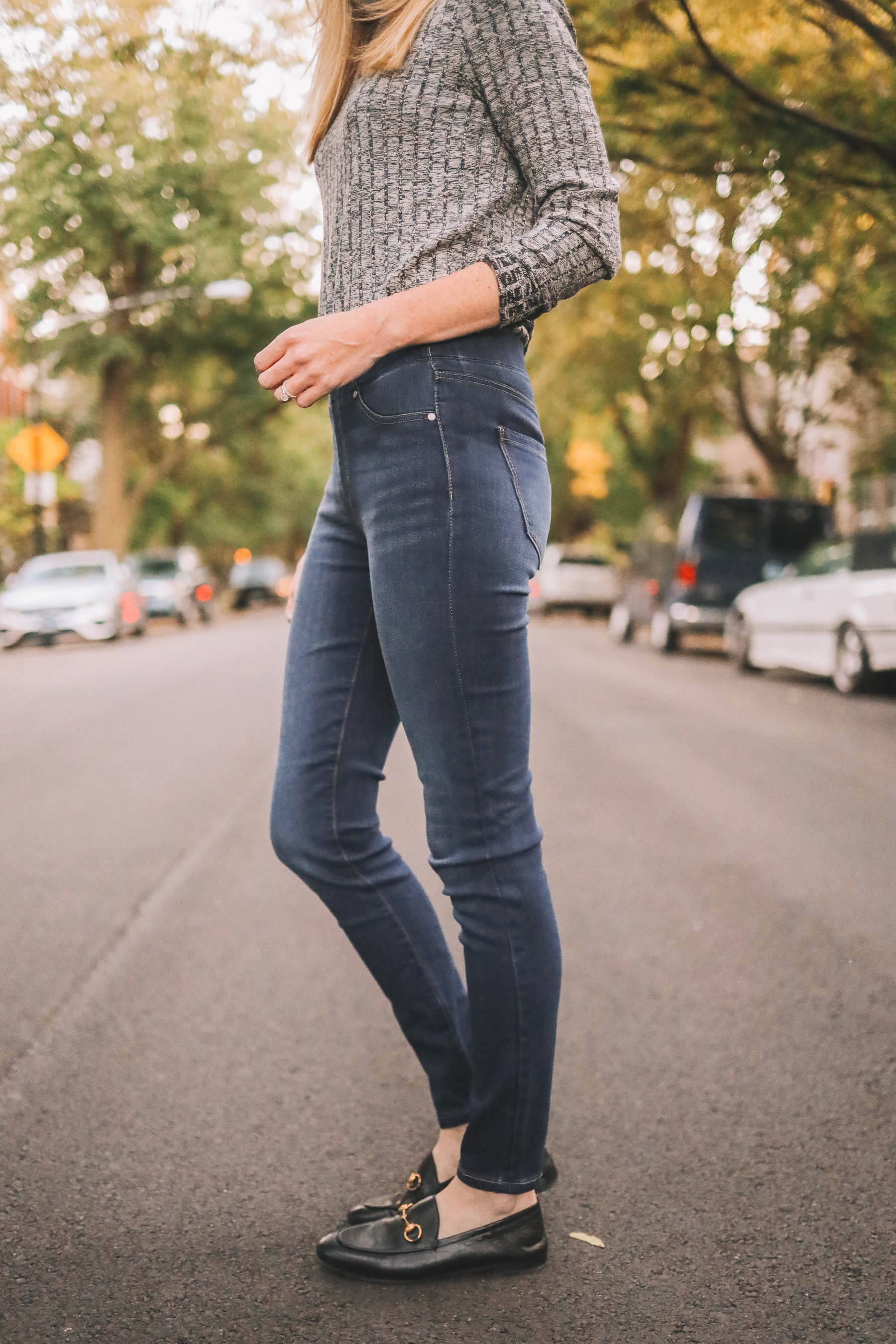 Nic+Zoe/Liverpool Pull-On Skinny Jeans (Also available via Bloomingdales in the darker wash and via Nordstrom in three washes.) c/o / Nic+Zoe Turtleneck (Also via Nordstrom.) / Gucci Loafers (But this pair looks almost identical and is super comfy!)
Apologies for the quality of these photos; I haven't quite adjusted to not being able to shoot at 6/7 p.m. anymore. 😂 But wanted to quickly jump on today to highlight an amazing pair of pull-on high-waisted jeans.
I'm clearly obsessed with high-waisted jeans at the moment. I was into low-rise for so long, but recently discovered how much more flattering the high-rise cut is, and I'm never turning back. (So great for postpartum, too!) Nic + Zoe recently sent me this pair of jeans–made in collaboration with Liverpool–and I'm SUCH a big fan. (Btw: they're also available via Bloomingdales in the darker wash and via Nordstrom in all three washes.) The Nic + Zoe jeans are actually somewhere between mid- and high-waisted. (11.5″ front rise; 15″ back rise.) Regardless, though, they feel like high-rise to me and they do wonders for the figure!
Why I love them:
They're soft. They're the first pair of jeans I reach for when all my stuff comes out of the laundry.
They don't stretch out throughout the day. I do approximately one zillion squats every day. Pick up the baby; put down the baby; pick up the baby; put down the baby. ;) These jeans keep their shape!
The wide waistband smooths and pulls you in. This is huge for me right now. I'm certainly not complaining about my post-baby tummy, it is nice to have a little help in that area as it's far from toned at the moment. These jeans kind of make me look like I'm working out regularly! (I'm not. 😂)
They're thicker than most legging-like jeans. It's hard to find jeans that are both soft and substantial, so these are winners. (I know I'll rely on them for getting me through the upcoming Chicago winter!)
They don't scrunch up at the ankles. I was just measured, and I'm officially 5'5, haha. (Always thought I was under, but maybe I grew a little this past pregnancy?!) Hopefully this helps!
The front "pockets" lay flat. I never use my front pockets, so I much prefer them to be faux so they lay nicely.
The back pockets are real. I can't get by without back pockets. I'm always carrying a zillion things with me because of the girls; plus, where would I stash my phone?! Not all legging-like jeans have real pockets, so this is awesome.
They run true to size. I took my normal size in high-waisted jeans and they fit perfectly. If you're in between sizes, I'd probably size down, as they have a good amount of stretch in them.
Okay! That's all for now. Hope you're having a great day!
Shop the post:
Nic+Zoe/Liverpool Pull-On Skinny Jeans (Also available via Bloomingdales in the darker wash and via Nordstrom in three washes.) c/o / Nic+Zoe Turtleneck (Also via Nordstrom.) / Gucci Loafers (But this pair looks almost identical and is super comfy!)