Peel-and-Stick Pink Bunny Wallpaper / Kira David Design Molding Work / MacKenzie-Childs Bath Mat, Hand Towels + Bath Towels c/o / Madeline Prints (Or just buy the book and rip it out and frame it!) / Gold Frame / Wicker Waste Basket / Wicker Tissue Holder / Wicker Soap Dispenser / Wicker Tumbler / Teak Step Stool
Have mercy. 🐰
Since I just shared a tour of Emma's bedroom, here's her bathroom!
I hate bathroom renovations. They're just the worst. (In the old house, our powder room and bedroom bathroom projects nearly killed me. 😆)
Thankfully, I loved everything about this bathroom from the get-go, from the slate floors and subway tile to the vanity and hardware! But below is what I did to make it a bit more "little girl-ish." :)
Photos all taken on iPhone.
Before: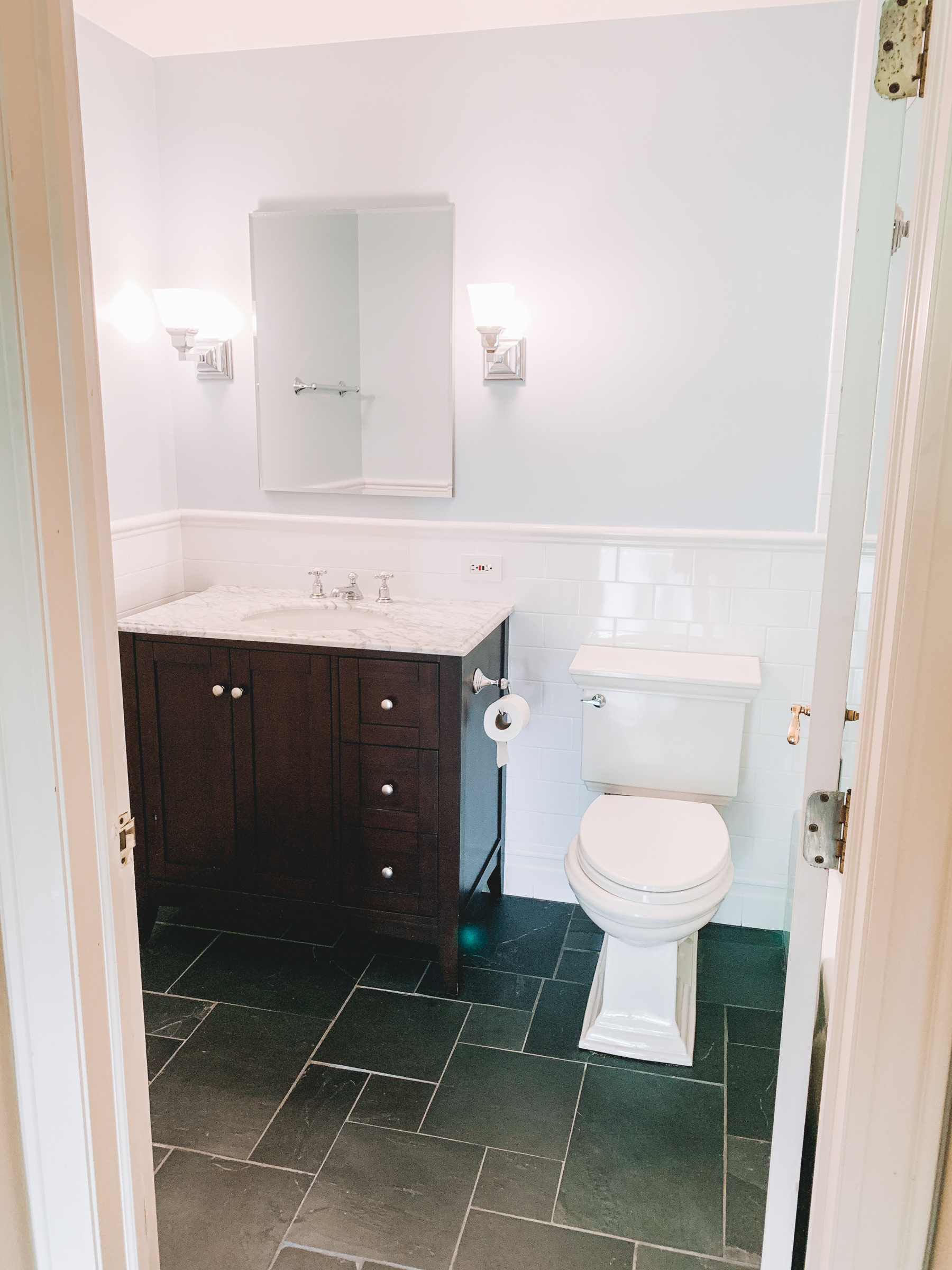 Updates:
Molding: Kira's team recommended that we add molding to the bathroom, and the price increase was very little since they were already doing Emma's bedroom. I wouldn't have done it had it not been for this, but I think it looks great! Definitely gives it a more finished look.
Peel-and-stick pink bunny wallpaper: My mom called me "Bunny" as a little girl, and there were bunnies everywhere, haha. As luck would have it, Emma is wild about bunnies… and her comfort "stuffy" (as she calls it) is a bunny ballerina. So when I found this peel-and-stick wallpaper, it was a no-brainer! Wallpaper in general is a commitment–one that I'm apparently not afraid of 😜–but bathroom wallpaper? YIKES. You just don't know whether it'll survive. (No windows in the bathroom, either!)
I decided to go for it because:
I'm insane. 🤪
Kira's team offered to throw it up there while they were doing Emma's room. (I could've done it on my own but I accepted the help since I'd just had a baby and could barely stand. 😉)
Emma takes baths, not showers. There's a powerful fan in there, too. (Less steam.)
We only needed a few rolls, and they were $40 each. (So much better than traditional wallpaper!)
Peel-and-stick wallpaper is easily removed. (If it didn't work out, taking it down would be a cinch.)
The company's website says that it holds up in bathrooms just as well as traditional wallpaper does; you just need to be careful and ensure that the space is ventilated well. (I should note, however, that installing wallpaper in a high-use bathroom that gets steamy is never recommended.) So far, so good for us! In terms of installation, I can't personally speak to it for the above reason but I do have friends who've done it on their own and they say it was totally doable.
Art: Emma loves Madeline, so I went with a print of the page that reads "And brushed their teeth." I had it framed by Framebridge. You can find Madeline prints on Etsy, or you could just buy the book and rip the page out, haha. (But really.)
Towels: Our friends at MacKenzie-Childs sent us this beautiful bath mat along with these hand towels and bath towels. Aren't they so cute?! I love that they match the inside of the bunnies ears. (See? I'm nuts.)
Bath Accessories: I found these on sale at Kohl's! Here are the links: Wicker Waste Basket / Wicker Tissue Holder / Wicker Soap Dispenser / Wicker Tumbler
Teak Step Stool: We have three of these in our home because they're so great for kids. Safe and beautiful!
After:
Shop the post:
Peel-and-Stick Pink Bunny Wallpaper / Kira David Design Molding Work / MacKenzie-Childs Bath Mat, Hand Towels + Bath Towels c/o / Madeline Prints (Or just buy the book and rip it out and frame it!) / Gold Frame / Wicker Waste Basket / Wicker Tissue Holder / Wicker Soap Dispenser / Wicker Tumbler / Teak Step Stool