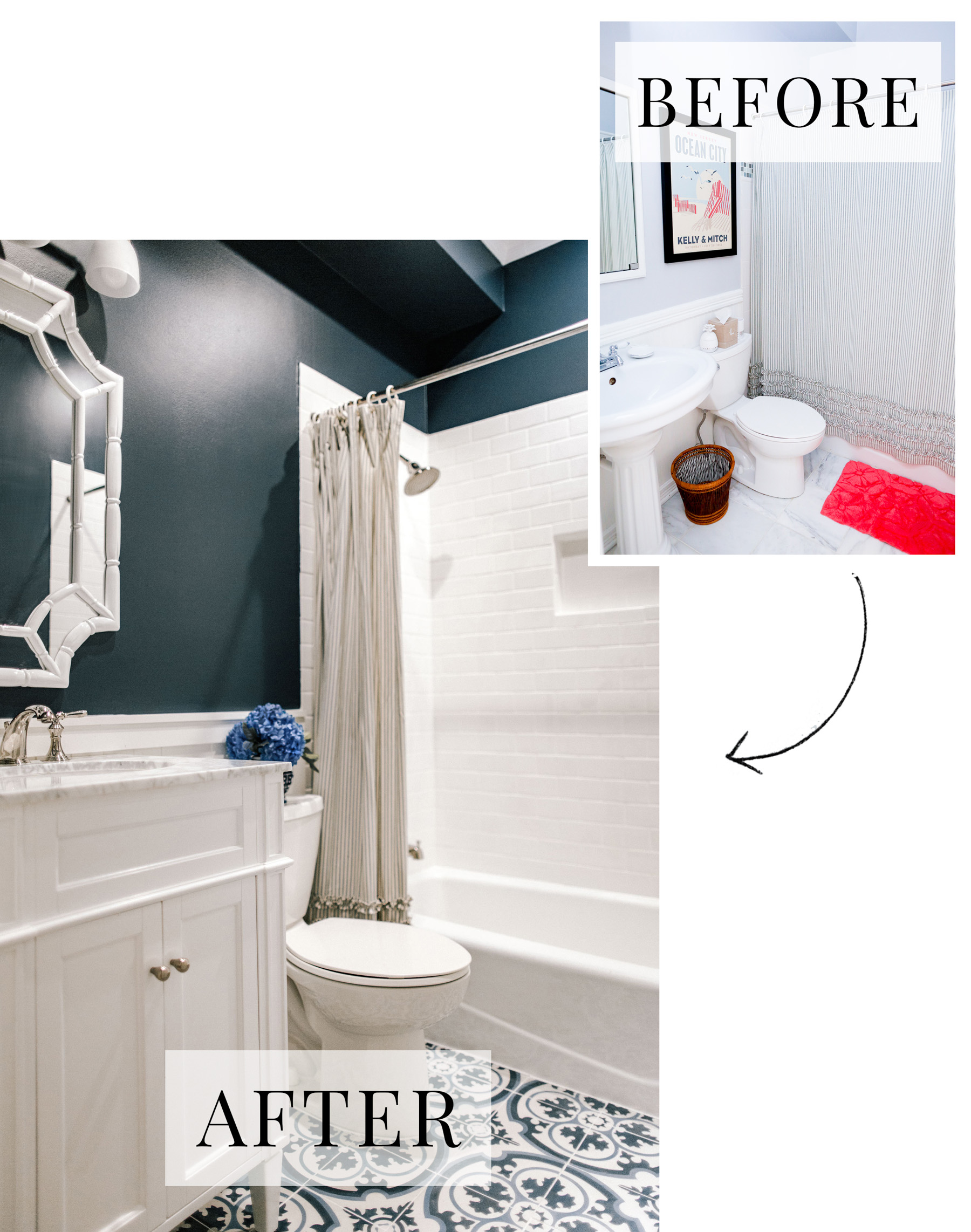 Mitch here!
Big news! We completed our final home renovation. Kind of crazy, considering we've been at it for just about three years at this point, but it feels great to finally be done.
Our last project was the powder room, which also functions as Emma's bathroom. I have to admit that pre-renovation, it didn't look horrible. (Here are the "before" photos!) But it was falling apart. The previous owners had done the work themselves, and while the aesthetics were nice, the floors were cracking and the beadboard was severely damaged–presumably when they installed the toilet. And the paint job was a complete disaster. It looked like they'd gone with only one coat, and there was significant discoloration and yellowing around edges and up by the ceiling.
So what was this time-strapped couple to do? Run to Ace Hardware is what. Not sure if you remember this toy chest project we did last year, but we've been working with the company for a while now, and have fallen in love with The Paint Studio. Picking out a color was incredibly easy, and we were in and out of the store in less than a half hour!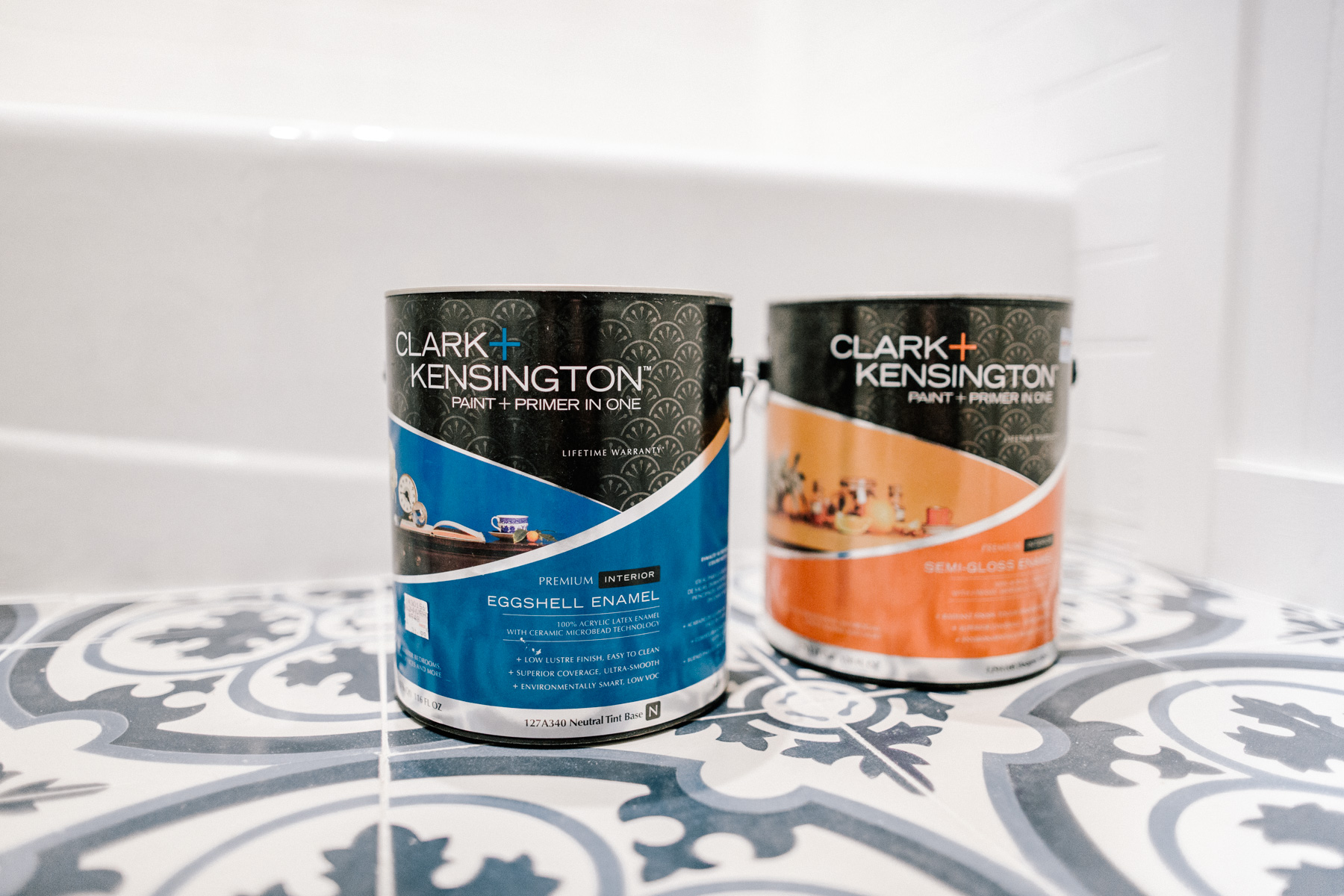 The Paint Studio
Despite my occasional beard and my affinity for tartan, I'm not the handiest of husbands. But Ace Hardware offers guys like me a gentle nudge in the right direction with The Paint Studio. The website is full of helpful tips and techniques (along with this fun paint quiz) to get any painting project off the ground. They have a huge selection of project tutorials, including a special page for choosing kids' bathroom colors, too. And after spending a mere 10 minutes on the site, Kelly and I had a pretty good idea of what color we wanted to go with.
Associates at The Paint Studio were also extremely helpful with helping us choose a paint brand. We chose Clark+Kensington due to the brand's reputation for carrying amazingly durable, stain-resistant paint. Even better, Clark+Kensington was designed to be easy to wash, which was very important to us. (#toddlerprobs)
Kelly and I have an inside joke where we estimate how many hardware store trips I'll need to complete even the most basic home project. I'm usually off by a factor of 10, but this time around, Ace's helpful staff was so thorough in their advice that I got everything I needed in just one trip. Shoutout to Al and Marcello at our local Ace for making this project so stinkin' easy.
I should also mention that Ace has the Extra Mile Promise. What is the "Extra Mile Promise," you ask? If you forget to grab something for your paint project, you can purchase any missing items via phone and Ace will straight-up BRING IT TO YOUR HOUSE with no delivery fee. Good luck getting that kind of service at any other store. Find your local Ace Hardware Paint Studio here!
Side note: Our great friend, Tom (who's married to Kira of Kira David Design), worked at the very same Ace Hardware where I bought this paint. I've honestly never heard someone speak as fondly of their college job as Tom does of his time with Ace. All in all, it's a friendly, happy place.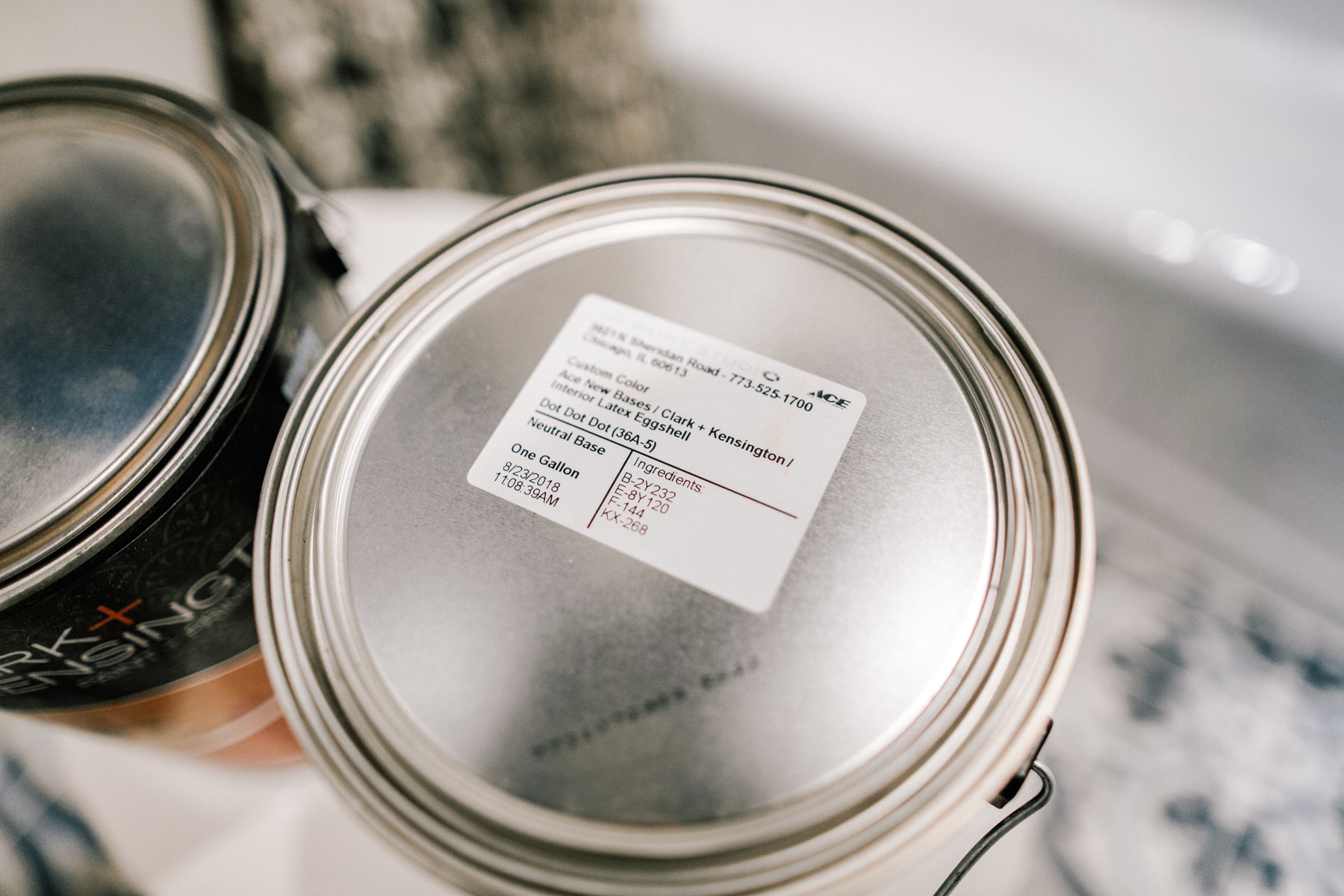 Selecting a paint color
Kelly (obviously) decided that navy walls were a must, but didn't love the fact that she really couldn't test paint colors in the bathroom before choosing since she didn't know what the lighting would be like. (We were adding a light fixture over the mirror.)
But we simply showed the Ace Paint Studio experts our before photos and told them about the light fixtures (and no window situation), and they immediately knew which shade would look best in the space: Clark+Kensington's "Dot Dot Dot" (36A-5) for the walls in a matte finish, and "Designer White" (1066) for the beadboard and trim in a semi-gloss finish. With our colors selected and a cart full of painters tape, brushes and drop cloths, were were ready to roll. (Get it? Come on. That was great.)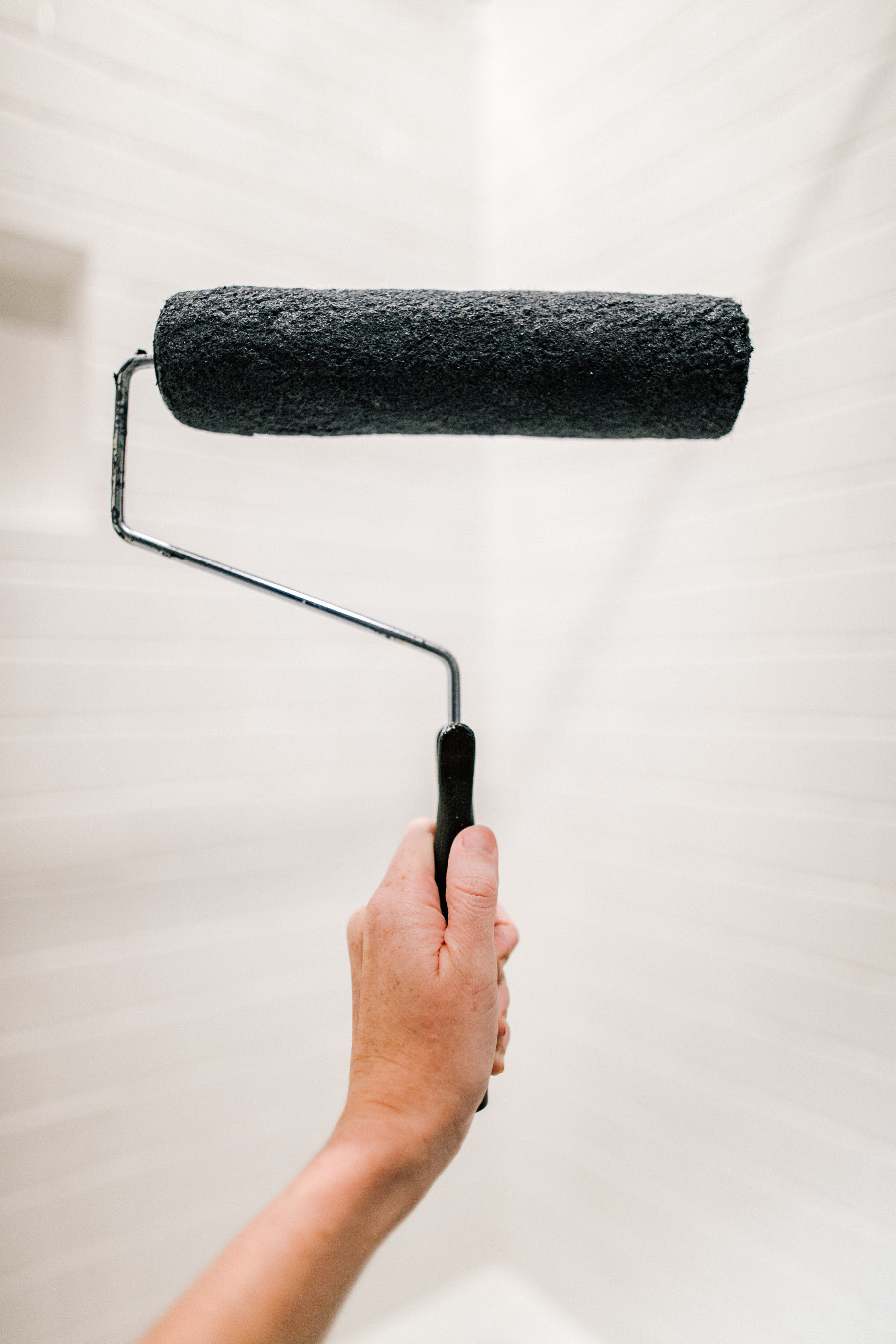 The results
While Kelly is the sweetest person I know, she's a tough cookie with even tougher standards. Because of this, I was understandably pretty worried that she wouldn't love the navy. (Again, it was a daring choice!) But Clark+Kensington's "Designer White" brightened up the small space, making it appear bigger and giving it a cleaner look. It also really made "Dot Dot Dot" pop!
Kelly's reaction?
"Oh. My. God. I LOVE IT."
I love it, too. And though I feel like I should be asking the captain permission to come aboard every time I enter (⚓), I think it's just about perfect.
$100 Giveaway
And now for the fun part! Head over to Kelly's Instagram account later today to enter for a chance to win a $100 Ace Hardware gift card for your next paint project. Simply follow the account, like the bathroom renovation pic, and leave a comment. Hope to see you over there!
The rest of the project:
As with any renovation, our bathroom refresh grew in scope a little bit. To complement the "Dot Dot Dot" wall color, Kelly selected a Moroccan-style floor tile. Similarly, we switched out the shower with a simple white subway tile to match the "Designer White" beadboard. We also installed a white vanity with plenty of storage for Emma's bathroom stuff, and this absolutely bizarre-looking mirror which, fine: I've come to like. The room was missing a light fixture above the sink, and the overhead ceiling light shone down in such a way that I looked like a 115-year-old on his way to the funeral home. So we installed this, and now I look like a 30-year-old on his way to the funeral home. Much better.
Without a doubt, though, the part of the project that's made the biggest visual impact is the Kensington+Clark "Dot Dot Dot" paint color. We can't believe the difference. From botch job to designer bathroom in only a few short days!
Mitch. Out!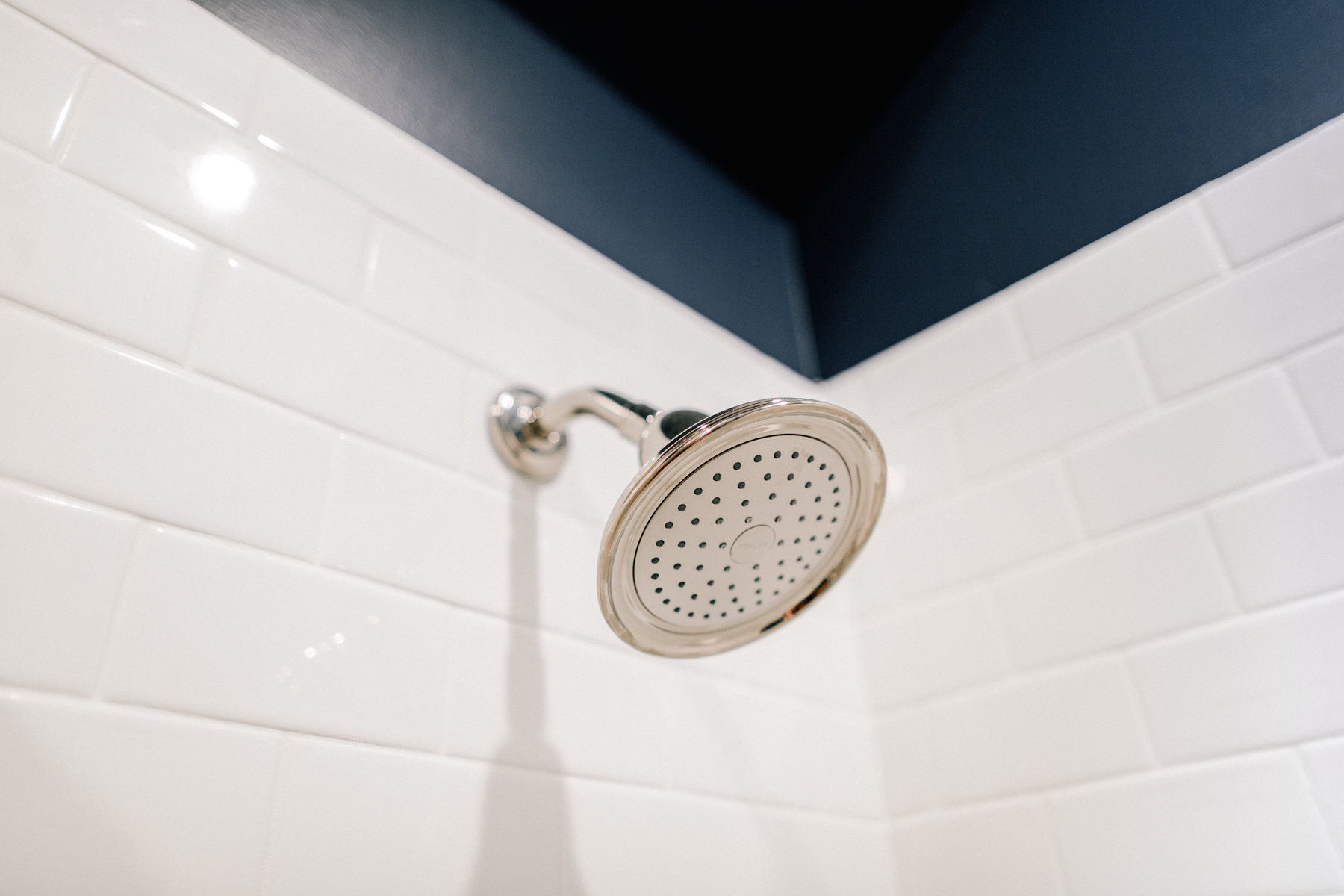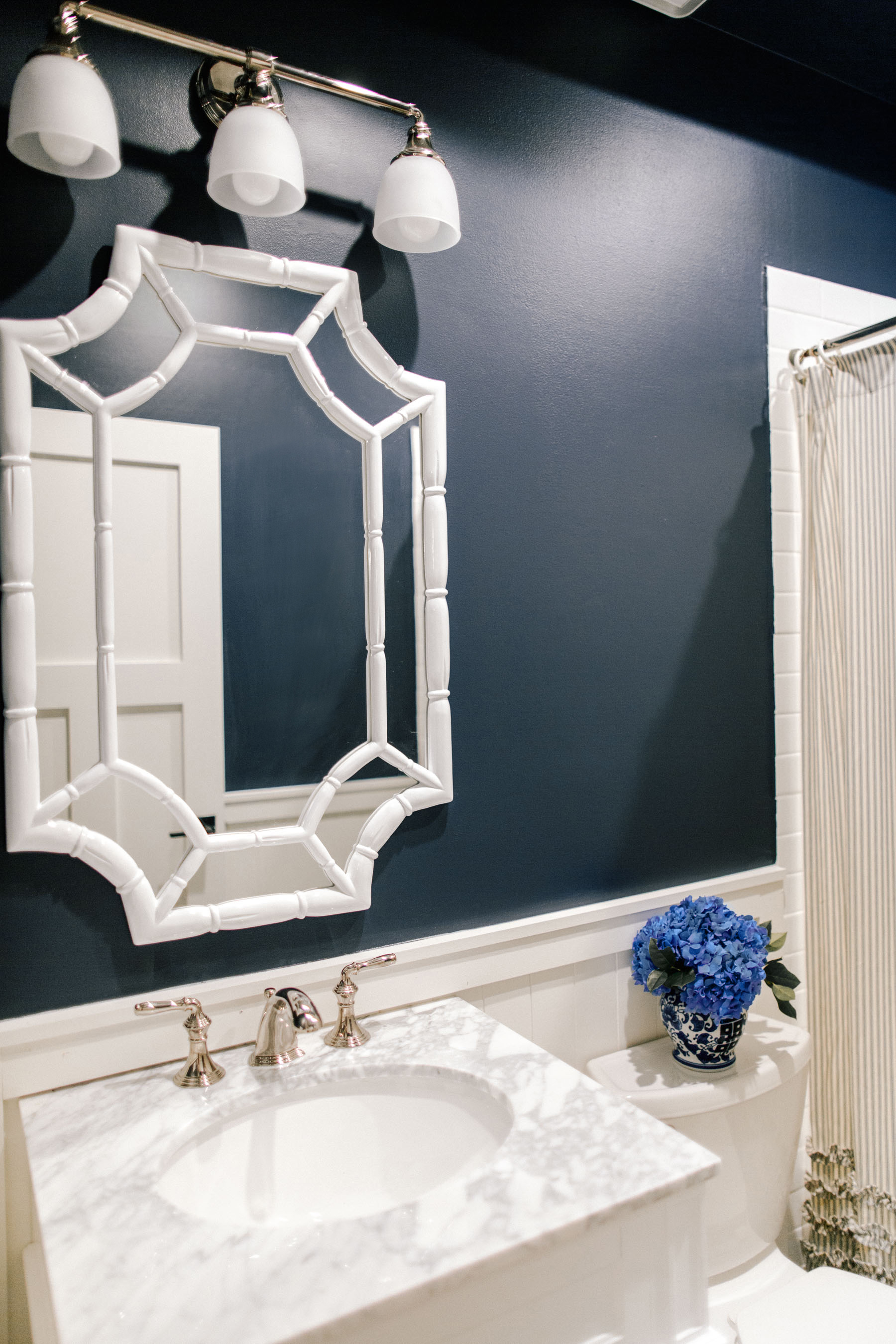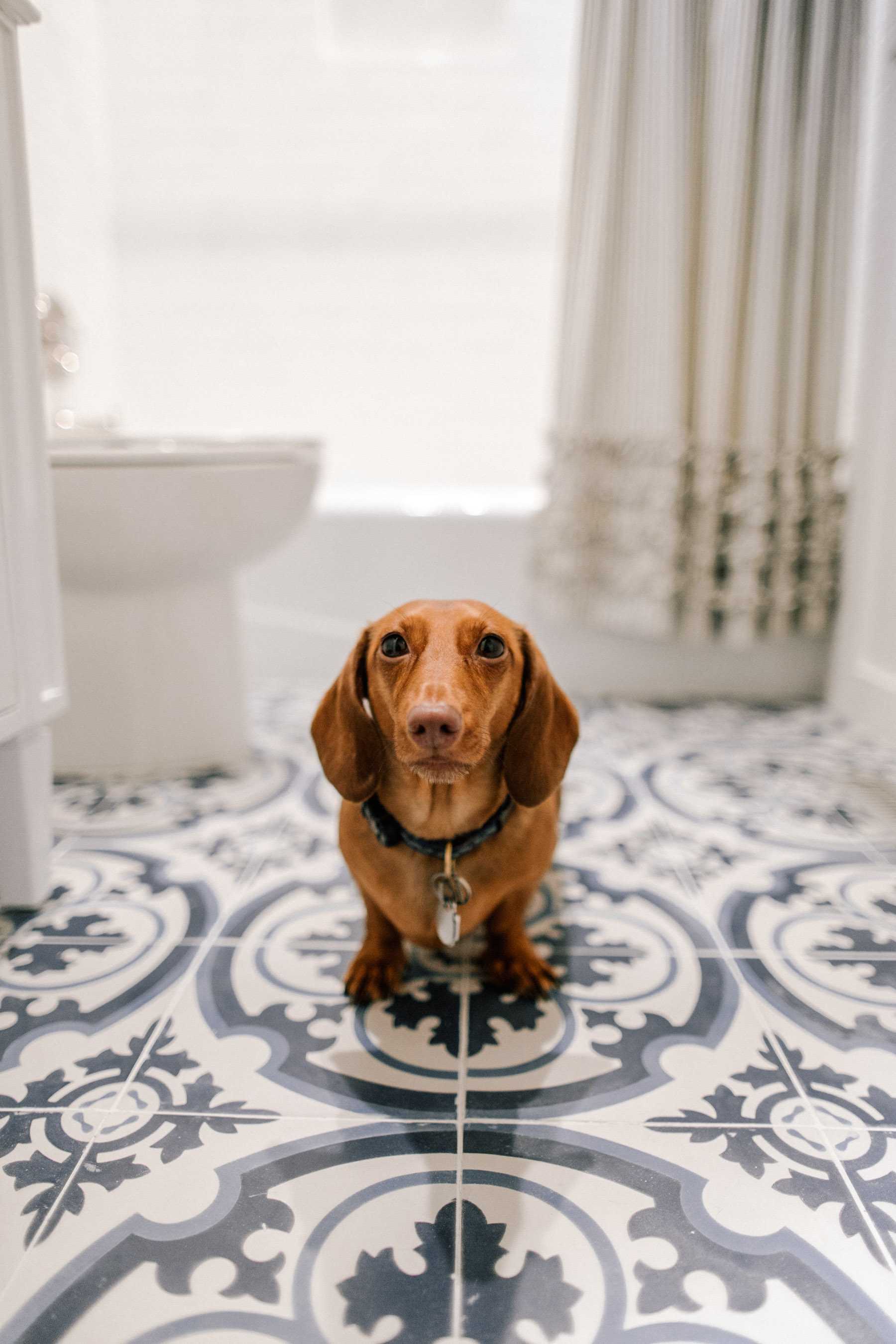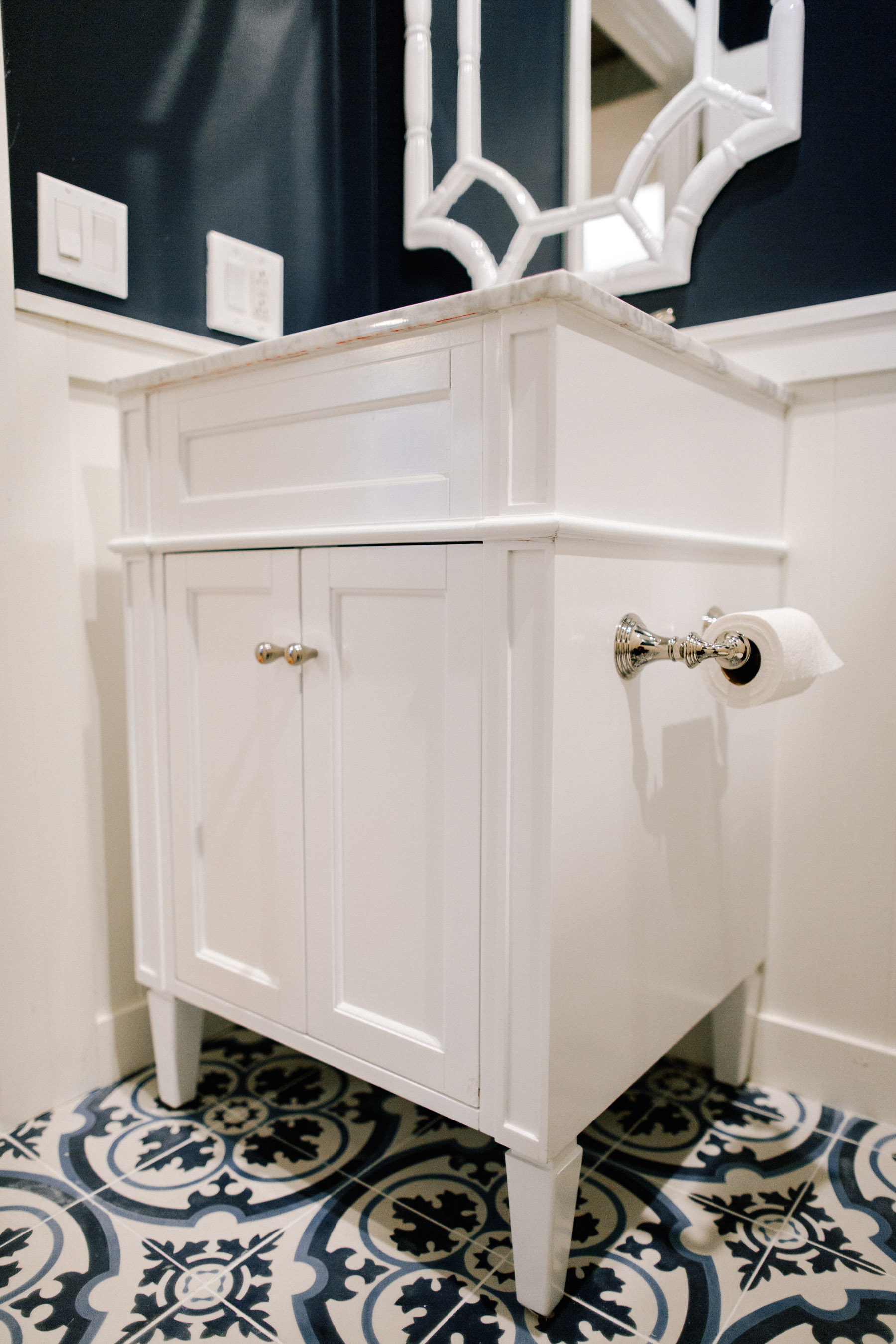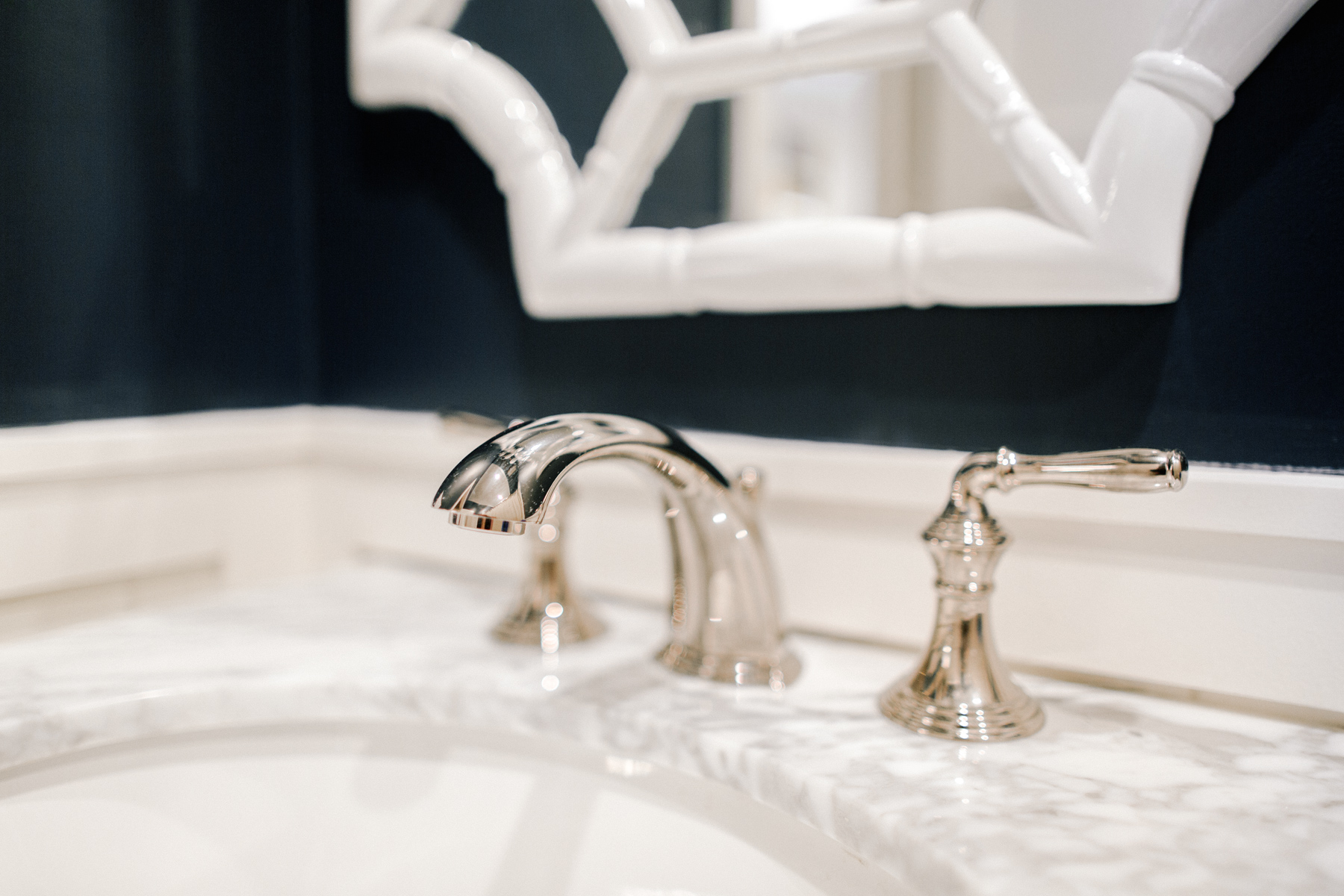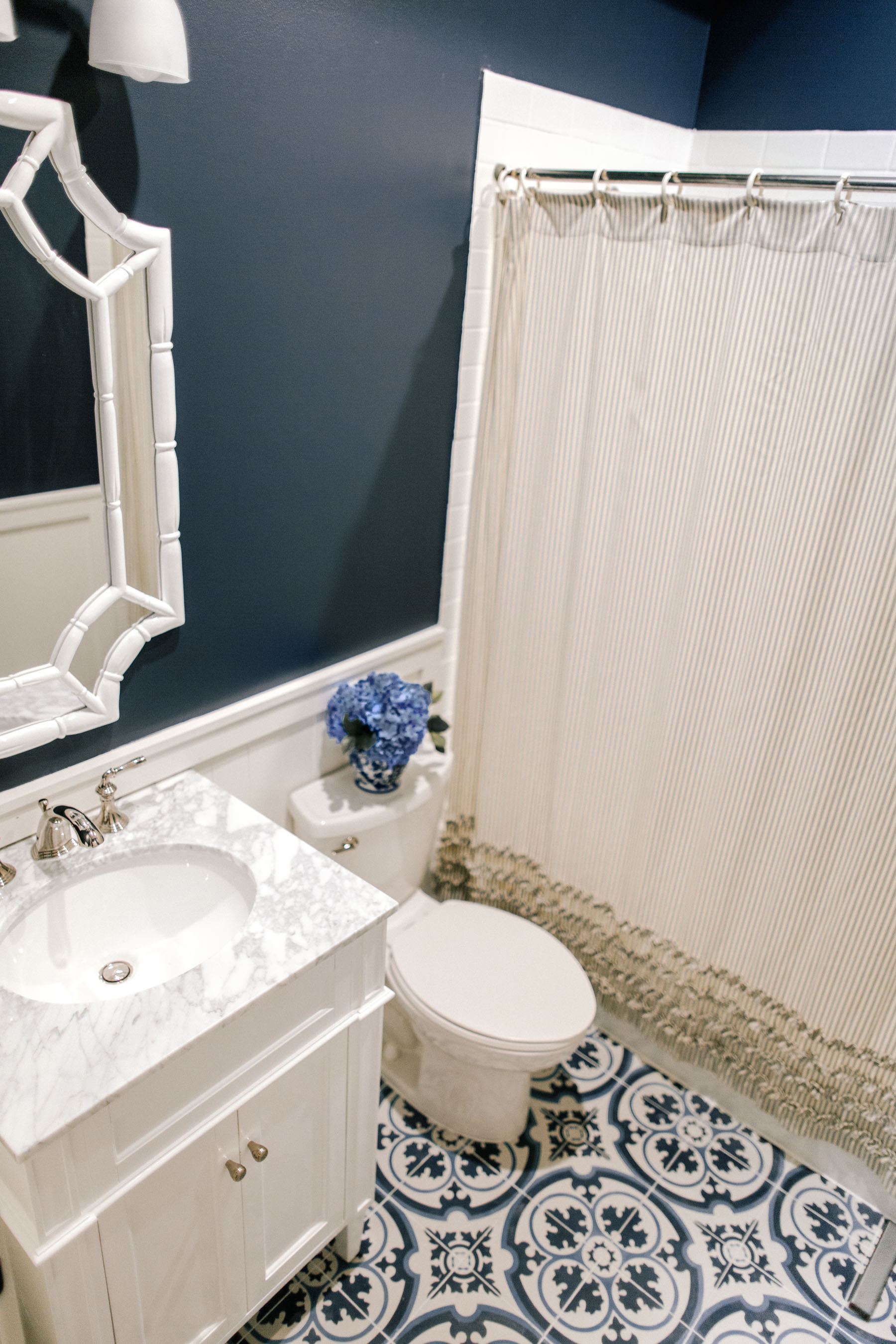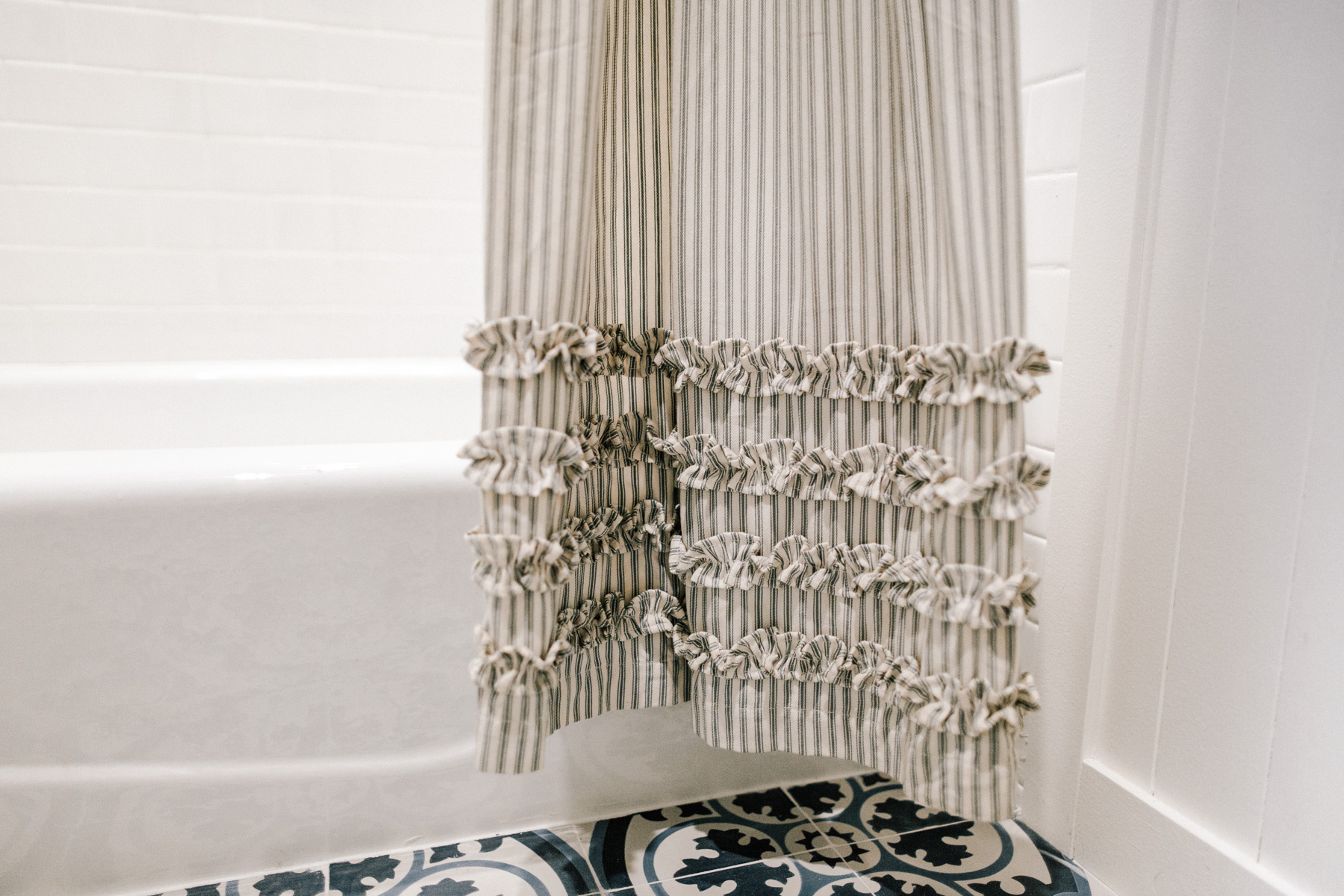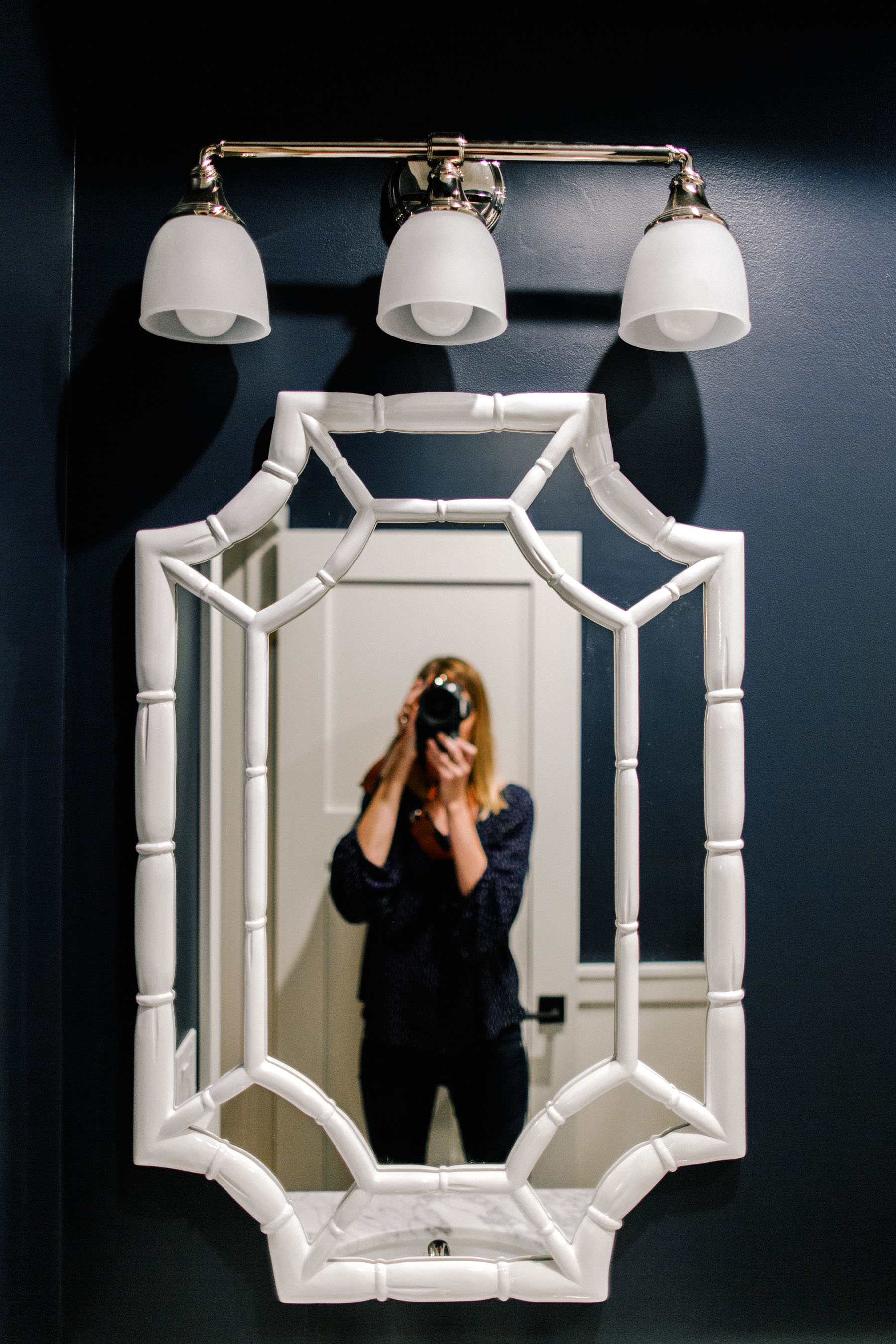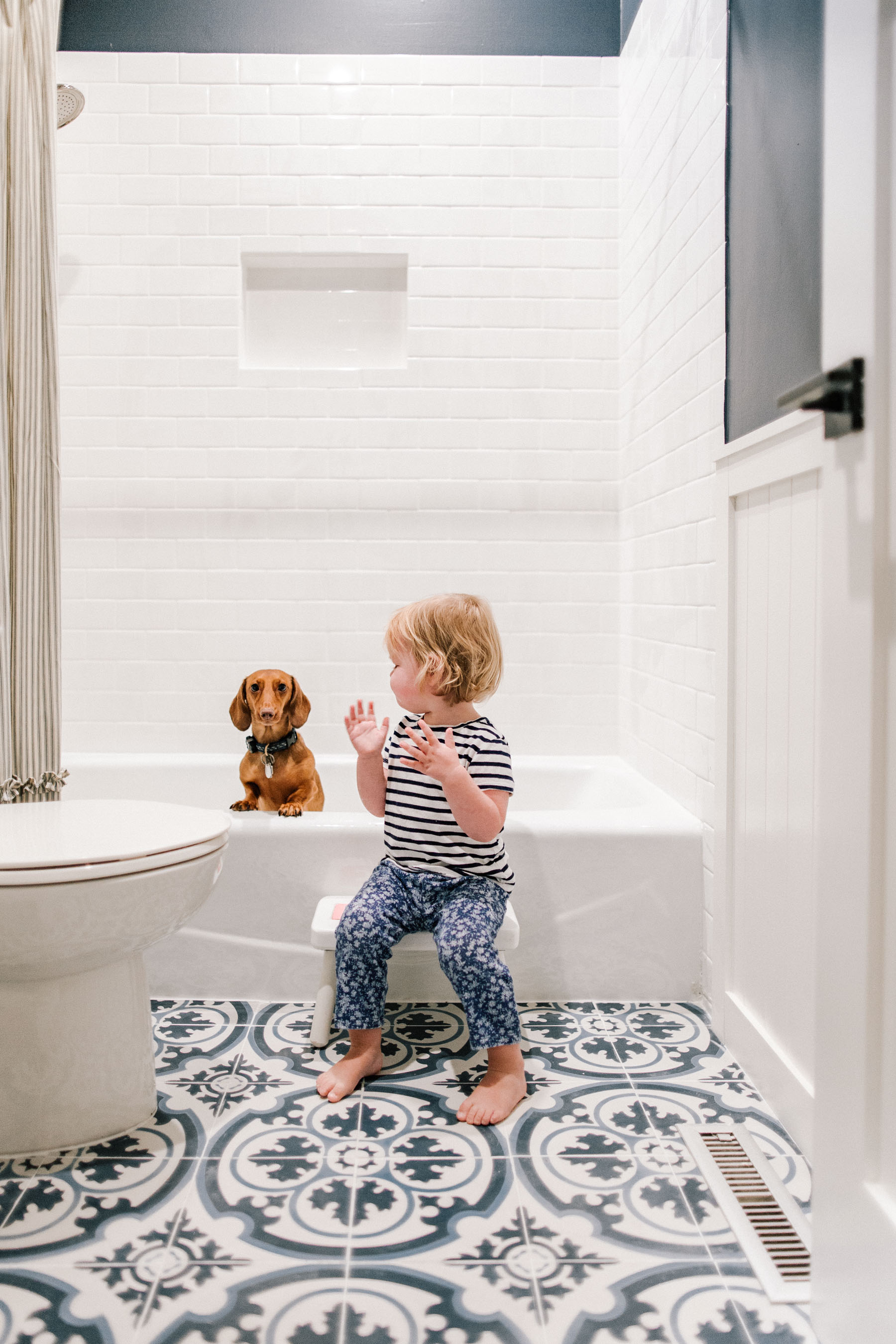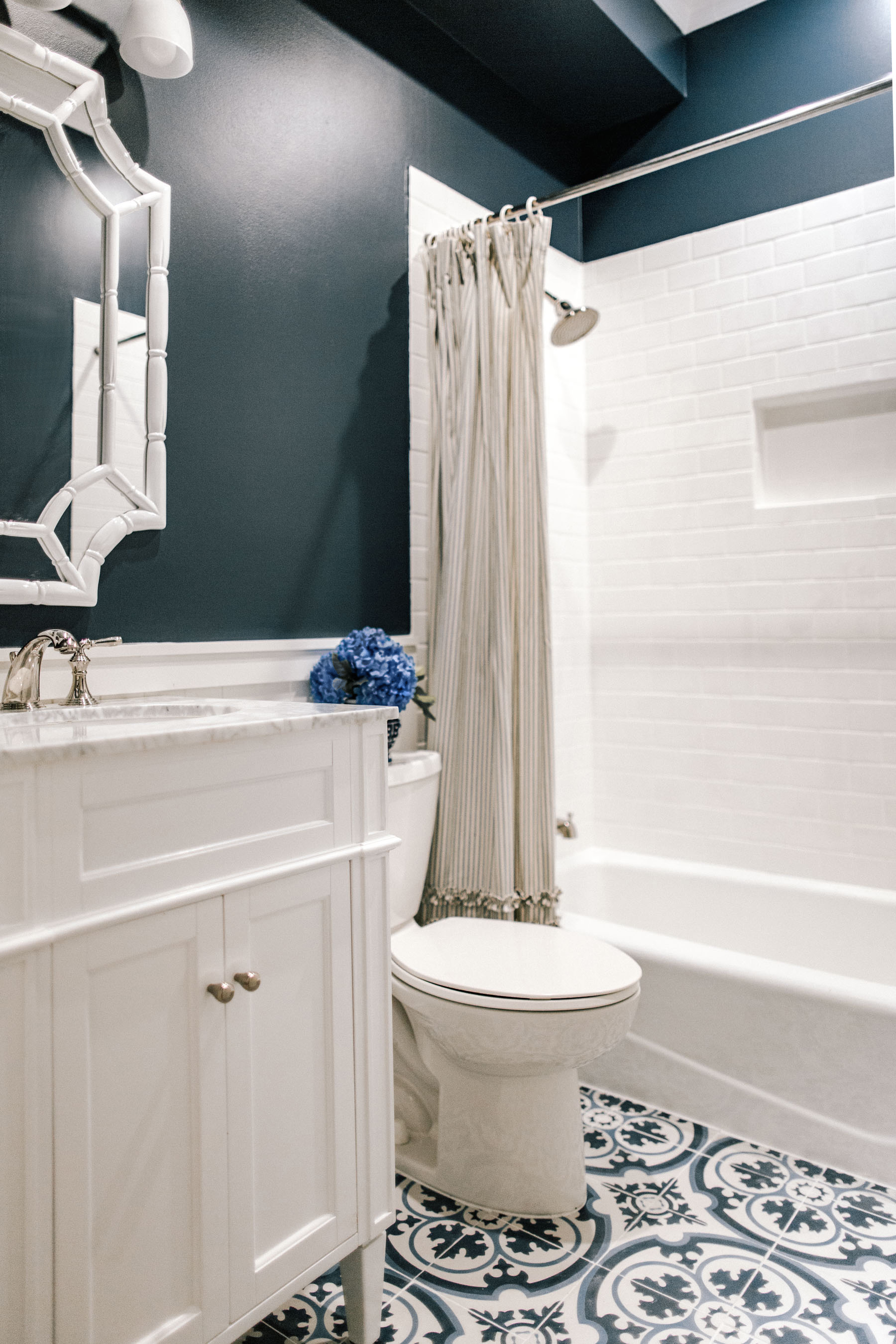 In collaboration with Ace Hardware; all opinions are my own. As always, thank you so, so much for supporting the partnerships that keep Kelly in the City up and running!