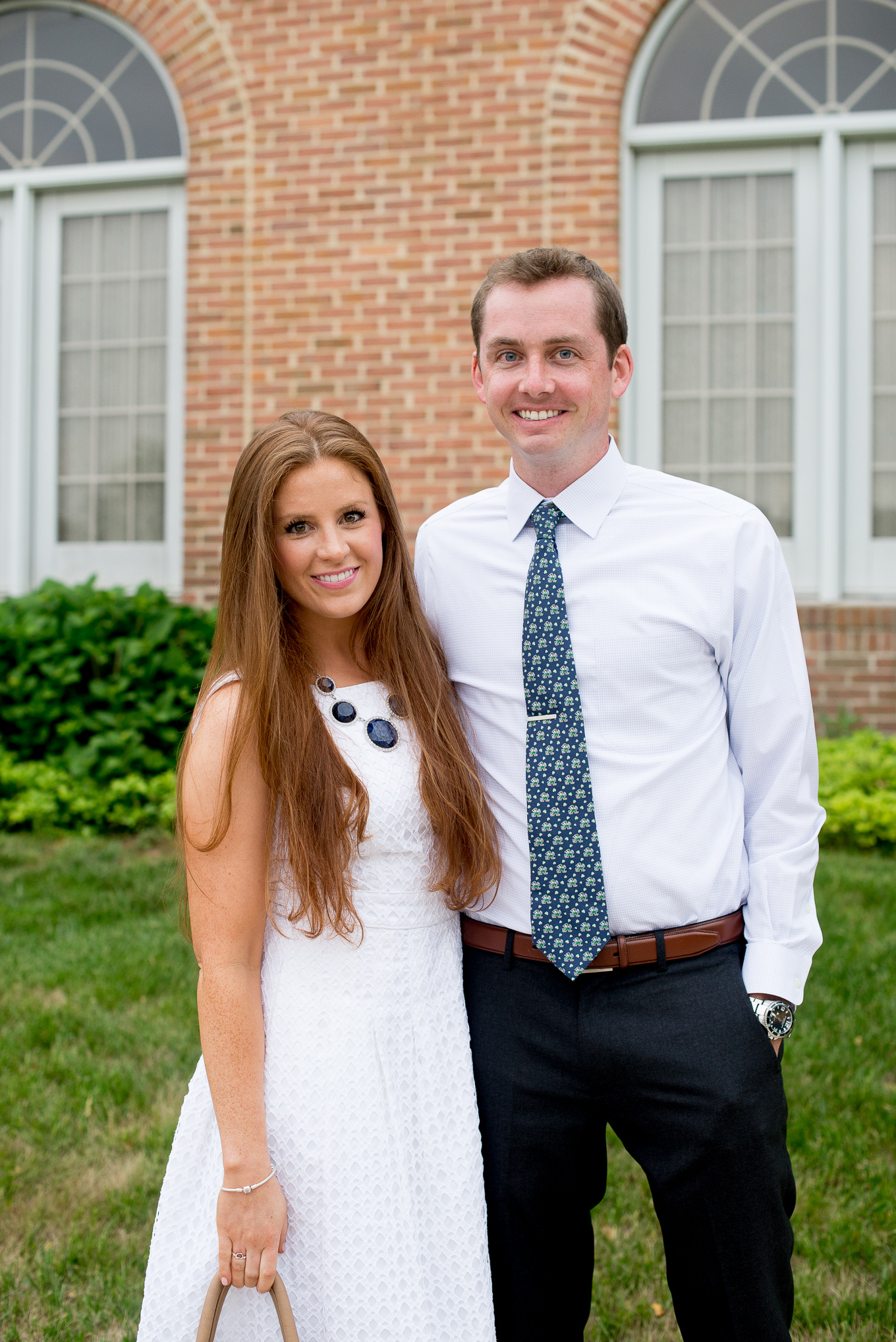 White House Black Market Dress / Vineyard Vines Tie
It's hard to believe that Patrick and Kim's rehearsal and rehearsal dinner (and Kim's birthday!) were nearly a week ago.
What?!
Wasn't I just searching high and low for my favorite earrings–thanks for coming to my rescue, Tuckernuck and Moon and Lola!–and deciding between Lilly dresses? (The two that I was between were old "super sale" finds, but Lilly never goes out of style! Option One // Option Two)
Important side note: If you're like me and love the look of statement earrings but have teensy-tiny earlobes and are terrified of pulling, please invest in a pair from Moon and Lola. (The brand is also available from my favorite preppy retailer, Tuckernuck.) They're the lightest statement earrings I've ever found (can't even feel 'em!), and they class up any look. I wear them constantly, and get so many compliments. My favorites are the Carnegie Studs and the Morningside Studs, Tyson Pearls, Ananas Pineapple Studs, Hartford 360 Studs (fun fact: I used to live in Hartford), St. James Studs and Canterbury Studs. But let's be serious. I love anything by Moon and Lola.
Anywho. ;)
The rehearsal itself was beyond lovely. It was run by Father McLaughlin (a close friend of Kim's family) and Bishop Chris Cardone (a close friend of our family who married my parents, Mitch and me, and Patrick and Kim, and who traveled all the way from the Solomon Islands to be with us). Having Father McLaughlin and Bishop Chris there made the rehearsal extremely personal and even more meaningful, and it completely calmed our nervous excitement!
Once we had the drill down and managed to stop chatting, we headed over to a nearby country club for the dinner. Catching up and laughing with family, friends and the bridal party was so nice, and I loved the slideshow that the parents put together. (Countless cute photos of Patrick and Kim in their younger years!) Another highlight was when Patrick brought out a cake for Kim and sang happy birthday to her. It was absolutely adorable, and I'm pretty sure there wasn't a dry eye in the house.
Below are some photos I took throughout the night–the kickoff to one of the best weekends of my life! Sigh. Take me back. :)