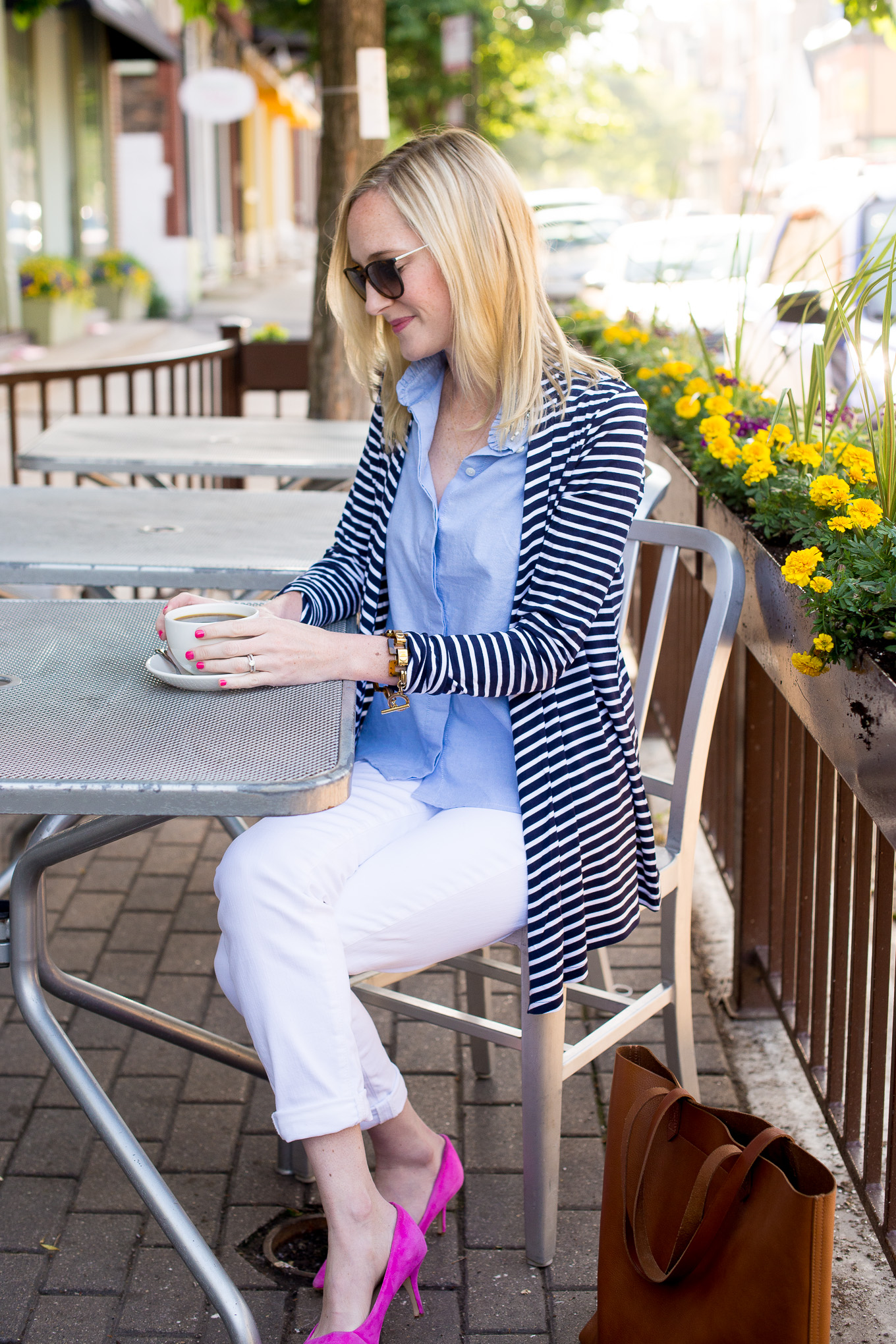 Mott 50 Cardigan c/o / Ray-Ban Sunglasses c/o Sunglass Hut / Madewell Tote (Also available here and here) / J.Crew Jeans, Earrings and Top (Factory version here) / C.Wonder Bracelet (Old, similar here) and Pumps (Old, similar here, here, here, here and here) / Helen Ficalora Necklace c/o
Returning back to Chicago after an awesome trip home is always bittersweet. I'm sad to leave family and friends, but I'm extremely excited to see the hubby, be back in Lincoln Park, and hang out with my girlfriends.
The nice thing, though, is that Mitch and I are headed back to the East Coast for the Fourth of July this year! We're hitting up my friend John's annual "Third of July" party, spending the Fourth (my favorite holiday) down the Shore with my family, and then making a much-needed visit to New York. (Eeee!)
But back to Chicago. Because Chicago in the summertime is awesome. And apparently it's going to be in the 80s this week and next!
Hallelujah.
Speaking of warm weather, I can't recommend this Mott 50 cardigan enough. It offers sun protection, as it boasts UPF 50! It's also one of the softest articles of clothing I own. I'm wearing the navy-and-white version, but it comes in a few other styles, too.
Back to Chicago, though. These photos were taken at Floriole Café and Bakery, my go-to coffee shop. The two-level, beautifully decorated rustic café has high ceilings and a ton of natural light, making for a great social or work environment. The floor-to-ceiling windows are open during the warmer months, and the smell of coffee and fresh breads wafts out into the street. Not surprisingly, the menu is off the charts! (I mean, the place specializes in French pastries.) Seating is also available upstairs as well on the sidewalk outside the café. At 4 p.m., the upstairs area is closed down for private dinners, showers, meetings and weddings.
If you go, ask for Karly. She's my neighbor, and in my humble opinion, Floriole's best (and cutest) employee!
Side note: What are you guys up to today? I have another 12- to 14-hour drive in front of me, so I'd love to hear from you! :)