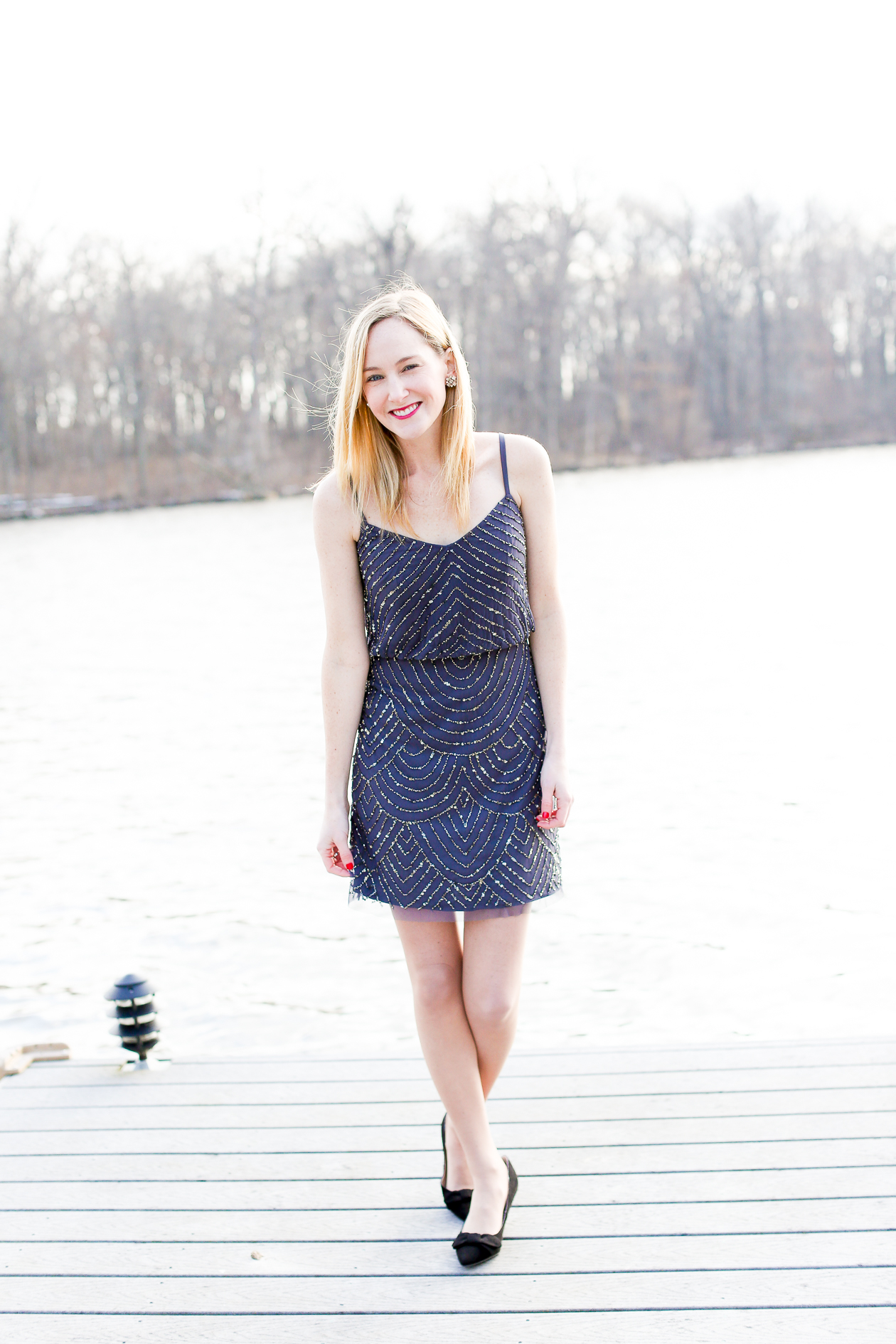 Adrianna Papell Sequin Mesh Blouson Dress c/o (Also available here; gown version here) / Unisa Bow Pumps (But I LOVE these! And they're on sale!) / Moon and Lola Earrings c/o — Take 20 percent off your order with code "NYE20."
[dropcap]H[/dropcap]appy 2016, all! :) I decided to significantly scale back the blogging during the actual holidays this year, and I'm so glad I did. I've been sporadically posting here and there… but those deadlines that I typically hold myself to completely flew out the window the moment I stepped into our little Prius and embarked on the first leg of the trip.
In years past, I'd stay up long after my family had gone to bed–no matter how exhausted I was–to get content up during the holidays. But this year, I went to bed. And I woke up late. And I didn't take out my massive camera. I simply lived and experienced, sans computer (for the most part). And can I tell you that it was the best holiday I've had in years?
Blogging is a funny thing. I adore it and truly can't imagine my life without it. I mean, how many times have I gone on and on about how it's changed my life for the better? But it can also blur the lines between work, hobbies and real life, and pull you away from the latter. Which is the most important, in my opinion.
This past November and December were my busiest months of blogging and freelancing ever. And they nearly killed me, haha. While I'm laughing about it now, there were definitely a few teary-eyed phone calls placed to Mom, and way too many freak-outs over whether getting it all done was even humanly possible. All the while, our basement was being excavated and construction crews were constantly trudging in and out of the house. And I had a sinus infection. (Which doesn't sound that bad, but if you've had one before, you know how debilitating they are!)
Of course, it's pretty normal to feel overwhelmed during the holidays. Nearly everyone is stressed out by work and the little tasks that need to be accomplished before Christmas. And recovery is just around the corner, as January, February and March tend to be my slowest months. ;) But I think it's safe to say that one of my resolutions for 2016 should be to scale back on everything. Life will never be stress-free, but it's important to know one's limitations and at least try to minimize that stress. Because I never want to feel like real life is a secondary thing.
That said, I'm feeling SO REFRESHED right now! Crazy what a couple of weeks off can do, huh? I'm already dreaming about coffee shop work sessions in cozy, oversized sweaters, and taking on new and exciting endeavors. (Though not too many of them!) I'm excited about completing some Little Home in the City renovation projects, getting into cooking, and (perhaps) taking my tiny, on-and-off photography business to the next level. I'm excited about doing more reading–Mitch gave me a Kindle for Christmas!–and buckling down on some writing projects that are begging to be finished. I'm excited about traveling, site improvements, making more videos, creating some interesting photo series, being more reflective, and sharing life changes.
But again, not taking on too much. And spacing it all out. I have a year to accomplish everything I mentioned above, right? And if I don't get to it all, who cares?!
Anyway, I'm babbling. I have a couple more "New Year" posts coming up, but for now, I'll leave you with what I wore for last night's festivities–of which I took a grand total of zero photos, in keeping with my vacation mode status. Back to watching football and eating snacks with Mitch and Noodle! Exactly where I want to be. :)
Happy 2016!