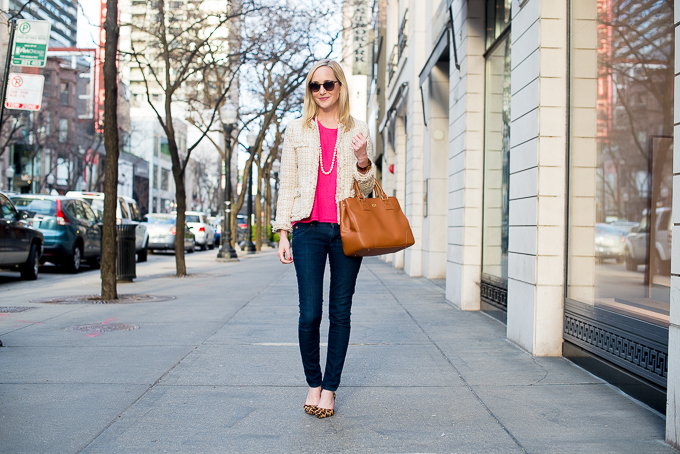 SheInside Blazer (c/o) / Sole Society Pumps / Garnet Hill Sweater (c/o) / Hudson Jeans / Tory Burch Tote (Medium version here; small version here) / Hazel & Marie Pearl Necklace (c/o) / Moon and Lola Tortoise Bangle (c/o) / J.Crew Pearl Earrings / Kate Spade Sunglasses (Old, but love this similar pair from Tory Burch!)
Now that the weather is a bit nicer, Mitch and I have gotten into the habit of meeting each other downtown after work instead of at home. He takes the subway from his school in the "Uptown" neighborhood, and I take the subway from Lincoln Park. It's a great way to reclaim our days, and make us feel like there's more to Monday through Thursday than just work. :)
Last Wednesday was one our our best Downtown Dates. Mitch had parent-teacher conferences the following day, and therefore didn't have to be into work until noon. So we went a little crazy, and walked four miles to all-you-can-eat sushi at Sushi Para II back in LP. We probably should have thought the evening through and simply met there to begin with, but we're poor planners and big walkers.
The only problem? My shoes. Whoops. What was I thinking?! Well, I was thinking that it was date night, and I wanted to look nice and feel special. (Hence the adorable sparkly blazer, which also comes in navy.) But I could have thrown a pair of flats into my giormous tote. Right?!
Mitch suggested jumping onto the subway, but I really didn't want to ruin the fun. Shockingly enough, though, THE HEELS HELD UP. Four miles, and not a single blister or ache. Crazy! I mean, I certainly would have been a bit more comfortable in flats, but I think my experience makes the "Jenn" the Pump of the Year. Congrats, Sole Society. You've won my heart once again.