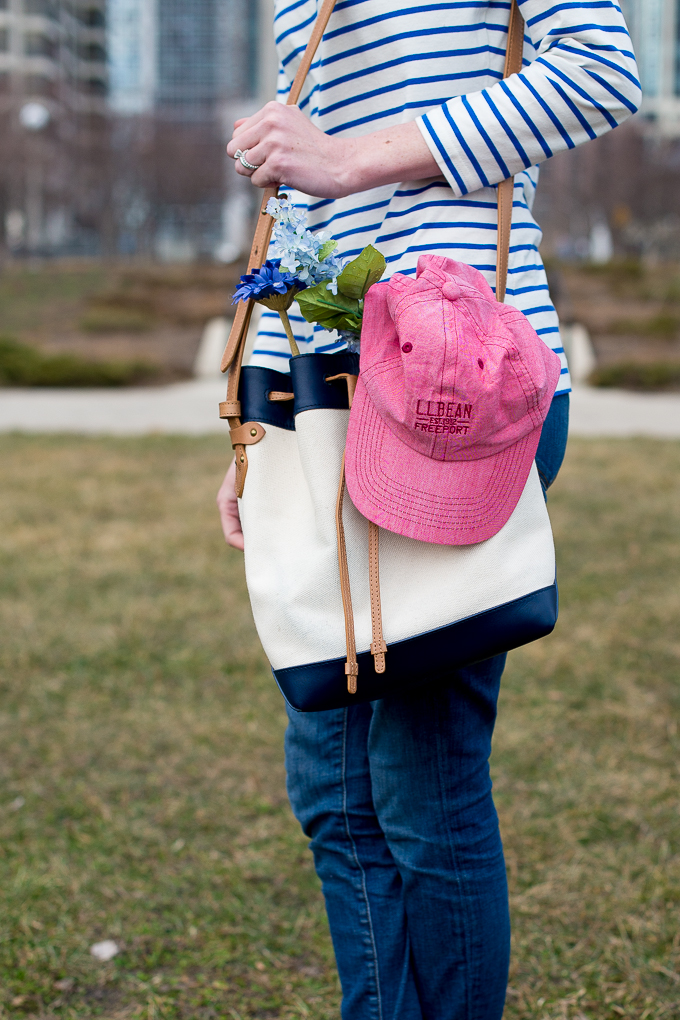 L.L. Bean Signature Striped Top (Love the Sailor's Shirt and the zip version, too!), Driving Mocs, Bucket Bag (Love the whole Somerset collection!) and Chambray Hat (c/o) / J.Crew Jeans (but I have my eye on this pair and this pair) and Pearl Earrings / Miriam Merenfeld Monogrammed Necklace (c/o) / Daniel Wellington Watch (c/o — Other styles here) / Kate Spade Bangle (Old, but love this Sailor's Knot Bangle!) and Sunglasses (Old, but love this similar pair from Tory Burch!)
The past few days have been filled with nothing but grown up stuff. From errands, spring cleaning and home improvements to investments, record-keeping and home loans–this girl is simultaneously exhausted and bored, and also wanting to smash her desk and cell phone to pieces. Needless to say, she's ready for some weekend fun!
So let's throw it back to a few weeks ago, when Chicago tricked us into thinking spring was coming, and Mitch and I spent the day downtown in Millennium Park. (So very un-grown-up-y of us.) Take me back! Actually, forward. I'm sick of these thirty-degree temps and biting winds. It's the end of April, for Pete's sake!
Also, how cute is this chambray hat? Yeah, Noodle ate it yesterday. THIRD HAT THIS YEAR. Goodness. Not sure how she gets 'em. Hat Radar, for sure.
Oh, and the fake flowers? Really, Kelly?!
Okay. POSITIVE VIBES, haha. Or some sleep. And a morning run to the bakery down the street…
#allthechocolatecroissants