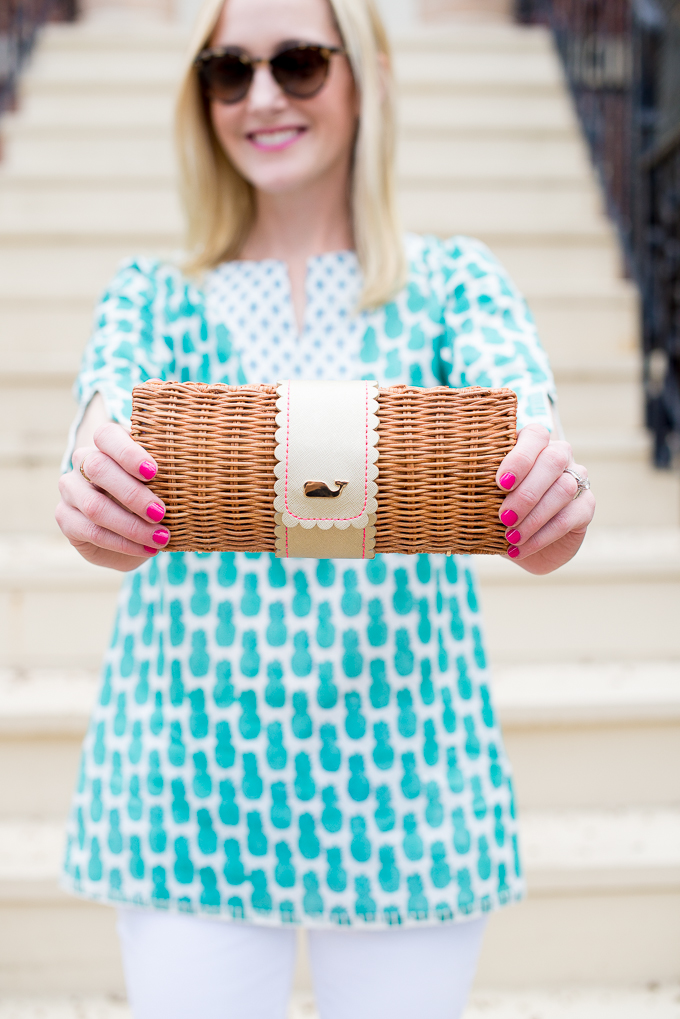 Rikshaw Design Tunic (c/o) / J.Crew Jeans and Pearl Earrings / Jack Rogers Sandals (On sale!) / Vineyard Vines Clutch (c/o) / Marc Jacobs Watch (Found the lost watch!) / Kate Spade Sunglasses (Old, but love this similar pair from Tory Burch!)
So many throwbacks this week.
Yesterday, I got together with Jess and Blair to catch up and shoot our outfits, and it was miserable. I mean, the catching up part was great, haha. (It had been a while since we'd all been in the city at the same time! #travelingbloggers) But the part where we had to take our coats off?
UGH.
I'm done with shooting in ungodly temps, and dealing with the biting winds that Chicago is so well known for. That was my last go of it, so here's hoping that the city warms up soon! iPhone tells me I can expect highs in the 50s next week.
THERE IS HOPE.
But back to these photos. They were snapped last week during the warm spell. It may have been a bit too chilly to break out the Jacks, but I couldn't resist, and wore them three times in the span of four days. (I think it might be time for me to replace 'em, though, considering they're currently on sale for $88. My pair is from 2006!) And this clutch? I clearly can't get enough. It goes with everything springy and summery, and it's already become a fave!
But most importantly, let's talk about this adorable, pineapple-clad tunic. It's from Rikshaw Design, a San Francisco-based company that has some of the best preppy prints I've ever seen. So cute, right?!
I love that this outfit took less than five minutes to pull together, yet made me feel 100-percent put-together. Statement pieces are the best–especially super preppy ones. So effortless! And Rikshaw has a lot of them. Check out the full line here! I'm hoping I'll be able to break out this dress in the near future, and my eyes are on this coverup, this shirt, and this scarf. :)
Happy Friday!