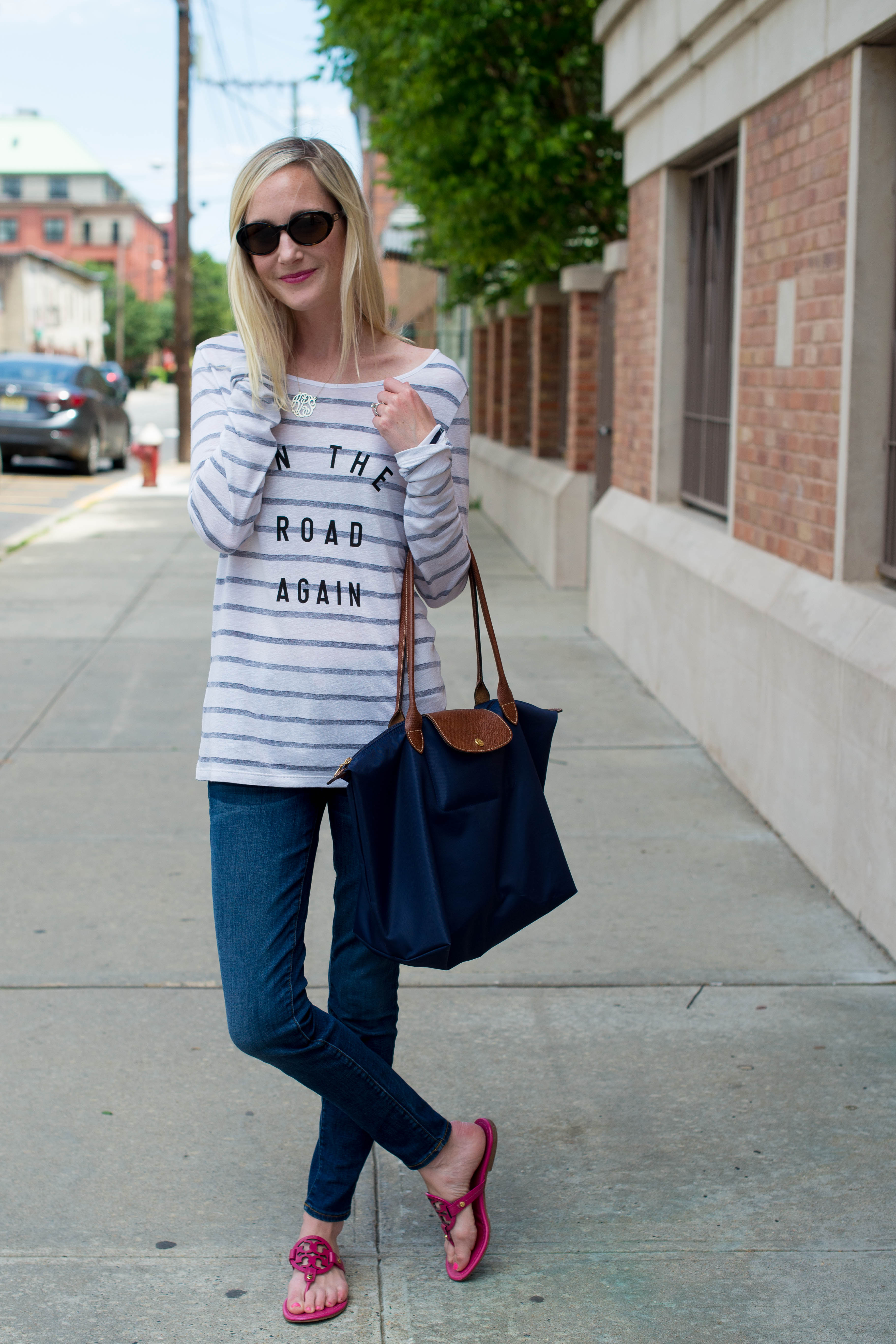 Top: French Connection (c/o) / Jeans: J.Crew / Bag: Longchamp / Sandals: Tory Burch / Sunnies: Kate Spade (Old), newer styles here / Watch: Michael Kors / Earrings: J.Crew / Necklace: Paradise (NJ), similar here / Lipstick: Clinique ("Pudgy Peony")
Why is blogging so difficult during exciting, busy times in life? Harumph. I spent roughly seven hours alone in the car today–so I have a lot to share, haha. (So much on my mind!) But alas. It's past midnight, and I'm somewhere in western Pennsylvania, and I need to get up early to continue the trek to Chicago. So I'll make this short.
Things have been nuts. Yesterday, we celebrated our final night in NYC by getting ice cream with our friends Mike and Kara (also moving), and meeting up with Shawn at The Rusty Knot, a super nautical and preppy bar in the West Village. (And conveniently located near the PATH station!) This morning, we drove to Jersey City to pick up our moving truck… but a zillion things went wrong once we arrived. The employees showed up an hour late, the company ran out of moving pads, our bill was considerably higher than what we'd originally been quoted for, and the truck was too small. Two and a half hours later, and hundreds of dollars in discounts (#yessss #meanteacherfaceworks), we we started loading the truck.
OH MY GOD. I've had my fair share of moving fiascos in the New York City metropolitan region, but his experience was rough. Maybe I'm spoiled because I had movers for my last two moves. Or maybe I didn't realize how quickly my belongings would multiply once I got married. Whatever the case, I need to purge. Why do we have two toaster ovens, for example? Or a stuffed sheep? Or a giant plastic bag filled with glass fish? I mean, yes: we threw out all of that stuff while packing. But still. How can two people acquire so much junk?! So being better about it next year!
Anyway, Shawn and my brother, Danny, were amazing. We couldn't have pulled it off without them. Thanks, guys. You kept us smiling throughout the day, carried the entire Ikea Hemnes collection down several flights of stairs, and never once complained. You're both lifesavers, and we love you!
The next leg of the journey starts in a few hours, so it's off to bed for me. I can't believe that tomorrow night, I'll be a Chicago resident! ;) (Deep breaths, deep breaths.)
Oh! And a big thank you goes out to my girls at French Connection, who outfitted me for today's car ride! (The actual move? Old gym shorts and a tank.) Such a comfy top. And makes me think of Jack Kerouac. Which makes me happy.