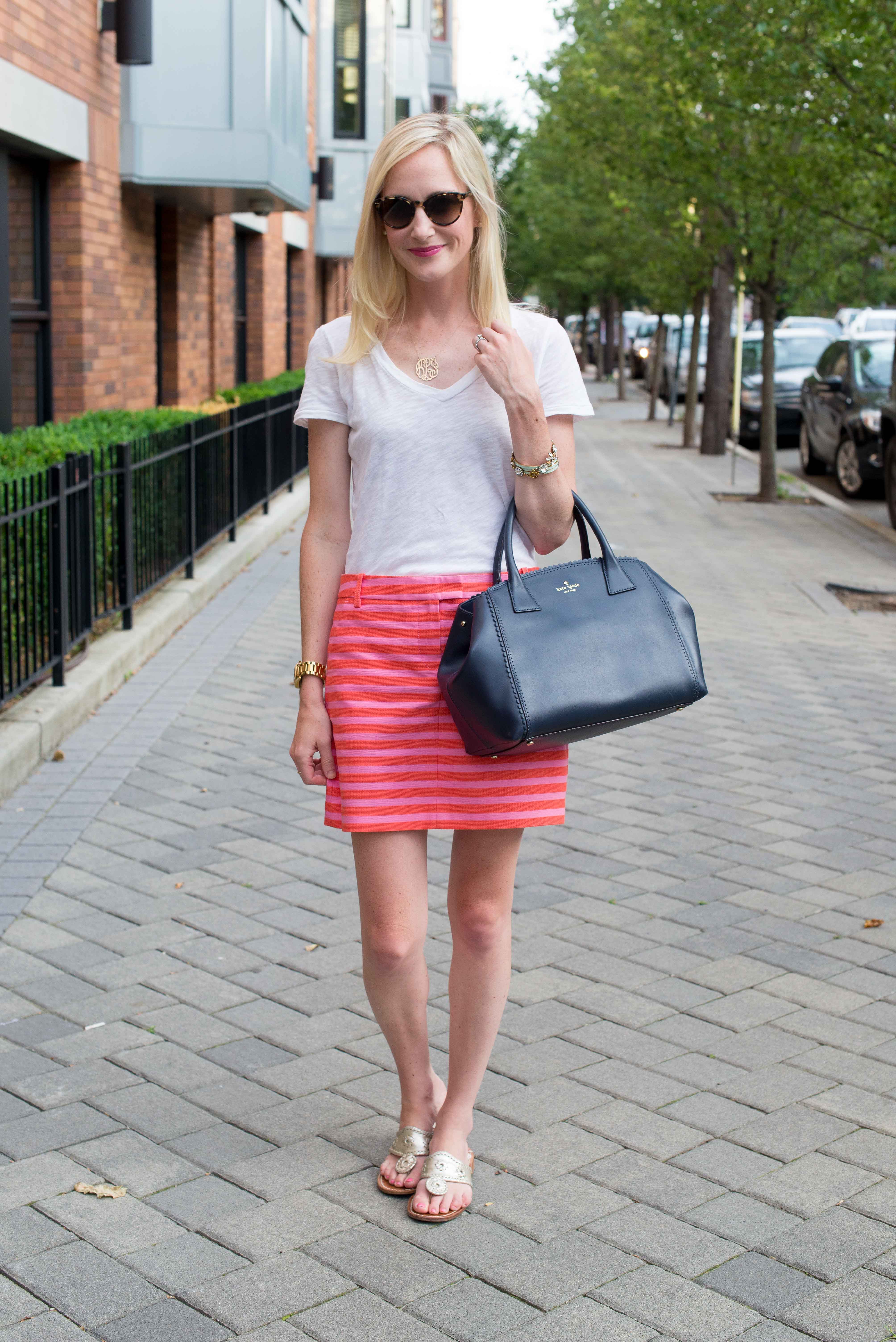 Skirt: J.Crew (Sold out), exact replica at J.Crew Factory (On crazy sale!) / Bracelets: BaubleBar (c/o) and J.Crew (Sold out) / Bag: Kate Spade (Sold out), cute navy alternative here and here! (Take an extra 25 percent off with code "MORESALE") / Sandals: Jack Rogers / T-shirt: J.Crew / Watch: Michael Kors / Earrings: J.Crew / Necklace: Paradise (NJ), similar here / Lipstick: Clinique ("Pudgy Peony")
I'm the worst blogger ever. It's been a while, huh?! We just had our internet connection hooked up, though, so I'm back. :)
Anyway, we're Chicagoans! These last few days have been a complete whirlwind–quite literally. Right as we pulled up to the city, we found out that there were tropical storm, tornado, high wind and flash flood warnings in effect. (Greaaaat.) It was a race against the clock, but we got our stuff inside the new place just in the nick of time. Our movers–random guys we hired off Craigslist–were godsends. They were incredibly friendly and funny, and they didn't once complain about the 100 percent humidity!
I'll admit: I got a little panicky as the Chicago skyline came into view, as everything started to feel very real. But the moment I stepped into the new apartment, husband by my side, my apprehension faded. Maybe our move-in scene wasn't as cute as this one, but I felt just as lucky. Every life stage is exciting, and I can't wait to find out what this one has in store for us.
We're still unpacking and organizing, but I promise to share photos of the new place as soon as it's relatively presentable. I'm super inspired by Alaina Kaczmarski's Lincoln Park apartment tour, and her "before and after" photos. Honestly, it's kind of how we ended up with our current home! It definitely needs some work–but it was built before the turn of the century, so it has a lot of charm… and potential!
Now, about those last few boxes…