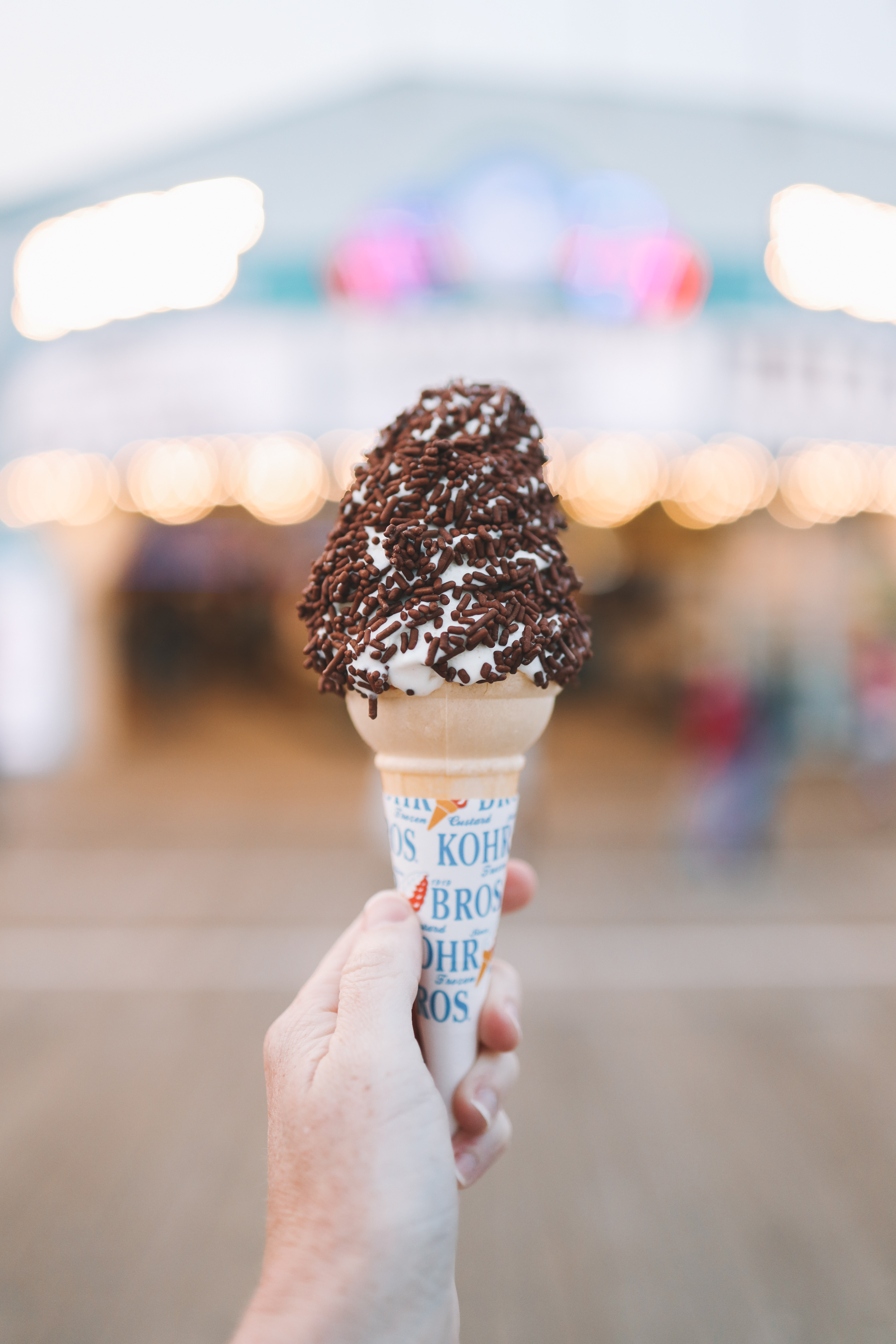 Links at bottom of post
Get ready, guys. I've taken a ridiculous number of photos while down here, and you'll be seeing most of them over the next week. (We do think, btw, that we're going to head home this coming Sunday! I have a couple of projects I need to shoot in Chicago, and we need to pick up an important packet for Emma. As it turns out, we're not staying on the Shore for the rest of 2020. Though we did consider it… 😆)
I spent many childhood summers right here on the Ocean City boardwalk. It's such a magical place. Ocean City is unlike a lot of other Shore towns because it's dry. (No alcohol allowed, and no BYOB! You can, however, enjoy a cocktail in your home or on your property.) That might sound crazy, but it really does help to keep the island very family-friendly. We don't have any bars on the boardwalk, so things never really get wild. It's just a whole lot of families wandering up and down, enjoying the activities and food.
Of course, the boardwalk is quite different this year. We can't visit the amusement and water parks, we're not comfortable walking in and out of shops, and we're not dining at Manco and Manco–the best pizza on the Jersey Shore, if you ask me.
Sure, it's a little sad. But the girls' eyes light up just the same. They squeal when we give them their ice cream cones from Kohr's; they peer up at the miniature golf displays in awe. They look in the windows of the stores, and cover themselves in powder while eating doughnuts from Brown's. My kids remind me that just because life is different now doesn't mean it can't be just as fun as it used to be.
Anyway, please enjoy these shots! And if you ever get the chance to visit the Shore, don't miss Kohr's (frozen custard), Rita's Water Ice, Manco & Manco (pizza), and Brown's cinnamon doughnuts. :)
PS: While we've only visited twice, I've been impressed by the number of people wearing masks on the boardwalk. (It's honestly a whole lot better than Lincoln Park!) We do feel safe as we usually only go for about an hour and it's relatively easy to not come into contact with other pedestrians. We take our masks off when sitting on benches, eating at picnic tables or taking photos, but aside from that, we keep them on like most other people seem to do!
Shop the post:
Madewell Roadtripper Jeans / Black Dog Sweatshirt / Similar Sandals / Weekender Leggings / Rothy's Washable Sneakers / Dooney & Bourke Bag / Baby Jogger Travel Double Stroller (LOVE it for travel as it folds three times and has a teeny footprint, but our day-to-day stroller is the Baby Jogger GT Double. Here's the single. Can't recommend that thing more. Best.stroller.ever.) / Emma's Breezin' Up Sweatshirt / Emma's Lilly Pulitzer Pineapple Dress + Long-Sleeved Dress / Emma's Sandals / Emma's Mask / Lucy's Polo / Lucy's Flag Sweater / Lucy's Madras Dress and Shorts (Similar) / Mitch's T-Shirt Polo / Mitch's Birkenstocks / Mitch's Shorts / Mitch's Sweatshirt