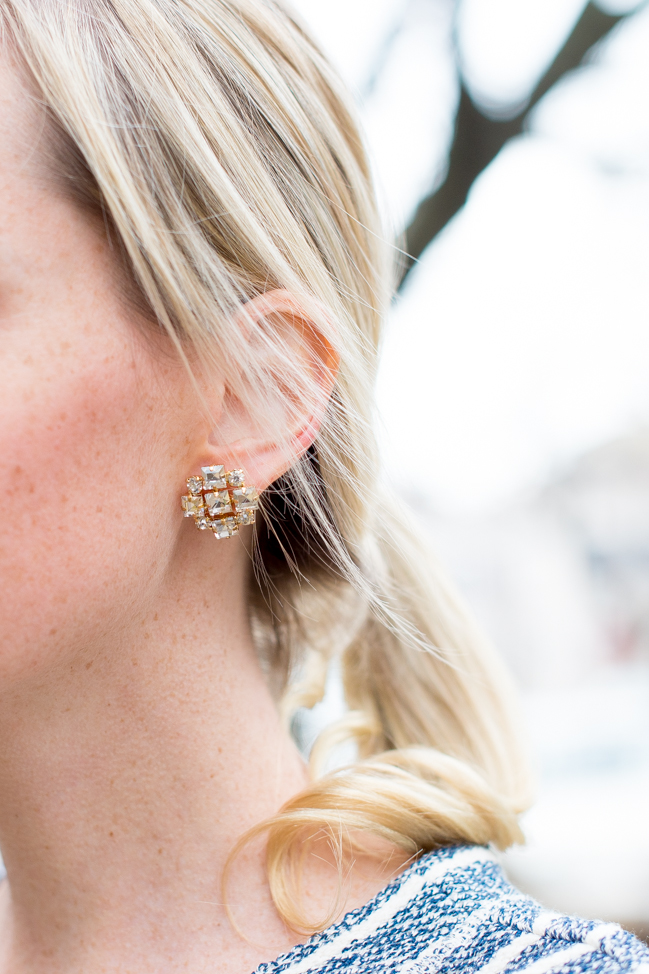 Moon and Lola Earrings (c/o — You can also buy Moon and Lola jewelry at Tuckernuck and Nordstrom!) / Lou and Grey Popover — It's only $24! / Navy Zara Leggings (Old, but I swear by all Zara leggings! You really can't go wrong. They're thick, sturdy and extremely comfortable. Just make sure to cut the tag out, otherwise the itchiness will drive you nuts! See newer leggings here.) / DUO Boots (c/o) / Kate Spade Bag (Old, but take 25 percent off your Kate Spade purchase today with code "BEMERRY") / Daniel Wellington Watch (c/o) / J.Crew Bracelet
Guys, I found the perfect statement earrings for people who are afraid of statement earrings. ;) They're big–and gorgeous, right?!–but they're incredibly lightweight and don't pull. Yesterday was freezing, and I wanted nothing more to just walk around in cozy sweats all day. But I also wanted to feel a little fabulous, haha, as my very stylish mother, aunt and grandmother are here for the week! The compromise was my favorite pair of leggings, the comfiest top I own, and these beautiful earrings from Moon and Lola. #blingbling (By the way: You can also buy Moon and Lola jewelry at Tuckernuck and Nordstrom!)
I'm obsessed with them. I've never had a pair of statement earrings that didn't completely freak me out, but I love how they look. They dress up any outfit, and are the perfect accessory for holiday parties. Which is why I'm so excited about my Moon and Lolas! Finally. My first pair of statement earrings. As you can imagine, I'll be wearing these to pretty much every event this year, hehe. I'm so excited! It's the little things, right?
Anyway, still having a blast with the fam! I'm so thankful they came, and have never felt luckier to have such amazing women in my life. Today, we're spending the day down on Michigan Avenue, and then Mitch and I are dropping them off at the airport. (So sad! Where did the time go?!) Check back in tomorrow for more photos, but below is a snapshot from yesterday's lunch at the Blue Door Farm Stand in Lincoln Park. :) In front of the ladies' room. Haha… oops.
And remember to check out the Kate Spade sale! Take 25 percent off your order–including the sale section–with code "BEMERRY." Below are my picks!