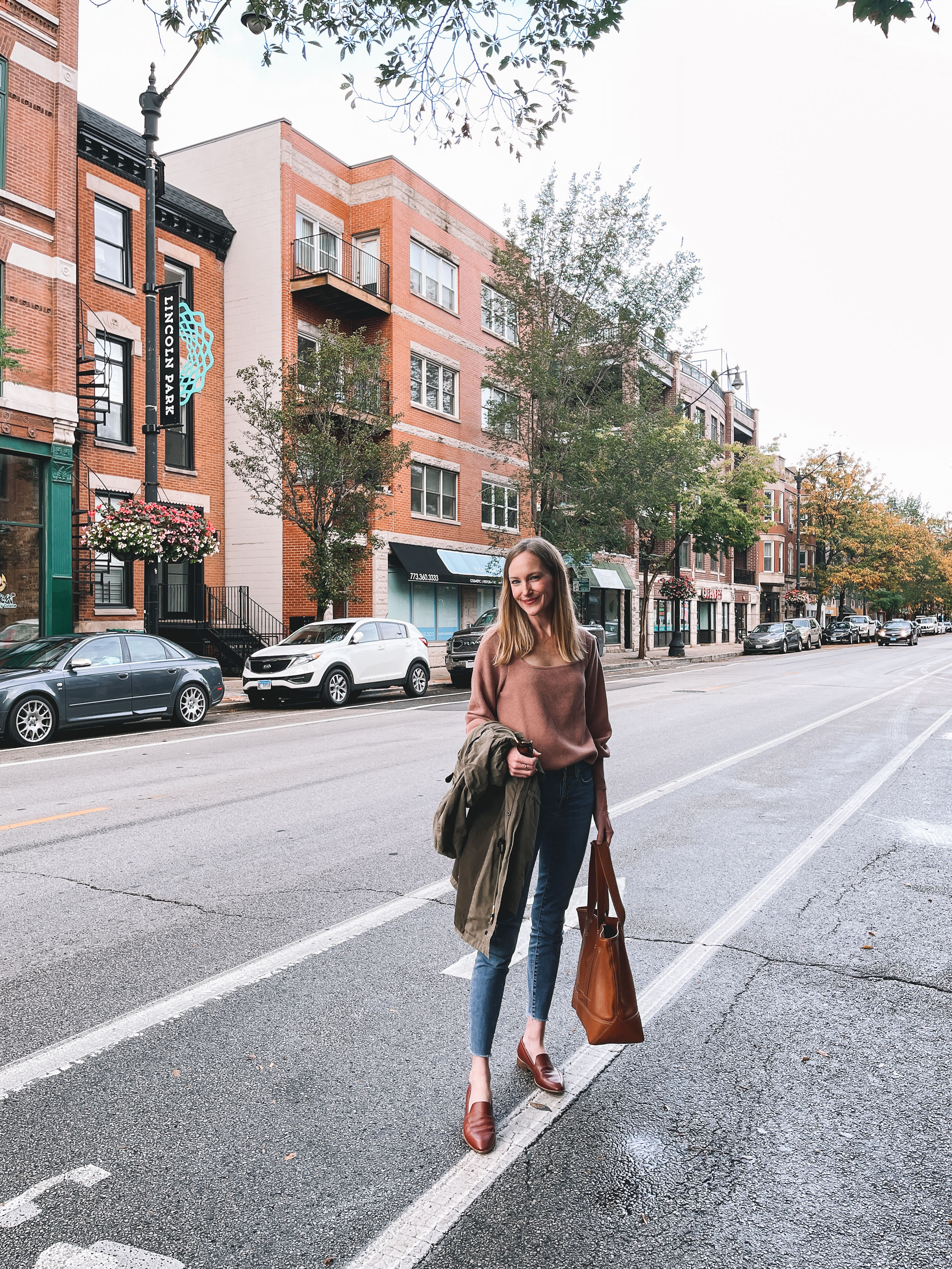 Ottoman Top (Use code "GOSPREE" to take up to 30 percent off! Part of the Ottoman Rib Collection. I also love the Ottoman Cardigan Top!) / Skinny Jeans (Newer.) / Frances Loafers (Use code "GOSPREE." Mules here. Skimmer version here.) / Leather Montauk Tote (Mini version here. All Montauk totes here.) / Utility Jacket (Newer. Take up to 30 percent off with code "GOSPREE." Also LOVE this current Downtown Quilted Field Jacket in the same color, though. Another great option is this Quilted Cocoon Coat or the Quilted Lady Day Jacket, which is 40 percent off with code "GOBIG.") / Dana Rebecca Necklace (Also at Nordstrom.) / Sunglasses / Gorjana Bracelet
Forgot to throw my camera in my tote today, so please excuse the iPhone photos. 😉 But I'm obsessed with Madewell's Ottoman Rib line—specifically the top I'm wearing here as well as this cardigan top—and the brand is currently offering up to 30 percent off with code "GOSPREE"!
I recently realized that my favorite day-to-night tops are made out of the same Madewell material: something called "nubby ottoman ribbed fabric." Far more substantial traditional tops but not quite as heavy as a sweater, it's crazy comfy. And everything can be dressed down or up. Simply slip on a pair of black heels or booties and you're good to go for girls' night/date night!
Needless to say, I give it two thumbs up. ;) The sizing, however, can be a little tricky, so pay attention to reviews. The two tops I recommend the most right now:
Favorite Ottoman Rib tops
Ottoman Rib Square-Neck Top sizing: This is the one I'm wearing in these photos! I ordered a size small, which is what I normally buy in Madewell, but I definitely think an XS would have looked a bit more polished. Still love it, though. I did go ahead and order the top in white in the XS, though. That's how much I love it! (Best advice: If you're in between sizes, size down. Otherwise order your normal size. Use code "GOSPREE.")
Ottoman Rib Cardigan Top sizing: This one was more TTS on me, probably because of the waist-hugging hem, and the size small fits nicely. Unrelated to sizing, I assume I'm going to get a ton of wear out of this one since it can be worn as top or cardigan. Love the rusty orange color for fall, too! (Best advice: Order your usual size. Use code "GOSPREE.")
Other go-to fall pieces
Leather Montauk Tote: I'm going to go ahead and say that this is the leather tote of the year. I love how timeless-looking it is; reminds me of an L.L.Bean tote. It holds so much, and the leather is gorgeous! (Mini version here. All Montauk totes here.)
Frances Loafers: I've owned these since Emma was a little baby, and they still look brand new! They're ridiculously comfortable—no rubbing whatsoever—and the pointed toe makes them look a lot sharper than my beloved Sperry loafers. Which are also great, just more casual.) (Use code "GOSPREE." Mules here. Skimmer version here.)
Super Soft Skinny Jeans: My jeans are older, but I can't say enough good things about the new Roadtripper Jeans, which have a super similar look. They're meant to be so comfy you'd opt to wear them for a road trip. And they really ARE that comfy. (Sizing: I always order one size down.)
Dana Rebecca Bar Necklace: Isn't this so pretty?! I love that it represents each member of our family. For the most part, I'm over statement jewelry—only took half a lifetime, haha!—and now gravitate to dainty pieces that can be worn every single day, too everything. Yay simplicity! (Also at Nordstrom.)
Shop the post:
Ottoman Top (Use code "GOSPREE" to take up to 30 percent off! Part of the Ottoman Collection. I also love the Ottoman Cardigan Top!) / Skinny Jeans (Newer.) / Frances Loafers (Use code "GOSPREE." Mules here. Skimmer version here.) / Leather Montauk Tote (Mini version here. All Montauk totes here.) / Utility Jacket (Newer. Take up to 30 percent off with code "GOSPREE." Also LOVE this current Downtown Quilted Field Jacket in the same color, though. Another great option is this Quilted Cocoon Coat or the Quilted Lady Day Jacket, which is 40 percent off with code "GOBIG.") / Dana Rebecca Necklace (Also at Nordstrom.) / Sunglasses / Gorjana Bracelet