Harp Cashmere Wrap: I love these for vacations! (Perfect for bringing along to dinner in case it gets a little chilly.) They're also one-size-fits-all so they make for wonderful gifts.
6:00 p.m.
Okay! Apologies for the delay over here; feeling a bit under the weather today. It seems like Lilly did add some new styles and accessories to the After Party Sale, but the did it during the evening and they mostly restocked sizes. (You can see what's been added simply by visiting the main sale page. The new stuff shows up first.) Remember that the sale ends tonight at 11:59 EST, so be sure to complete the last of your shopping now. Also, don't forget to enter to win one of the five pieces from the sale that I'm giving away! I'll pick winners late night tonight and announce tomorrow.) Here's what I have my eye on:
Hope this helps. :)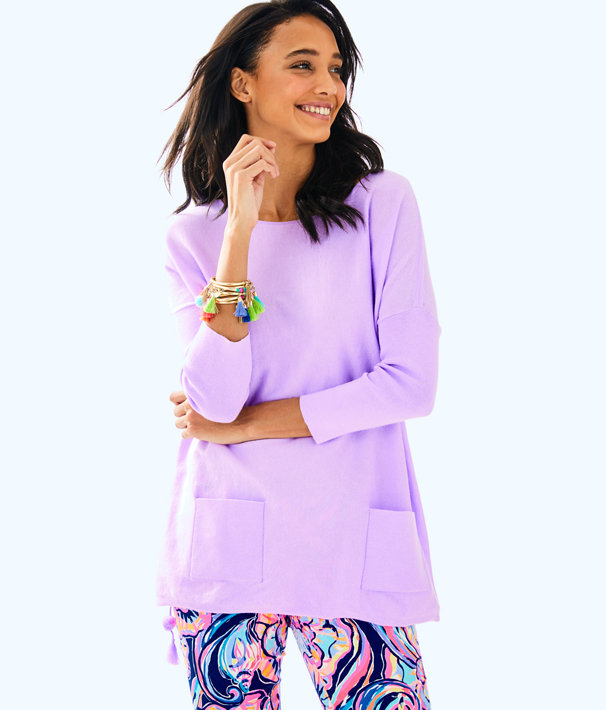 12:00 a.m.
Hi, Friends! Today is the last day of the Lilly Pulitzer After Party Sale, so a few things:


Bay Dress included in the sale!
12:30 p.m.
I'm back! Okay — What did you guys order?! I'm so excited to hear!
I went with the:

My all-time favorite Lilly dress is included in the sale! Linked here, too, in case it sells out.
9:30 a.m.

Hi, Friends! Okay, here are my absolute best recommendations:
The Stella Shift: (It's linked both here and here, just in case one listing is sold out. It's also pictured above!) This is definitely my favorite Lilly dress in my closet. I love that it's simple yet has some adorable detailing down the sides; those bows at the very bottom are the cutest! I almost always pack this dress for vacations because it doesn't wrinkle as easily as my cotton dresses. Couldn't recommend it more! Because it's flowy, do not size up. (But I also wouldn't recommend sizing down.) Order your usual size!
The Bay Dress: I can't tell you how often I wore this dress this past summer. The fabric is a bit more substantial than regular t-shirt dresses, but the material keeps you cool even on hot summer days. If you look closely, you can see that the stripes are actually tiny scallops! I have this dress in a size small, and it's perfect. (XS hugged my body a bit too much.) Oh! And take a look at the back. Can still wear a bra since the twisty cut-out is so high up!
The Striped Skipper Dress, Gray Skipper Dress, or the Navy Skipper Dress: I was most excited to see this dress in the sail. I LOVE Lilly's line of skipper popovers and dresses, and my eye had been on this one for the longest time! Sizing: Runs slightly large, but it is intended to look that way. (I order an XS when I'm not pregnant.)
The Elsa Top or Printed Elsa Top: WHAT?! Solid silk Elsa tops are rarely included in the sale, so be sure to take advantage. This is one of the most versatile tops I own; can be dressed up or down. The blue is my favorite! Runs slightly large, but only because it's supposed to be flowy. I always order an XS because of that.
The Essie Dress: Remember how I was talking about how much I love the Essie line? It's probably Lilly's most flattering cut.
The Gingham Halter Dress or The Gingham Ardleigh Dress: When Lilly comes out with gingham line, you do a happy dance. When Lilly puts said line on sale, you pounce!
Luxletic Leggings: THE SOFTEST LEGGINGS. I travel in them, take long strolls in them, and even sleep in them. I only have one pair but it might be time for a second…
Jessica Short-Sleeved T-Shirt Dress: I don't know about you guys, but I have tons of fancier dresses and simply not enough very casual daytime dresses to get me through the summer. This one comes in one of my favorite prints!
Elba Sweater: This sweater has been super popular for a while now, and for good reason! It hangs in just the right way and looks adorable with skinny jeans. I love the navy and the camel, but you really can't go wrong! Size down; it runs large.
Gabby Shift Dress: My mom SWEARS by this dress. Isn't it stunning? Certainly a number you could wear to a spring or summer wedding. This one is gorgeous! (Runs TTS; do not order down, though. It's fitted.)
Harper Shift Dress: GREAT dress. I have it in a bunch of different colors/patterns because it's so insanely comfy. Its material is almost terry-like, but the detailing makes it look polished. I wear this in the summer whenever I'm not sure what the vibe will be. Works both ways! TTS.
8:30 a.m.
Here are my picks from the sale! (Hope this will help narrow it down.) Aaaaand the $500 giveaway winner is…
Laura M.! (Laura, I e-mailed you… shoot me back and message and I'll get your e-gift card over to you. Congratulations!)

8:00 a.m.
I'm in! Zero wait time? Anyone else? Haha — I'm looking at 813 products total, and completely flabbergasted as I've never had less than a 45-min to one-hour wait. Let me know if this happened to you, too! I'm going to start shopping now!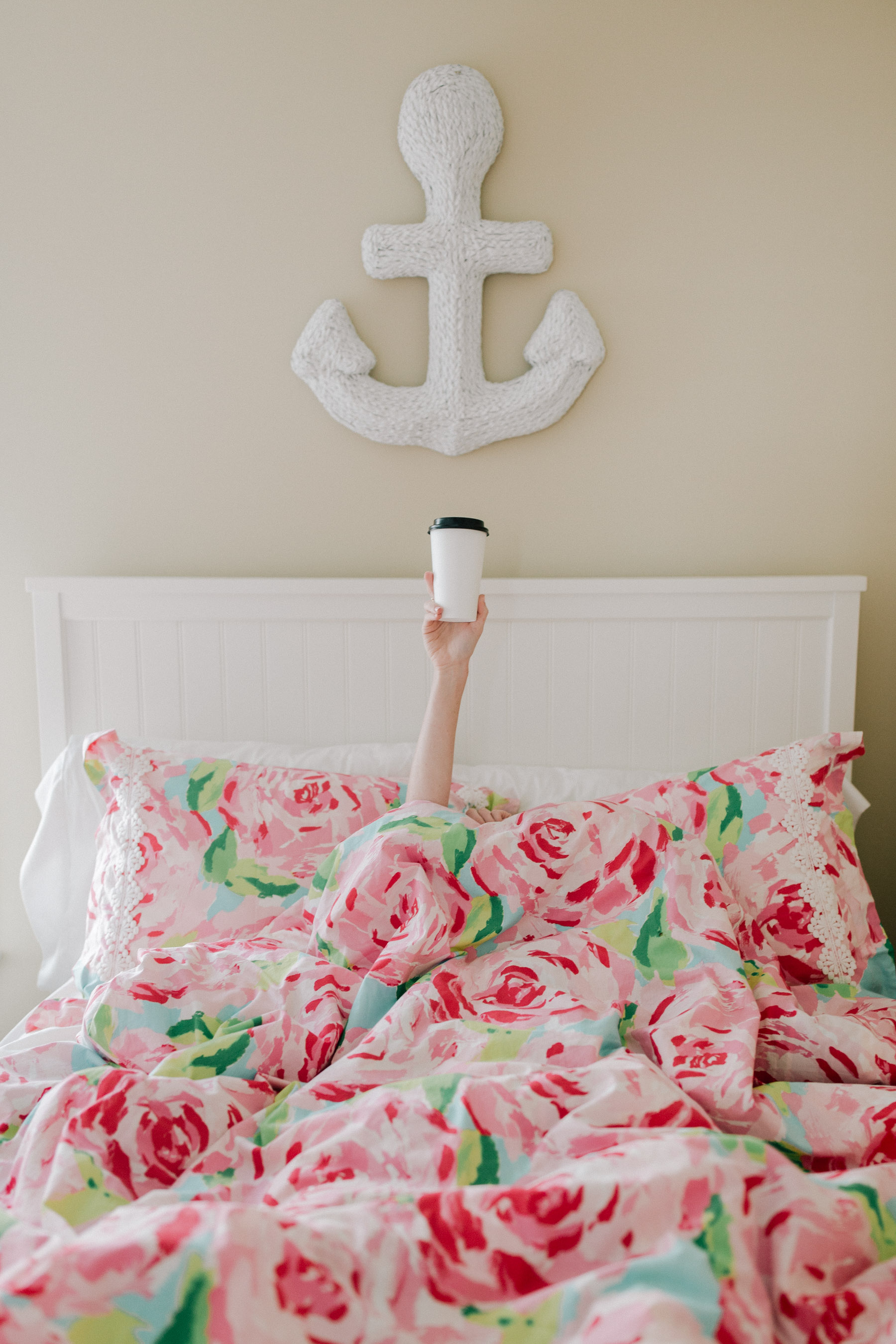 12:00 a.m.:
I run this photo on the first day of every Lilly Pulitzer After Party Sale. 😂 And I'll tell you: it was not easy to take. Have you ever attempted to take a similar pic?! While I'm not sure why you would have, haha, I learned through the experience that it's incredibly difficult to hold a coffee cup upright while lying down. But Mitch and I snapped this a couple of years ago at my parents' Shore house in the "Lilly Room," and it'll always remind me of happy summers with my family. (Fun fact: Mom decorated one of the guest rooms for me! Isn't that sweet? And in case you're wondering, the bedding is old from Garnett Hill. 😢)
Let's get back to business, though, because today is the first day of the sale! If you're able to be at your computer or device around 7:59 a.m. EST, go to the Lilly site and continuously hit "refresh" until you're given a number in the virtual line. Once you receive your number, do not hit refresh again, otherwise you'll lose your spot. You also shouldn't open the site in a new tab, as the same thing will happen. (I tested it out last year.) And if you're given what looks like an absurd number and wait time, don't freak out! It's totally normal, and the line usually moves much faster than it says it will.
Turn up your volume because you'll hear a loud "ding" when you're turn arrives. (Also keep in mind that Lilly says there's a TON of merchandise this year. Last year, when I got in after over an hour wait, I saw barely any sold out products.)
Before I go to bed, I should also note that I'll be updating this post throughout the day, so check back regularly! (It's a live feed.) I'll be sharing entertaining stories to pass the time, haha, my favorite products, what I'm buying, tips and tricks, and updates from the Lilly team. OH: And I'll be announcing the winner of the $500 giveaway between 8:30 and 9:00 a.m. EST. Woo!
Goodnight, Friends! See you first thing in the morning. ❤️