Winner announced!
And the winner is…
Lizzie F.!
(Winner was selected at random.)
Lizzie, we just emailed you! Get back to us and we'll shoot you over your prize. From your entry, it looks like you're in college, so we hope this'll help deck you out for your fall semester. :) Congrats, Girl!
Thank you to everyone who entered. SO. MUCH. FUN. Mitch and I have read a bunch of comments, and they were absolutely wonderful. Looking forward to reading all of them over the next few days. (Maybe compiling a post featuring the ones that made us crack up?! Could be fun!)
Be sure to visit the blog tomorrow for more Lilly updates, and check back in on Friday or Saturday… I'll have a different giveaway going live!


And be sure to scroll down to see my favorites from the newly added products. :)

Brinkley Beach Pants: Included in the sale and such a steal!
4:15 p.m.
Sorry for the radio silence there for a little while, but we've been getting things in order in the Larkin household and it feels good! But just wanted to pop in quickly to let you guys know that I'm going to announce the giveaway winner and contact her at 6 p.m. ET, so get your final comments in now!

Jane Dress: Added to the sale!
10:45 a.m.
WOW. There were so many new styles that were added to the sale this morning that I had trouble sorting through all of them!
I love the Jane dress, which I'm wearing in the above photos. It features a swingy cut, and the detailing down the front reminds me of the first Lilly dress I bought on my own when I was fresh out of college. Oh, the memories! ;) And did you guys see this garment bag to put said Jane dress in?! SO CUTE. I think it would make such a lovely gift, too!
Other faves:
Margot swing dress: Probably my favorite of the new additions! I just love the starfish print.
Captain popover in "Jellies Be Jammin'": AH! Such a great pattern, and one that you almost never see these days. Scoop it up while you can!
The Skipper popover: Great for transitioning to fall.
Mila shift dress: There aren't very many sizes in stock, but this is one of my favorite Lilly prints!
Sloane maxi dress: The most flattering maxi of all time. I wore it throughout my pregnancy and it was a godsend.
My beach towel: It's Emma's favorite. So soft.
The seahorse dress: Wow! It's the same cut as my elephant dress.
Pearl shift dress: This is an extremely flattering dress! I have it in two colors from a few years ago. From my recollection, it runs slightly large, so check the reviews before ordering. (Here it is in another color, also on sale.)
Maisy dress: Love it in navy!
Starfish dress: I never got around to shooting this while we were on the Shore, but it's gorgeous. I can't tell you how many compliments I received on it. Weirdly enough, not itchy?
Baby shifts: This one and this one were added to the sale!
Hey Bae Bae Tee: For $24, a great way to snag a popular print.



Luxletic Weekender Leggings: Added to the sale!
9:45 a.m.
Yawwwwwn! Keep in mind that I'm an hour behind here, but yes: the Larkin family slept in and then we had a slow morning. Felt so good! We'd been on the road for the longest time–did I tell you that we're back in Chicago?!–and I think everyone was dragging. Today, we're focusing on laundry, cleaning, settling back into a routine, and finishing a couple of outstanding summer projects. We're off to Mitch's parents' lake house for Labor Day Weekend, so I really want to get our lives in order before all the fun begins!
Anyway, if you scroll down, you can see that Lilly Pulitzer added new products to the After Party Sale last night. I thought I'd focus on the Luxletic Weekender Leggings for a minute, though. Guys. They're so soft. They're my go-to leggings for long car rides and flights, and I can honestly say that since I acquired them last spring, they've come on every trip with me. (SO many trips over the last six months, haha.) I am wearing a size small in these photos, and I think they look great. I tried the XS, and they seemed fine as well, but the smalls were extra comfy. (For reference, I'm between 105 and 110 pounds, and usually wear a size 25 or 26 in jeans.) I do think, however, that you'd be totally fine ordering your usual size!
Be back in a few minutes with another update!

Jackie Shift Dress / Accessories on sale here
12:30 a.m.
In case you missed it, Lilly added a TON of new products to the After Party Sale. Such good stuff! I've listed my favorites below, but I have to tell you: the Jackie shift dress is a must! I tried it on at the Lilly Pulitzer Signature Store in Avalon last week, and I was obsessed. It's so cute and crazy flattering. It swingy, so you can eat all the lobster you want and not worry about your stomach. 😂 At the same time, though, it's amazingly slimming. Remember how I told you that I only bought the Palazzo pants in navy because I was trying to be good? I caved and bought the Jackie shift dress in "Oh My Guava" because I was that in love with it. I can't recommend it enough!
Sizing: If you're just tuning in, I'm somewhere between 105 and 110 pounds depending on how many cookies I've eaten, and I'm around 5'4 or 5'5, wear a size 34 A bra, and have a long torso and shorter legs. I took a size XS in this dress, and it was perfect! I'd say that it runs TTS, but because it features a swingy cut, it's a little roomy. (In the BEST way.)

Here are my favorites from the newly added product selection:
The Skipper Popover: It's available in SO many prints. I like "Tons of Fun," "Gimme Some Leg," "Fan Sea Pants," and "Casa del Sol."
Jackie Shift Dress: Like I said, FAVORITE. I tried this on in-store in Avalon and loved it. It's so crazy flattering. Added to cart in "Oh My Guava."
Jessica Dress: It's the one you see below. Such a steal!
Harper Shift Dress: It's the dress I wore here! Awwww!
Willa Tunic Top: Available in so many prints.
Luxletic Weekender Leggings: I know. I talk about this often. But these are the best travel pants.
Short Sleeve Tee: It's in "Beach and Bae." :)
Marlowe Dress in Navy Stripe: My mom wore it here in a lighter blue.
Light Blue Cardigan: It's a great deal and such a pretty color. Glad to see some cardigans are available again!
A Go-with-Anything Woven Tote: A classic.
The Marlowe Dress: Now in different prints!
Note: A huge thank you to my friends at the new Avalon Signature Store! I had the best time with them while I was visiting. If you live relatively close to Avalon, definitely give them a call or visit the store. The number is (609) 967-8083 and the address is 2009 Dune Drive. There's even parking outside!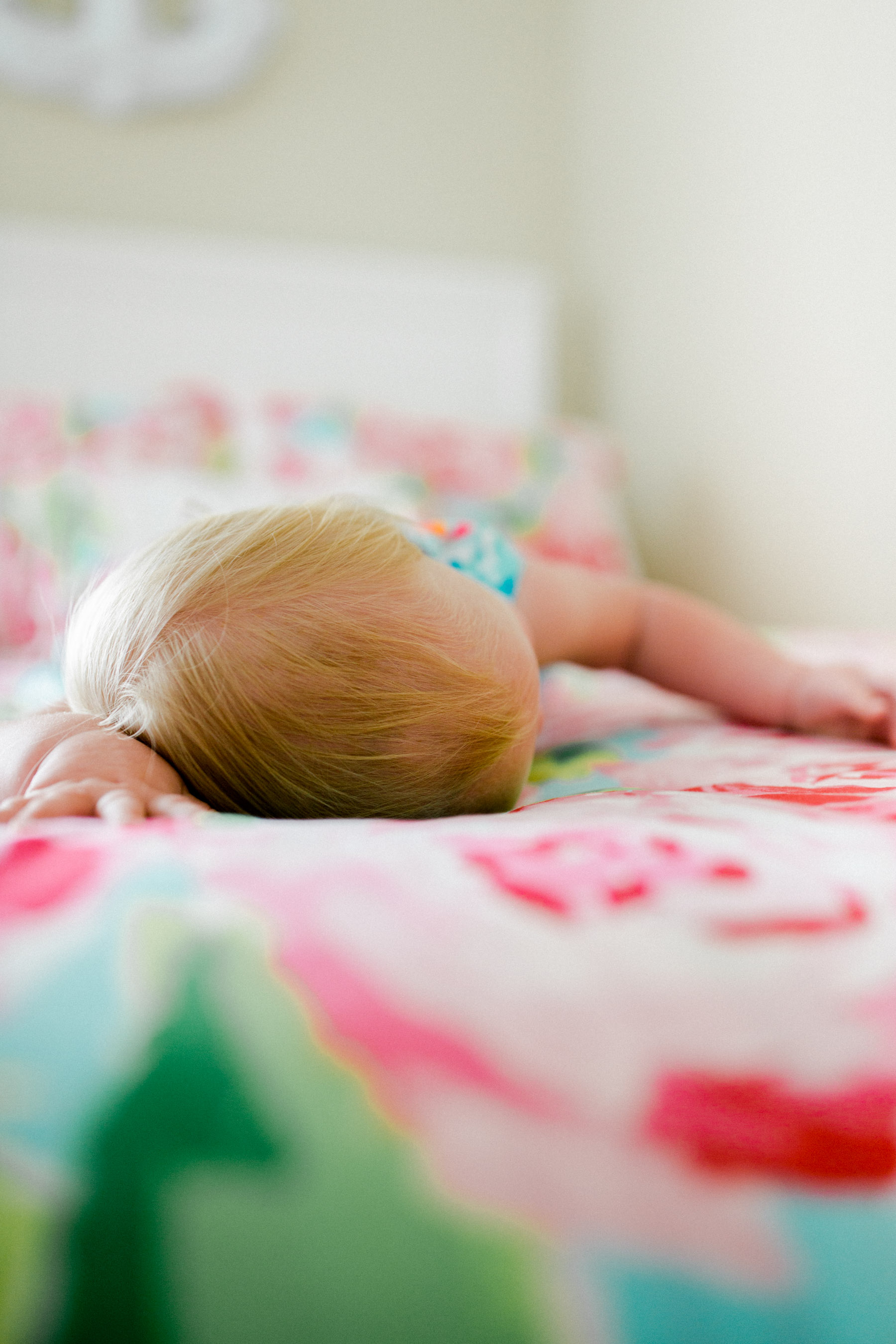 12:00 a.m.
It's midnight, and I'm pooped from the Lilly Pulitzer After Party Sale. (In a really good way.) How hilarious is the above photo of Emma, though? She was actually rolling around the bed, having a grand old time. But the photo perfectly captures my exhaustion, haha, and let's just say that I'm going to be OUT when my head hits the pillow in a few minutes!
(Btw: I've received a lot of questions about the bedding. It was purchased from Garnett Hill a few years ago. Etsy has one!)
In case you're wondering about what yesterday was like for me:
I've "live blogged" about the sale in the past, but never to the extent that I did yesterday. While it was definitely a time-consuming endeavor, it was SO fun. I should mention, though, that photos might have made it look a little more glamorous than it actually was. I spent most of the day live blogging from bed. ;)
Some background: The photos were taken in advance–most on our trip to visit my parents on the Jersey Shore. We collaborated with Lilly in the weeks leading up to the sale to get everyone excited, and it just so happened that we were vacationing on the beach during that time. It was awesome! I simply wore a Lilly outfit every day (what I normally do when I'm down the Shore), which made packing super easy, and Mitch or my dad snapped photos at some point. When Emma was in the photos, I'll admit that we probably took 300+ pics, as squirmy one-year-olds can be difficult to photograph. ;) But it was a very fun, easy experience. I'm trying really hard to let go and be okay with photos that aren't "perfect." Honestly, they're a more realistic depiction of my life anyway! Who cares if no one's looking at the camera, right?!
Mitch and I did need to dedicate a couple of days to writing and photo editing, so my parents graciously volunteered to watch Emma, and our close family friends offered up their home as a quiet place to work. (Thank you so much, everyone!) I know that it seems like a bummer to work while on vacation. But Mitch and I truly adore maintaining this site, and I'm clearly obsessed with Lilly, so it was fun and exciting. (I really can't tell you how much I love editing photos and writing, even though I'd love to find the time to write more deeply.) I think it was also incredibly important for my parents to spend some alone time with Emma, as they live on the East Coast and don't see her as often as they'd like. And dedicating two days to editing and writing meant completely work-free vacation days the rest of the time, which was amazing for my mind and soul. There's nothing I love more than unplugging in my favorite place in the world!
Anyway, Mitch watched Emma yesterday so I could keep up with the live blogging. He took her all over the place: to work, to the Apple store to buy a new laptop, to the park to play, and on a long walk. I'll admit that I experienced some FOMO, but I went to another park with them around 7 CT, and then had dinner with them afterwards. Emma's so close to walking, guys! Gah. I wish you could meet her.
Like I mentioned, I mostly live blogged about the sale from bed. (You can see yesterday's post here.) I wish we had a home office, but we live in a pretty tiny home. We actually have a guest room that I could work in, but it's super dark back there and I'm very affected by light. Our master bedroom, though, gets more light and is very cheery, despite being on the garden level… and it's quiet. So I opted for that! Mitch and Emma brought me coffee and breakfast in the morning, and a huge sandwich in the afternoon. (LOVE them!) Once Emma went to sleep, I moved upstairs to our kitchen table, which is my favorite place to work. And now Mitch and I are sitting here, discussing more potential (PG-rated) Lilly prints for men. Nothing to do with butts, Mitch. Nothing to do with butts. Kidding. We're drinking wine and talking about some documentary we just watched on Princess Diana because Emma accidentally turned it on and then we all went with it.
I'm live blogging again today, but I'll be working from a coffee shop or our gym. Stay tuned for more updates, and be sure to comment on this post for a chance to win the $200 gift card to shop the sale! (You can comment up to three times, as long as your comments are an hour apart.) The winner will be around sometime around 4 or 5 p.m. ET! (Note: Sunday's winner was Laura M.! Hope you had a great night shopping the sale, Girl!)
Thanks for following along, guys! 💕