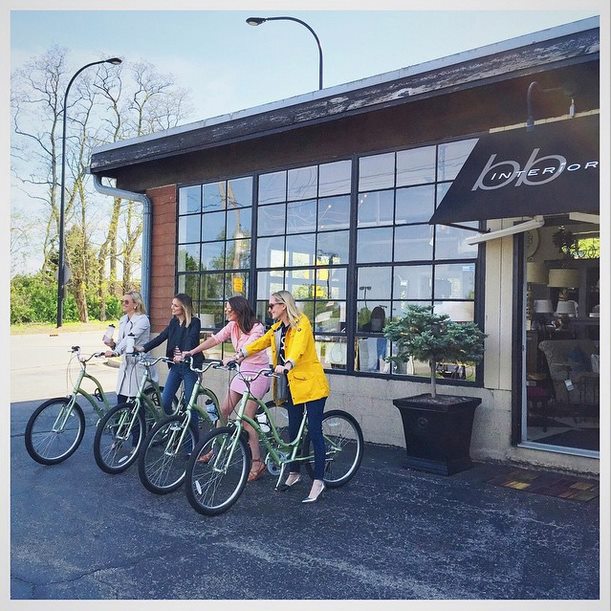 (Wearing: Barbour Trevose Rain Coat c/o, also available here, and here in navy. And check out the great selection of Barbour that's part of Tuckernuck's Memorial Day Flash Sale!)
Nicole, Maya, Jess and I spent this past Wednesday in Geneva, Illinois, and had such a blast. I'm going to recap the whole trip on the blog in the next couple of days, but how cute is the above photo?! Thanks for a great time, bb Interiors!
My future sister-in-law, Kim, was accepted to PA school! I am so, so proud of her. When the word came through, the both families were in tears. I'm actually tearing up right now as I write this, haha. SUCH a huge accomplishment, and Kim deserves it more than anyone. Congratulations, Future Sis!
Jess and I–along with Whitney Reynolds, James Goeke and Marcus Riley–hosted the Vineyard Vines "Coast to Coast" Kentucky Derby Viewing Party at Del Frisco's in downtown Chicago, and it was SO. MUCH. FUN. (Also, please note that Mitch and Neal did not plan their outfits. But I told everyone they did, hehe.)
Let the countdown to New York City begin. I'm going home for Patrick and Kim's wedding in early June, and I fully intend on spending a few days in Manhattan the following week. I'm so excited. I'm essentially obsessed with Chicago right now, but going home and spending quality time with friends and family is always wonderful. (The above photo was taken by my amazingly talented cousin and Maid of Honor. Love you, Annie!)
One of my favorite parts of freelancing is that I get to have impromptu cocktail parties with my blogger girlfriends during the week. Seriously, it's the best. Don't think we do it all the time; we're definitely behind computer screens 99 percent of the time. But it's really nice that we have flexible schedules. As long as we make our deadlines, it doesn't matter whether we work early mornings, late nights, weekends or weekdays. It just needs to get done. Anyway, check out Blair's most recent cocktail post. So fun!
This past Thursday, I headed out to Skokie for the Westfield Fash Bash–a cocktail party and Q & A session with Louise Roe and The EveryGirl. Mitch and Jimmy were pretty bummed that Doug didn't come, so they kidnapped his wife for a photo. ;)
My parents throw some really great backyard patio parties in the summer. It was so fun to attend one last weekend! :) I wore this dress c/o, which I recently featured here. (And how cute is the current VV selection at Nordstrom?!)
Oh my goodness, right? Mitch walks home from work on Fridays, and I meet him halfway. Way to Pattern Mix, Mitch. Love it.
It's official. I own a pair of Birkenstocks. (Flashback to middle school!) I got mine from Nordstrom Rack c/o because they were only $49 compared to $134, and I loved the white buckles. I'm also in love with this navy pair, this white pair, and this silver pair.
Warby Parker's Chicago location invited Jess and me to tour the new store, so on Thursday, we got our first pairs of WP specs! I have a very high prescription, and have always needed high-index lenses… making for $750+ bills every time I went in for new glasses. (Which is why I still have the same pair I've had since college.) But my WP glasses were only $125. GOODNESS! I also couldn't get over how beautiful the store was, and how friendly and helpful the employees were, and how easy the whole process was. Stay tuned for a full feature! (I went with the Durand in "Woodland Tortoise," btw.)
Isn't Bucks County darling? I love visiting my parents, and admiring all the adorable houses along the canal and river in their town. Not sure I'd be down for the flooding, but I sure do like the charm!
Kate Spade sent me their new perfume–Walk on Air–and I've been wearing it every day! A new scent kind of gives me the same feeling that rearranging my furniture does. ;)
Noodle's favorite food right now? Flowers. You should see our backyard. It was once so pretty…
A few girlfriends and I went to Henry's Swing Club for a ladies' night out, and had the best time! The next time you're in Chicago, you have to go. I mean, s'mores for dessert?! Yes, please. (And how cute is Lauren?!)
My brother-in-law, Charlie, started a chicken farm! It's called Above Normal Eggs, and he's doing an AMAZING job with it. He and Mitch manned an egg booth at the Farmer's Market in Bloomington, IL a couple of weekends ago, and they sold out almost immediately. Way to go, Char!
Mom and I visited the Lilly Pulitzer store in King of Prussia last week to see the new arrivals. We both fell in love with this dress, and I'm so happy the "Tusk in Sun" print is back!
Noodle in the laundry. Too cute not to share.
Noodle working hard or hardly working? Slacker. ;)
Mitch and I have been furiously making Freezer Meters. Oh, production days! If you haven't heard of Freezer Meter, it's a product that Mitch invented that notifies you if the food in your freezer becomes unsafe to eat. It's doing really well, and I'm so proud of him! (He also created the Couch Clamp!)
Spring, I'm so glad you've finally arrived. :) Such a pretty scene from my parents' driveway!
Anyway… happy Saturday, Everyone! And a very happy birthday to Blair. Can't wait to celebrate!