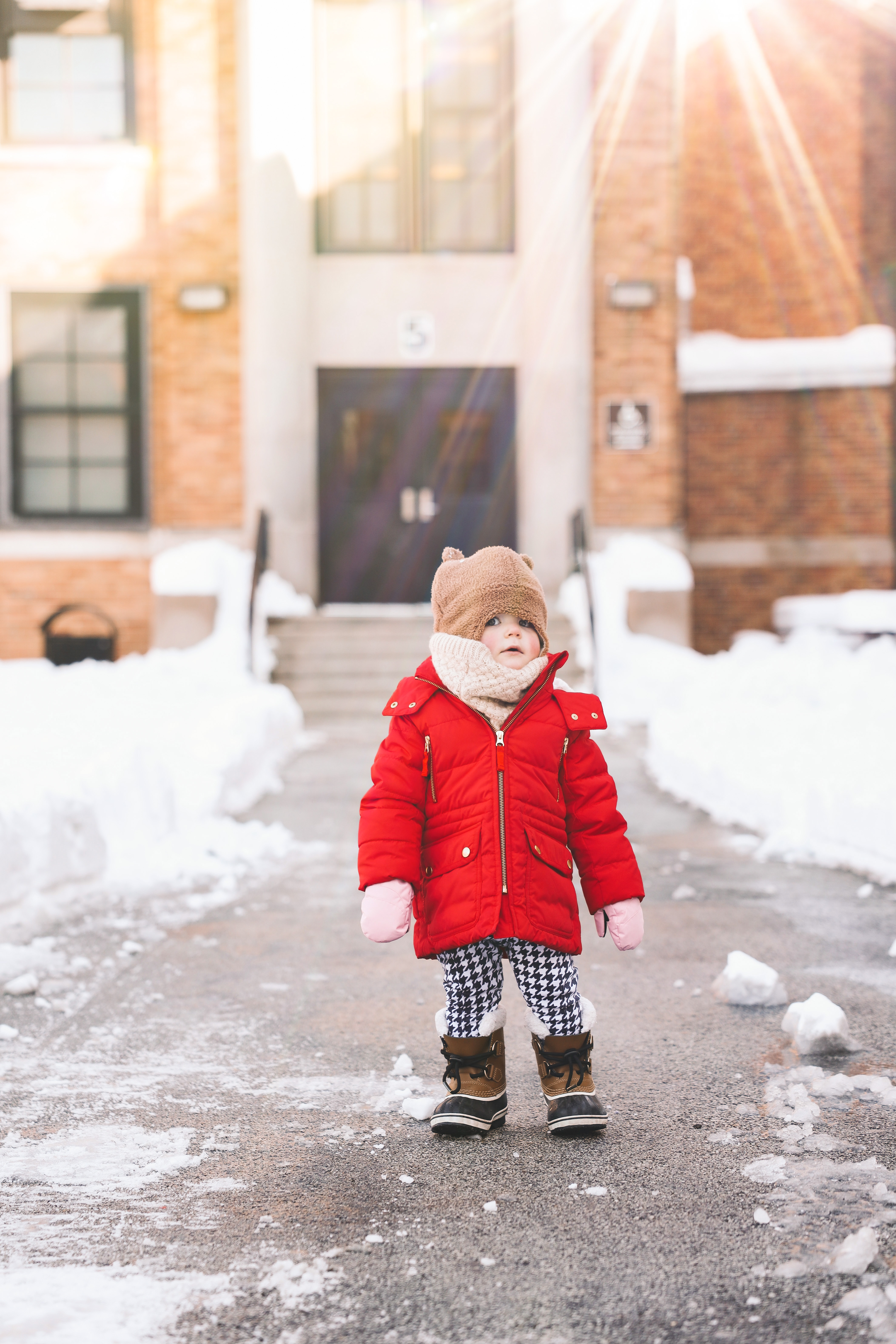 Lucy's Sorel Boots / J.Crew Chateau Puffer Coat/ Sorel Tofino II Boots (At Backcountry, Bloomingdales, Sorel and Zappos. Even warmer are the Sorel Joan of Arctic Boots, available at Backcountry, Sorel and Zappos) / Patagonia Los Gatos Vest (At Nordstrom and Backcountry) / Athleta Altitude Leggings / Amazon Snood Scarf / Barefoot Dreams Hat / Little Flower Mask / Girls' Hi-Loft Down Jacket / Kids' Waterproof Uggs / J.Crew Girls' Chateau Puffer / Lucy's Hat / Girls' Mittens
I found finally found Emma's old baby Sorel boots hidden in a box in the garage. WOO. They're utterly fantastic—absolutely adorable and totally waterproof. One bit of advice when ordering, though:
Size up! Lucy wears a size 6 in toddler shoes right now, and she's wearing a 9 here. They're just right. I would very much recommend going up three full sizes, especially if you'd like your little one to wear the boots the following winter!
As for Emma, we finally found a great pair of boots for true snow play. (The waterproof Uggs are surprisingly good, but the snow is so deep that it was getting inside the boots!) Try this pair of Sorel Flurry Boots. (Also available at Nordstrom and Zappos.) Similarly, we went up several sizes. (Two, but I do feel like we could have pulled off three!) The best part about these boots is that they're slip-on, so Emma can totally handle them herself. They also cinch at the top so the snow stays out!
Anyway, here are more snow day photos. Because every day is a snow day here. (Seriously, though. 🙈)
Shop the post:
Lucy's Sorel Boots / J.Crew Chateau Puffer Coat/ Sorel Tofino II Boots (At Backcountry, Bloomingdales, Sorel and Zappos. Even warmer are the Sorel Joan of Arctic Boots, available at Backcountry, Sorel and Zappos) / Patagonia Los Gatos Vest (At Nordstrom and Backcountry) / Athleta Altitude Leggings / Amazon Snood Scarf / Barefoot Dreams Hat / Little Flower Mask / Girls' Hi-Loft Down Jacket / Kids' Waterproof Uggs / J.Crew Girls' Chateau Puffer / Lucy's Hat / Girls' Mittens