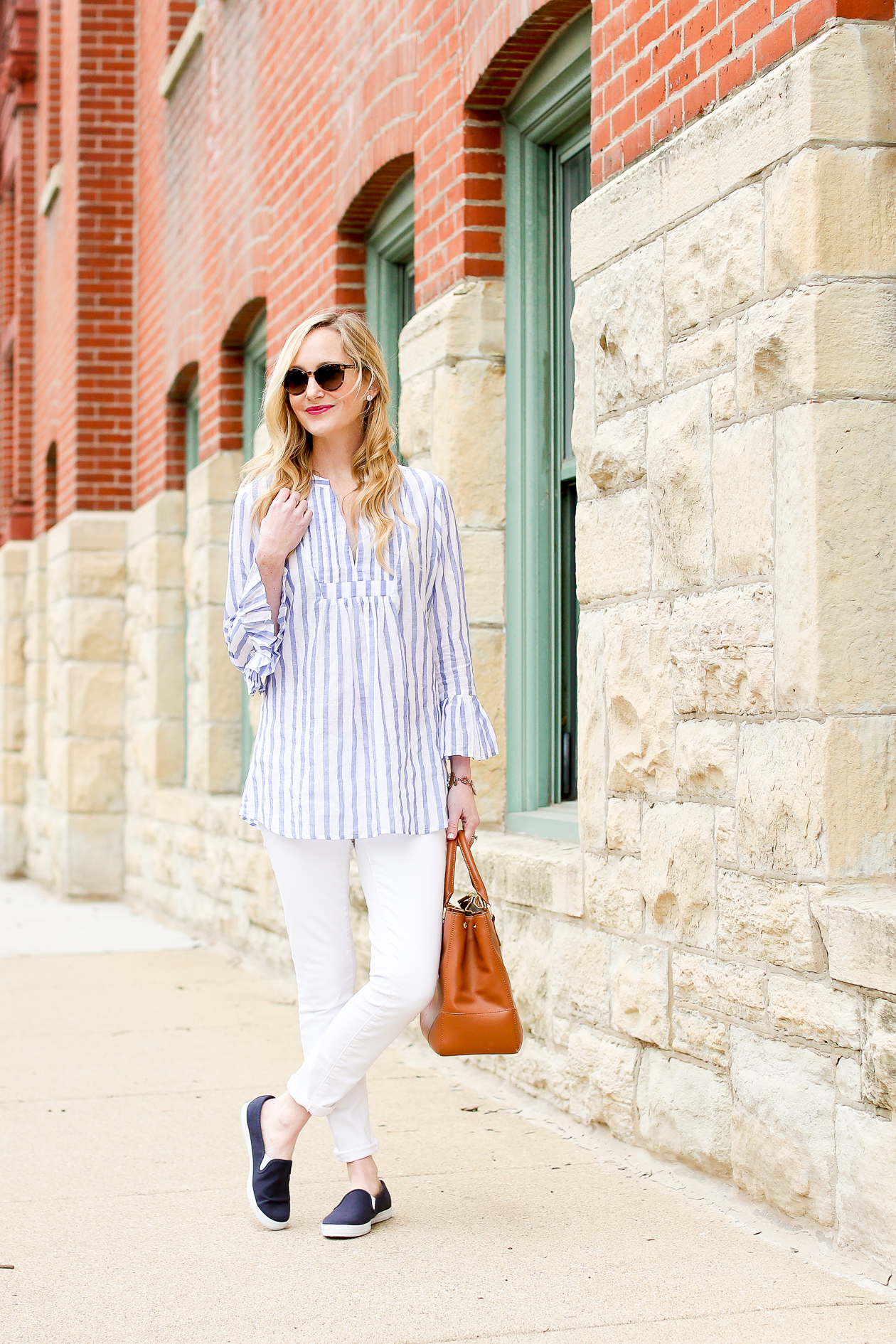 Navy Slip-On Keds c/o Zappos.com / J.Crew Jeans (I'm actually wearing the maternity version) and Pearl Bracelet (Look! The necklace is back!) / Bell Collection Top c/o / Tory Burch Tote (Smaller version here. Though, if you're going to buy a nice brown bag, I vote for this one in "tan"! I also love this drawstring bag!) / Moon and Lola Earrings c/o / Similar Sunglasses
Over the last couple of days on the blog, the bump has been, well, bumpin.' But today, I'm back to an outfit that doesn't scream pregnancy. Which, I have to admit, is pretty nice. Like I said in a few of this week's posts, I'm beyond excited about being pregnant. I'm also extremely grateful, as we've wanted this for a very long time. (I really can't stress that enough, and more to come on that subject soon, I promise.) But getting dressed–and feeling good about myself–is kind of challenging when I'm expanding rapidly on a daily basis. ;)
On one hand, watching my body change is so exciting. This is embarrassing to admit, but every morning, I admire my belly for WAY too long in the mirror before getting in the shower, haha. (Mitch actually caught me this morning. It was pretty funny.)
Yet on the other hand, it's a little freaky. I mean, there's is a living being inside of me. And every day, things become more and more foreign. This week, for example, my belly button started changing shape. Like, what? I've had the same belly button for my whole life, and now, it's suddenly different. Seems like a silly thing, but it's just one of dozens of changes, and sometimes I feel like I'm in someone else's body. It's a surreal experience, to say the least!
I also have a very limited wardrobe these days.
One thing I've discovered very quickly in my fifth (and now sixth!) month of pregnancy is that I need attire that's both comfortable and cute. While there are certain things, like pants, for example, that I must buy in the maternity section, there's a lot of non-maternity stuff that works, too, and can be worn post baby. Which I LOVE. (I do realize, however, that in the third trimester, I'll likely need to invest in some actual maternity tops. But we'll cross that bridge when we get there!) All about the savings, here.
Tunics have been a godsend. And this one from Bell Collection, evidenced by the fact that I wore it only four days ago on the blog, is my favorite. First of all, the blue and white stripes are ah-dor-able. And the ruffles on the sleeves? They kill me. ;) But how flattering it is (both on Preggers Kelly and Non-Preggers Kelly) is what I love most. Right now, it totally accommodates the bump, and I'm pretty sure it'll accommodate the bump in the coming months as well, because there's still a lot of space left. Yet I wore it when I had hardly any bump, too, and it looked fabulous! A winner for sure. :)
My navy slip-ons have also been wonderful. Recently, I teamed up with my friends at Zappos.com to honor women who are defining new paths for themselves… as well as to celebrate the 100th anniversary of Keds, a brand that supports the many hats these women wear and the people they aspire to become. And I have to tell you: it couldn't have come at a better time. The shoes I picked out are both crazy comfortable and crazy cute… and I've received a ton of compliments on them, even when I've worn them to events!
But getting back to the whole "many hats" thing, I love that my Keds allow me to do just that. While there are some days when I can totally handle wearing pumps, there are others when I need a cute shoe that can take me from dog walking, coffee shops and photo shoots to attending meetings, working from home, and bouncing from one event to the next. Those are the days I reach for my navy slip-ons! (Also my red lace-ups. Holy cuteness, right?)
Anyway, in terms of life, this week has been good! Mitch and I spent Monday and Tuesday nights on house projects, but I spent yesterday morning at Summer House Santa Monica with Shaheen and Lauren for a Hush Puppies brunch (can't wait to wear my new red loafers!), and then buckled down and worked the rest of the afternoon with Shaheen. Last night, Mitch and I also did Small Tabs, which was SO FUN.
Up until the pregnancy, we didn't go out to dinner that often because it really helped us pad our savings account. Now, though, we have some funds in our budget that we're moving around–namely our "going out" funds. We still go to bars with friends, but our tabs are significantly lower these days. That makes us sound like we were complete party animals before, but really it's just a combination of how much less frequently we go and that we leave earlier. (Come 10:30/11:30 p.m. and I'm done.) So we've allocated some of those funds to Small Tabs dinners, and it's been awesome! Small Tabs is a Chicago website that keeps you up to date on restaurant specials by neighborhood. While it's pretty much all bar food, it's super cheap, and it's an affordable way to go out to dinner more often. We love it!
(Though, really. How many more months until I can have a glass of Chardonnay?! Good grief, haha!)
Today, I have some stuff I need to get accomplished downtown, so it's a Keds kind of day for sure. Tonight I'm attending Jess' event at Macy's, though, and we'd LOVE to see you! It's taking place at 5:30pm in the Impulse Department on the 3rd floor, and Jess will be giving personal style advice on the latest spring trends while I annoy the hell out of her. ;) There will also be a live DJ, a fashion illustrator, makeup touchups by Benefit Cosmetics, and a create-your-own floral iPhone case station.
Okay, that's enough babbling for today. Go have a great Thursday! xx
Outfit Details:
Navy Slip-On Keds c/o Zappos / J.Crew Jeans (I'm actually wearing the maternity version) and Pearl Bracelet (Look! The necklace is back!) / Bell Collection Top c/o / Tory Burch Tote (Smaller version here. Though, if you're going to buy a nice brown bag, I vote for this one in "tan"! I also love this drawstring bag!) / Moon and Lola Earrings c/o / Similar Sunglasses