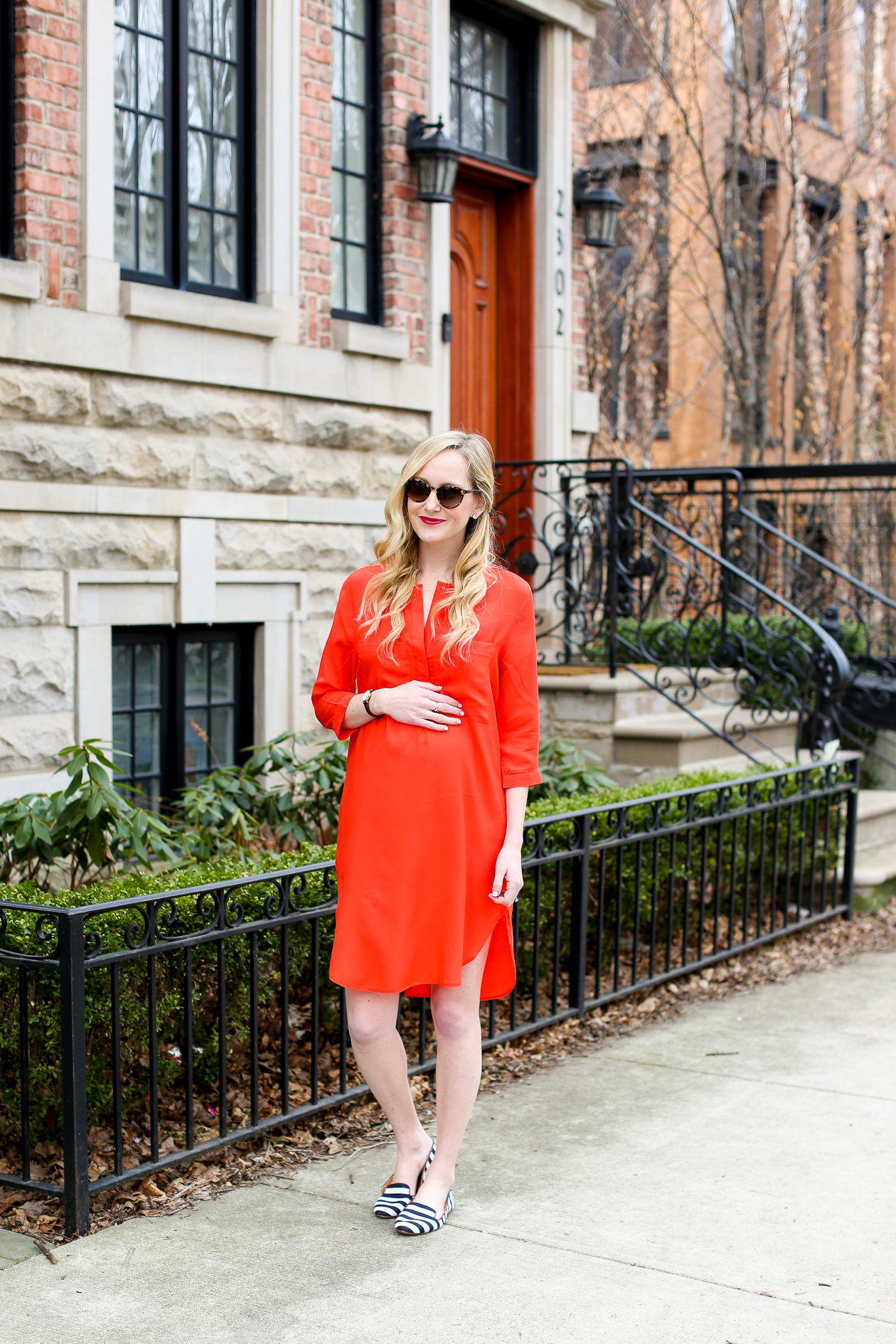 H&M Dress and Striped Loafers c/o
Today, I'm teaming up with H&M to showcase some of my favorite products from the brand's spring collection, and talk about some of my favorite spots in Lincoln Park, Chicago. If you haven't already noticed, I've been on a red kick this year. So when I saw this flowy red viscose dress and these adorable navy striped loafers in the Michigan Avenue store, I knew they were coming home with me!
While it's not from H&M's maternity line, the dress is insanely comfortable… something I can't say about most of my pre-pregnancy clothing right now. Likewise for the shoes, as they essentially came broken-in. (Tip: go a half size down. I typically wear a size 7.5 in flats, and went with a size 7 in these.) And the price points can't be beat: $24.99 for the dress and $14.99 for the loafers? (Which also come in pink!) I'll take it. Other H&M favorites include this lace dress, this straight-cut jacket, this striped bow top, this black chiffon dress, this navy patterned chiffon blouse, and this striped long-sleeved shirt.
Anyway, on to my favorite spots in LP! :)
DePaul University Neighborhood
I love this area. Located in West Lincoln Park, it's a great escape from the busier parts near the lake. The campus provides the perfect amount of liveliness and youth to the neighborhood, yet I love how wholesome and sweet the student body is. The townhouses that surround the campus are gorgeous, too! (That's where these photos were snapped.) Mitch and I spend hours on the weekends walking around the neighborhood.
Armitage and Halsted
SUCH great shopping and eating! I swear the only thing these streets–which intersect each other–are missing is cobblestone. ;) Not to miss on the food front: Fairways, Glazed and Infused, Chicago Bagel Authority, Tarantino's, Butcher and the Burger, Oyster Bah, Stella Barra, Summer House, Nookies and Blue Door Farm Stand. Not to miss on the shopping front: Art Effect, Barker and Meowsky, Marine Layer, Interior Define, All She Wrote, Lori's Shoes, Second Time Around, McShane's Exchange Consignment, Helen Ficalora, Barbour, LuLuLemon and Club Monaco.
Webster Avenue
Mitch and I lived on Webster for our first year in Chicago, and while we love our new street, we still miss Webster! Not to miss: Trebes Park, Derby, Sweet Mandy B's, Monograms on Webster, Floriole, White Oak Tavern (for drinks or brunch), New Elephant Resale Shop, Range, Devil Dawgs, Jam n' Honey, McGee's, Kelly's, Homeslice, State, Athenian Room, Kameya and Toast.
Oz Park
This is one of our favorite parks to walk to, as it's right in the middle of Lincoln Park (which is confusing; Lincoln Park is both a park and a neighborhood), and Mitch spent his childhood going there. My mother-in-law actually helped build the playground that's there today! We love that the park is always busy, but not too busy… and that there are lots of basketball and tennis courts. Noodle also loves running around in the field with the other pups!
The J.Parker
Located on the rooftop of the Lincoln Hotel, the J.Parker is where we go when we want to do something fancy. :) The views of the downtown skyline are gorgeous, and the atmosphere is chic yet comfortable. Oh! And Perennial Virant is right downstairs. (Mon Ami Gabi is another favorite fancy restaurant.)
Lincoln Avenue
If you're looking to "go out," Lincoln Avenue has some of the best (cheap) pubs and bars. And once you're doing bar-hopping, definitely hit up Insomnia Cookies. For restaurants, I like Bricks, Ranalli's, Four Farthings and Stanley's. For bars, River Shannon, which is a little off Lincoln, and Four Farthings are favorites… but just wander a few blocks north and there are dozens more. If you somehow get bored, wander over to Clark Street for more. (Sushi Para II is there!)
Burling Street
Want to see some ridiculously expensive mansions? Walk down Burling Street. (Or just do "Street View" on Google Maps.) Here's an old post on Burling!
Lincoln Park (The Actual Park)
North Avenue Beach, Diversey Harbor, the Lincoln Park Conservatory, the Lincoln Park Zoo, the Alfred Caldwell Lily Pool, and the North Pond Nature Sanctuary are all located here. It's a great place to spend an entire Saturday or Sunday… just pack a lunch!
What did I miss?!
Disclosure: This post was sponsored by H&M through their partnership with POPSUGAR. While I was compensated by POPSUGAR to write a post about H&M, all opinions are my own.