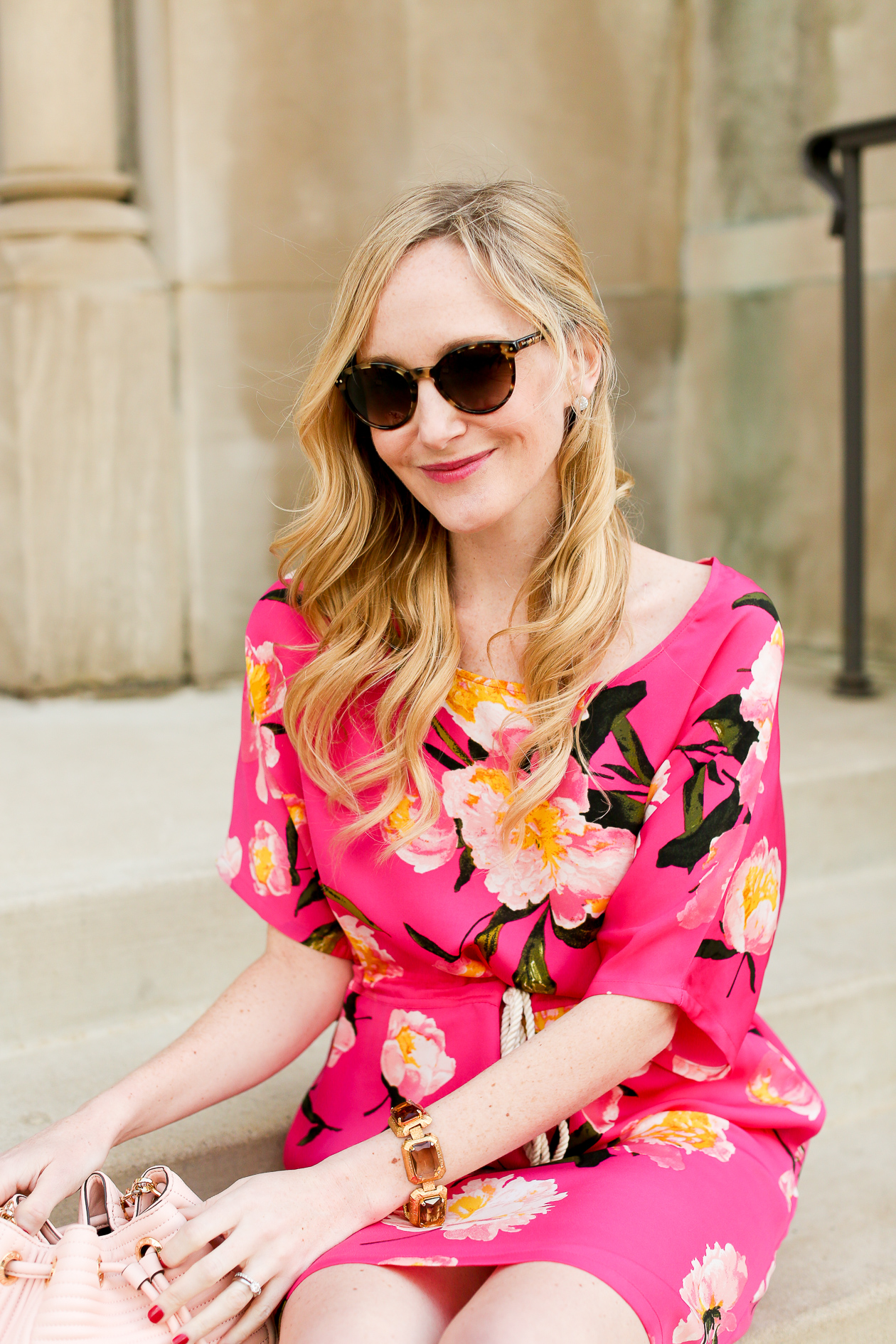 Adrianna Papell Dress c/o (Also available here) / Henri Bendel Bag c/o / C.Wonder Bracelet (Old, but C.Wonder is back!) / Sole Society Pumps c/o / Old Navy Military Jacket c/o — FYI: mine is last year's version, but I also love this one, this one, this one and this one… and check out my other favorites below! / Similar Sunglasses
Mitch and I are absolutely floored by the outpouring of love and support surrounding yesterday's post, and–from the bottom of our hearts–we can't thank you enough! We read every single message, comment and email, and each one meant the world to us. Again, thank you. I'm so lucky to have such a wonderful family, and I'm also extremely lucky to have such fabulous friends–both those I know in person and those I know online through blogging. Heart bursting.
Ah, hormones. But the love is real, even when I'm not a lunatic!
Speaking of realness: somehow, the pregnancy seems so much more real now that it's out there in the open. (Of course, it felt real before… but now it's really real, haha.) Mitch couldn't stop laughing on our walk with Noodle last night, as for the first time, all I could talk about was "getting ready." I mean, clearly we need The Magic Bunny and the stuffed animal that goes along with the book, right? And what about the little giraffe friend?! (And perhaps some actual essentials. But we'll get to that in a couple of months.) I blame Monograms on Webster. Cutest window displays ever.
Anyway. ;)
Something else that's finally out there in the open?! My belly. And it feels so good, guys. No more hunching and positioning accessories in front of it, and no more worrying about whether I'm doing a good enough job concealing it. Weirdest thing, though: I totally have "big bump days" and "small bump days." I won't go into great detail (just Google it), but there are a lot of reasons why the bump might appear pronounced one day and it might not the next. (Like hormones, the baby's position, and water retention, for example.) Obviously, when these photos were snapped, it was a "big bump day"!
One question I thought I'd address today is how I'm feeling. (Thank you for asking! So kind.) And the answer is great. For me, second trimester has been a dream compared to the first trimester, during which I was sick for nearly 24 hours per day, upset and irritable all the time, ridiculously anxious about losing the baby, and more exhausted than I'd ever been before.
(Seriously, the exhaustion thing was crazy! There were a few days when I think I was awake for literally no more than five hours, and I had to rely on Mitch for help with nearly everything, including work.)
It goes without saying that I was super happy and excited about being pregnant, but I also felt down as a result of all that. Every day was a struggle. Seemingly overnight, though, it all improved. The morning sickness (which clearly got its name from a man) disappeared, the worry started to fade, and my energy started to return. I still get pretty tired at night, but I can now keep my eyes open during the day! (#miracle) It's no wonder why they call the second trimester the "honeymoon phase." ;)
I have so much more to tell you, as I feel like we have months and months to catch up on. But my bed is calling my name… so for now, I'll leave you with my favorite floral dresses and military jackets: two trends I'm absolutely obsessing over this season. Like I said yesterday, though, please know how happy I am that I can share this next chapter of our lives with you. It's amazing to finally be me around you again!
Favorite Floral Dresses:

Favorite Military Jackets:

Shop the Post:
Adrianna Papell Dress c/o (Also available here) / Henri Bendel Bag c/o / C.Wonder Bracelet (Old, but C.Wonder is back!) / Sole Society Pumps c/o / Old Navy Military Jacket c/o — FYI: mine is last year's version, but I also love this one, this one, this one and this one… and check out my other favorites below! / Similar Sunglasses
Favorite Floral Dresses:

Favorite Military Jackets: