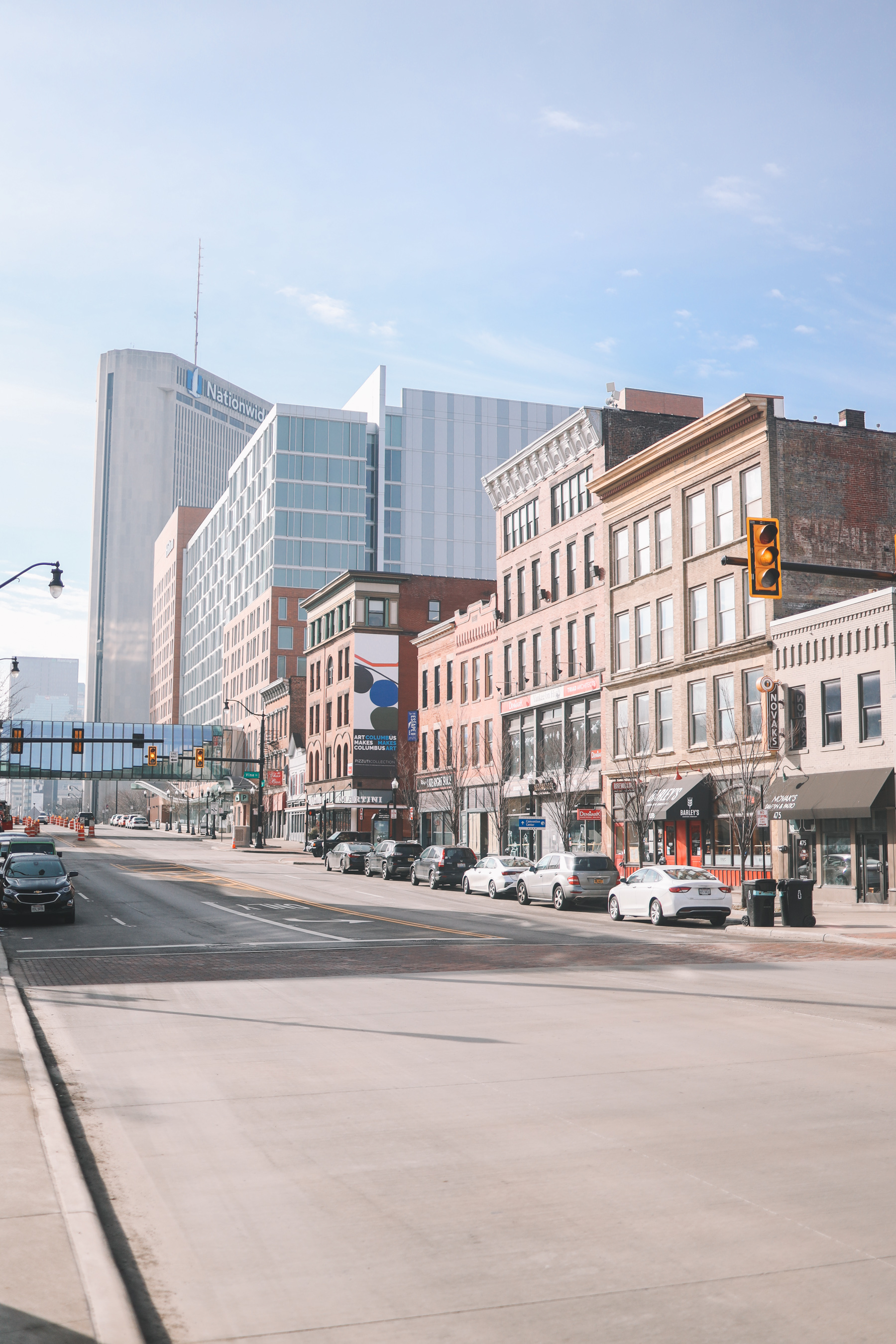 Mitch here!
A few weeks ago, the Larkin Family headed to Columbus, Ohio for the first time. And we LOVED it. Who knew it was so amazing?! Definitely the best-kept secret of the Midwest.
Columbus–which is totally a long weekend trip from Chicago–has the perfect mix of quality kids' activities, top-notch restaurants and interesting neighborhoods. It's one of the nicest cities we've visited in the country, and I'm so excited to share our trip with you.
Getting there
I'm a road trip guy. Flying with kids is tough, and with #LarkinLuck following us around, I prefer the comforts of driving if at all possible. I admit that most of the drives out of Chicago are–how should I put this–extremely boring, but we've dedicated ourselves to taking more family road trips and exploring the Midwest.
I know what you're thinking: Chicago to Columbus is a six-hour drive! But if you take into account the packing, parking, security, delays, flight time, baggage claim and rental car lines, the drive just isn't so bad. And given a couple well-timed backseat naps and the superhuman mothering abilities of Kelly Larkin, we made it to Columbus happy and in one piece.
Where we stayed
We've learned to find hotels that make traveling with kids a little easier. We look for easy parking, walkable activities, on-site restaurants and, most importantly, a suite so the girls can comfortably sleep without the parents huddled in the bathroom watching Netflix on our phones. The Hilton Downtown Columbus has all of the above along with an incredibly accommodating staff. It's also located right in the Short North neighborhood (more on this below) and it was the perfect jumping off point for our Columbus adventure.
Columbus is the second largest city in the Midwest, Ohio's state capital, and home to THE Ohio State University. There's a lot to do, so it's worth mentioning that the newly launched Roar and Explore Pass is very helpful, as it offers customizable access to Columbus' attractions for as little as $90. It's a great deal!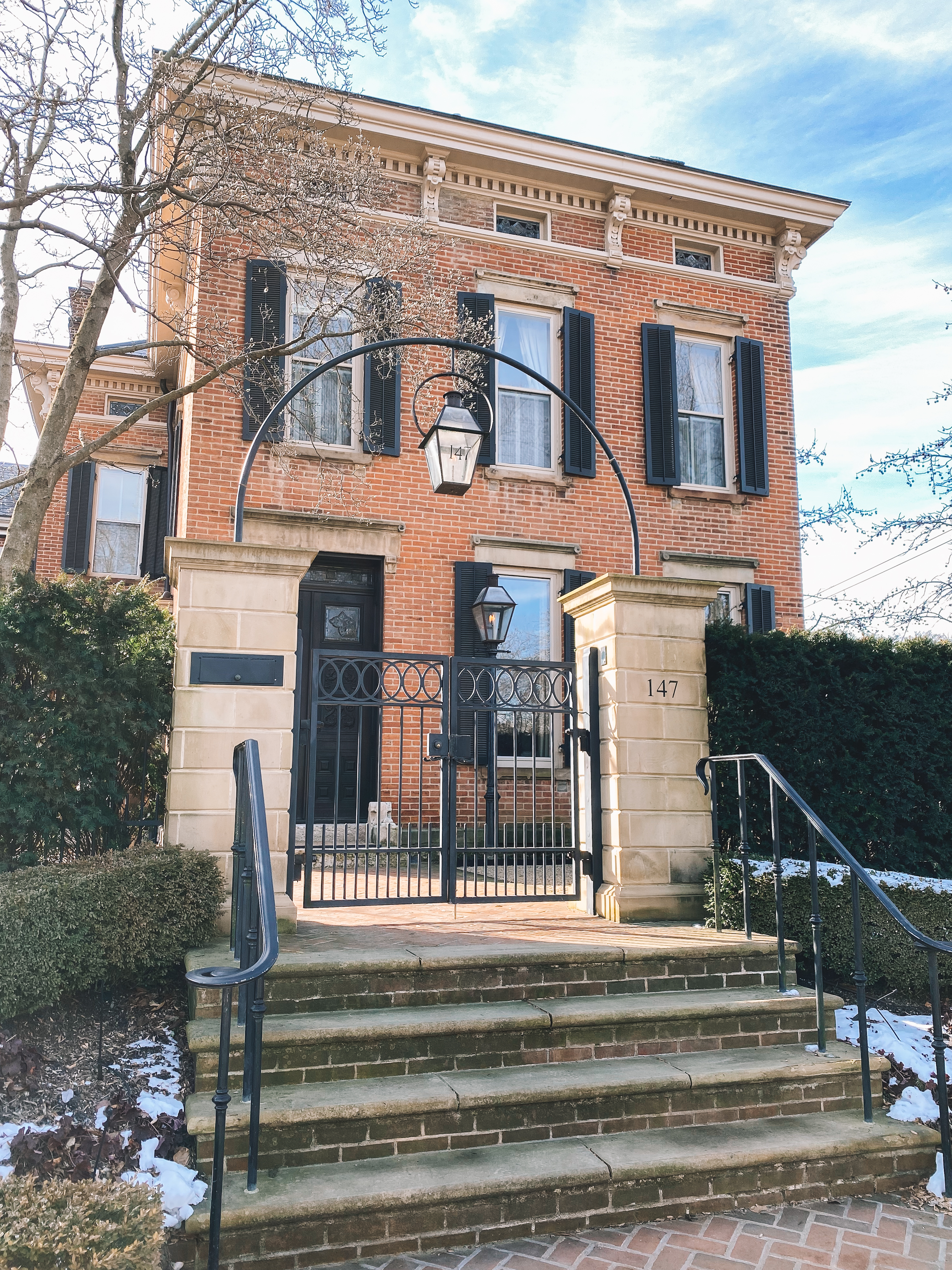 Day 1
We kicked off our first day in Columbus by exploring the historic German Village neighborhood. Kelly and I love walking around new cities, and German Village was our first indication that Columbus is very cool. It's one of those lucky city neighborhoods that was able to hang on to its historic charm and character for long enough to become interesting and beautiful again. ;)
Fox in the Snow, located in German Village, came highly recommended by pretty much everyone we talked to. It's the kind of bakery I wish I had in my neighborhood, though if it was, I'd likely gain about 300 pounds. The place was delicious and fun for kids, and Emma wound up covered in cinnamon bun icing from head to toe. Totally worth it!
We needed all that sugar to power on to our next activity, which was the Center of Science and Industry (CoSI). With a name like "Science and Industry," I was a little nervous that we'd be aged out, but there were plenty of appropriate activities for both girls, age 3.5 years and 9 months. Even Kelly and I found ourselves deeply engaged in some of the museums exhibits. We watched a planetarium show on a domed screen, we filled hot air balloons and sent them off soaring to the ceiling, and we flung marbles across the warped fabric of space and time. Emma loved the make-believe section, where she pretended to be a farmer, cook and firefighter. We spent hours at CoSI and could've spent days!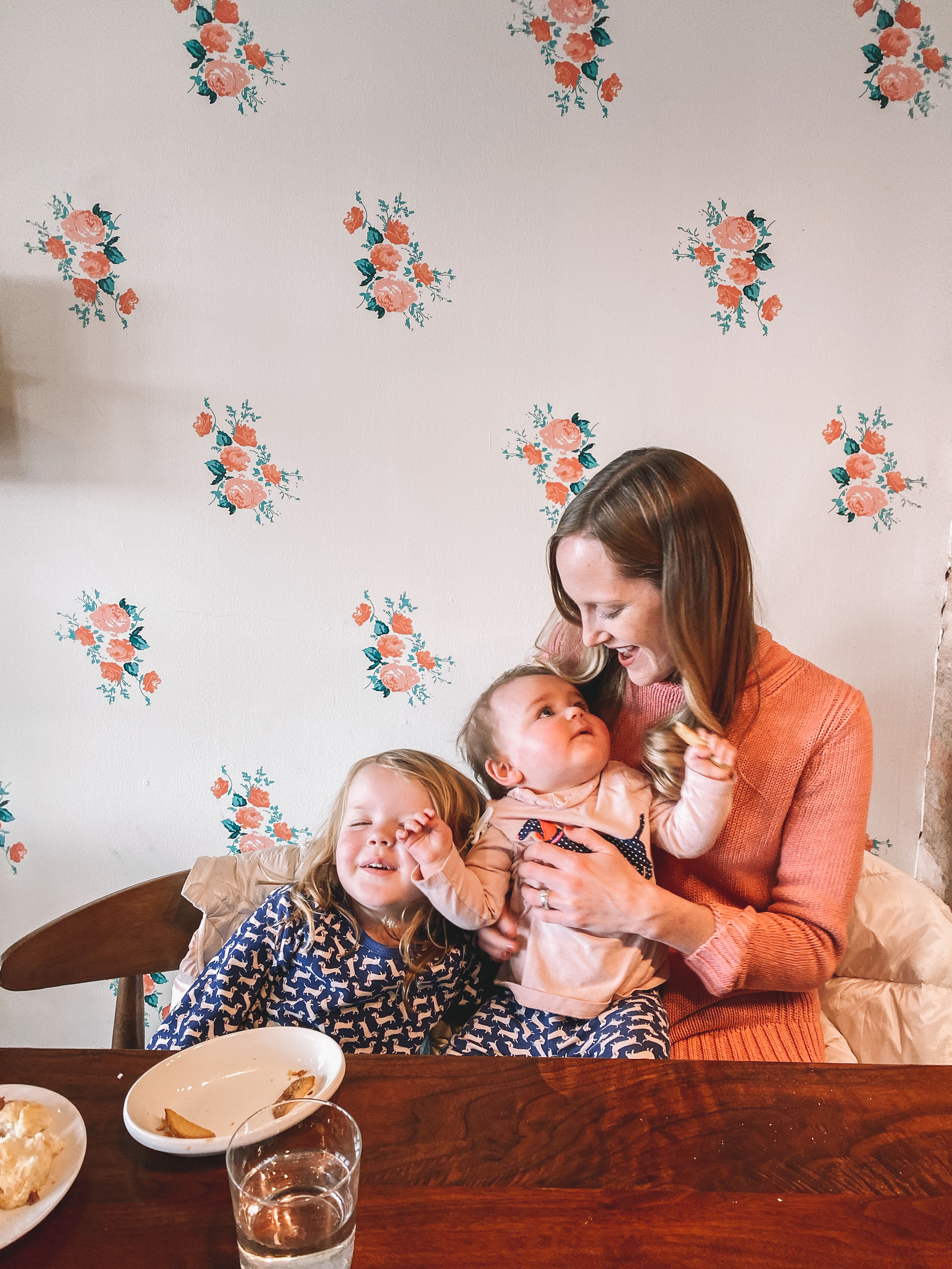 For lunch, we headed to the Brewery District (because of course Columbus has a Brewery District) to go to Ambrose & Eve, which had really fun approaches to classic lunch staples. I had the fried bologna sandwich and I haven't stopped thinking about it since. The place made me feel like I was in my grandmother's kitchen in the best way possible. (With a little added urban flair and hipster vibes.)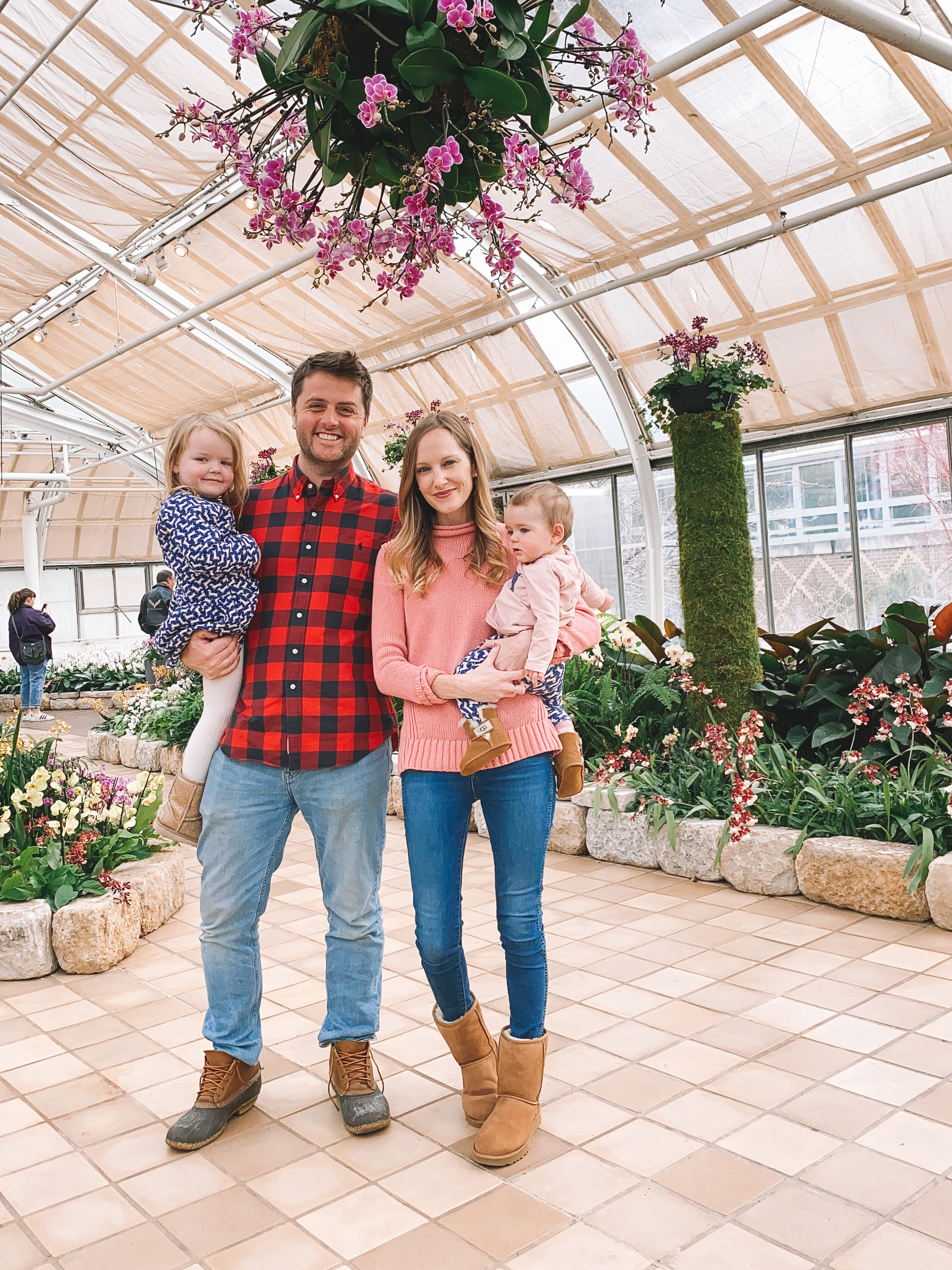 In writing about Day 1, I'm now realizing just how much we packed in. We must've been having a great time because after lunch, we decided to squeeze in a trip to the Franklin Park Conservatory. Kelly wrote at length about the Conservatory here, so definitely check out that post. (The pics are beautiful!) But it's worth mentioning just how important these gardens and their leafy green interiors are to us Midwesterners this time of year. The Franklin Park Conservatory is gorgeous, with huge palms and delicate orchids throughout. Emma loved meandering throughout the various gardens. Definitely worth a visit!
Next up was dinner. It's always tough to anticipate the girls' moods when making dinner reservations. I could go easy on myself and pick a family-friendly establishment, or I could be a bit riskier and roll the dice. I was feeling lucky so we opted for Service Bar, which is a craft distillery, and I'm so glad we did. Do you ever hit the perfect stride at a restaurant and just sort of beam your happy energy all over the place? This was me at Service Bar. I was beaming happy energy all over the place and it showed. I went a little nuts with fancy cocktails, freshly fried pork rinds with pimento cheese and Malai Curry Shrimp & Grits. The food was unreal, as was the restaurant space itself! Really stunning.
Day 2
Kelly fell in love with German Village so we went back for another stroll. She's like that on trips. If she finds a restaurant she likes on Day 1, she'd be totally game to go back on Day 2 and Day 3–which is just ridiculous to me. So we compromised and went back to German Village but tried out a different restaurant. Which is how we found South Village Grill, which was serving beignets and pizza for breakfast. It was awesome.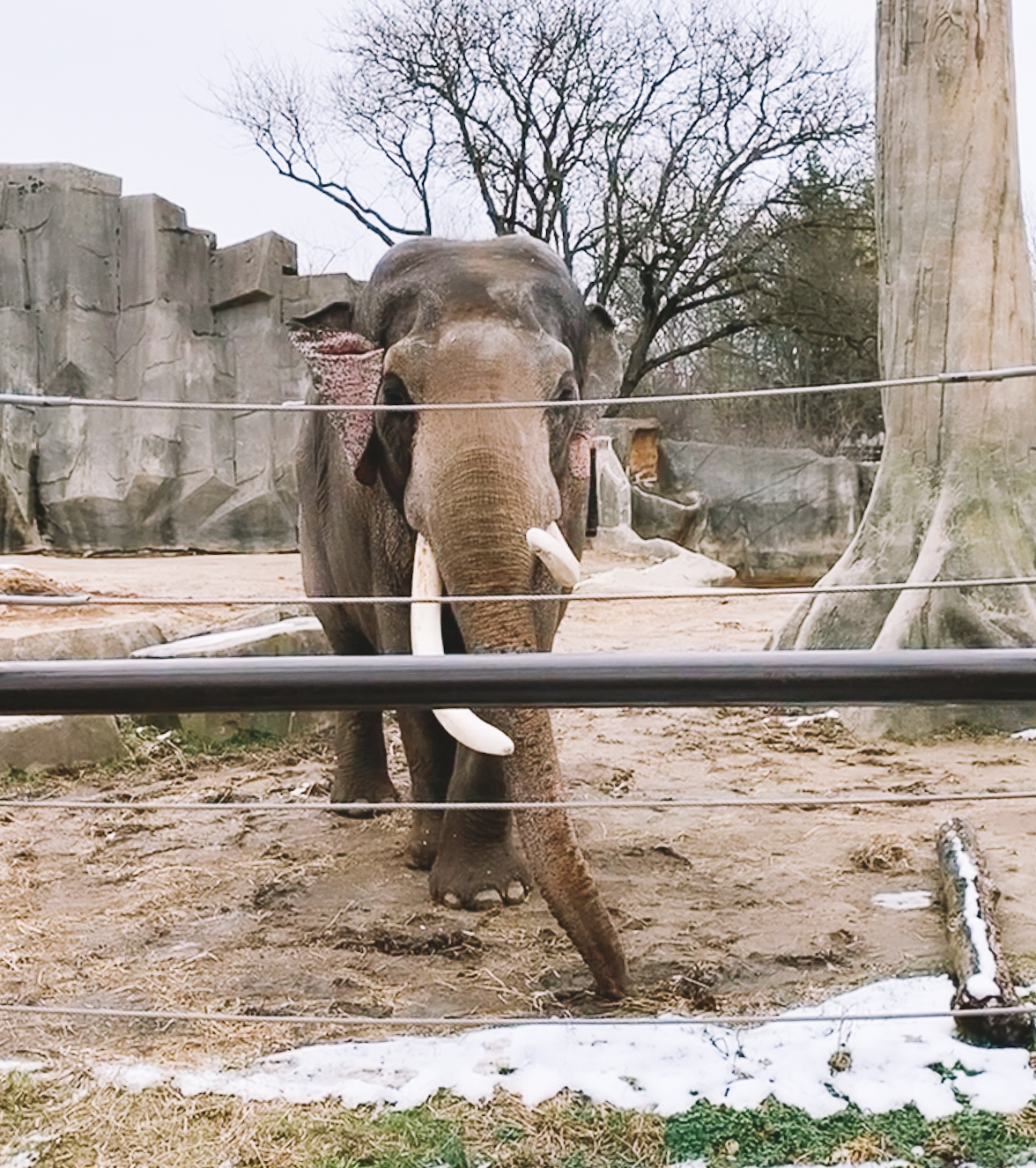 The Columbus Zoo & Aquarium was the top of Emma's list for this trip and she shrieked with anticipation the whole way there. The zoo was super impressive and felt more like a theme park than the zoos we're familiar with. And the two large Asian Elephants greeting us near the entrance were easily Lucy's favorite part of the whole trip. We saw wolves and manatees and sharks… and there was a good coffee shop to keep us parents upright. Emma's favorite part of the zoo was the whale playground which gave her the perfect opportunity to sing "Into the Unknown" at some stranger kids. It was great!
I mentioned earlier that our hotel was in the famous Short North neighborhood, so after the zoo, we made dinner reservations in the area and set out on foot from the hotel. Short North is like Disney World for 30-year-olds. I'm not a cartographer but I think I counted 3,000 bars and restaurants in the eight or so blocks we walked.
Our dinner spot, the Guild House, was my favorite part of the trip. Kelly and I prefer to go out to dinner at around 9 p.m., but that's not exactly possible now that we have children. So we opted for 5:30 p.m., which was awesome, as the crowds were just starting to filter in. The Guild House was picturesque and just fancy enough to make me feel special. They had a generous happy hour which also made me feel special, and we ate pork chops and burrata and cauliflower and I felt specialer and specialer and specialer with every bite. (But seriously: If you're going to Columbus, this would be my #1 restaurant recommendation. Unbelievably good, beautiful space, and fantastic service.)
We do have a Jeni's Splendid Ice Cream within walking distance of our house in Chicago, but Columbus is home to the original! If you haven't been, it's worth a trip. The ice cream is delicious and the sprinkles turn your ice cream pink, which makes Emma SO happy. Anyway, it was great, which was to be expected. I had three scoops.
Day 3
Day 3 was a travel day, but thanks to my choice to drive instead of fly my family, we had the morning to do more cool stuff. Columbus' North Market fit the morning perfectly. This is the kind of place where you can buy hot Indian food, an artisan pretzel and a dozen shucked oysters in Ohio on a Monday morning. It's incredible. We had apples from Mini-Super and coffee from Stauf's, and Kelly had a lot of fun behind the lens because everything was so interesting. (And the light was perfect.)
We like to hit the road with full bellies, so our last stop in Columbus was The Keep, and it was a great sendoff. It's located near the Ohio State Capitol building and all the clientele seemed very official indeed. This was Kelly's favorite meal; she rarely gets excited about food but she left no crumb behind. (She had the cranberry/apple grilled cheese, in case you're wondering, and LOVED it.) Over the meal, we recounted one of the best trips we'd had in a long time, and vowed to return.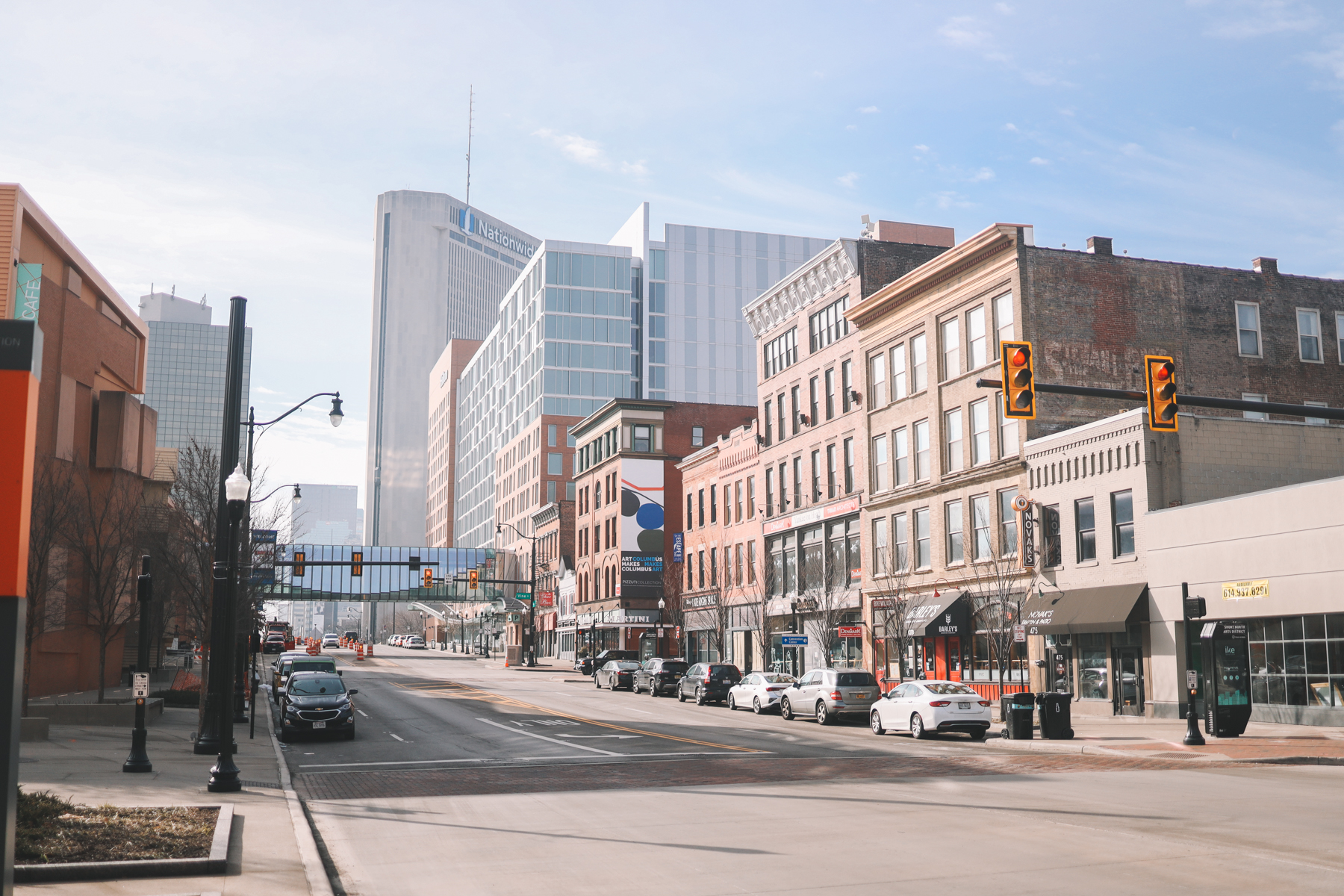 So if you're looking for quick and easy Spring Break plans, give Columbus a shot! It was an awesome experience and we're so grateful to the city for having us! And, as always…
Mitch. OUT!
This post is sponsored by Experience Columbus; all opinions are my own. As always, thank you so, so much for supporting the partnerships that keep Kelly in the City up and running!