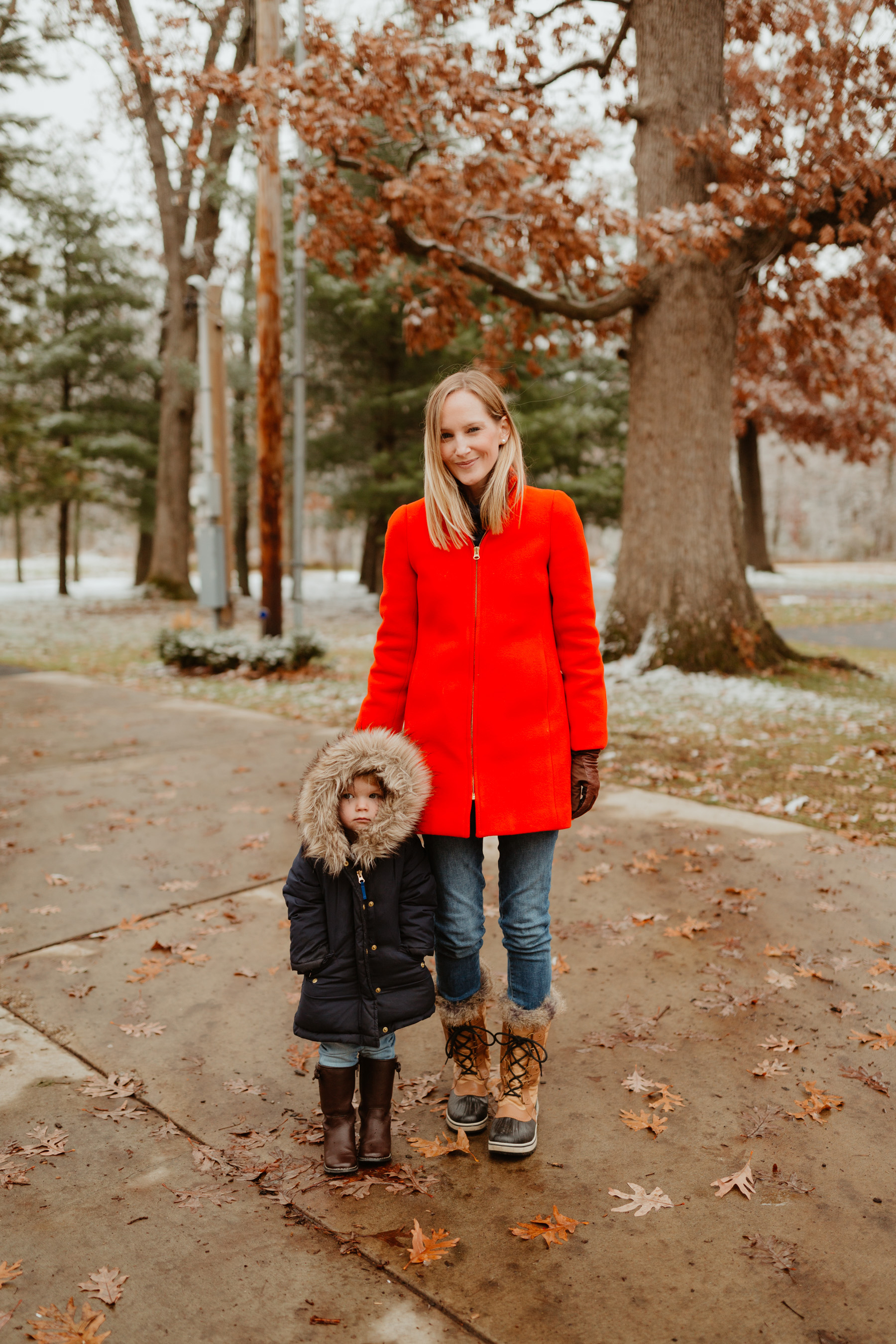 J.Crew Lodge Coat in Stadium-Cloth Wool (Also try J.Crew Factory's City Coat, which comes in red and has a similar look! Other coats that come in Stadium-Cloth wool include the ever-popular Cocoon Coat and the Chateau Parka. / Sorel Tofino II Boots (You can also find them fully in stock via Zappos and Bloomingdale's. I'm also in love with the Joan of Arctic Boots, which are considered to be the ultimate winter boot. I wear those during those tough -10/-15/-20 days in Chicago, haha. Zappos carries them in a ton of colors.)
I think Emma's face says it all. 😂 It's early December, and we're already fed up with the cold! Today, though, I wanted to take some time and review two of my favorite winter weather products that I haven't yet talked about in great depth on the blog.
First up is the J.Crew Lodge Coat in Stadium-Cloth wool. I talk about the Cocoon Coat all the time; I bought my first one years ago, when I was still living in New York. The reason I love it so much is because of its Stadium-Cloth wool, which was specially created for J.Crew by an Italian mill. It was inspired by old-school stadium blankets and is meant to add warmth without bulk, and let me tell you: it does just that. For most of my life, I loved the look of wool coats but couldn't wear them because I froze in 'em. J.Crew's Stadium-Cloth wool changed everything for me, though, and I can now actually wear cute coats in the winter. And guess what? J.Crew makes a couple of other coats in the amazing wool: the Lodge Coat (which you see here) and the Chateau Parka.
The Lodge Coat seems to be the lesser known of the three, so I purchased one last year to see what it was all about. And I love it! While the Cocoon has a very roomy, cozy fit (go down a size!), the Lodge is more tailored and fitted–and therefore more flattering. (I would order your normal size, as it definitely runs TTS. I went down a size in it because of how the Cocoon fit me, and I wish I hadn't, as I could use some extra room in the shoulders!)
And I think its more tailored appearance looks very polished…
I say as I stand in mine wearing snow boots, haha. Regardless, I love it in camel and gray, and it's certainly my coat of choice when I'm going to a special dinner or event. (My apologies for not including more photos; Mitch casually snapped these while we were at Larkin Family Fall Fest a few weeks ago. But I think J.Crew does a great job with its product pics!) If you're looking for a red coat, the Cocoon and Factory City Coat come in red this year and are both still in stock.
In terms of warmth, the Lodge Coat is VERY warm. It actually has ribbed trim at the neck and cuffs, which prevents wind from getting in… and it has a quilted "Super-Fill" lining, which adds even more warmth. Still, I suppose if I were to really judge it against the Cocoon, I would say that I'm slightly warmer in the Cocoon, only because of its generous cut that seems to trap body heat and my ability to wear bulky layers underneath it. But the Lodge is made out of that exact same Stadium-Cloth wool, and therefore it's a fantastic choice for a wool coat.
If you're wondering about the Chateau Parka, I recently ordered it so I can do a comprehensive review of the three Stadium-Cloth wool coats on the blog. (Yes, a strange thing I do here on the internet… But if you're not a blogger, the short explanation is that I'm not actually insane 😂. This topic is requested frequently and therefore it's great for both my readers and SEO!). But going from what friends have said, the Chateau fits somewhere between the Cocoon and the Lodge, with a swingy shape. Its hood has a removable faux fur trim which I LOVE, and there are both zip-closure and button-front pockets. I'm really excited to test it out! Will report back soon.
For sizing reference:
When I'm not pregnant, I wear a size 34A bra and a size 25 in jeans. I'm almost 5'5 but not quite. ;)
Cocoon Coat size: 0
Lodge Coat size: 0, but I wish I'd gone with the 2 for extra room in the shoulders.
Chateau Parka size: I went with the size 0 based on existing reviews and the "swingy" fit… but I very well may return for a 2. Fingers crossed that it fits!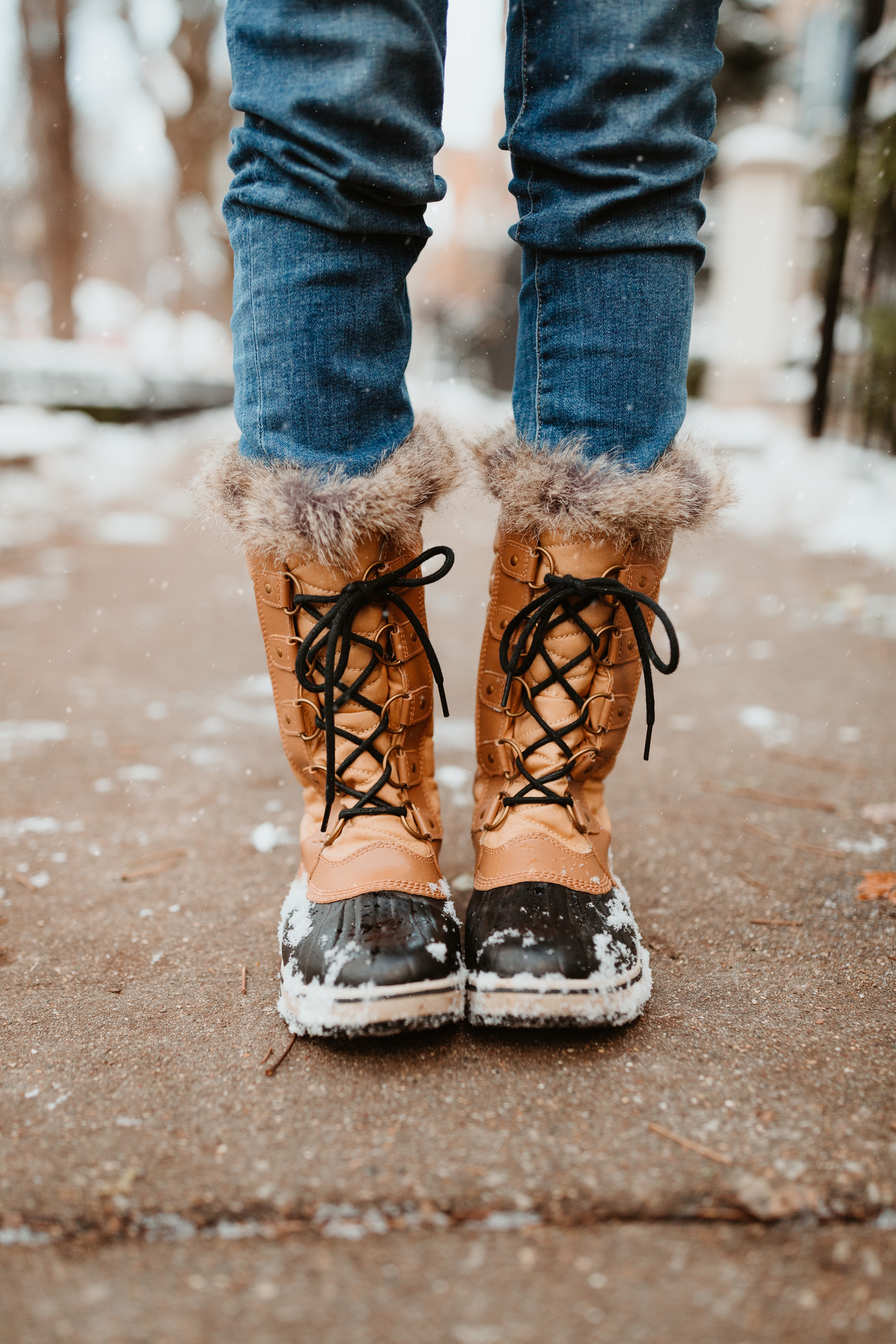 Sorel Tofino II Boots (You can also find them fully in stock via Zappos and Bloomingdale's. I'm also in love with the Joan of Arctic Boots, which are considered to be the ultimate winter boot. I wear those during those tough -10/-15/-20 days in Chicago, haha. Zappos carries them in a ton of colors.)
Fully in stock via Zappos and Bloomingdale's
GREAT BOOTS, guys. I've had the same Sorel Joan of Arctics (available in a ton of colors via Zappos) since I graduated from college and found myself miserably trudging through through the snow in New York on the reg. Granted, I have Raynaud's, but my feet were frozen. Dad suggested getting Sorels because they were the only boots that kept him warm in ungodly conditions out on the tarmac during his Air Force days. Of course, my poor journalist self nearly had a stroke when I saw the price tag, but I saved my pennies for the Joan of Arctics, known to be the warmest of all.
And to this day, I still maintain that besides my camera. The boots were the best purchase I made in my 20s. I STILL have them! Let's just say that if you buy a pair of Sorels, you can expect to have them for over a decade. They last forever.
Fully in stock at Zappos and Bloomingdale's—came into my possession through a blog collaboration last year. Honestly, I was pumped to try 'em out. I'd heard that they were a little lighter and less clunky than the Joan of Arctics, and that they were a fantastic everyday boot for snow and rain. While the Joan of Arctics are still my #1 choice when temps dip into the -10s and -20s here in Chicago, I honestly reach for the Tofinos far more often because they're less substantial yet incredibly warm. We've had some pretty nasty weather over the last few weeks, and they've kept my toes toasty during hour-long walks around the neighborhood!
I also think they're adorable. The camel color is great and goes with nearly every coat I own, and the fur around the top is a cute (warm!) touch. I've stepped in deep puddles in 'em, too, and zero water has penetrated–even when the water has been up to my ankles.
Sizing:
I normally wear a 7.5, but always go up a half size in Sorels so I can wear thick socks with my boots. Works like a charm! Even when I'm wearing thinner socks, they don't feel too big.
Btw: Emma and Mitch have Sorels, too!
You can see them in this recent blog post. We just got this pair (still in stock) for Emma because the weather's been so bad, and she's obviously walking far more than she was last year. Normally, we wouldn't have spent that much on toddler boots. But, we really trust Sorel and don't want to chance anything with our little girl since Chicago winters are serious. We also bought them several sizes up so she'll be able to wear them for multiple years. No regrets!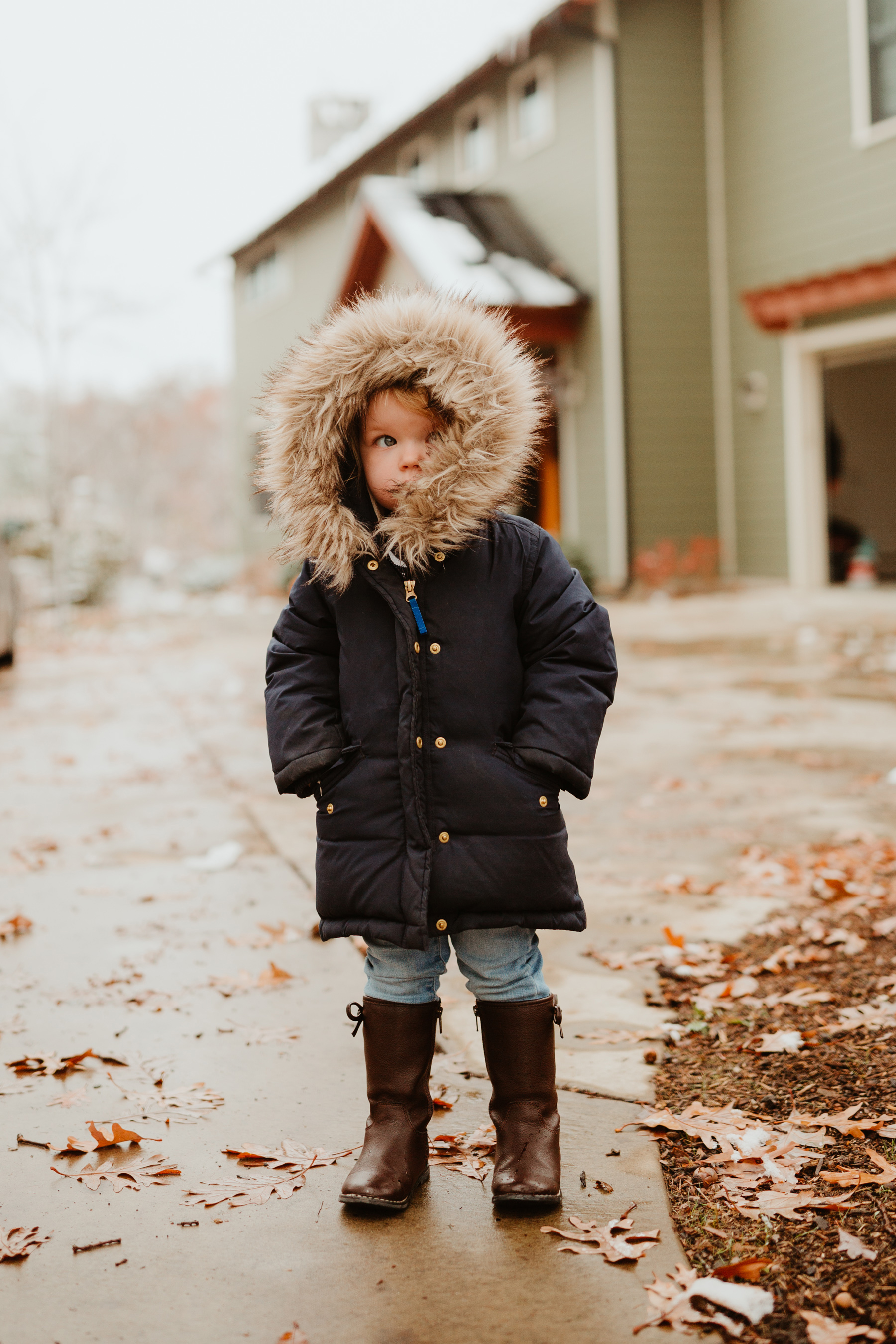 J.Crew Girls' Down Parka in Navy (FYI: The purple fur does come off, which is awesome. Another option is the girls' puffer coat from J.Crew Factory. I LOVE it! The Stadium-Cloth Chatea Parka is also a lovely dressier coat. Here's the adult version.) / Gap Bow Boots (Also considering getting her these. Too wild or perfectly adorable?!)
We have last year's version of the J.Crew Girls' Down Parka, which we bought in a size 3 so Emma could wear it for two years. SO happy we did that! Yes, it was a little big last year–you can see pictures here from Nov. 2017 and here from April 2018–but kids grow so quickly and outfitting them is expensive. I'll probably need to get her a new one next year, but we've certainly gotten our money's worth!
Anyway, this thing is awesome. Whenever I take Emma out of it, she's toasty–even on the coldest days. I will say that I don't love the new version; the purple fur, while removable, is a little too out there for me. But J.Crew Factory makes a really cute similar one that I may pounce on early (while it's on sale) for next year. I should note, however, that the J.Crew one is made of Primaloft that was originally developed for the U.S. Army, so that one might win. It also has a water-repellent exterior, thumb-holes in the cuffs, and snap-close straps for mittens. (Not that anything will ever convince Emma to wear mittens! Sigh.)
Over and out, Friends! Hope this was helpful and that you had a great weekend!