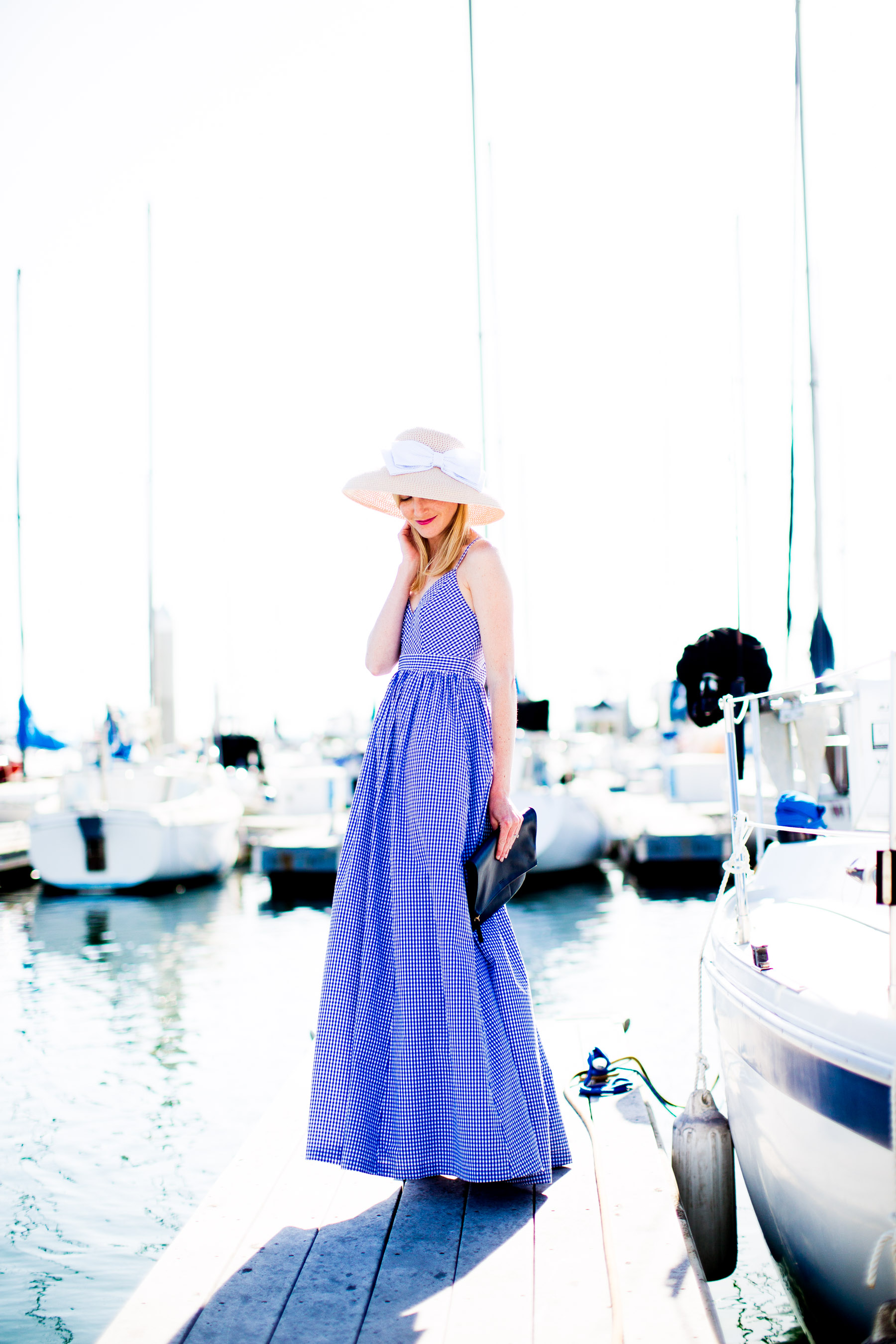 J.Crew Gingham Maxi Dress (Also love this seersucker maxi skirt, and this chambray maxi skirt.) / Vineyard Vines Hat c/o (Out of stock, but love this one in navy, this one in white, and this one in black. They're packable! Swear by 'em.) / Sam Edelman Sandals (And now they're available in jute (#omg) and in a scalloped version! Btw: pink version is on sale today!) / Everlane Navy Leather Clutch c/o 
I have a lot of wedding-related events this summer, from bachelorettes, showers and rehearsals to ceremonies, receptions and brunches. And I'm SO excited for everything. Through and through, I'm a Wedding Girl. I love it all, and I'm that girl who can't stop crying as the bride walks down the aisle. It's been a while since I had a summer jam-packed with weddings, though, and my old go-to dresses are a little out of style.
I immediately bought this gingham maxi dress when it first came out a few months ago. It's clearly a statement dress, so I knew it would be perfect for some of my summer weddings… but I also loved that it's cotton, which would also allow me to dress it down. Because I was absolutely obsessed with it, I actually wore it out to a nicer dinner in California, and goodness gracious. I can't even tell you how many people asked me where I got it from!
So many great things about this dress:
It has pockets. (Yassss.)
It's lined. TWICE. Meaning that it's pretty substantial, and you don't need to worry about the see-through factor. My legs didn't overheat, but they also stayed relatively warm late at night.
It's flattering. It cuts me right above the waist, which makes it forgiving after that second piece of cake. :)
It makes you feel like a million bucks. Seriously, I've never loved a dress this much.
A few things you should know:
You'll probably need to hem it. I'm somewhere between 5'4 and 5'5, and I needed to hem. I actually ordered the petite version, hoping I'd avoid a trip to the tailor that way, but it was too short.
It runs slightly large. I went with my normal size, but I think I probably could have gone down a size. My best suggestion would be to order your normal size and the next size down, and return one.
Steaming is the best way to go. I tried ironing it, but there's a lot of material, so I went with hanging it up in the bathroom while I showered and that worked VERY well. (Note to self: Should probably invest in a steamer one of these days. Any suggestions?!) I wouldn't say it's a particularly wrinkly dress; there's just a lot of material, and I'm not the best ironer!
In case you're like me and obsessed with maxi dresses and long skirts, here are a few other faves:
Do you guys have any summer weddings this year?! What do you plan on wearing?
Shop the post:
J.Crew Gingham Maxi Dress (Also love this seersucker maxi skirt, and this chambray maxi skirt.) / Vineyard Vines Hat c/o (Out of stock, but love this one in navy, this one in white, and this one in black. They're packable! Swear by 'em.) / Sam Edelman Sandals (And now they're available in jute (#omg) and in a scalloped version! Btw: pink version is on sale today!) / Everlane Navy Leather Clutch c/o