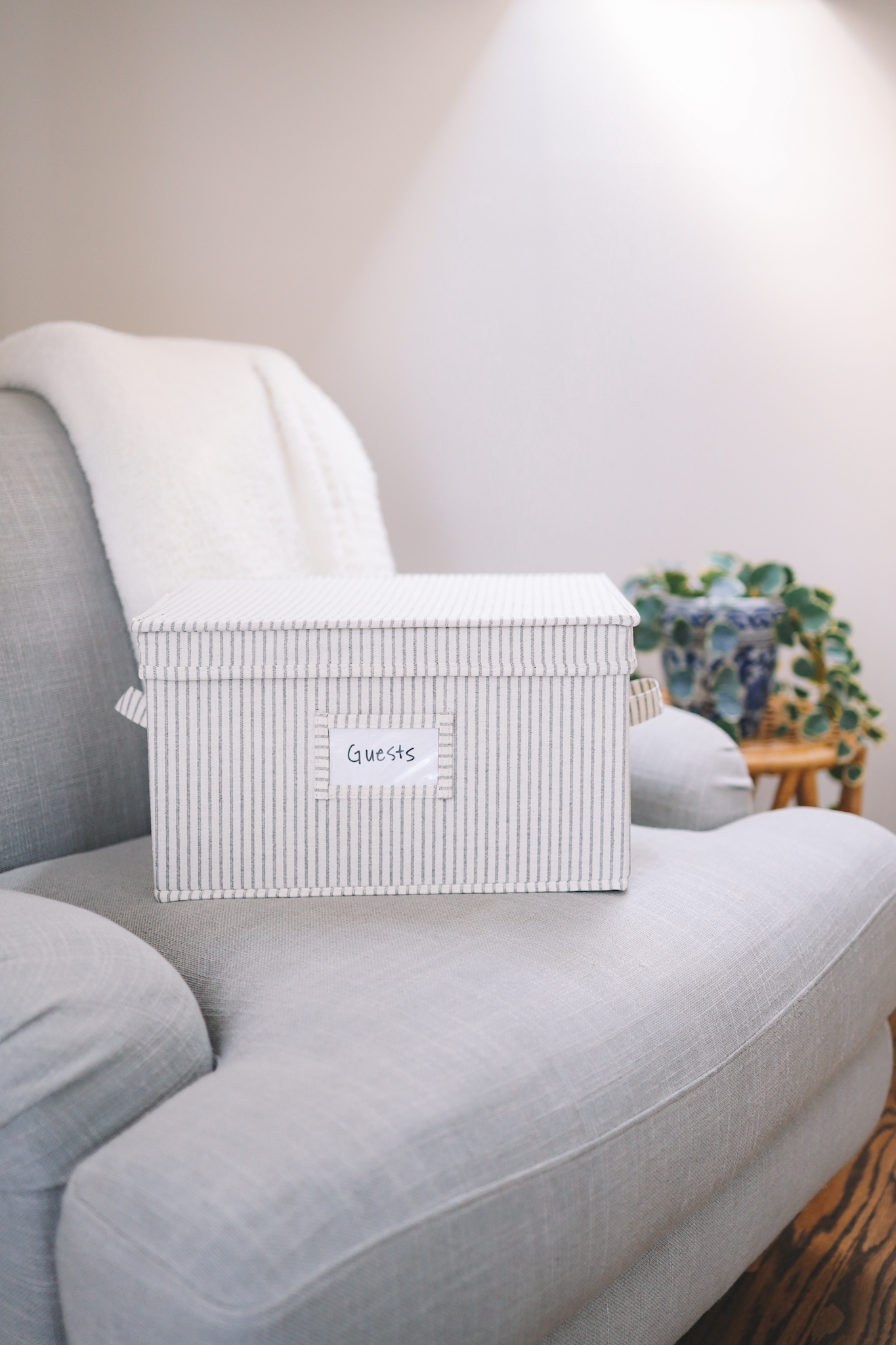 Having company soon? Consider gifting them the most adorable and thoughtful welcome basket. I can speak from experience when I say, it's something your guests will probably never forget!
Earlier this year, our friends Dave and Natalie were moving to Florida, so they stayed with us for a day or two after the movers took all their stuff. (I'm not crying it's okay I'm fine everything's fine. 😆) My brother-in-law, John, and Emma's best friend, Walker, were also sleeping over! So, it was going to be a packed house and I really couldn't wait. I was SO excited!
Mitch and I once stayed with friends who had a little guest room welcome basket sitting on the bed when we arrived, and I was so unbelievably touched by it. It was packed full of essentials and little luxuries, and we actually used a couple of things in there! (Mitch forgot his toothbrush and I forgot my phone charger.)
What to Put in a Guest Room Welcome Basket
That experience and our incoming guests inspired me to finally put together our own guest room welcome bin. (I used one of the bins I use to organize the linen closet that way it can be stored in there when not in use.) Here's what I stashed in it:
Other suggestions? Let me know!
Tips for Creating the Perfect Welcome Basket for Your Guests:
Plan ahead:

make sure you have plenty of time to put together your basket. You don't want your basket to look like it was thrown together at the last minute, and you want to have time to add a personal touch.

Consider your guests:

Who your guest is might affect what you choose to put in your welcome basket. Sure, there will be come mainstay items that work for everyone, but you might want to add a personal touch. Are they male? Female? Is it a couple? Are they travelling with kids? Do they have a favorite snack? Did they have a long drive? All things to consider.

Include items that are typically forgotten at home: 

As you can see on my list of welcome basket essentials, the best items to include are some of the most basic hygiene items. Shampoo, conditioner, soap, moisturizers, and so on. Why? Because these items are SO easy to forget at home. And your guests will be SO thankful when they realize you've got them covered.

Save the extra supplies for later: 

Like I mentioned earlier, there will be some mainstay items in your guest room basket that work for everyone. Think sunscreen, toothpaste, the city guide, hand towels, and so on. Don't feel the need to replace every single one of these items for each new guest. Instead save money and reduce your carbon footprint by reusing what you can and replacing only what really needs replacing. If you include any cold/flu/headache medication, be sure to check for expired dates on a regular basis.

Store in a clean, dust-free area:

Because your guests will be using this box over and over, be sure to store it in a clean, dust-free area of the guest room. This will prevent any allergies, and keep your guest box looking good for years to come.
How will you make your guests feel special using your welcome box? Drop all your thoughts and basket ideas below!
More Organizing Posts
What to Put in a Guest Room Welcome Basket