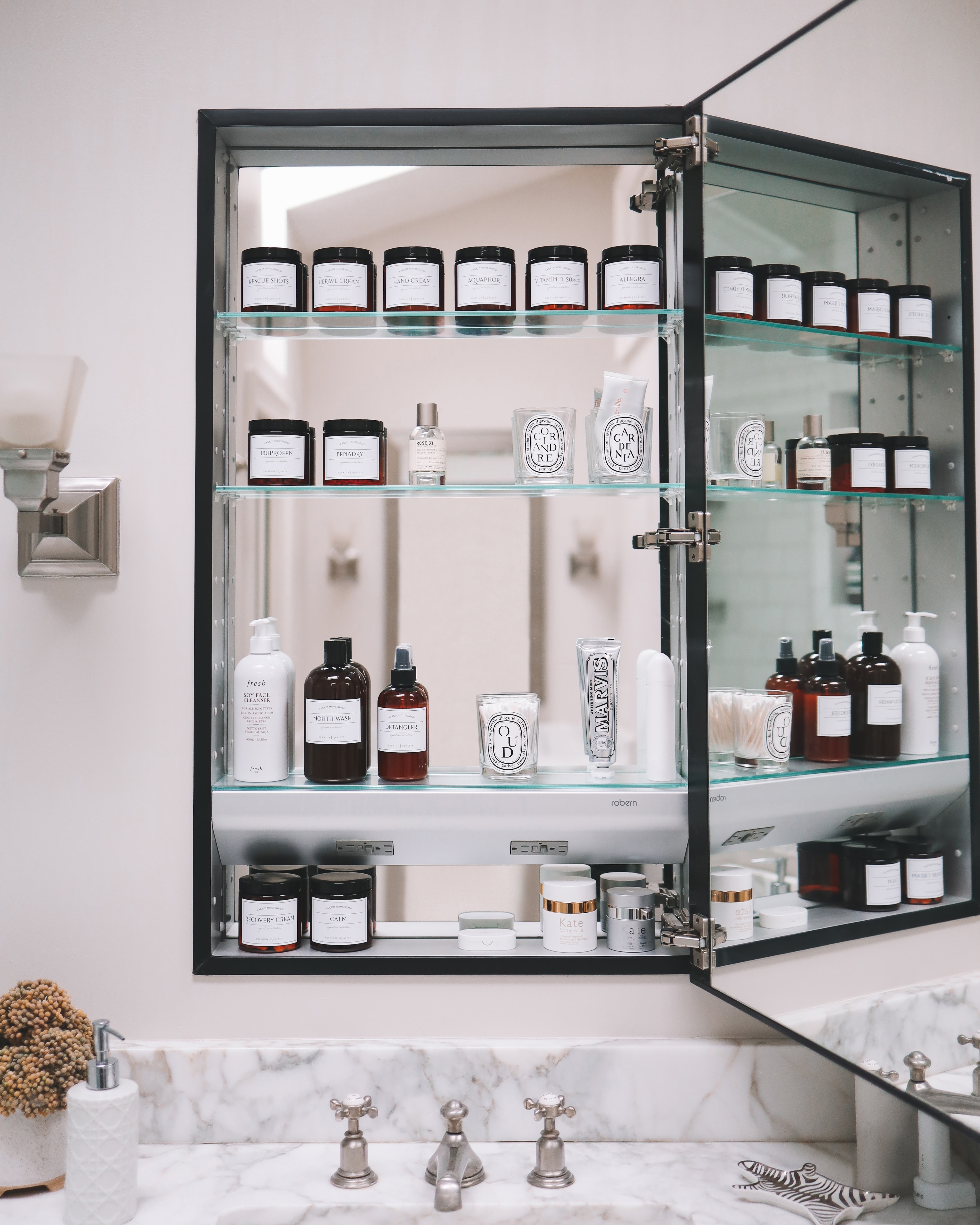 Favorite products: Rescue Shots, Cerave Moisturizing Cream, Norwegian Hand Cream, Aquaphor, Le Labo Perfume, diptyque Candles, Exfolikate (Also on Amazon), fresh Soy Cleanser, Detangler/Heat Protectant (Also love this one, also on Amazon), Marvis Toothpaste, Kate Somerville Recovery Cream (Also on Amazon), Contact Lens Case, Kate Somerville Age Arrest (Also on Amazon)

All right, guys. I'm launching an organizing series! As someone who spent the last few years working hard to pare down our family's possessions in the hope of a calmer and more fulfilling life, I've finally moved on to the stage where I get to make our space work for us. I'm really excited about it. 😜
Am I a little crazy? Yes. Did I set out on this journey during an uncertain time when I probably just wanted to feel a sense of control? Yes. Do I have a tendency to label things that probably don't need to be labeled? Ohhhh, yes. 😆
But a less-is-more, organized life is really working for us. Every object now has a home, and because of this, we're aware of what we have and therefore can make intentional choices about what additional things we welcome through the door. We spend way less time cleaning, tidying and feeling overwhelmed—and way more time focusing on what truly matters to us. Freedom!
Before I share my first project, I want to note that I did not find success with organizing until I decluttered our home. And because we have small children, I chose to do it slowly over the course of a few years. But it doesn't have to be like that! Many people effectively declutter their homes in a weekend, week, month or quarter. (You can read more about how we did it and where and how to donate/recycle unneeded possessions here.) My best advice, though, is to declutter before setting out to organize, otherwise a person could find herself in an endless cycle, simply moving the stuff from one space to the next.
I began organizing at the beginning of this year. One of the first projects I tackled was my medicine cabinet, as starting out my day in a relaxing environment usually makes for a better day. As you can see from the below "before" photo, it was pretty normal-looking but lacked order. Some of the products went unused and eventually expired, which made me feel guilty, yet I was often running out of the products I actually utilized on a daily basis. Obviously this was not an extraordinarily pressing life matter, haha, but I figured there were a few quick and easy fixes!
Here we go:
How I tackled my disorganized medicine cabinet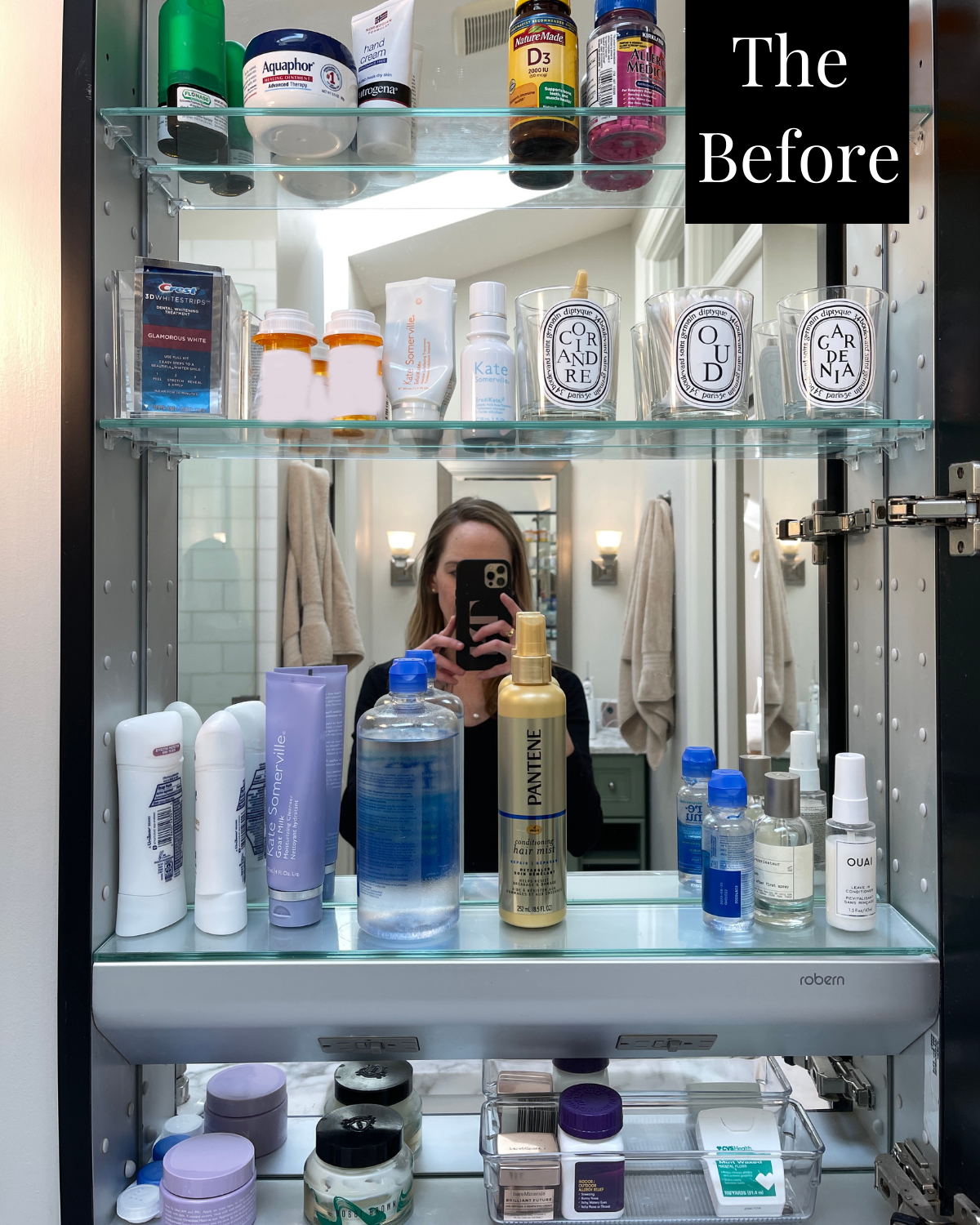 Favorite products: Rescue Shots, Cerave Moisturizing Cream, Norwegian Hand Cream, Aquaphor, Le Labo Perfume, diptyque Candles, Exfolikate (Also on Amazon), fresh Soy Cleanser, Detangler/Heat Protectant (Also love this one, also on Amazon), Marvis Toothpaste, Kate Somerville Recovery Cream (Also on Amazon), Contact Lens Case, Kate Somerville Age Arrest (Also on Amazon)

Set aside products that get daily use
Turns out that I don't actually use very many products every day. I had stuff in my medicine cabinet that I perhaps envisioned myself using, but let's be serious: I'm a busy mom of two young children, and my routine needs to be (and is) minimal. So while getting ready one morning, I used everything that I normally would—including products in my vanity drawers—and set them in an "I USE THIS" basket when I was done. I did the same that evening while getting ready for bed. And voilà! I knew what my everyday basics were.
Take everything else out + consolidate, repurpose, donate or trash
The next day, I emptied the rest of the medicine cabinet—and the contents of my vanity drawers—and held each product in Konmari-style. Was it expired? Did it work? Did I like it? When was the last time I used it?
There were several products that made the cut even though they didn't get daily use: things like a weekly exfoliator, hair treatments, ibuprofen, allergy medications, moisturizing creams (#chicagolife) and duplicates/refills. And then, predictably, there were the products that didn't make the cut: those that were expired, didn't work, I didn't like, or I just didn't find myself using.
I consolidated what I could—no one needs two half-empty bottles of ibuprofen with the same expiration dates, for example—and stocked other bathrooms that needed shampoo, conditioner and soap refills. Unopened stuff I didn't use was then donated… and opened stuff I didn't use was trashed. (As much as this pained me! But I decided that the bottom line was that if I wasn't using it now, I likely wouldn't be using it in the future. Fewer products = easier routine.)
Sanitize + put products back in place
Next I went to town with disinfecting. ;) I took the shelves out and gave everything a nice wipe-down, and was soon ready to start fresh! I placed products I was keeping—including a few duplicates—back in the cabinet, and then set out to give the space a more cohesive look.
Determine a style
My next stop was Pinterest. It was a little difficult to find what I was looking for since I wasn't shopping for medicine cabinets; I just wanted inspiring interior photos. But eventually I landed on a few, and realized that the photos all had a few things in common:
Products were in uniform or similar-looking containers. (In particular, amber jars and bottles. Lots of Aesop.)
There was a black-and-white theme.
The medicine cabinets embraced white space and minimalism; they weren't overstuffed.
They didn't contain duplicates.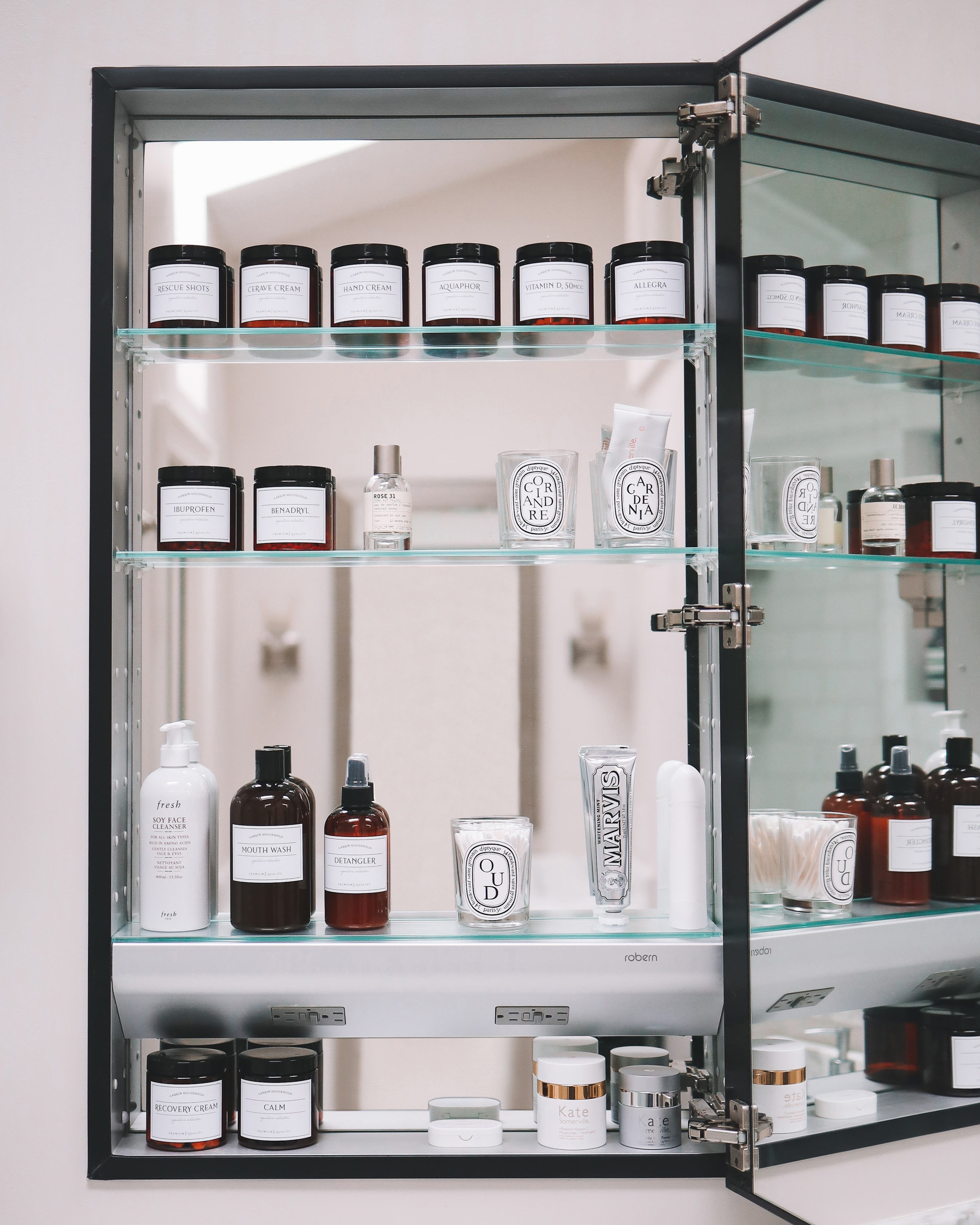 Favorite products: Rescue Shots, Cerave Moisturizing Cream, Norwegian Hand Cream, Aquaphor, Le Labo Perfume, diptyque Candles, Exfolikate (Also on Amazon), fresh Soy Cleanser, Detangler/Heat Protectant (Also love this one, also on Amazon), Marvis Toothpaste, Kate Somerville Recovery Cream (Also on Amazon), Contact Lens Case, Kate Somerville Age Arrest (Also on Amazon)

Take inventory and purchase correctly sized uniform refillable containers (if necessary)
I decided to invest in some basic 8oz (plastic) amber jars, 16oz capped bottles and 8oz spray bottles from Amazon instead of dropping my life's savings on Aesop products I knew nothing about. The Amazon stuff totaled only just above a single bottle of Aesop hand soap, so I figured I was winning! 🙌🏻 (Btw: If you love the Aesop look, get these similar-looking bottles!)
Make/buy labels and expiration date/dosing stickers
In my opinion, this was the fun part. ;) There's something so satisfying about labeling products and seeing the final result. I found a few options here:
Buy Amazon labels in bulk, knowing that you might be missing a few. These are great but need to be trimmed down for smaller containers. These expiration date/dosing stickers can go on the back of the containers or underneath.
Buy personalized labels on Etsy, knowing that you will likely spend more. These are my favorite if you only have a few things to label! The quality is off the charts (the material is almost soft?!) and the look is gorgeous. They're pricey, though. If you need more, I recommend these, which I've also used. They're very nice!
Make your own labels and stickers, knowing that you'll likely need to buy some materials. Some people use their normal printers. Others use actual label-makers. If you become a lunatic like me and realize that you're spending too much on labels, I might consider the Cricut, of course, or the Canon Ivy, which is a photo printer but also works for label-making.
Transfer products into containers
Some thoughts on this:
It's important to use beauty spatulas in order to transfer thicker products in a sanitary manner. Using your fingers could introduce bacteria, and we don't want products to become contaminated.
Transferring other products can be made easier by using a silicone funnel. This cuts down on waste and minimizes messes.
Some products are gorgeous on their own and don't need to be transferred! Seriously. As you can see, I didn't bother with a few because they worked with the look!
Some products—such as contact lens solution, deodorant and toothpaste—cannot be transferred. I'd be hard-pressed to find attractive contact lens solution, haha, so I just keep that in my drawer, out of sight. And did I peel the label off my deodorant? FINE, YES, I DID. 🤪 And Marvis toothpaste? A+ to the designers there.
You may have space for products previously stored in drawers or elsewhere. For example, I was able to move my mouthwash, toothpaste and my favorite face wash, both of which previously did not fit, into my newly organized medicine cabinet, thus simplifying life even more.
Enjoy!
I've found that my new setup not only makes my morning and nighttime routines faster and more enjoyable but it prevents waste. I no longer overbuy or experiment with new products I likely don't need. This was an easy project but one that makes me happy at least twice per day!
More Organizing Posts
What to Put in a Guest Room Welcome Basket