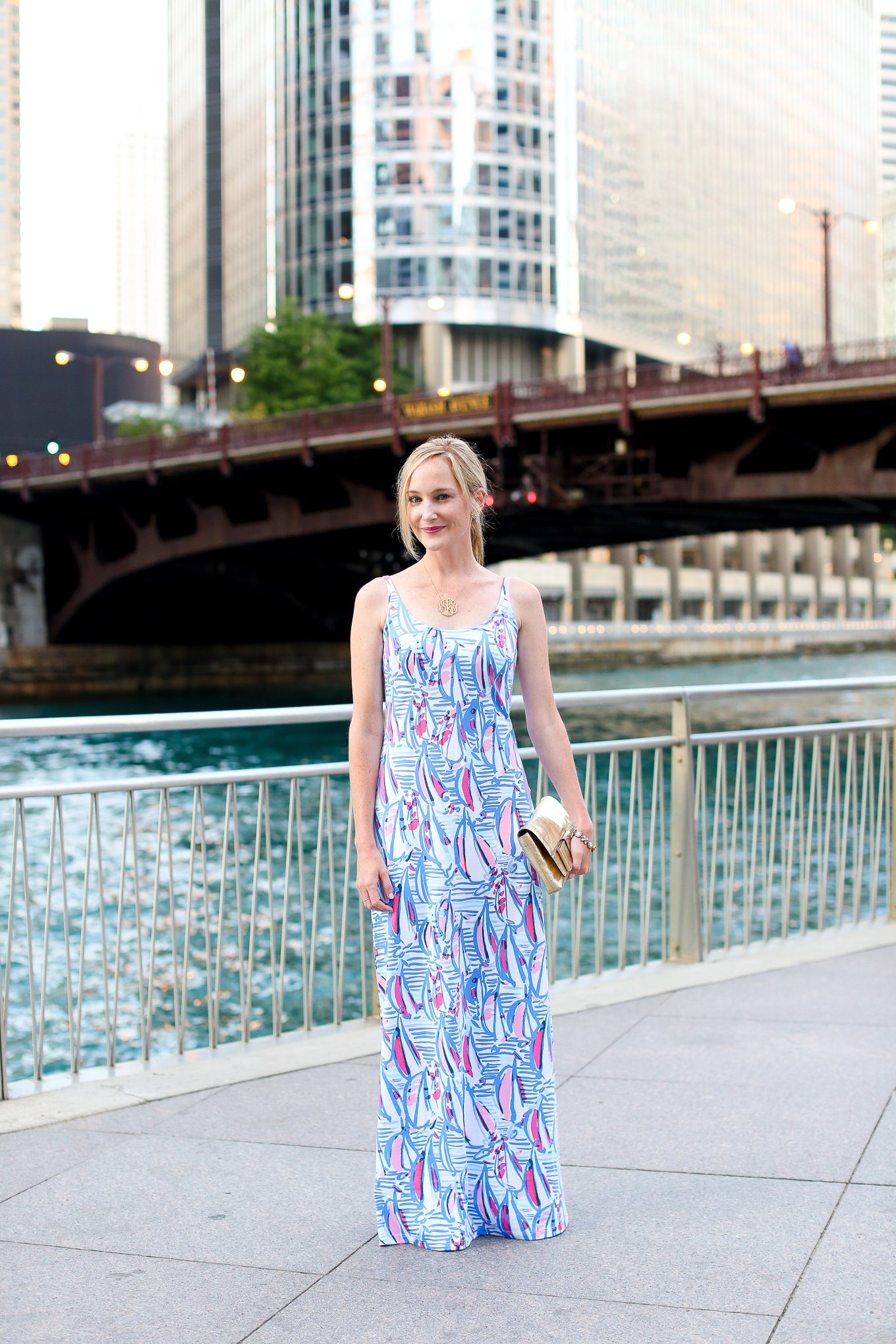 I'm wearing: Lilly Pulitzer Maxi Dress (Sold out, similar here — And have you checked out Zappos for hard-to-find Lilly clothing?!) / Max and Chloe Necklace c/o / Jack Rogers Sandals (On sale!) / Moon and Lola Earrings c/o Tuckernuck (Also love these, and have you shopped Tuckernuck's end-of-season sale?) / J.Crew Bracelet (Old, but love this one!) / Julie Brown Cardigan c/o / Mom's Dress here
Guys, Mitch and I have been having a blast with my parents in Chicago! We've done SO much, but for now, I'll highlight last night, since it was epic. ;) We went down to City Winery Riverwalk, which was very special for us, as the four of us used to go to City Winery in New York frequently. (We actually considered getting married there! Until we learned how much it would cost, haha.) We had a great time watching the boats, drinking wine (obvi), laughing, and chatting about photography… as my dad has recently started getting into it!
On a somewhat related note, I GOT A NEW CAMERA AND LENS. Admittedly, my bank account took quite the hit from the purchase, but nearly everything I do depends upon my camera–whether I'm maintaining this blog, shooting engagement and family sessions or taking on freelance projects–and I'd been itching to upgrade for a long time. (Clearly Little Nikon didn't make it. #RIP) The plan is to take on a bunch of sessions and freelance projects to make up for the cost and make myself feel better about the splurge, but in the meantime, I'm just enjoying it. Granted, I'm still getting used to it (this is my first Canon DSLR!), but I can't get over its firepower, and I definitely think I made the right decision. I mean, it was pretty dark when we took these photos. Like, WHAT?! (The lights in the background kind of give you an idea. It was 7:45 when we snapped these!)
More on that later. ;)
Anyway, after City Winery Riverwalk, we headed over to Hub 51, where I had one of the best sushi rolls I've ever had. We ended the evening with after-dinner drinks at the Paris Club (which I LOVED–definitely go!), and late-night treats from Insomnia Cookies on Lincoln Avenue. It was the perfect night.
OH! I'm also wearing my score from the Lilly Pulitzer After Party Sale. It's my first Lilly maxi dress, and I'm in love! I kind of can't believe I nabbed it, as I'm not the best at making quick decisions. I love that it's lightweight yet provides some warmth for chilly nights, and that it looks adorable paired with a drapey cardigan.
Over and out!