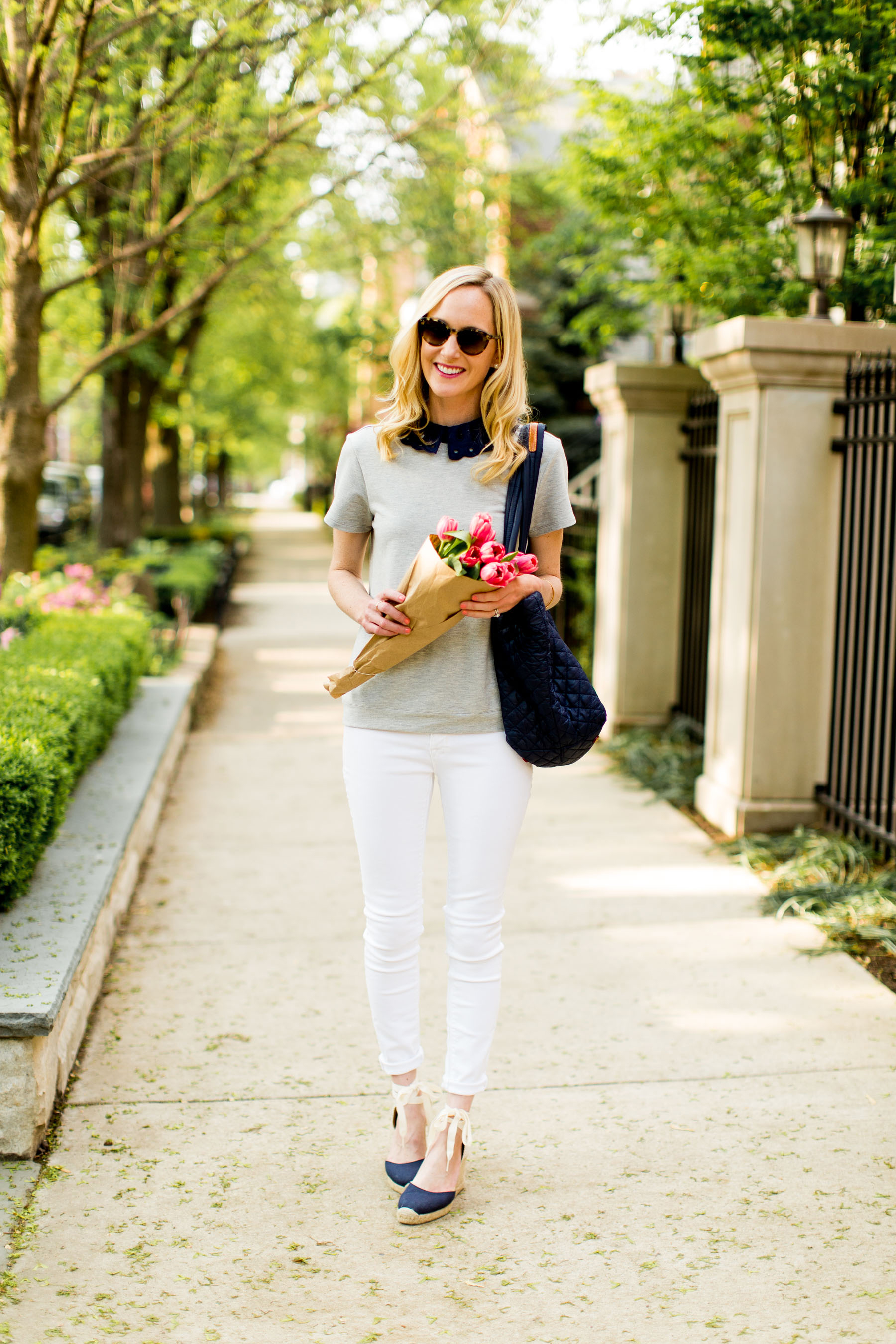 Eyelet Collar Top / Quilted Tote (It's back in blue! Also comes in a larger version and there's a backpack, too!) / Navy Espadrilles / New White Jeans! (These are my go-to white jeans, but goodness. I adore my new pair! Crazy soft and don't require hemming. Just make sure to size down one size.) / Replacement Sunglasses Exist (Finally!) / Monica Vinader Bracelet c/o
If you click on the "Explore" tab on the menu of kellyinthecity.com, you're sent to some really old, cringe-worthy posts. I obviously love having this little running record of my life, especially now that I have a daughter. But yikes. It's kind of like looking back on your Facebook photos from college. I voluntarily chose to wear that?! ;)
I think what strikes me most about how my style has changed over the years is that I now emphasize simplicity. I used to make everything so complicated. My philosophy was the more patterns, colors and jewelry the better. And honestly, it took me forever to get ready because of that silly philosophy. Today, though, I'm all about easy, without compromising style.
In light of that, I thought I'd share my favorites of the season–the stuff that packs a punch but doesn't require much effort.
Favorites of the Season

Shoes
This is a big category for me. If you've ever watched my Instagram Stories, you probably know that Mitch recently had to build me shelves in my closet because my shoe collection is a little bit out of control. ;) And these espadrilles are front and center right now, as they're a go-to for spring and summer every year. Other obsessions right now include the incredible bow mules in WHITE, these kiltie slides which I just ordered, classic Jack Rogers, these Kate Spade bow slides, these striped slides, these (red) slides, these brown leather slides, and the "Susie" sandals, which go with everything. Oh, and on the Tory Burch front: these striped Miller sandals, these black-and-white espadrilles, these go-to wedges, and #omg these woven flats.

Bags
I am SUCH a huge fan of MZ Wallace, as you probably know. I just love the look and functionality. My quilted tote, which is back in blue (!), is used for everything. It's a work tote, a workout tote, a travel bag, a grocery tote, and a baby bag. It also comes in a larger version and there's a backpack, too. Besides MZ Wallace, though, I'm crazy about this Tory Burch woven tote, this Longchamp backpack, this Kate Spade woven crossbody, and all things Mar y Sol: this navy striped tote which I just ordered for the summer, this natural tote, and this woven tote.

Dresses
Oh, boy. SO many good ones right now! While I'm not wearing a dress in this post, get ready for this one. (I'm wearing it this weekend to a beach party!) Also, Draper James is now available on Nordstrom. BAH! I know. Like, how adorable is this gingham dress and this tunic?! Other Nordstrom dresses I love include this one which I wore here, this hydrangea dress, and this navy striped maxi. I'm also lusting over this one, this one, and this one. And I'm wearing the black and white version of this dress on the blog soon!

Denim
Since becoming a mom, I'm an absolute nutcase about jeans, as I spend most of my days in 'em. While I've sworn by this white pair by Rag & Bone for the longest time, I'm wearing this pair by Hudson in these photos, and I LOVE them. They're incredibly soft, not see-through, and don't need to be hemmed. (I'm somewhere between 5'4 and 5'5, btw.) I'm also dying to try this pair, and I think this pair would give a lot of my outfits a different look!
In case you didn't notice, my go-to retailer for all seasons is Nordstrom. The selection is off the charts, and the selection can't be beat. (Seriously, navigating the website is like having your own personal shopper.) Oh, and shipping and returns are free. The customer service is amazing, too!
Anyway, I have some pretty exciting posts coming up this week. Emily and I are teaming up to write about what we've learned from our own moms, I'm comparing my giant DSLR to my tiny mirrorless camera, I'm publishing another "Recent Finds," and apparently Mitch is writing a fun post for us.
Stay tuned!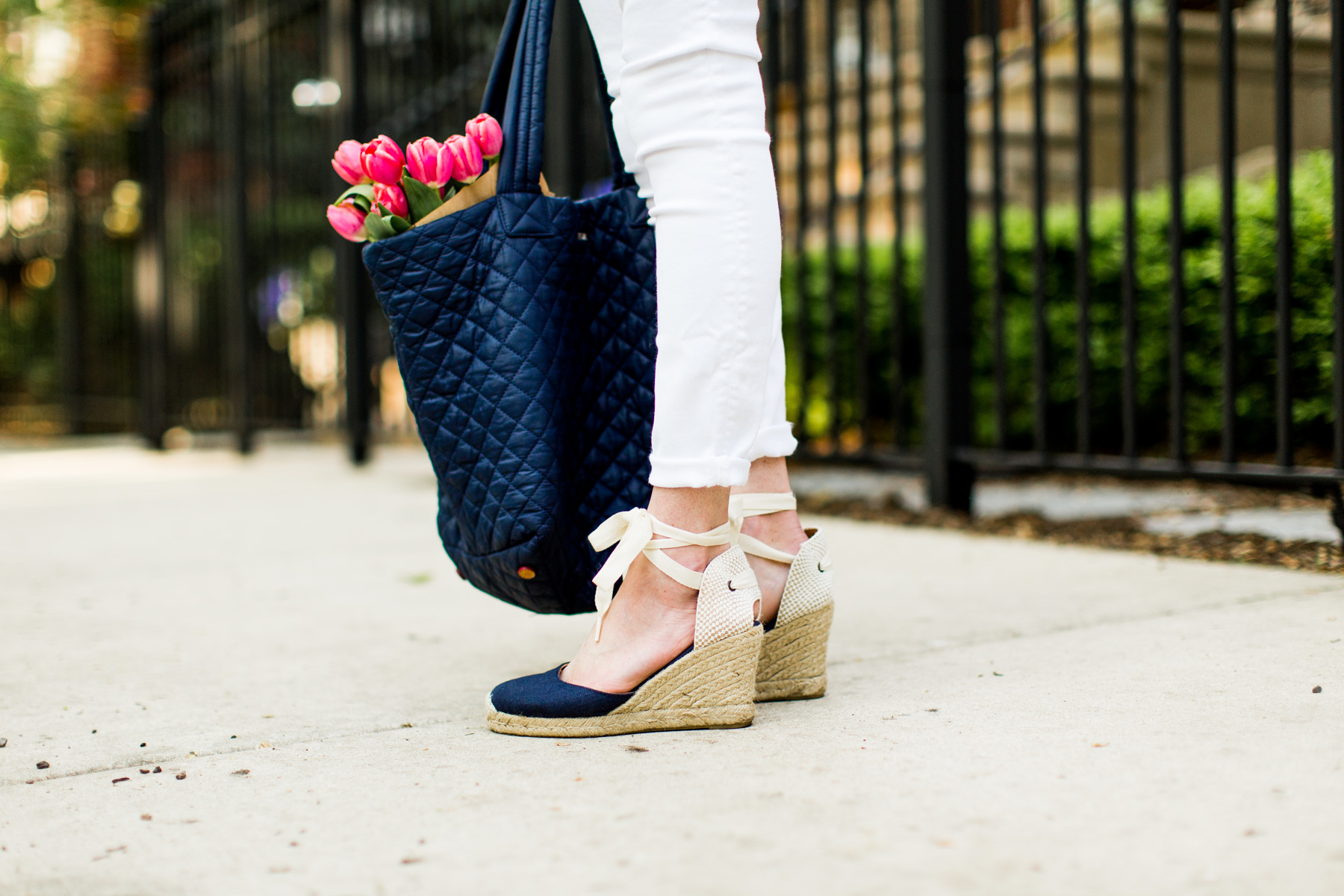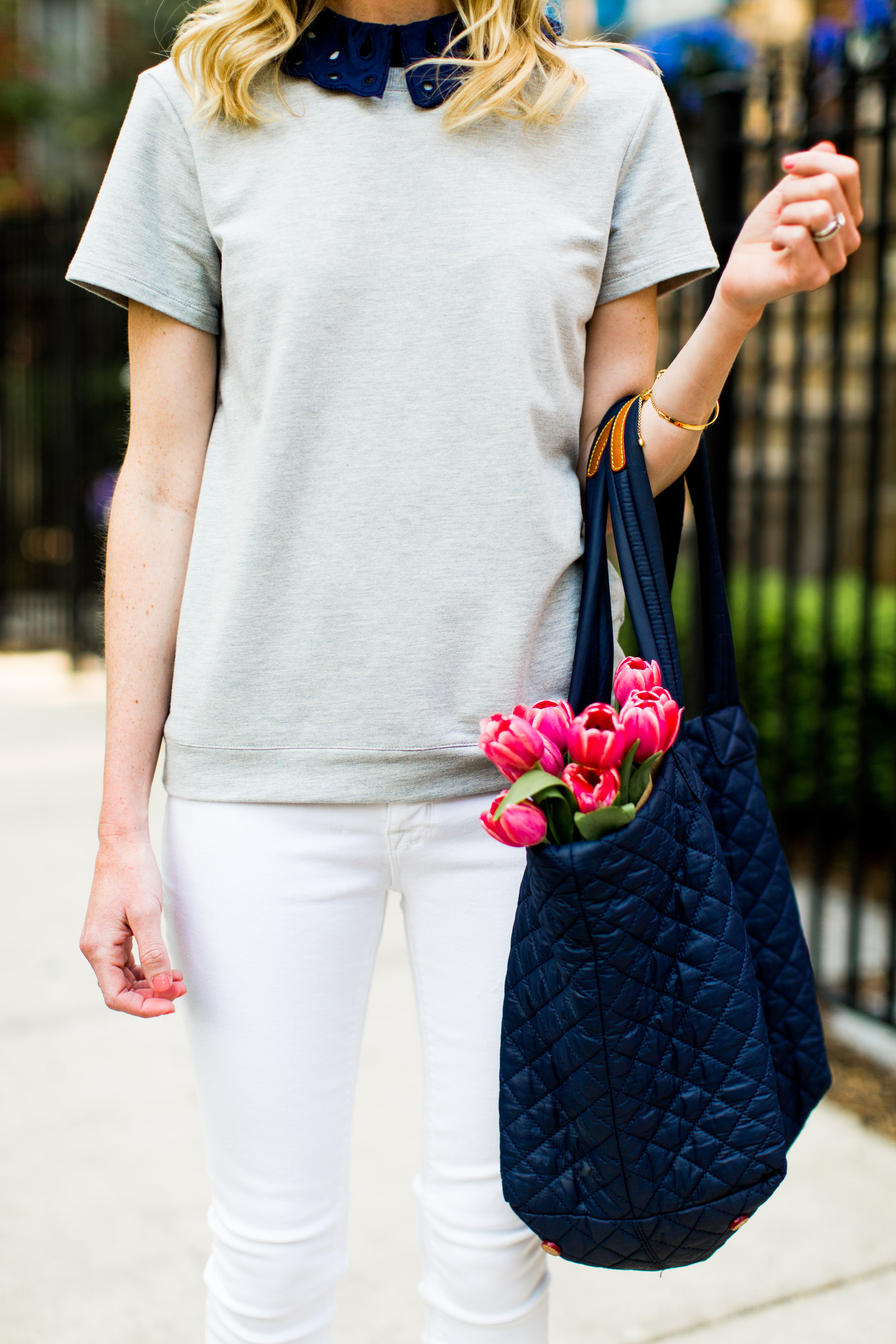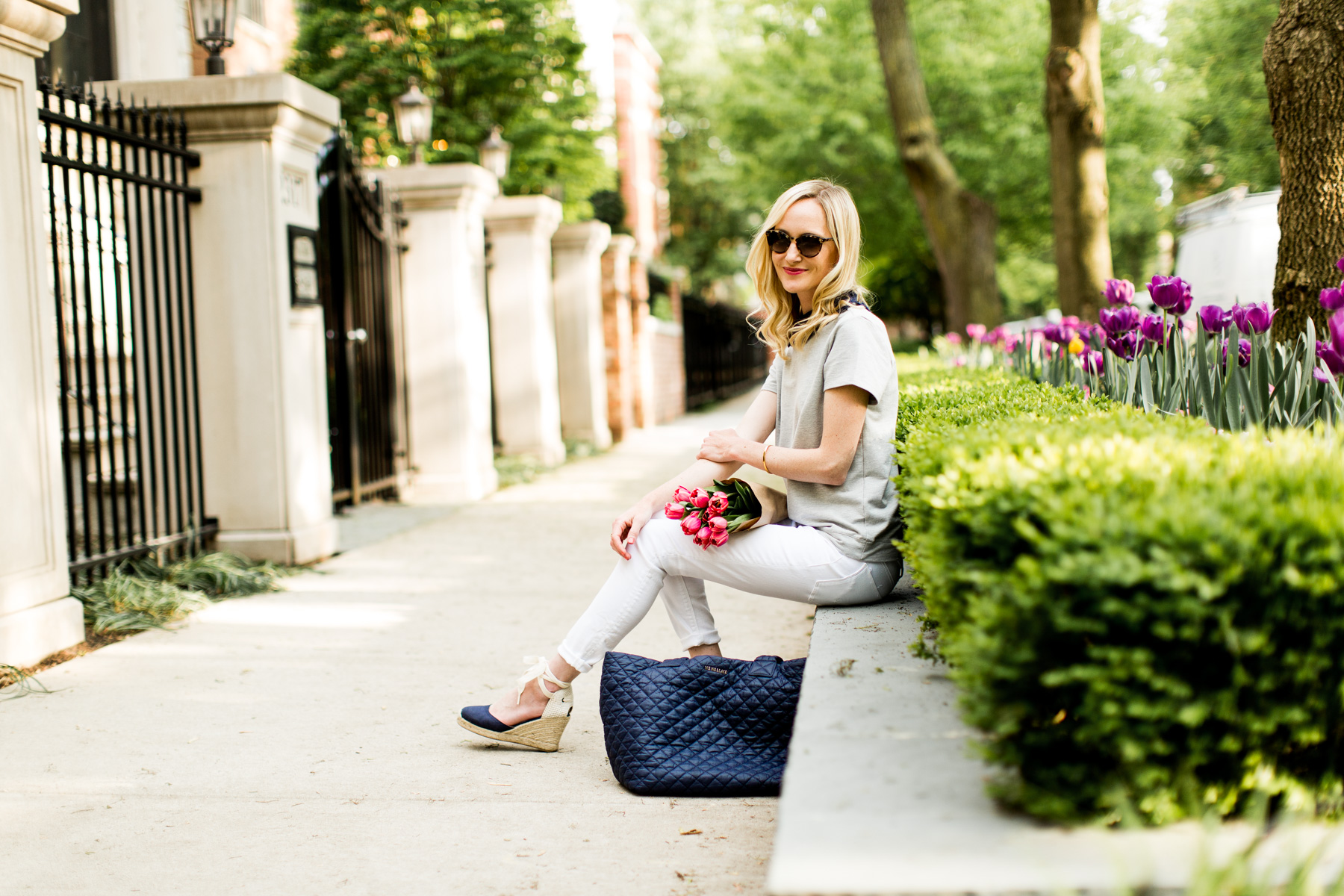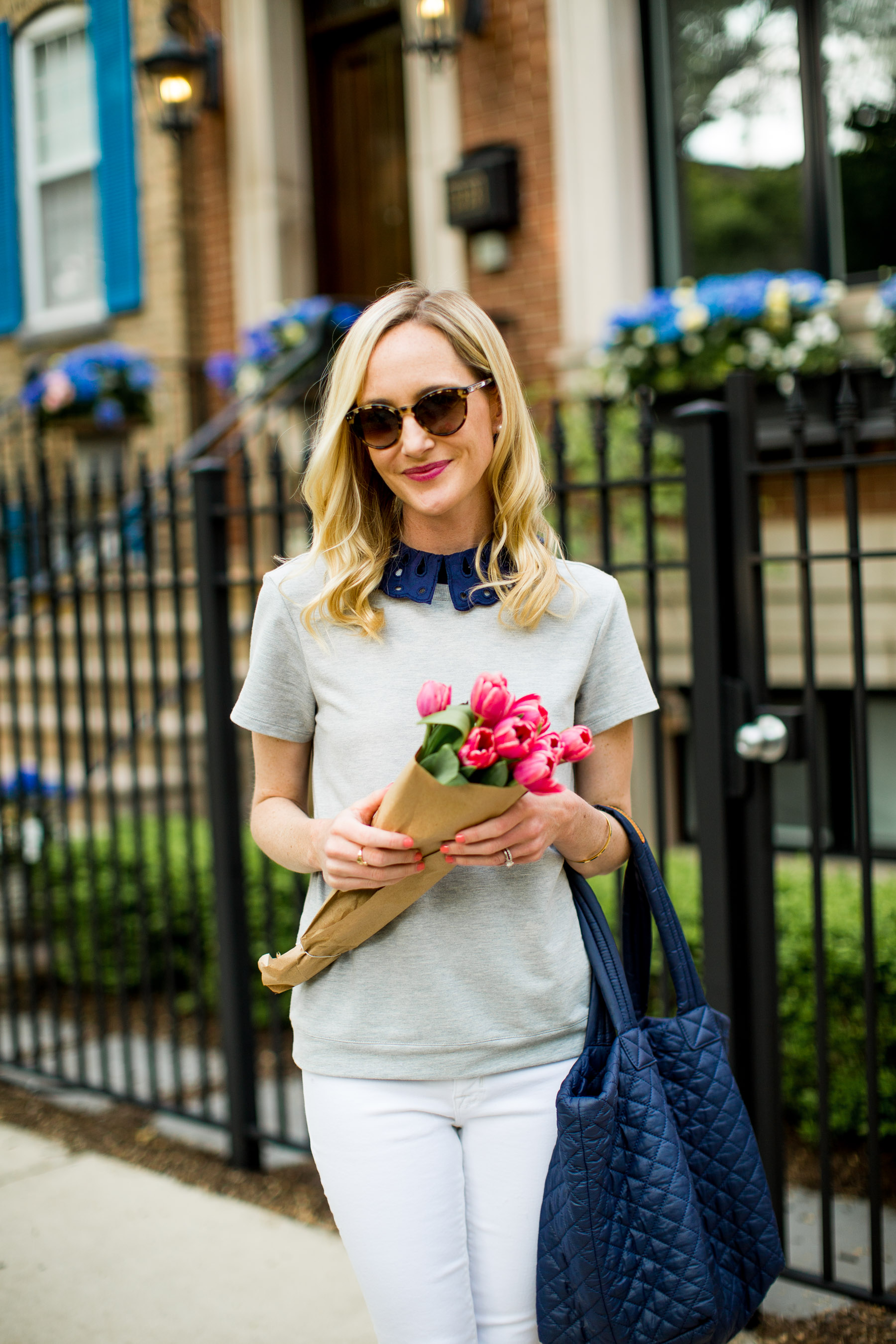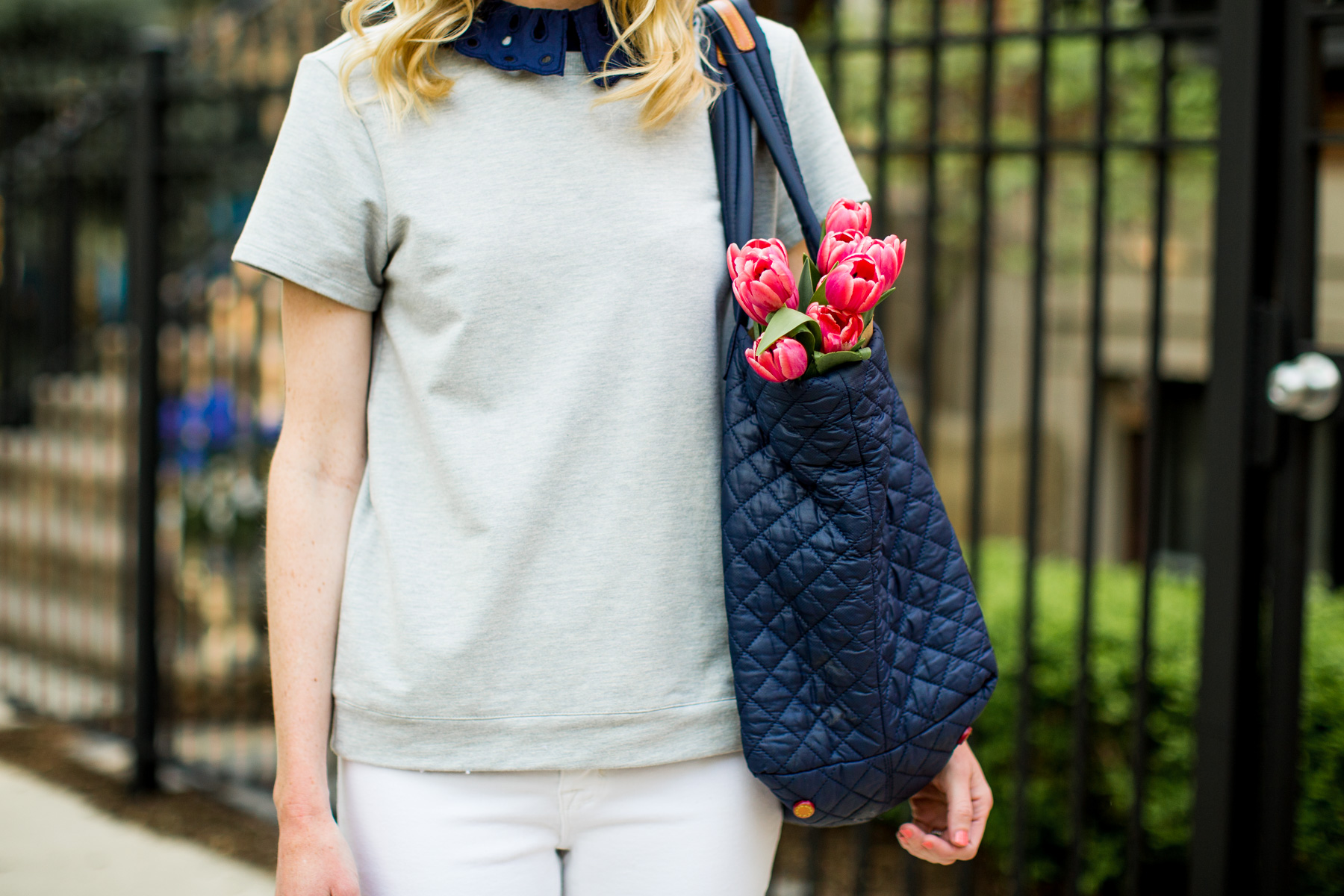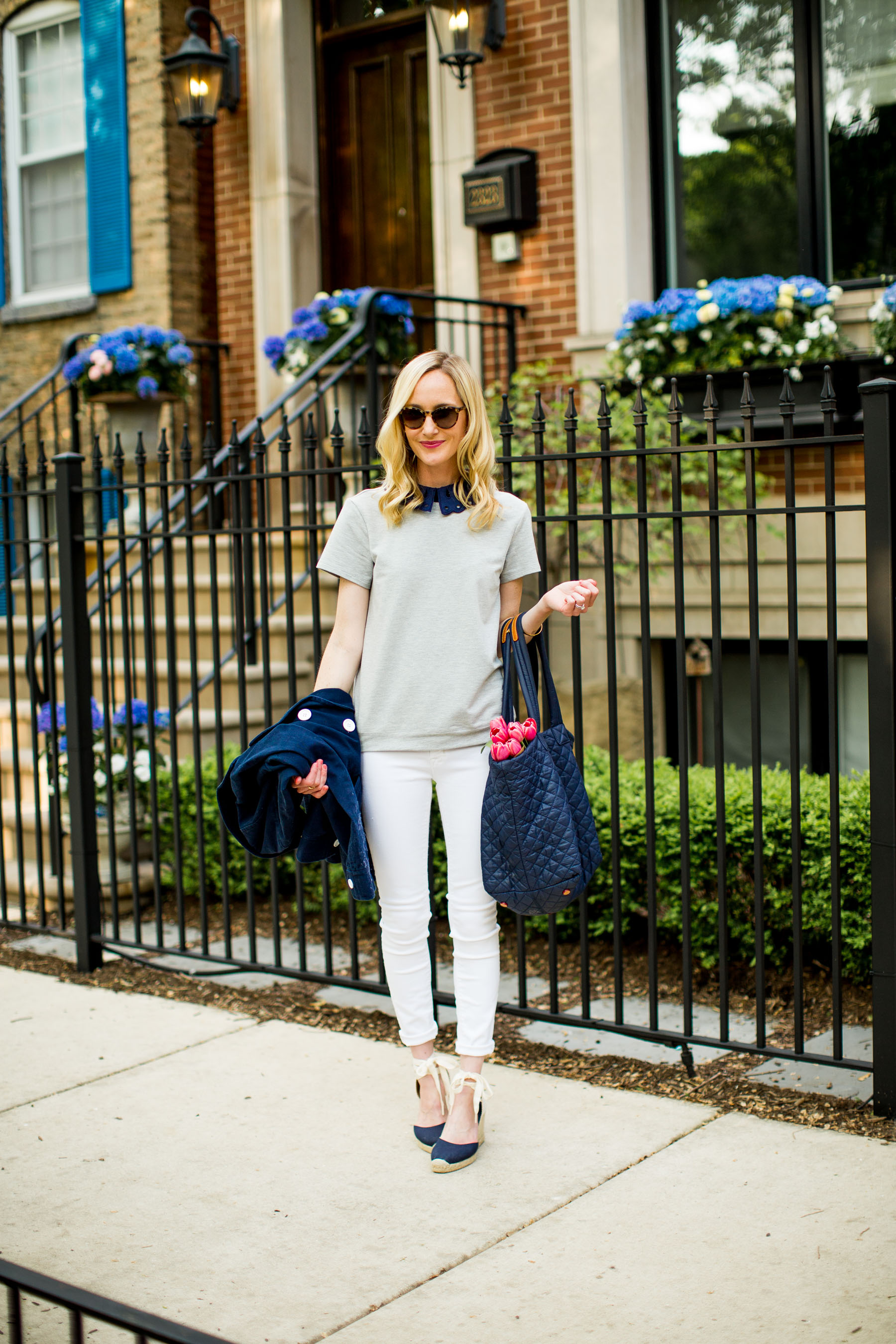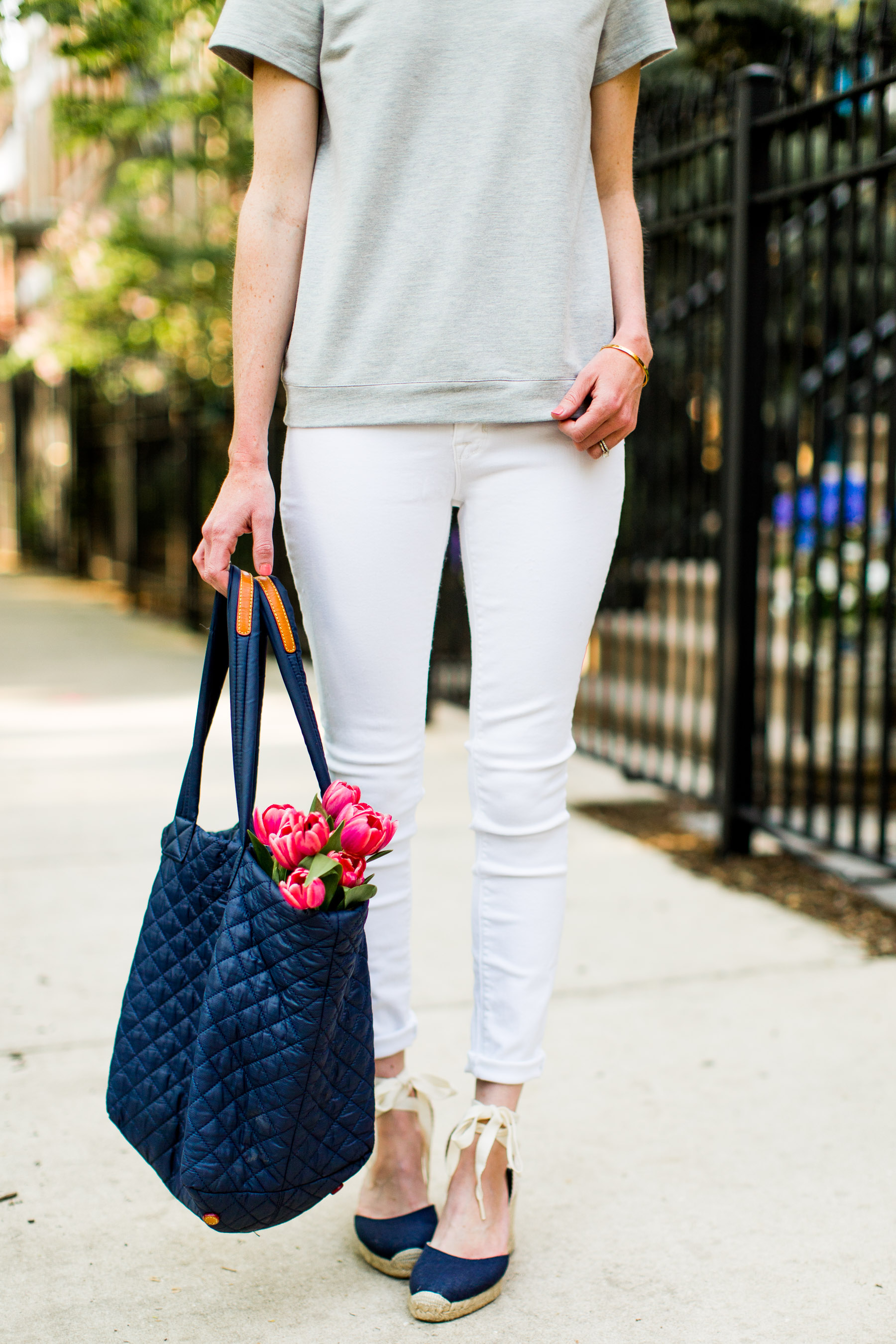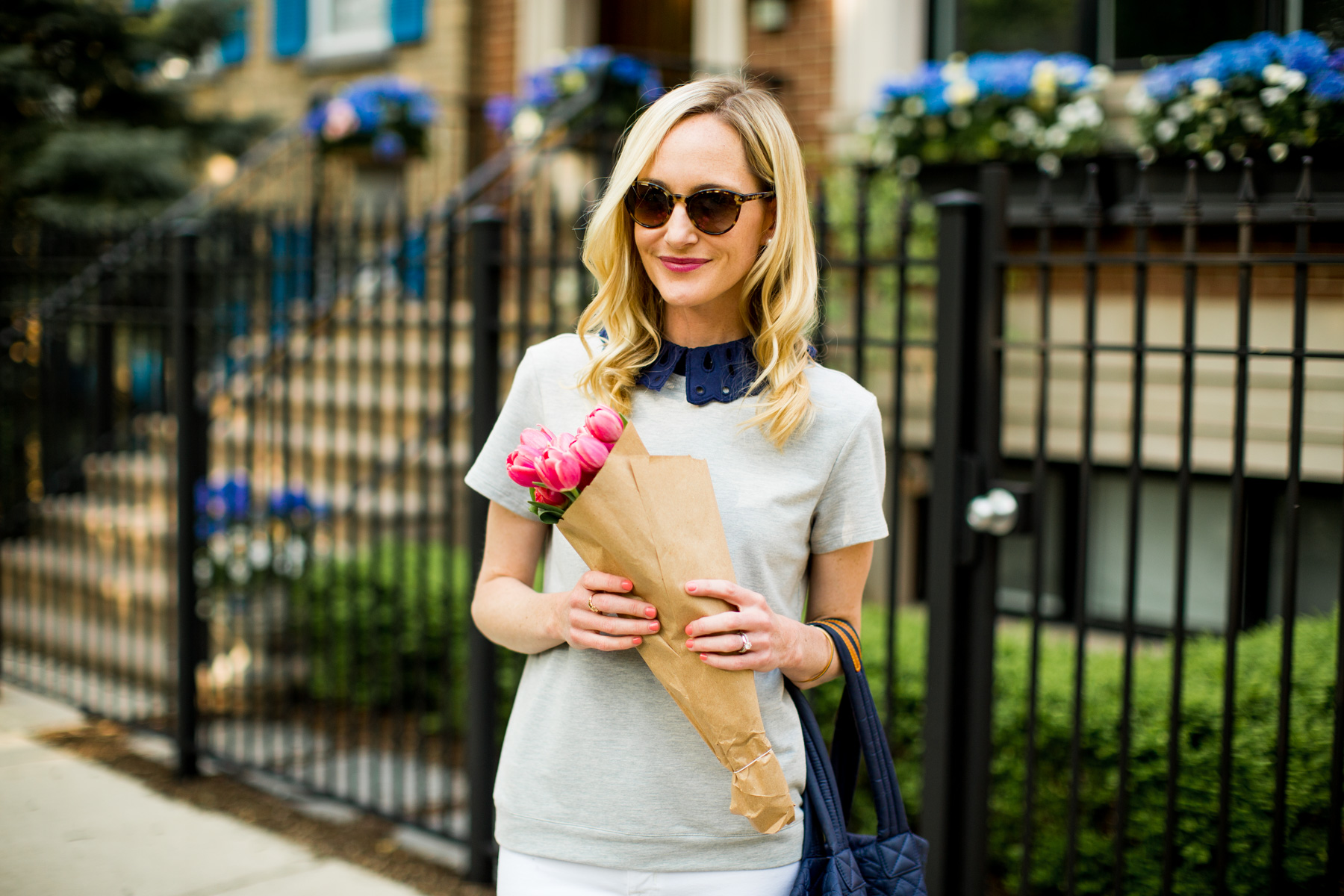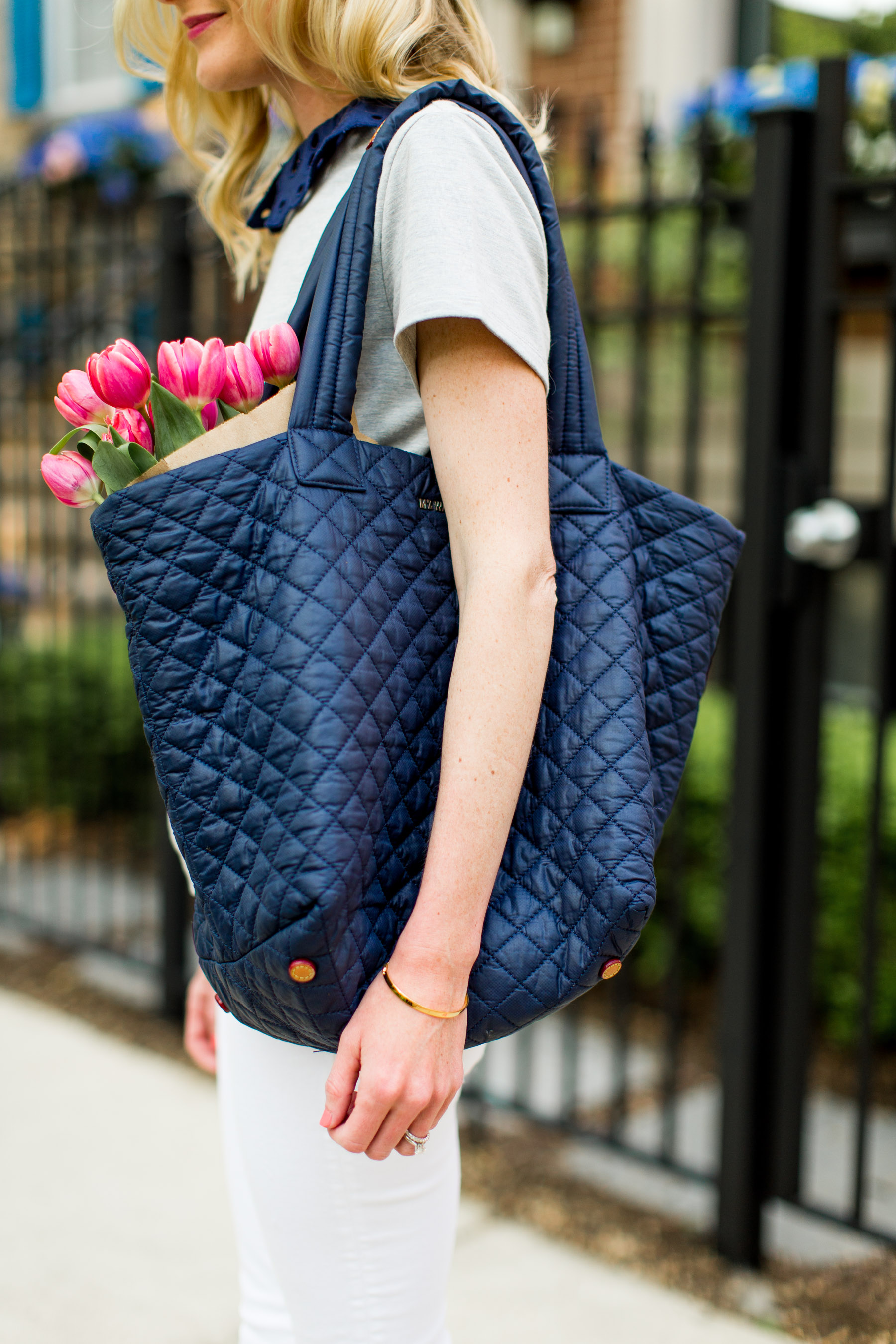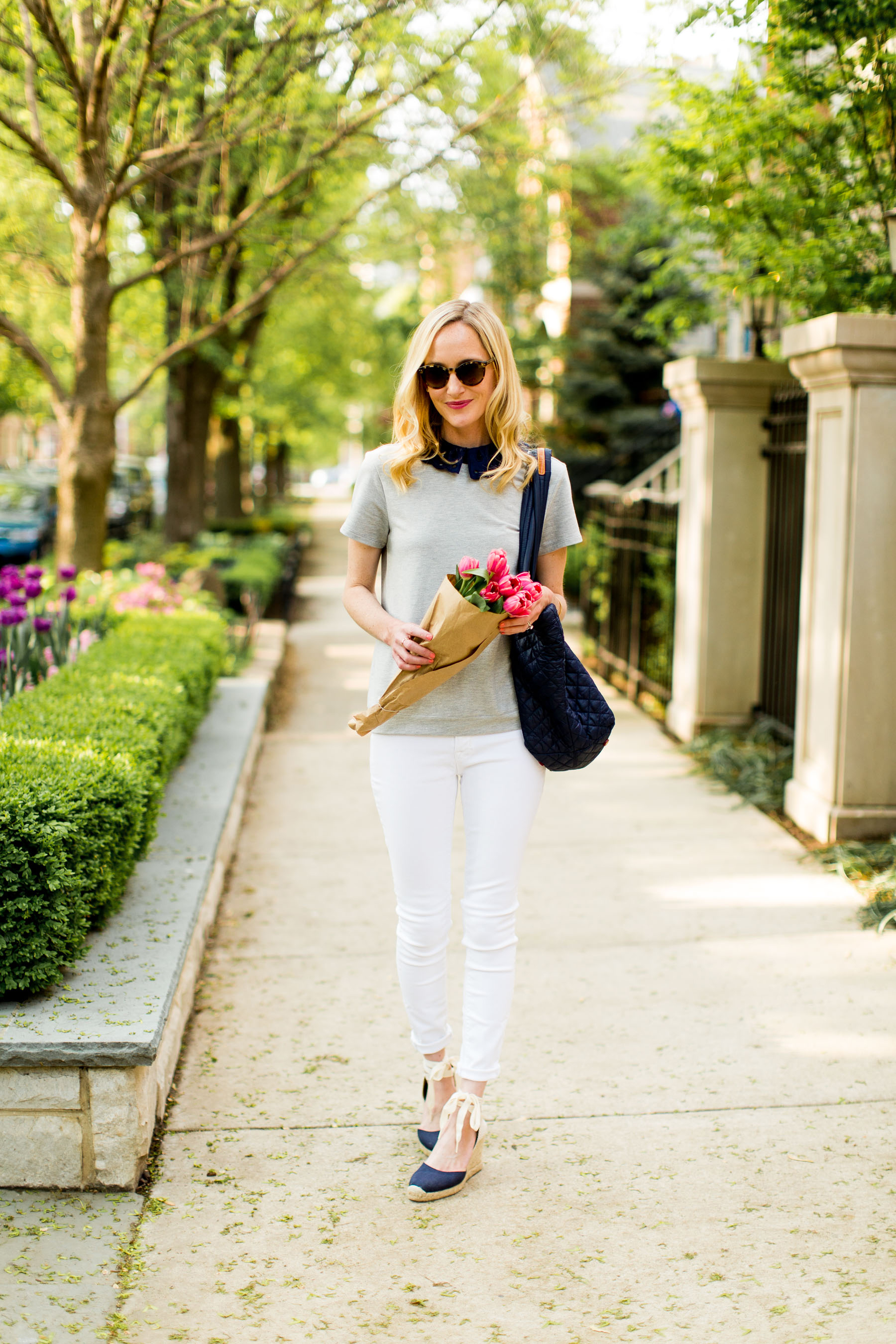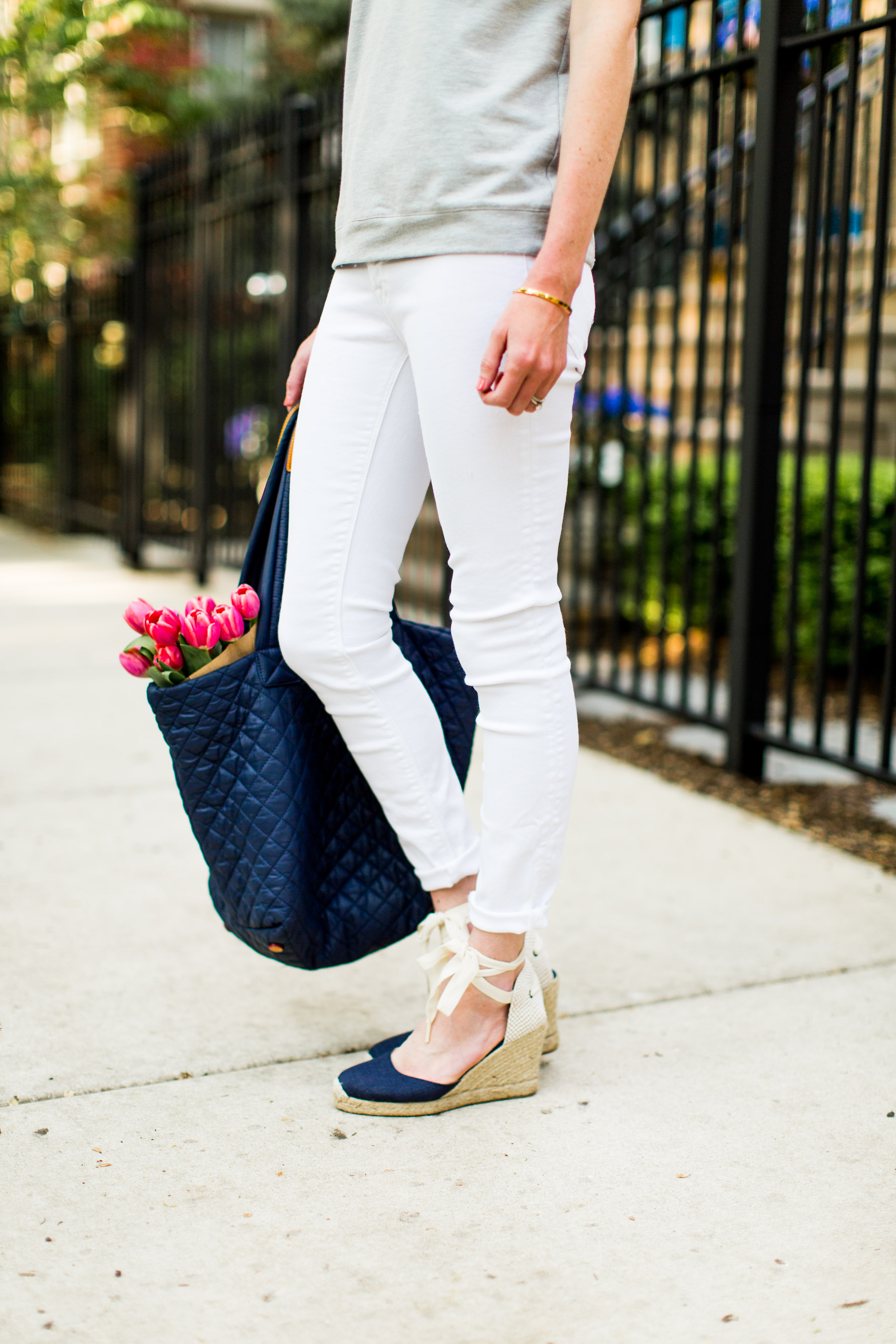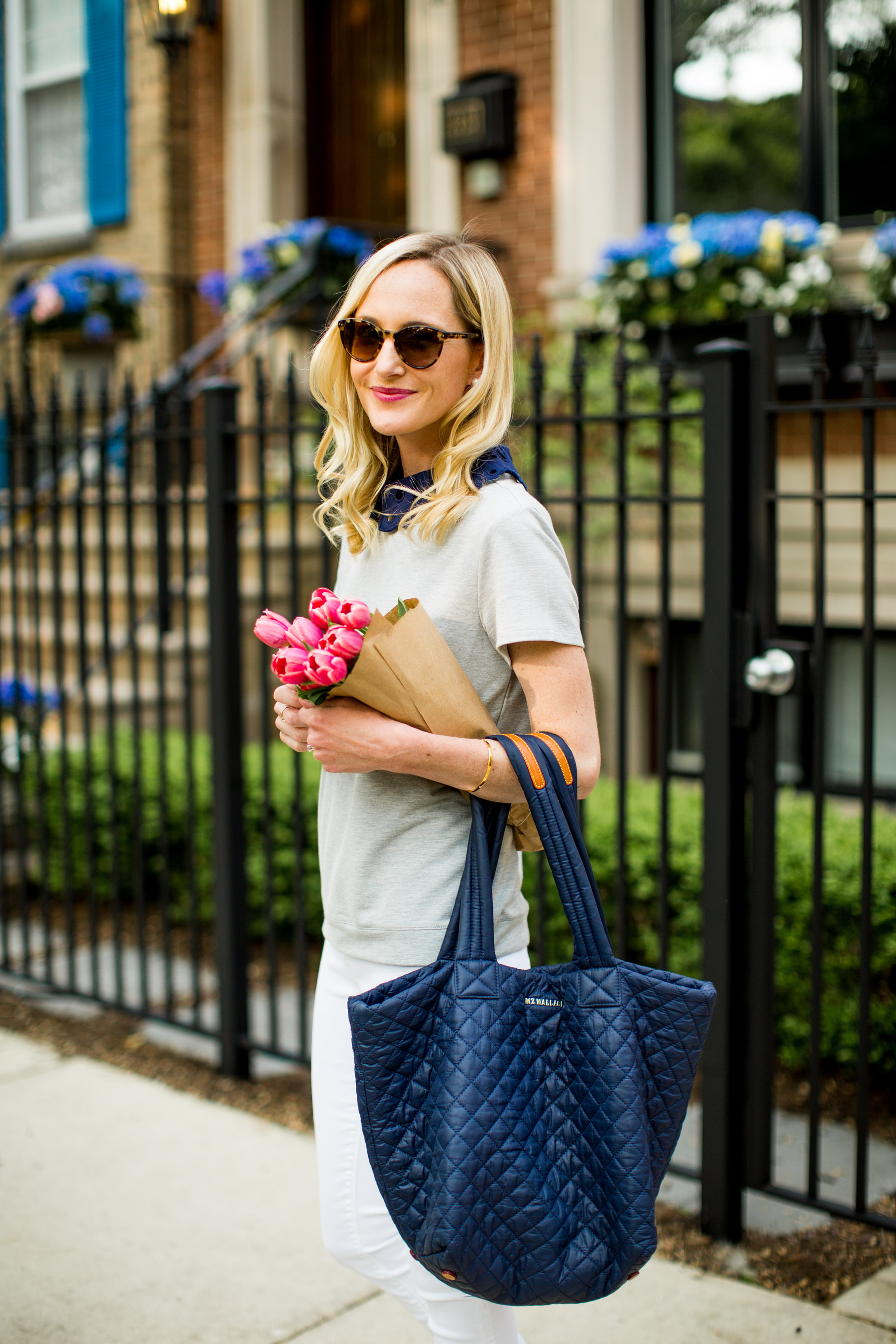 Shop the post:
Eyelet Collar Top / Quilted Tote (It's back in blue! Also comes in a larger version and there's a backpack, too!) / Navy Espadrilles / New White Jeans! (These are my go-to white jeans, but goodness. I adore my new pair! Crazy soft and don't require hemming. Just make sure to size down one size.) / Replacement Sunglasses Exist (Finally!) / Monica Vinader Bracelet c/o
In collaboration with Nordstrom. As always, thank you so much for supporting the partnerships that keep Kelly in the City up and running!