I'm all about getting the most amount of wear out of every piece in your closet, and wearing a sweater over a dress is a great fashion hack to make your summer and spring dresses work as a transitional piece on colder spring days. Although, let's be honest, I'm not ready to let go of my warm and cozy sweaters just yet, haha, so that's why I love this trick. It can effortlessly transform an outfit and works for pretty much any dress style. Here are three ways to wear a sweater over a dress this spring.
A Transitional Summer Dress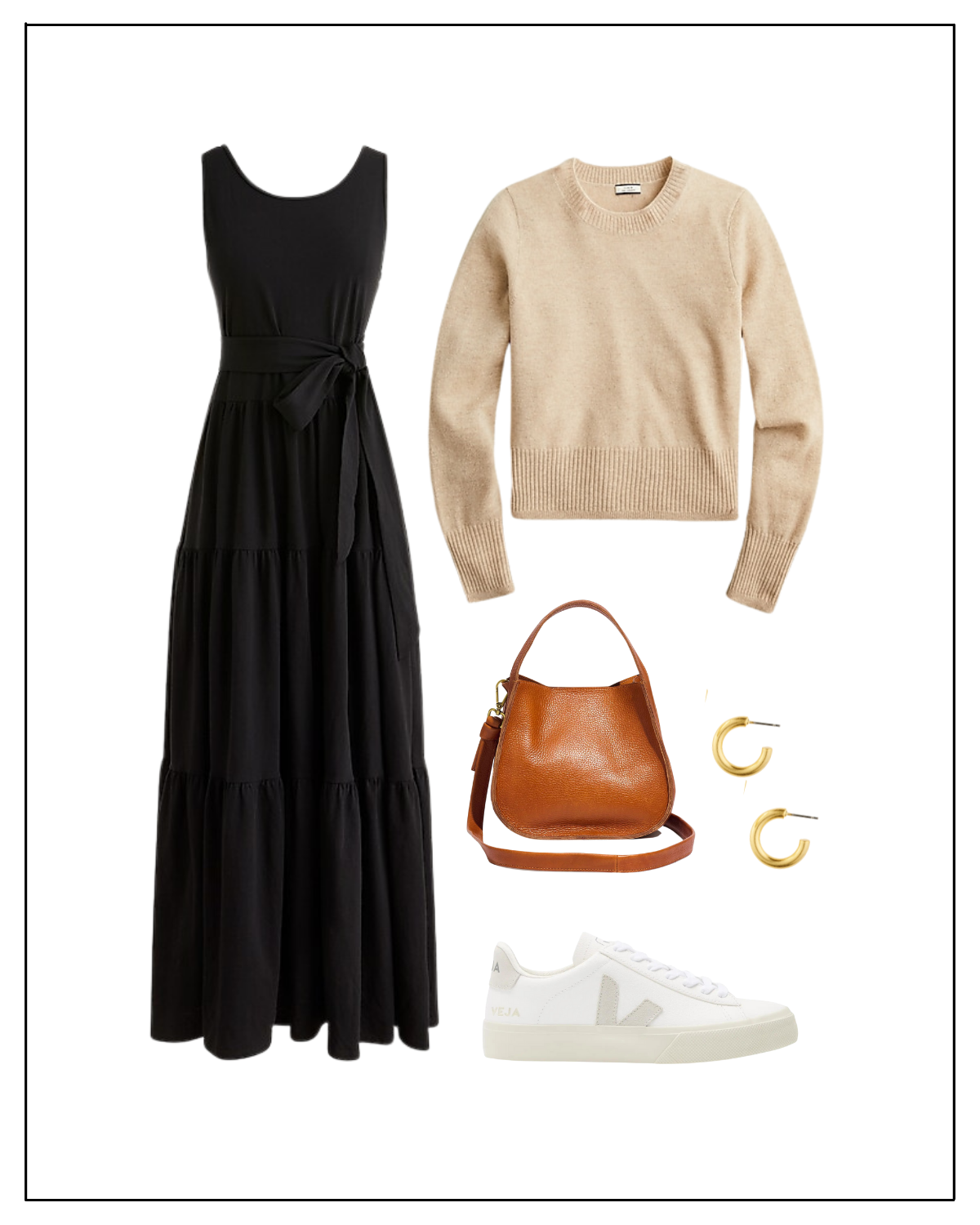 Black Tiered Maxi Dress / Cropped Beige Crewneck Sweater / Leather Crossbody Bag / Gold Hoop Earrings / Veja Sneakers
I love this casual and cute look that lets you wear your favorite summer dress during colder seasons. I love this versatile black tiered maxi dress. Not only is it a pretty summer dress, but the belted detail works wonderfully as a way to tuck your sweater in slightly. Wear a beige crewneck sweater over the dress. Accessorize with mini gold hoop earrings and a brown leather crossbody bag. I highly recommend this one; it's one of my most used bags. And finally, I'd wear Veja sneakers. I love the way they add an elevated Parisian touch to any outfit. You can read my full review on them here.
Dressed Up for Spring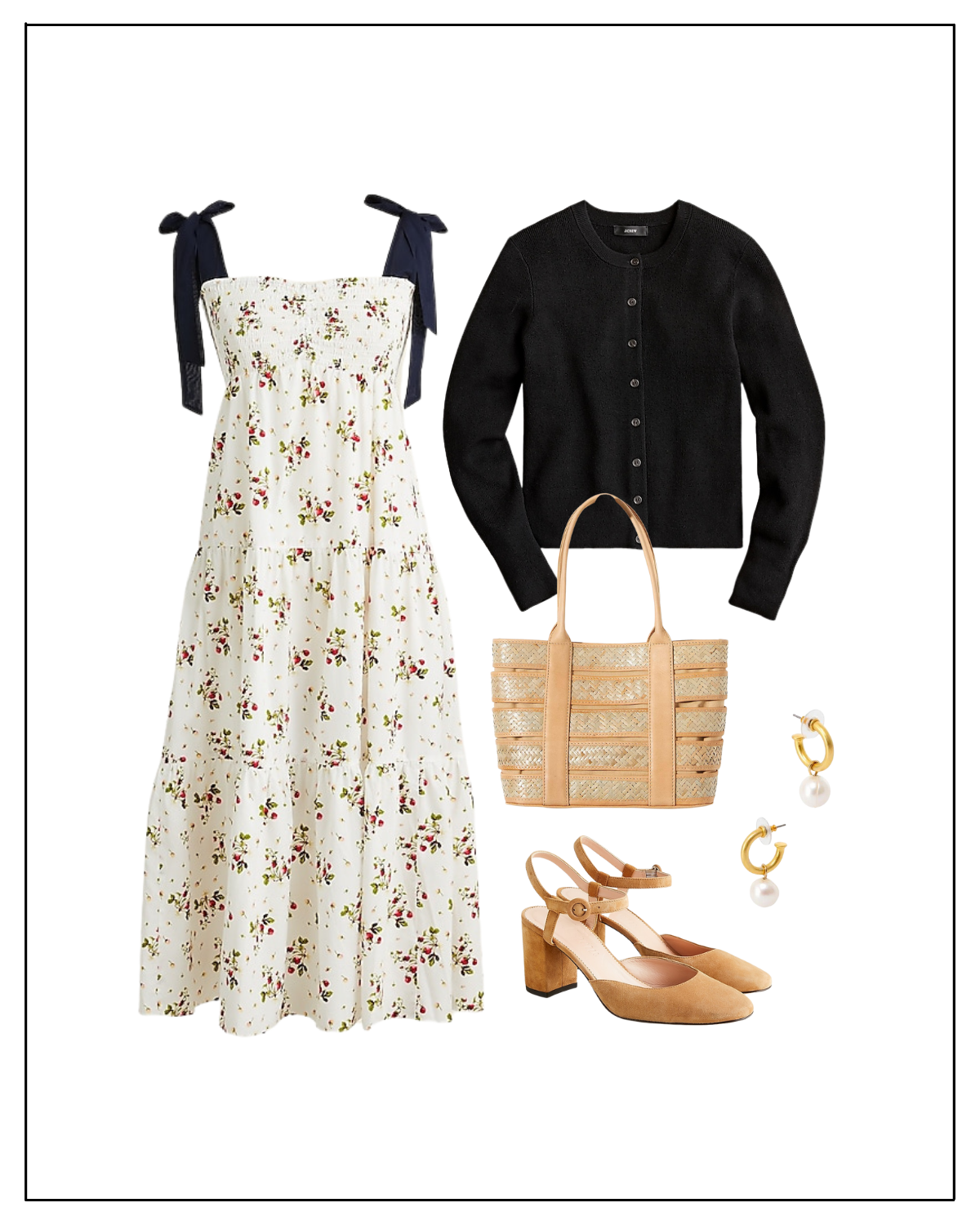 Tie Shoulder Smocked Floral Midi Dress / Black Cardigan Sweater / Rattan Tote Bag / Pearl Hoop Earrings / Suede Ankle-Strap Pumps
I chose a gorgeous tie-shoulder smocked floral midi dress for this slightly dressier outfit. I love all of the details, and the print is so beautiful. I styled it with a black cardigan sweater. You can wear this sweater over a dress buttoned up, unbuttoned as a cardigan, or tie it around your shoulders. Accessorize with a leather and rattan tote bag and dainty gold pearl hoop earrings. For shoes, either heels or flats would look lovely. I styled it here with this pair of neutral suede ankle-strap pumps for a little height. This would be a pretty outfit to wear to work or any dressier occasion.
Weekend Wear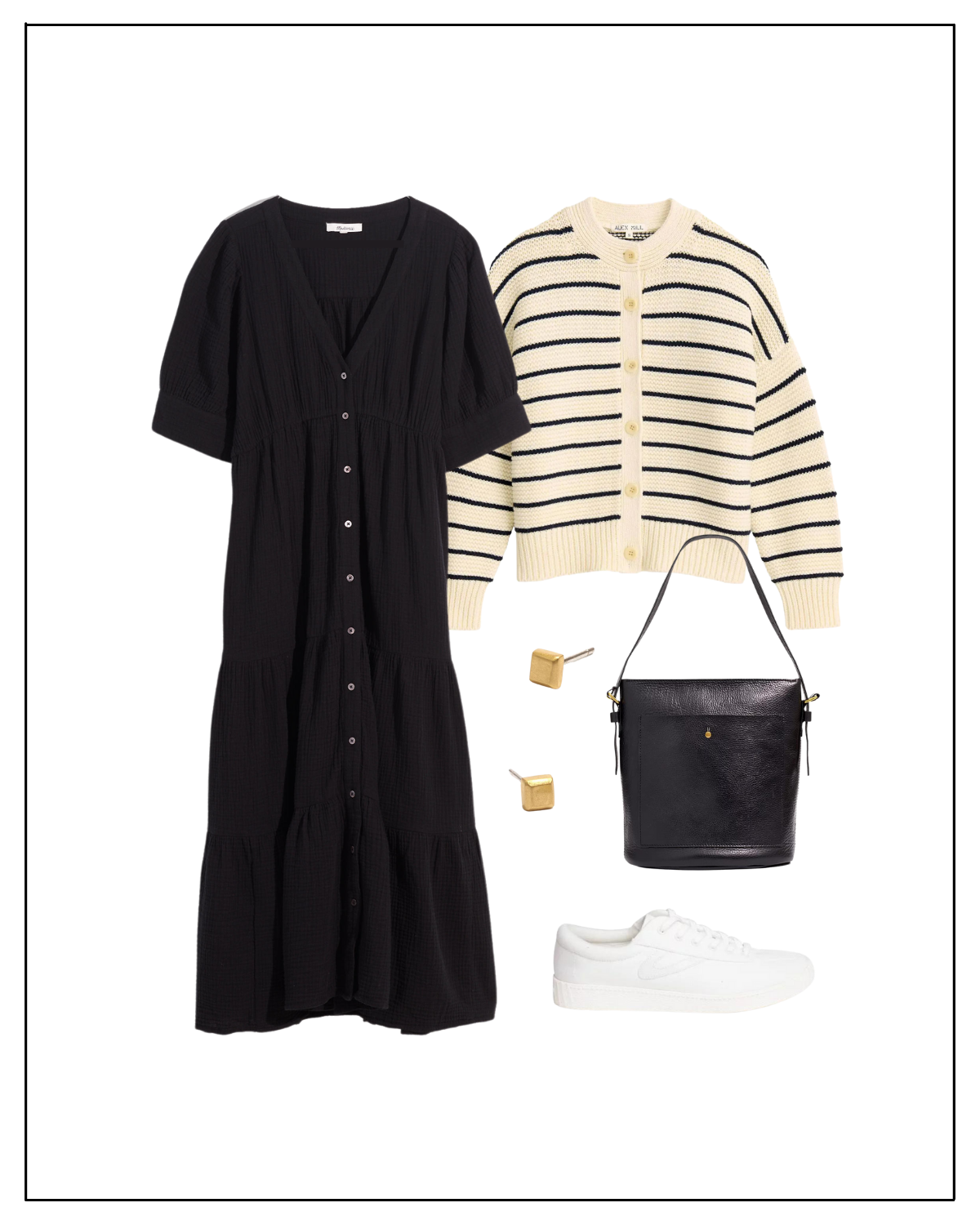 Black Midi Dress / Striped Button Up Sweater / Gold Square Stud Earrings / Black Leather Bag / White Canvas Sneakers
This outfit would be perfect to wear on the weekends. I've been eyeing this tiered black midi dress. I love the cuffed sleeves and button front. Wear it with a black and cream striped chunky knit cardigan sweater. I feel like this sweater would also be an all-around great basic to have in your closet, and so cute styled with a long sleeve white tee and jeans. Accessorize this look with gold square stud earrings and a black leather bucket bag. Lastly, slip on a pair of white canvas shoes, and you're ready for all of your weekend plans.