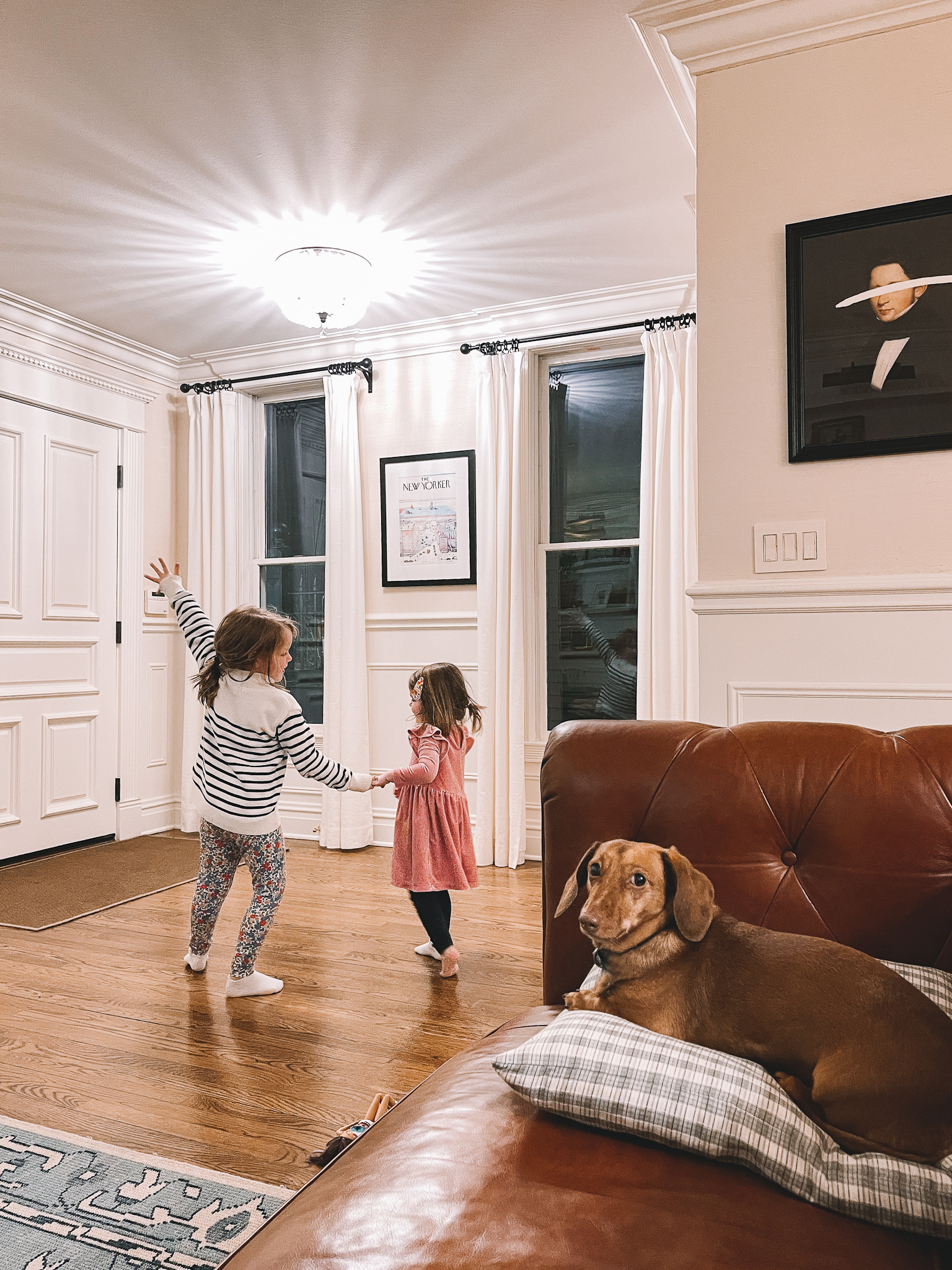 Josh Young Portrait / Serena & Lily Rug / No-Scratch Leather Chesterfield Sofa / Drapes / Light Fixture / Newer Version of Lucy's Velvet Dress / Newer Version of Emma's Sweater / Emma's Floral Leggings / Studio McGee x Target Pillow
It's been a while. :) Here's what I have on my mind today:
13 Ways to Help Ukraine Now: While the war was unfolding, I stepped away from the blog due to Emma's winter break, Mitch's trip, and then a death in the family—but it goes without saying that my heart is breaking for the people of Ukraine. 💔 We chose to give to CARE, which is a humanitarian organization working to provide food, water and hygiene kits to Ukrainians, but you can find lots of ways to help here. While it's easy to get overwhelmed by the number of options available, my approach during a crisis is to simply pick a cause that speaks to me. If donating isn't possible, telling friends and family about the cause is wonderfully helpful, too!
We lost a beloved member of our family, and everyone came together to celebrate his life and share stories and memories. It was a really hard one, but I was particularly moved by just how many people spoke about the moral example he set for multiple generations. He was a good man. And in so many ways, he's responsible for the good man I married. I will forever be grateful. (Please listen to this in his honor.)
I loved stay-at-home mom life while Mitch is in Bogota, Colombia. He was there with his best friend for a wedding, and I stayed behind with the girls so Emma wouldn't miss school. (I also didn't want to be away from Lucy for that long considering I'd been on the East Coast with Emma visiting her great-grandmother the week before.) We missed Mitch so much, and I was definitely exhausted by the end. But I absolutely loved the one-on-one time with my little girls. I feel like we created so many special memories and our bonds grew even stronger. This is probably because I let them sleep in my bed with me; breaking the habit once Dad returned was less than fun. 😆
LUCY GAVE UP HER CRIB. So that's one positive regarding the little habit. ;) Yay, Lucy! After sleeping in a big bed, she raised her eyebrows at me when I tried to put her back in her crib, and was like, "Ummmm, no." Fair, Lucy. So into the big girl bed she went! I thought the transition was going to be a huge disaster, but she almost instantly fell asleep, and in the morning she just called out for me, unaware that she could get out of bed on her own. (Hoping it stays like that for a while.)
I'm determined to make my own sensory kits for the girls. Emma and Lucy adore sensory kits, and will literally play with them for two hours at a time. They're fantastic. You can find some really awesome pre-made ones at Young, Wild and Friedman and Humble + Kind—we have one from YWF and love it!—but my friend Danielle wrote this post on making her own, and I'm so excited about it. This Etsy seller has zillions of trinkets perfect for sensory kits, and while I wish I was the kind of mom who made her own play dough, I'm sticking with store-bought Play-Doh for now, haha. (Land of Dough and Dough Parlour are great alternatives if you're looking to upgrade!)
We met the nicest families from Emma's new school today. The transition has gone so much better than we could have expected, but Covid has definitely made it difficult to meet families. This weekend, though, Emma's class got together at a trampoline park in Chicago and we finally got to chat with parents! Everyone was so kind, warm and welcoming—and we can't wait for future events.
I've been legitimately keeping up with my reading-by-the-fire-every-night habit-in-the-making 😆, and it's bringing me inner peace. I typically do it after I get the girls down, and I've been loving little self help reads. That's what Q1 is for, in my opinion. I read Minimalista and couldn't put it down… and now I'm trying to decide what's next.
LUCY IS NO LONGER IN THE CLIP-ON CHAIR. This clip-on chair is undoubtedly our favorite baby product ever. It was a hand-me-down from our awesome neighbor Nicki, and it allowed Lucy to be part of the action at the kitchen island when she was too tiny to sit on stools or chairs on her own. Recently, however, we retired it, and packed it away to pull out when hosting friends or family with little kids. Crazy. We're now having family dinners at the dining room table, and I love it so much! They're kind of short as the girls get a little antsy, but we talk as a family, and then Mitch and I are left alone for a bit while the girls play in the basement. It's been such a life upgrade.

My favorite J.Crew wool coats are on sale right now, and the prices are awesome. Use code "VACAY" to take an additional 50 percent off most styles' sale prices. I highly recommend buying now instead of in-season. Above are the ones I own and love.
I took the girls to a great birthday party at Summer House and everyone held it together. It's really starting to dawn on me that we're approaching the life stage when things get easier. There are fewer meltdowns. There's less gear. There's more independence! I love babies, but it feels like the world is opening up to our family as we enter the kid phase.
Please anchor your furniture and mirrors! We thought we anchored everything in our house but apparently missed one thing: Emma's dresser mirror. (This mirror is very similar, btw, and way more affordable.) Luckily it fell and shattered while we were all downstairs, but it was terrifying, and I can't believe how bad it could have been. Fingers crossed I can get it repaired, and then we will ANCHOR IT.
These toy storage containers are life-changing. They're not the prettiest things in the world, but they don't break the bank, and they totally get the job done. Our rule is that all our playroom toys must fit in these, and if they become over-stuffed, we need to donate because we have too much! They've been great in curbing the accumulation of excess toys.
I'm heading to 30A in Florida with Lucy tomorrow to spend a week with my whole family. My parents have been exploring Florida over the last couple of years to determine where to retire (eventually, whenever my dad actually retires). The 30A area in the Panhandle is on their radar because of its proximity to New Orleans where both my brothers live, and because it's an easy flight from Chicago. I'm really hoping everyone loves it because I think it would mean that we would see a LOT more of each other!
I brought this play sink in from outside for the girls to play with in the shower, and it's been a huge hit. I'll admit that I'm struggling to find new and interesting activities to get my kids through the end of winter. (The trampoline park was a GREAT find, though.) So the other day I grabbed the play sink we usually use up on the deck during the warmer months, and Emma and Lucy played with it in the shower for over an hour! It was an epic tea party. Highly recommend.
"One Home Project Every Day" update: I actually did quite a bit while Mitch was away and I was home with the girls! All little tasks, as I only had a few minutes here and there. But here's what I did:

I hung these beautiful 3M hooks on the backs of hallway closet doors. Let's be serious. Young kids are never going to hang their coats on hangers. But hooks? Yes. We have hooks on the bottom for backpacks but needed some more for coats. Didn't want to drill into the closet doors so went with these from 3M, and they're perfect!
We donated unloved children's books. Emma and I went through them together and picked out the ones that the girls never read and the ones that were too young for Lucy. (Books such as first words.)
I tried to hang a framed print and failed. It didn't go well, haha. I really struggle when frames don't have the wire on the back and instead have those little alligator things on either side, as our old walls are pretty crooked and I just don't have a great eye for leveling. So yeah. This one probably shouldn't be on the list since I didn't succeed, but whatever, I'm counting the attempt. ;)
Mitch set up standalone humidifiers in some rooms. We have two humidifiers hooked up to our heating system but even on full blast, they're not enough. Around February/March is when everyone starts to feel the effects, and Mitch finally threw up his hands and got the standalone ones to accompany them. (After a ton of research on which ones were the best ones, haha.) Wow! No more dry skin, stuffy noses and scratchy throats.
I organized the spice drawer. THIS PROJECT SPARKED ALL THE JOY. I used these containers, which come with the bamboo tops and pretty labels, and I'm blown away by how organized everything is. Like I frequently find myself opening the spice drawer just to admire my work, hahaha. I need help.
I found these beautiful labels for larger containers and you'd better believe that I'm ALL IN. (I use these affordable canisters for my baking ingredients and Mitch's Indian food spices, btw.)
Since the spice drawer brought so much joy, I organized the plastic baggy/tin foil/wrap drawer with these bamboo baggy holders, this double roll wrap dispenser, and this single roll wrap dispenser. 😆 You can stop reading this blog now. We hardly ever use baggies or foil/plastic/wax, but we do have them for when we send friends home with snacks or extra food!
We gave away the Barbie dream house, which prompted a massive playroom clean-out. Emma was actually the one who suggested giving it to other kids as she and Lucy had kind of lost interest in it. I was so proud.
I donated novelty mugs. THIS WAS SO HARD FOR ME. But I decided that the only mugs I actually use are these YETI ones, and there was really no point in owning others. (Though I did keep the simple white mugs that came with our dinnerware set for when we have company.) I love how un-stuffed our cupboard is now!
I donated too-small puffer coats. Puffer coats take up SO much space, and Lucy had outgrown quite a few hand-me downs. I maintain that these are the best kids' puffers, anyway. So squishy, soft and packable!

We've been using Facebook Marketplace to sell some kids' stuff we no longer need/use, and WOW. I can't believe we were using Craiglist for so long. Facebook Marketplace is where it's at. The stuff seems to sell almost instantly!