Confidence can make or break an outfit. No matter what you're wearing, you'll always look and feel better when you're confident in yourself.
I intentionally built my wardrobe to include clothes that make me feel comfortable and confident. There's nothing better than looking good and feeling good at the same time. 
Still, there are different factors that can affect your confidence. True confidence comes from accepting yourself, just as you are. If you're struggling with how to feel confident in your wardrobe, I'm sharing a round up of practical tips that will help you feel good no matter what you're wearing.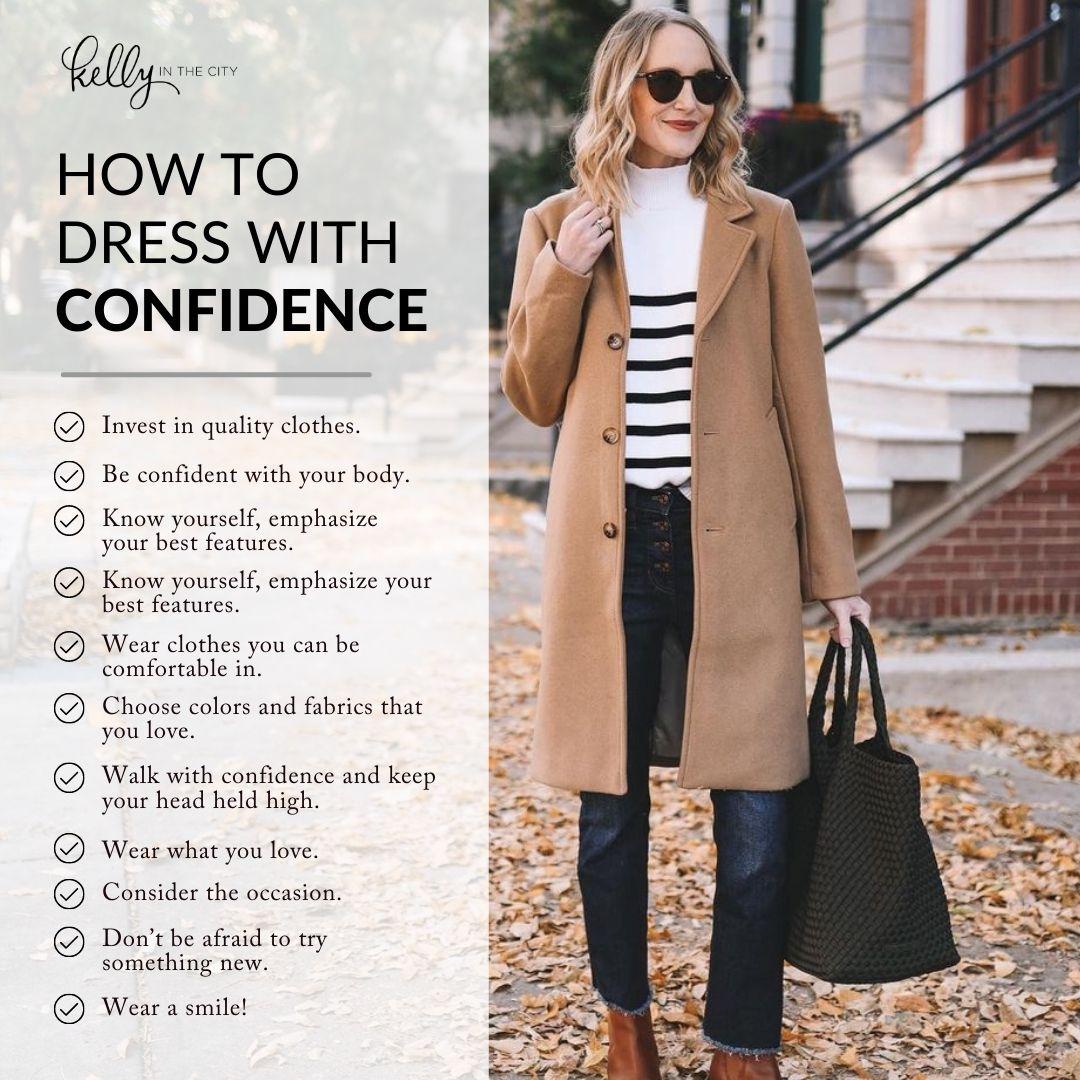 How To Dress With Confidence
Invest in quality clothes.
By "quality" I don't necessarily mean "expensive." Quality clothes are clothes that hold up well. They don't become super stretched out and wrinkled as the day goes on. Which means you can look just as put together later in the day as you did when you first got dressed that morning. 
Versatility is another feature of quality clothing. Versatile clothes give you the ability to create different outfits using the same pieces, so that you can dress to fit your mood. 
Be confident with your body.
Being truly confident with your body means knowing your body shape. Whether you have an apple, pear, straight, or hourglass figure, knowing your body type allows you to dress in a way that will be most flattering. 
Know yourself, emphasize your best features.
Along with knowing your body type, dressing with confidence means knowing which of your features to emphasize. Maybe you have mile long legs or a naturally cinched waist. Regardless of what your best features are, emphasizing those features is an easy way to boost your confidence level.
Wear clothes you can be comfortable in.
It's hard to be confident when you feel uncomfortable in the clothes you're wearing. Avoid any clothes that make you feel restricted or self-conscious. Instead, choose pieces that feel good on your body. That includes shoes! 
I should point out that activewear and loungewear aren't your only options when trying to dress comfortably. Some of my most comfortable outfits include style staples like dresses and denim. It's all about choosing the right fabrics.
Speaking of fabrics…
Choose colors and fabrics that you love.
You probably know by now which fabrics and colors you look and feel your best in. Some fabrics, like cotton and cotton-blends, are much more comfortable than others. There's nothing wrong with sticking to certain fabrics. 
As for color… It's super helpful to know which colors look best with your hair color and skin complexion. Typically, people tend to fall into one of two categories – either brighter, spring colors, or darker, fall colors. Once you have an idea of which category you fall into, you can start to explore different colors within that color palette.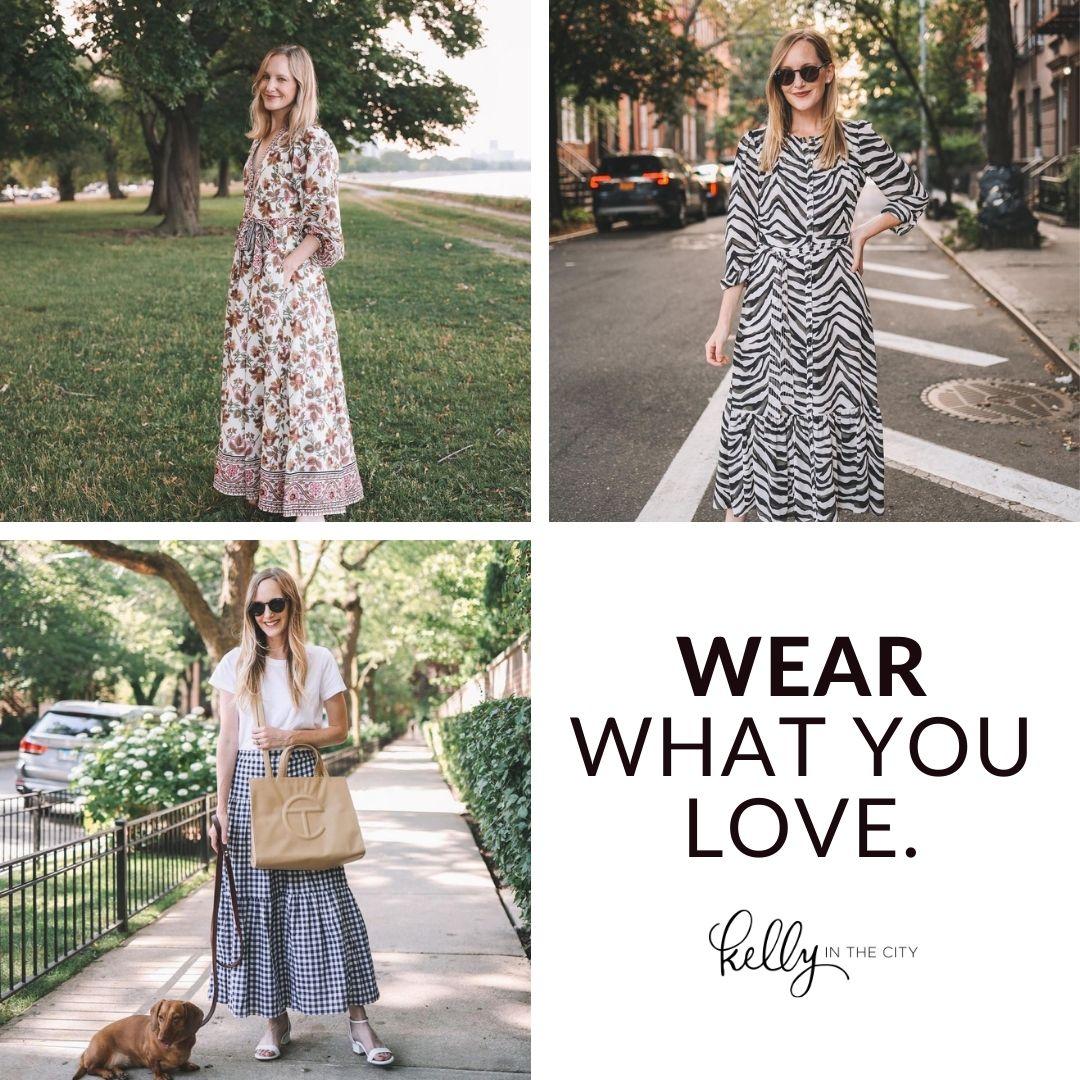 Walk with confidence and keep your head held high.
No matter what you're wearing, work your outfit with pride. Don't be too hard on yourself and try try try to not compare yourself to others. Easier said than done, I know. But really, this is one situation in which you can try to 'fake it 'till you make it.' Walk like you're the most confident person in the room and, maybe, soon enough you will be. 
Wear what you love.
Don't worry about what someone else tells you is stylish or trendy. To really feel confident in what you're wearing, you want to love what you're wearing. That means integrating your personal style into your everyday outfits.
My personal style is typically described as preppy. I naturally feel the most comfortable and confident in everyday staples that are paired with preppy statement pieces. Those statement pieces are what allow me to add my signature style to each outfit. ( Here are my tips for dressing preppy on a budget. )
Consider the occasion.
While it's not necessarily a bad thing to be a bit overdressed, I really don't like feeling underdressed. There are few things that can affect your confidence more than that. This is why it's important to dress for the job. 
Whether you're just running errands, attending a work meeting, or going out for date night, dressing for the occasion is essential to feeling as confident as possible. Here are some outfit roundups for different occasions:
Don't be afraid to try something new.
Style evolution is a part of style confidence. Style evolution is the idea that as you grow and change, so will your personal style. Just because you've never worn a certain style or type of clothing before, that doesn't mean you can't wear it now. 
Don't be afraid to try new pieces, trends, or styles. You might be surprised to find that it adds a whole new level of confidence to your wardrobe.
Wear a smile!
It's hard to not feel confident when you're wearing a smile. It sounds cheesy, I know, but try it! Don't force it, but just try to smile a little more throughout the day and see if you notice how it changes your confidence level.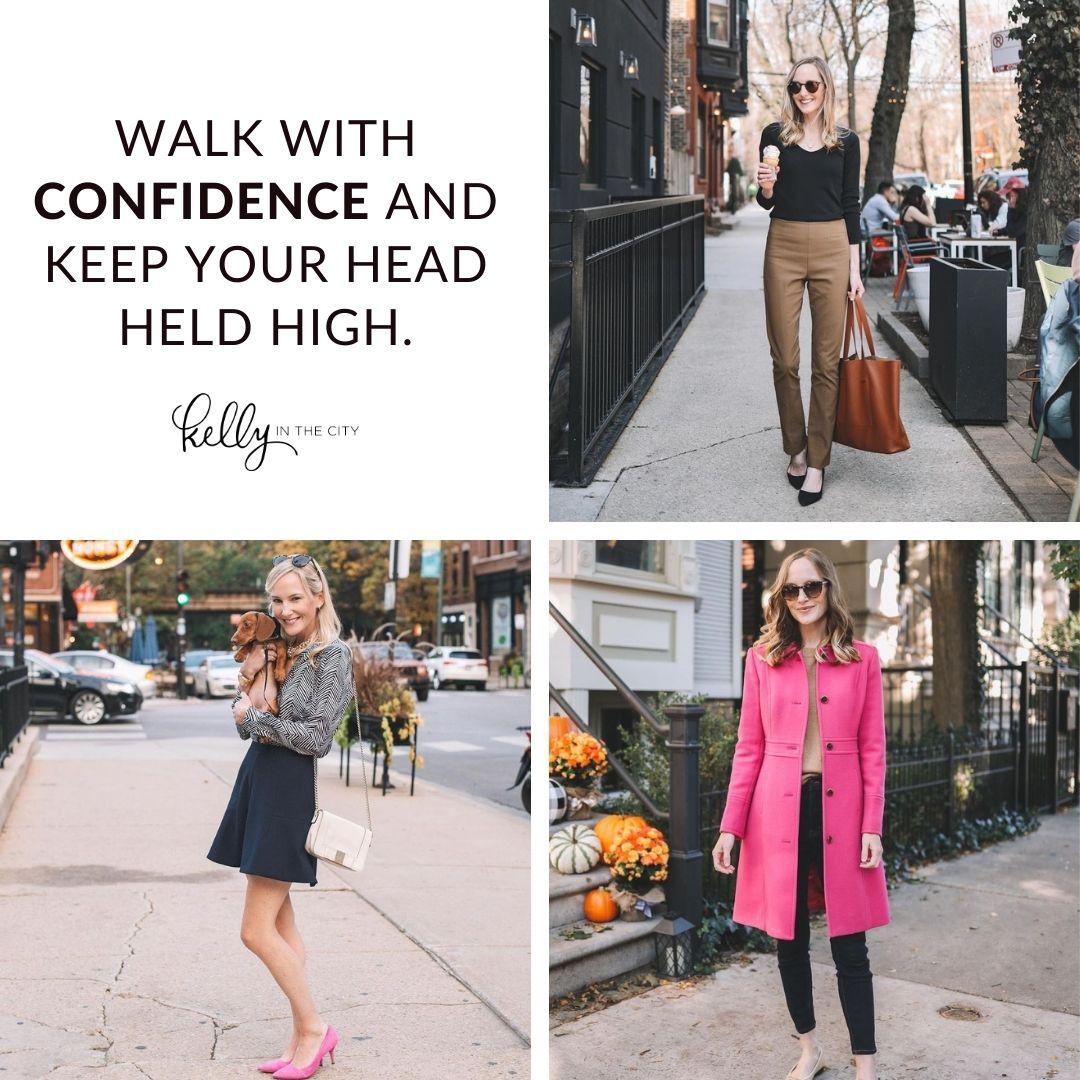 With a few easy steps, anyone can dress with confidence!
With your personal style in mind, follow these tips to feel more confident the next time you get dressed. And if any of these tips helped you, I would love to hear about it! Or maybe you have a tip of your own to share? Please do!! I want to hear from you!
For more fashion and lifestyle tips, and plenty of outfit ideas, head over to the blog.