Keeping your home organized is a great way to ensure that you can find what you need, when you need it. With proper storage space in nearly every area of your home, you can significantly reduce stress and cut down on the amount of time spent frantically searching for something. 
Stair baskets are a brilliant way to add more storage. They can also add character and texture to your home. A stair basket can be used to store items that need to be taken up or down the stairs. Or, it could be used as decor, to add a personal touch to an otherwise bland area.
I'm dedicating this post to talk about what stair baskets are, and how you can use them in your home.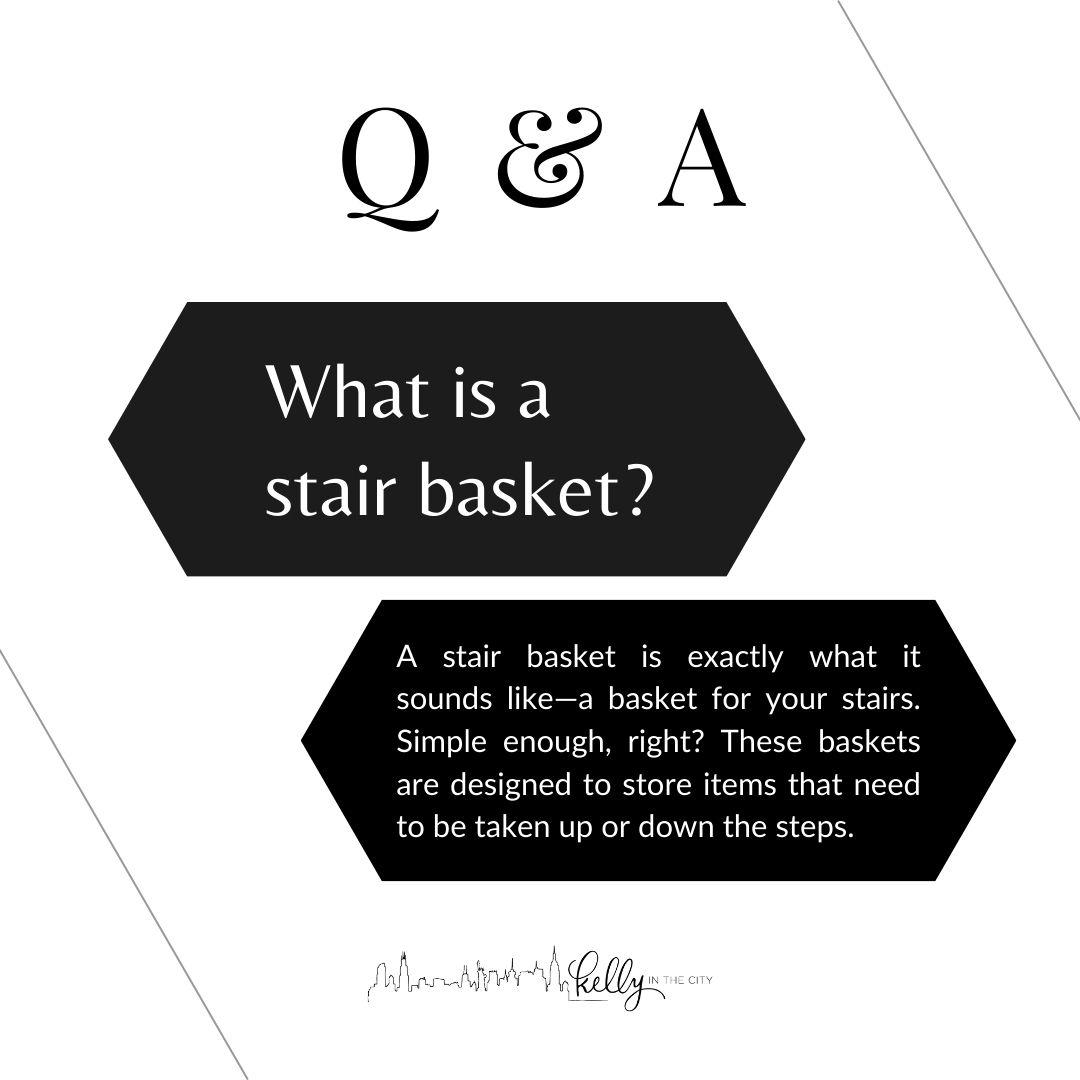 What Is A Stair Basket?
A stair basket is exactly what it sounds like – a basket for your stairs. Simple enough, right? These baskets are designed to store items that need to be taken up or down the steps. They serve as a nice storage solution, as well as a handy way to save you from having to make multiple trips up and down the stairs. So convenient! 
Stair baskets have been around since the Victorian era, but they recently started making a comeback. Stair baskets are made from a variety of different materials, including cotton, linen, felt, wicker, and rope.
What Are Stair Baskets Used For?
Temporary Storage For Small Items
A stair basket's intended purpose is to temporarily store items until they can be taken up or down the steps. Many baskets have handles for this exact reason–so that you can easily carry several things at once. Rather than letting items form an unsightly pile on your steps, you can use a stair basket. 
Toy Storage
If you have kids that tend to leave their toys around the house, a stair basket is a great place to store them. You can designate the stair basket as the place where toys go when they're put away. Or, you can use it as temporary storage until they can be put away upstairs.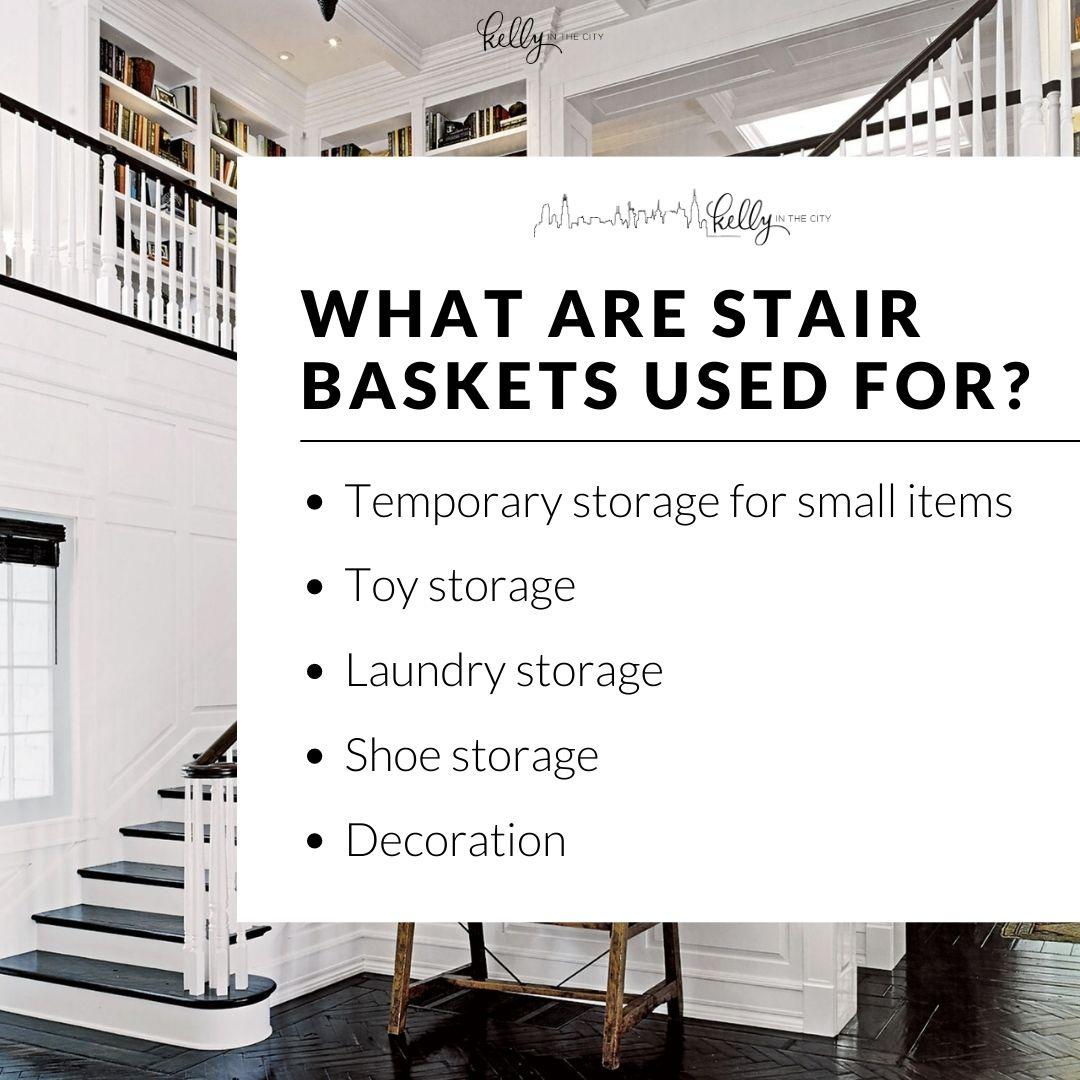 Laundry Basket
A stair basket can also be used as a laundry basket. Depending on where the laundry room is located, a basket placed at the bottom or top of your stairs is great for catching socks, cleaning rags, and other items that would typically be thrown on the floor until laundry day. Plus, because a stair basket isn't too big, it'll help you keep up with laundry to avoid an overflow of dirty laundry. 
Shoe Storage
Another great use for a stair basket is to store shoes. This is especially useful if your stairs are near your front door. 
If you're frequently tripping over shoes that have been left on the floor, or if you simply need a place to store them, a stair basket is a great solution. As long as you use a basket that is large enough for a few pairs, it can be a great shoe storage solution. 
Decoration
If you don't need to use one for any of the above reasons, consider using one as a decor piece. A stair basket can make a beautiful accent piece in an otherwise bland area of your home. Fill it with flowers or select a liner that matches the rest of your home decor, and you're set.
Stair Basket Ideas
This Woven Stair Basket with Handles from Pottery Barn is a fine example of casual elegance. Its familiar stepped silhouette allows it to sit perfectly on most staircases. 
This stair basket is made of woven bankuan and rattan with wire for support, and comes in a natural or black finish. 
For a stair basket with a slightly different silhouette, this Handmade Brown Wicker Oval Stair Basket is a beautiful option. It's just large enough to sit on your stair step and hold random odds and ends, without getting in the way. It would also work well as a stylish home accessory. 
This stair basket is handmade, using premium quality wicker. It features a strong wicker handle. 
If you want a bit more color, this set of two L-shaped baskets is a great option. Each stair basket is made from eco-friendly felt material that is thick enough to keep your items in place but soft enough that it won't scratch your stairs. The heavy duty lining board provides plenty of support. The stylish faux leather handles are surprisingly strong. 
Each staircase basket has a front pocket that is perfect for storing a book or tablet. The clear PVC pocket allows you to easily label each basket. You can even collapse each basket so that they lay flat, making them easy to store when they're not being used. 
If your stairs tend to get cluttered quickly, here's a stair basket with plenty of storage capacity. Not to mention, it's super cute! 
This Gray and White Rope Stair Basket features sturdy handles that make it easy to carry it up and down your stairs. It's made of gray and white rope that has been securely stitched together. 
It has one shallow compartment and one deep compartment to provide maximum storage space for any items that need to go up or down the stairs. And, when it's not being used, this basket folds down flat for convenient storage.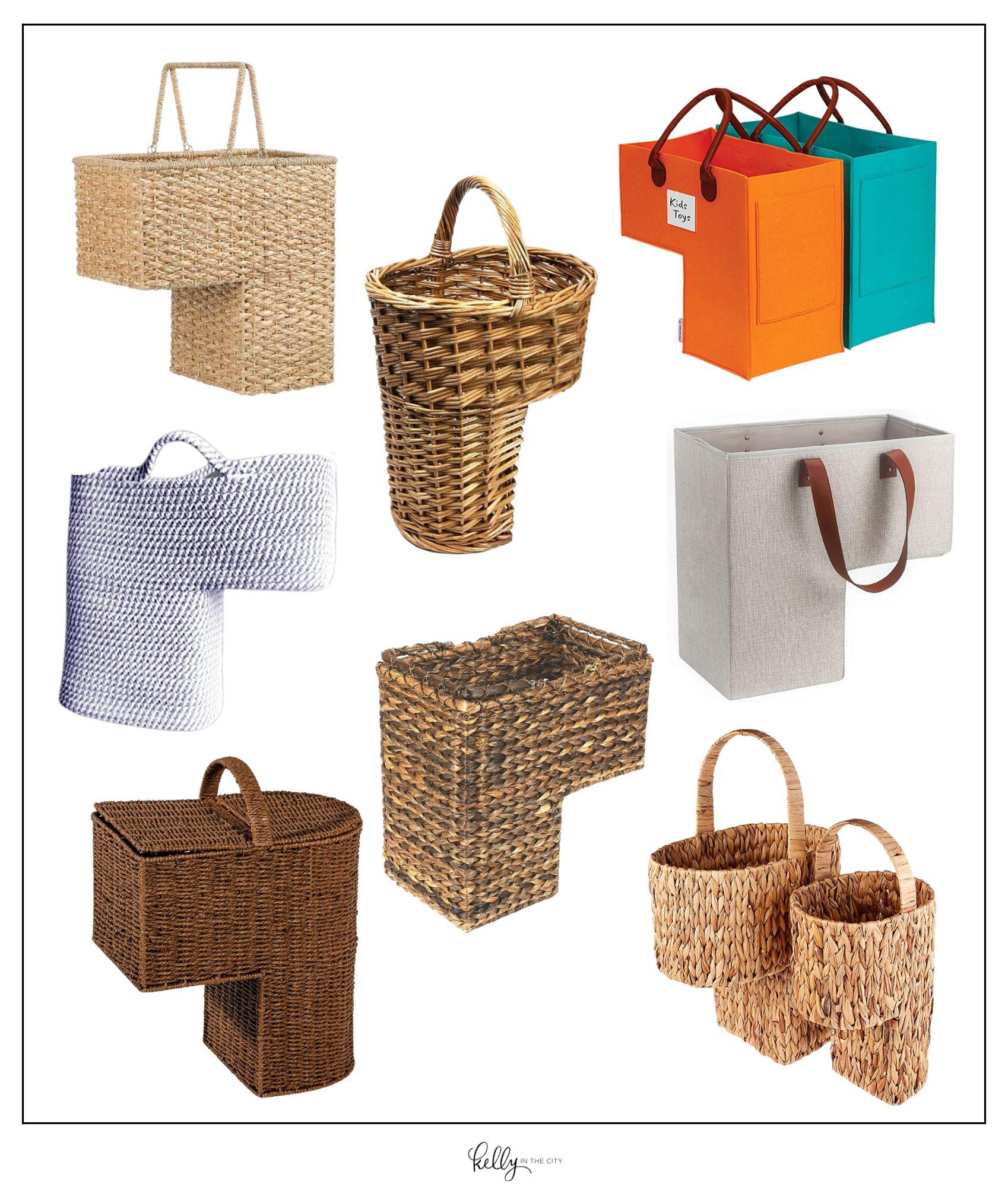 The BacBac Leaf Woven Stair Basket is another stylish and durable option. The woven Bacbac leaf offers plenty of support for the miscellaneous items at the top or bottom of your stairs. You can use it to hold items of various sizes as it sits on the steps, then grab the handles to easily carry your items up or down. 
This Foldable Linen Staircase Basket from Sam and Mabel is the perfect storage solution for items that would otherwise pile up on your staircase. You can keep your home organized and your steps clutter-free with one or more of these stylish baskets.
Each staircase basket is made from quality linen material that won't scratch your stairs or snag your carpet. A structural support panel creates a strong base that allows you to carry heavier items. The handles are securely attached to the basket and offer a convenient way to easily carry your things. The basket is foldable and collapsible so that it can be easily stored when not in use. 
This L-shaped wicker staircase basket from Trademark Innovations features a sturdy handle and convenient lid. It's made from paper rope that has been wrapped around an iron wire frame. The lids on either side of the storage compartments are a unique feature that can help keep your home looking neat and organized. 
Also from Trademark Innovations is this set of Water Hyacinth Storage Stair Baskets. This set includes a large and small basket, both made from durable woven water hyacinth. The tall, sturdy handles are easy to grab and make it easy to carry your items, and with two baskets, you can be sure you have all the storage space you need, right there on your steps. 
A stair basket is a surprisingly simple item that can have a big impact. 
Do you use a stair basket in your home? If so, tell me how it has worked for you. If not, are you considering using one? I'd love to hear your thoughts on this trend!
For more home organization and decor ideas, head over to the blog.