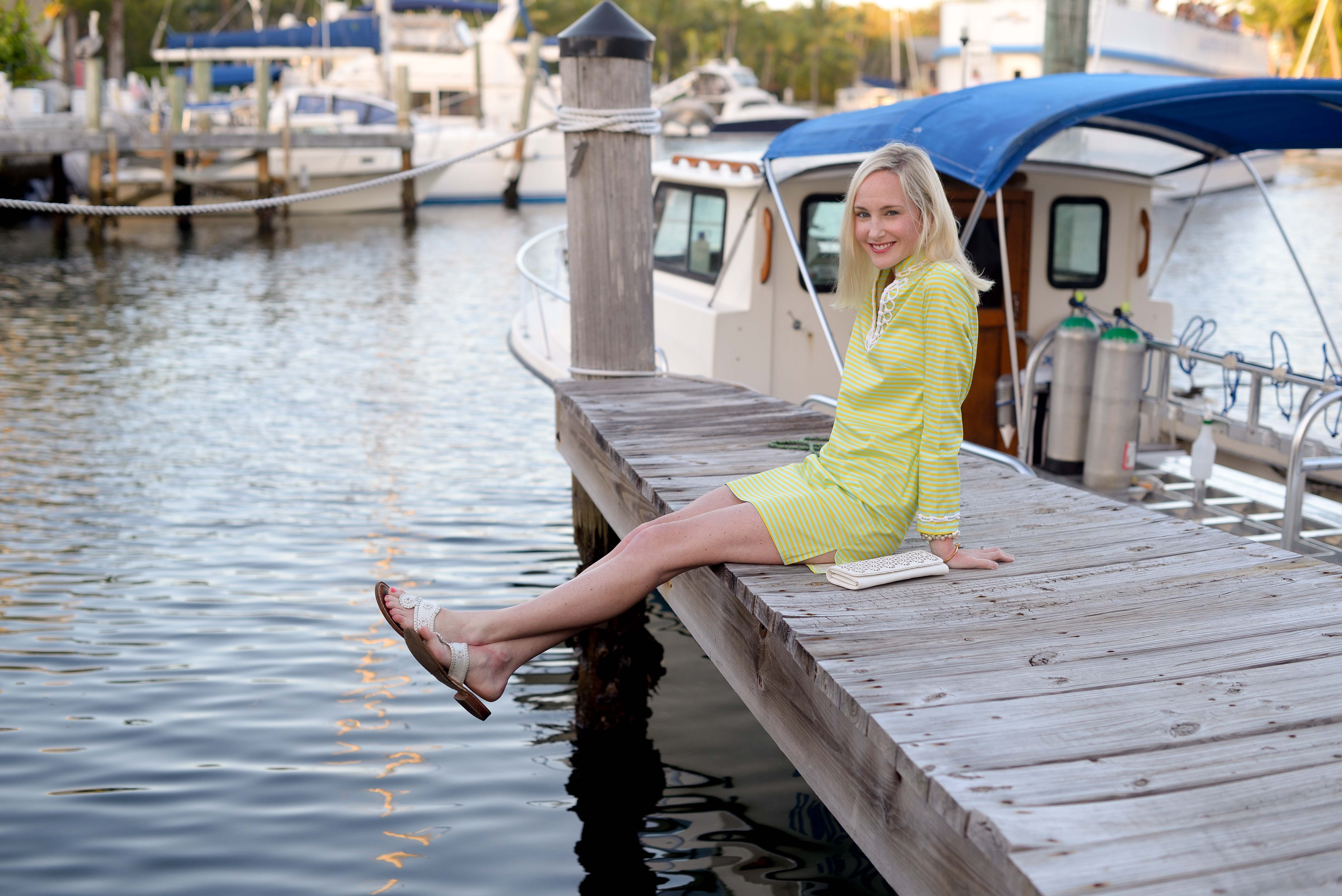 Dress: Sail to Sable (c/o) — Use code "SOCIAL" to take 30 percent off your order! / Sandals: Jack Rogers / Clutch: Big Buddha (c/o) / Bracelets: J.Crew (Pearls) — old, similar here and here; Kate Spade (Bangle) — sold out, available here on eBay and in the earring version; and Sassy Steals (Crystal) — buy here (original inspiration here) / Earrings: J.Crew / Lipstick: Clinique ("Pudgy Peony")
Right now, my absolute favorite dress company is Sail to Sable. I initially fell in love with it because the clothing reflects a love for "all things summer" through the use of stripes, coral, and bright and bold fabrics. (Oh–and it's extremely preppy ;)) Now, though, the line is much more meaningful to me.
A few months ago, I attended a brunch at Sail to Sable founder Jennifer's apartment on the Upper East Side. (Which, by the way, is the most beautifully decorated space I've ever set foot in. I have seriously told Mitch about my "Sail to Sable redecorating plans" so many times that I think he's getting a little annoyed with me, haha.) At the brunch, I learned that Jennifer–who is so down-to-earth and humble–grew up on the water in Darien, Connecticut. While I didn't grow up there, I did spend my senior year at Fairfield University (about 15 minutes north of Darien) living on the beach with my girlfriends… and loved it. Every time I slip on a Sail to Sable dress, I'm brought back to those parties in the sand and sunsets over the Long Island Sound–and so many other happy moments.
Sail to Sable, named after the Easternmost and Southernmost spots on the East Coast (Sail Rock, ME and Cape Sable, FL), is now in its fourth season. I couldn't be happier for Jennifer and her team, who are some of the nicest and happiest girls I've met. They never cease to inspire me. Anyway, be sure to check out Sail to Sable's new spring line as well as the resort collection! And don't forget to use code "SOCIAL" to take 30 percent off your order!
(Curious about sizing? I normally wear a 0 in J.Crew, and I take a size "XXS" in Sail to Sable dresses. However, I would recommend sizing up if you're more blessed than I am in the bust area. ;) Hope this helps! Oh–And sorry about the lines on my face. I blame my snorkeling equipment. Yikes–those lines last for days!)