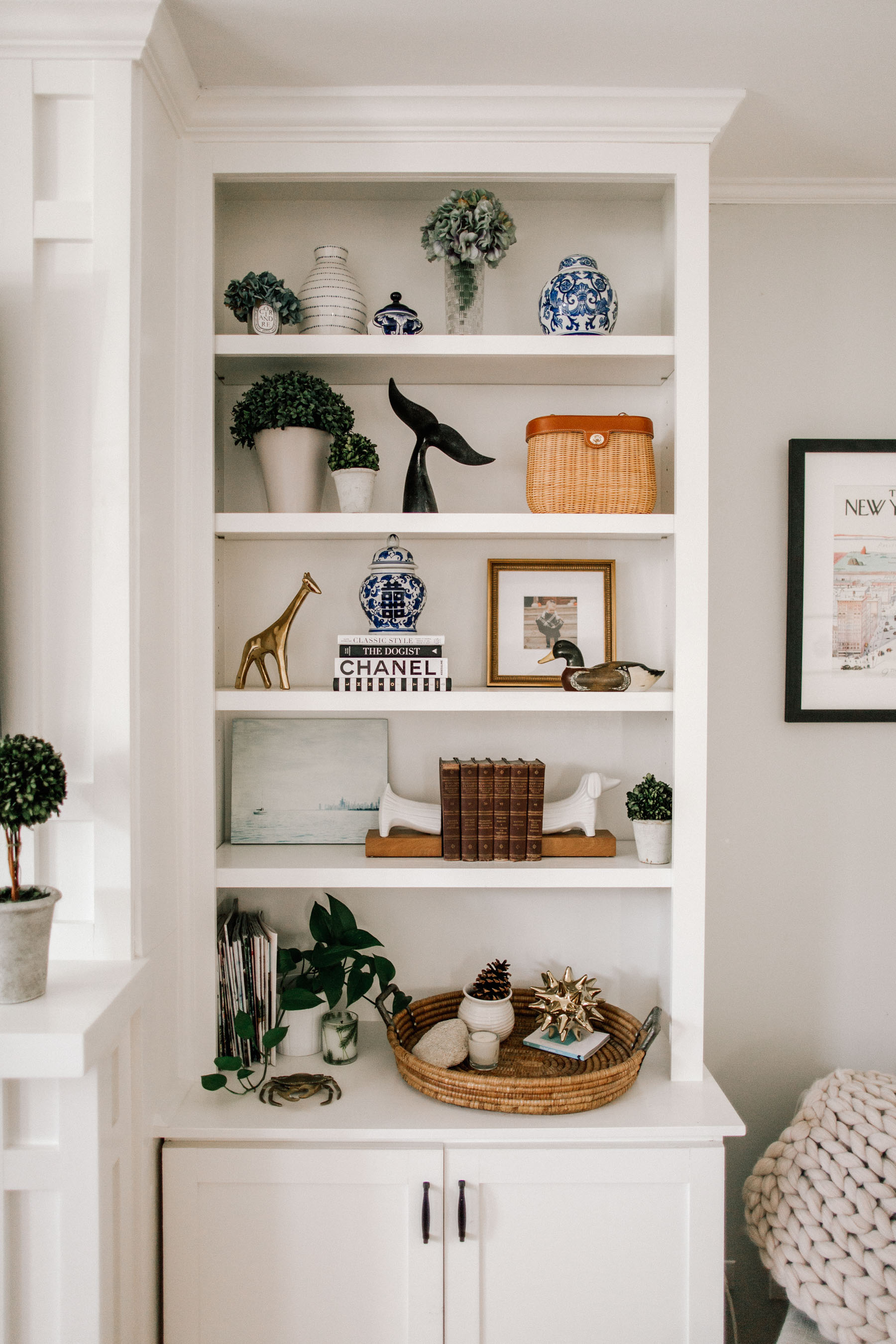 I'm really excited about today's post! But I should probably preface it by calling out the fact that I'm not an interior designer. In my 20s, I didn't put much time or thought into decorating my apartments since they were rentals. I did, however, assume that I was "good at" interior design. Despite having ZERO experience with it. I mean… hello?! I loved writing, photography, blogging and browsing Pinterest. So I had all the qualities; clearly I'd have an eye for design one day when I bought a house. 😂
HA.
Fast forward to my 30s, and I now own (half of) a house. Yet I've learned that design does not come naturally to me. Sure, I've been known to copy Pinterest photos, and I've somewhat successfully pulled that off a few times. For the most part, though, I've relied heavily on our interior designer to decorate our home. (Thank you, Kira!) Kira actually designed our fireplace and built-ins with Mitch a couple of years ago, but I really wanted to try my hand at decking them out on my own.
BEHOLD!
Okay. They're not perfect. But I'm really starting to like how they look. A few weeks ago, I started dedicating a half an hour here, a half an hour there to the shelves… and I can't believe how far they've come! (Before, they looked like this. I used to love them, but my style has changed quite a bit since 2016, and I was looking for a more mature vibe. "Ralph-Laureny," if you will. Something that my husband would like, too, haha.) And while I'm still working on the shelves, I thought I'd share the progress I've made along with what I've learned about decorating 'em:
Use different colors and textures
I love the color blue, and I think that's evident to anyone who knows me or reads this blog. ;) Since I gravitate toward it so much, though, I have an abundance of blue stuff. Especially ginger jars. But I've found that my shelves look more appealing when I incorporate different colors and textures–not just blue ceramic, brass and white. Something that made a huge difference was working in some brown and black… in leather, baskets, plants and wood. Now I feel like my beloved blue pieces stand out, whereas they used to blend in. (I used the extra ginger jars in our kitchen, btw.) I love the dimension and texture that these pieces add to the look, too.
Avoid placement patterns
If you look at the photos of the shelves here, you can see that I used to place the decor in "threes" on each shelf. Everything looked very planned out and very orchestrated. Several readers told me to shy away from placement patterns; to perhaps have three items on one shelf and then seven on the next. SO much better! Yes, there are still some groups of threes, but as I acquire more stuff–especially books–I'll be able to combat that. (Plus, now I'm aware of it.)
Books, books, books
The story:
Mitch and I used to move on an almost yearly basis when we lived in New York, due to rising rents and evictions. (Haha — Only got evicted once, but I just like saying that.) Because of this, we ditched most of our books at my parents' house, as they were so heavy and made moving extra awful. Now that we're settled and have BUILT-IN SHELVES (whaaaaat?!), I desperately want our books back. But they're all on the East Coast, and I'm not sure when transporting them back to Chicago in our tiny Prius will be a priority. (Probably never. We can barely fit our suitcases in the car.)
But books are an integral part of bookshelves. ;) And I wish we had 50x the amount we currently have! But there's an awesome Fourth of July fair in my in-laws' hometown that we attend every year, and people are always selling old leather-bound books for nothing. That's where I got the books in the dachshund bookends, actually! So I'm planning on picking up a ton more in July, because they fill in the spaces so well. (And we have a lot of empty spaces!)
Use decor you already own & incorporate meaningful pieces
This is huge, because otherwise, outfitting shelves can be pricey, and they can end up feeling like someone else's shelves. Here are a few pieces that mean something to us:
Diptyque candle: A few years ago, I was obsessed with these things. I didn't actually want the expensive candle–I just wanted the empty jar it came in because they were all over Pinterest and looked so cute on shelves. Mitch visited the store in Chicago and asked if he could buy one they'd already burned–there were a couple of near-empty ones on a display that were about to go out–and they said no, haha. So he went on eBay and found me three used candle jars for like $20, and I was SO happy. Thanks for understand my psychosis, Mitch. ;)
Chicago skyline photo/sign: A few years ago, our next door neighbors–who run Black Angel Designs (also on Amazon)–surprised me by turning one of my photos into a wooden sign. I was so touched! It remains one of our favorite pieces of decor, and it'll forever remind us of the kindness Chicagoans showed us when we first moved here. :) If you'd like to win one of Cortney and Graig's signs, simply comment in the comment section below! You can also shop the collection at the One of a Kind Show in Chicago, which is taking place from Friday, April 27th until Sunday, April 29th. Hope to see you there!
Leather-bound book: My parents brought it back for me from Italy, and in a small way, it's a reminder of all the adventures my family has had and will have.
Coral: From our first big trip together to South Beach.
Brass crab: A reminder of Ocean City, New Jersey–where my parents have a house, where Mitch proposed, and where we got  married!
Wine bottles: I initially wanted to get rid of these when I was redecorating the shelves, but I couldn't bring myself to do it, as each wine bottle holds such significance. One is from our first date, when Mitch brought a bottle to my Upper East Side apartment, where we watched "Annie Hall" together. Another is from my birthday–we'd watched "Bottleshock" about the making of Napa Valley together–and he tracked down a bottle of Chateau Montelena which we shared before he took me to my surprise party. (SUCH a good movie; you have to watch it!) Another is from the Nantucket Wine Festival: I met the owner of Larkin Wines, which is a very long and special story I'll tell another time! And still another is the bottle our families drank to celebrate Emma's arrival. So they're all up there, in a corner, and they aren't going anywhere!
Black platter: I'm actually not sure what this thing is, but Mitch bought it in South Africa. (He lived there for six months!)
Vintage camera: I sold my first SLR camera when I was broke, living in New York. But I bought another (non-functioning) one at a fair a couple of years ago to replace it. And while it's not the exact same camera, it still brings back all those magical feelings from my early photography years!
Night sky photo: This is is a print from my friend Cassandra, who's such an inspiration to me. Did you know that Cassandra now sells Lightroom presets?! Be sure to check them out!
Lantern: These are the lanterns that were everywhere during our wedding. :) They're from Ikea.
Brass dachshunds: These–along with the rest of my dachshund stuff–clearly represent Noodle. Mitch found them for me on eBay a few years ago and surprised me at Christmas. (I'm only realizing now how much of my shelving decor comes from Mitch presents…)
Since design doesn't come naturally to me, staring at empty shelves was pretty intimidating to me. I simply searched "New England bookshelves" and "preppy bookshelves" in Pinterest, and found SO much inspiration. That's where the tennis racket idea came from! I kept seeing them in Pinterest photos. And since Mitch is a stellar tennis player and I'm laughably bad, it seemed like the perfect addition.
Ask a friend
When Neal was over a couple of weeks ago, he and I had a couple of drinks and decided to switch around some of the decor. It kind of started as a joke, but turns out that Neal is really good at home styling! We had a blast rearranging stuff, and no one got hurt in the process of climbing all over the shelves. See the placement of the duck? All Neal.
Utilize eBay, Etsy, Amazon, flea markets and second-hand stores
A crazy amount of the stuff you see here came from eBay, Etsy, Amazon, flea markets and second-hand stores. The duck decoy, brass animals and tennis racket are all from eBay; Cassandra's print can be found on Etsy, and so many of the coffee table books are from Amazon. (Shop my Amazon store here. Lots of good finds!) As I mentioned before, the rest of the books are from flea markets! And I'm excited to scour nearby shops for more stuff soon.
Also, have you heard of Hampton Nautical on Amazon? You need to surf through the listings, but there are some great finds in there.
Buy some plants and embrace nature
Plants make a big difference. Of course, you need to water them, which I never do. (And therefore we've lost quite a few over the years. Our cleaning lady is constantly scolding me for it. "It's not that hard, Kelly.") But I love viney no-light pothos plants! Need more to put on the higher shelves, since I adore how the vines fall down.
We also collected pine cones and shells a few years ago and use them as decor. In the fall, we use dried leaves, and in the summer, we use dried hydrangea. (Free!) Topiaries require very little watering, so they're great for the irresponsible. ;) Pier 1 has some very affordable ones.
Visit HomeGoods
Obviously it can be hit or miss, but I go occasionally as it's in my neighborhood, and I've found some great decor there. The whale sign, for example, is from HomeGoods, as are most of the ginger jars!
Take breaks & remember that shelves are a work in progress
You won't be able to create a masterpiece in a day. (And in no way am I insinuating that I've created a masterpiece here. 😂) I'd recommend working on the project in spurts. When you come back to it, you're sure to see things slightly differently than you did the last time, and perhaps you've picked up additional inspiration.
Most importantly, don't get discouraged! Again, decorating takes time. Shelves change over time, just as your style does. You'll add to them over the years, and they'll get better–and more reflective of you–in those years.
Remember:

simply comment below

to be automatically entered to win one of Cortney's signs, and tell me:

what are your tips for decorating shelves? I'm always looking for help & advice!
SaveSave