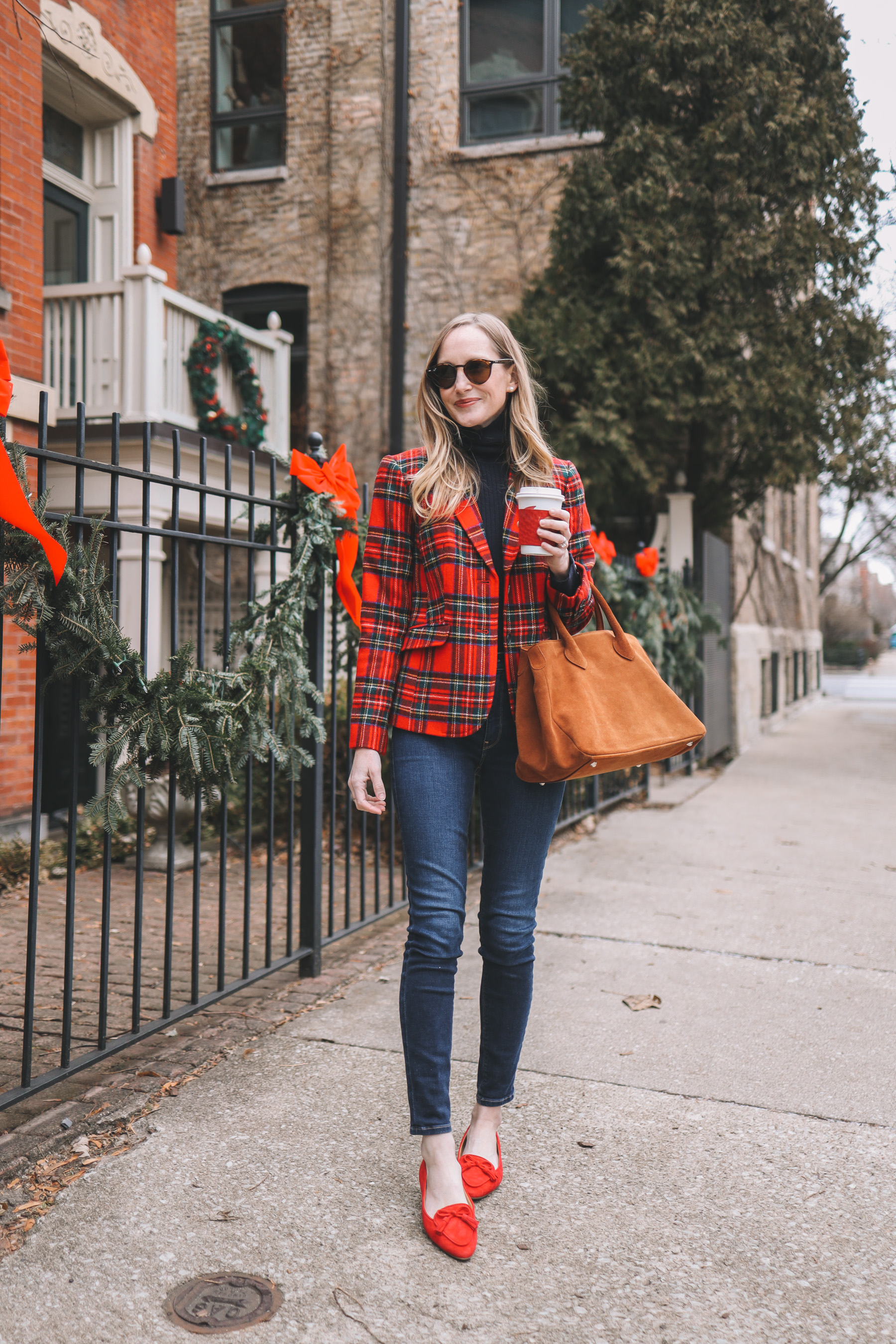 Plaid Blazer (Also love this one and this one. They're all SO GOOD. On sale, too! Looking for something more classic? Two of my most-worn blazers are this long camel one and this long houndstooth one, both from Talbots.) / Navy Ribbed Turtleneck Sweater / Bow Flats (How cute is this red pair, though? And love these Chanel lookalikes. Oooh, and the blackwatch plaid flats are such a steal right now!) / Cashmere Jeans (They're awesome. So warm. But I'm obSESSED with this pair from Madewell, though. Also very much interested in trying this pair.) / Mark & Graham Elisabetta Tote / Sunglasses
I neglected to post all my holiday outfits before Christmas. 😂 So here we are!

But since we're in this weird in-between period between December 25th and January 1st, I figure why not get 'em up on the blog? ;) I mean, I'm certainly still in the spirit… and nearly everything is on SUPER sale, after all! Such a great time to score some fabulous deals on some timeless pieces–especially the above plaid blazers–that'll be in your closet forever.
In other news, we're down at the lake house with my in-laws and brother-in-law's family. We spent the first couple of days celebrating Larkin Christmas and relaxing and eating… and today, we're taking all the kiddos to see Frozen II! I'm so pumped. Life pretty much revolves around Elsa for us, so I'm thrilled about new content. (It gets repetitive after a while! I swear Mitch and I know every line from the movie and soundtrack, haha.)
But yeah. So enjoying our time down here. I'm READING A BOOK and GOING TO BED EARLY: two things this tired mom hasn't done in a while. ;)
And with that, it's off to sleep!
xoxo
Shop the post:
Plaid Blazer (Also love this one and this one. They're all SO GOOD. On sale, too! Looking for something more classic? Two of my most-worn blazers are this long camel one and this long houndstooth one, both from Talbots.) / Navy Ribbed Turtleneck Sweater / Bow Flats (How cute is this red pair, though? And love these Chanel lookalikes. Oooh, and the blackwatch plaid flats are such a steal right now!) / Cashmere Jeans (They're awesome. So warm. But I'm obSESSED with this pair from Madewell, though. Also very much interested in trying this pair.) / Mark & Graham Elisabetta Tote / Sunglasses