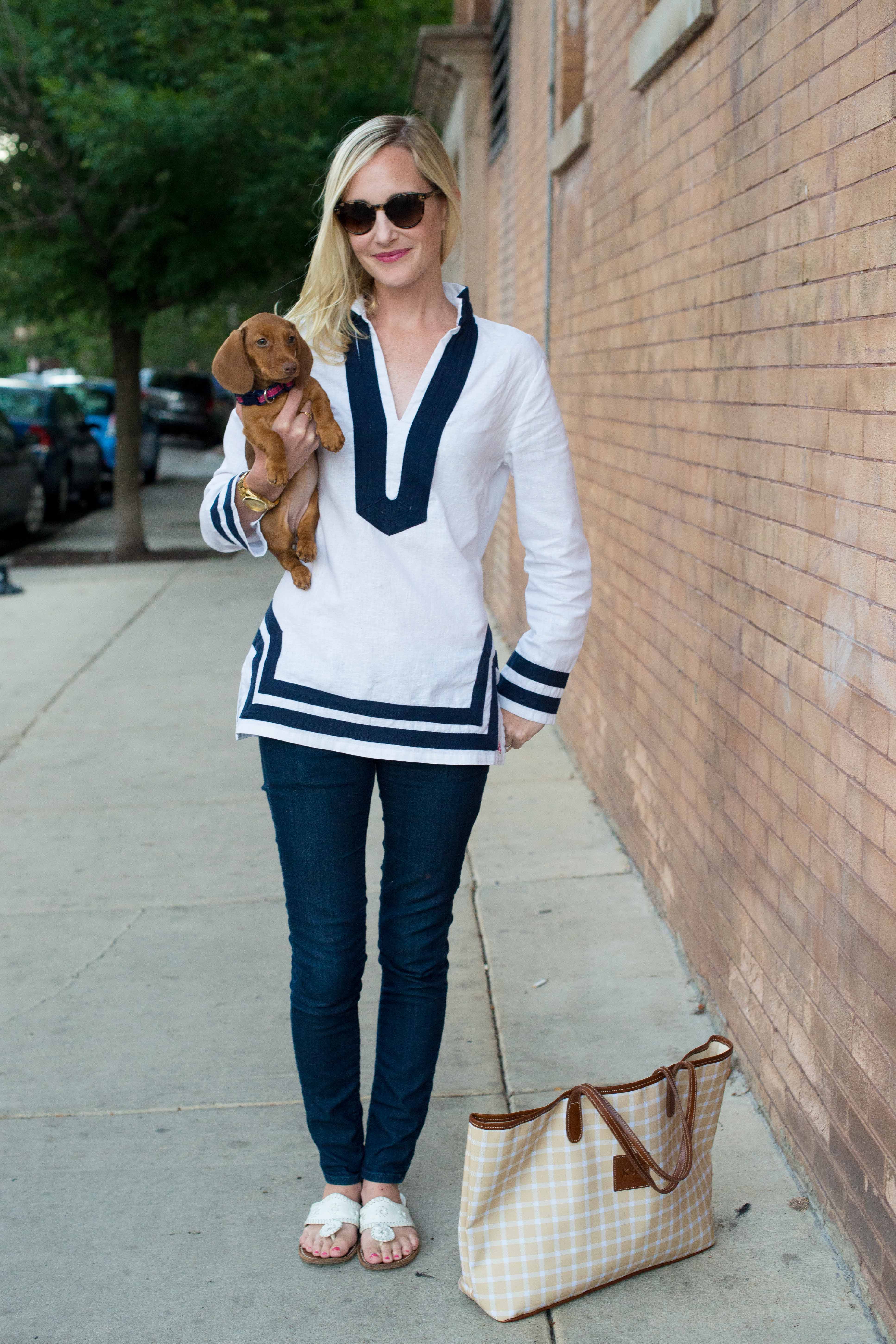 Castaway Nantucket Island Tunic (Brand available at Tuckernuck, too.) / Hudson Jeans (Less expensive here) / Barrington Gifts Tote (c/o) / Jack Rogers Sandals / Michael Kors Watch / J.Crew Earrings / Kate Spade Sunnies (Old, newer styles here)
These photos were snapped on Saturday night, right after the Renegade Craft Fair in Wicker Park. Oh my goodness, guys. It was amazing. It was seriously like Etsy had come to life before my eyes! Mitch, Gabby and I spent hours going booth to booth, chatting with the artists and admiring their products. I couldn't get over the creativity and talent behind it all! If you're in the NYC area, there's a Renegade Craft Fair in Brooklyn this weekend. It'll be held at 50 Kent Street, right by the Greenpoint Avenue G train stop. I really recommend hitting it up!
Noodle loved it, too. She must have met at least 300 people that day, and her tail was wagging the whole time. She also met a few dachshunds, which was absolutely hysterical. (She was SO excited. I feel like she knew, haha.)
To the fair, I wore this linen Castaway Nantucket Island Tunic, which I recently scored for a great deal on RueLaLa. I've been living in it, as the breathable fabric is light enough for warm days and cozy enough for chillier nights. Check out the rest of the adorable Castaway line here! I'm obsessed.
(Spend over $75 and take 15 percent off with code "15ACK," spend over $150 and take 20 percent off with code "20ACK," or spend over $250 and take 25 percent off with code "25ACK." Happy shopping!)