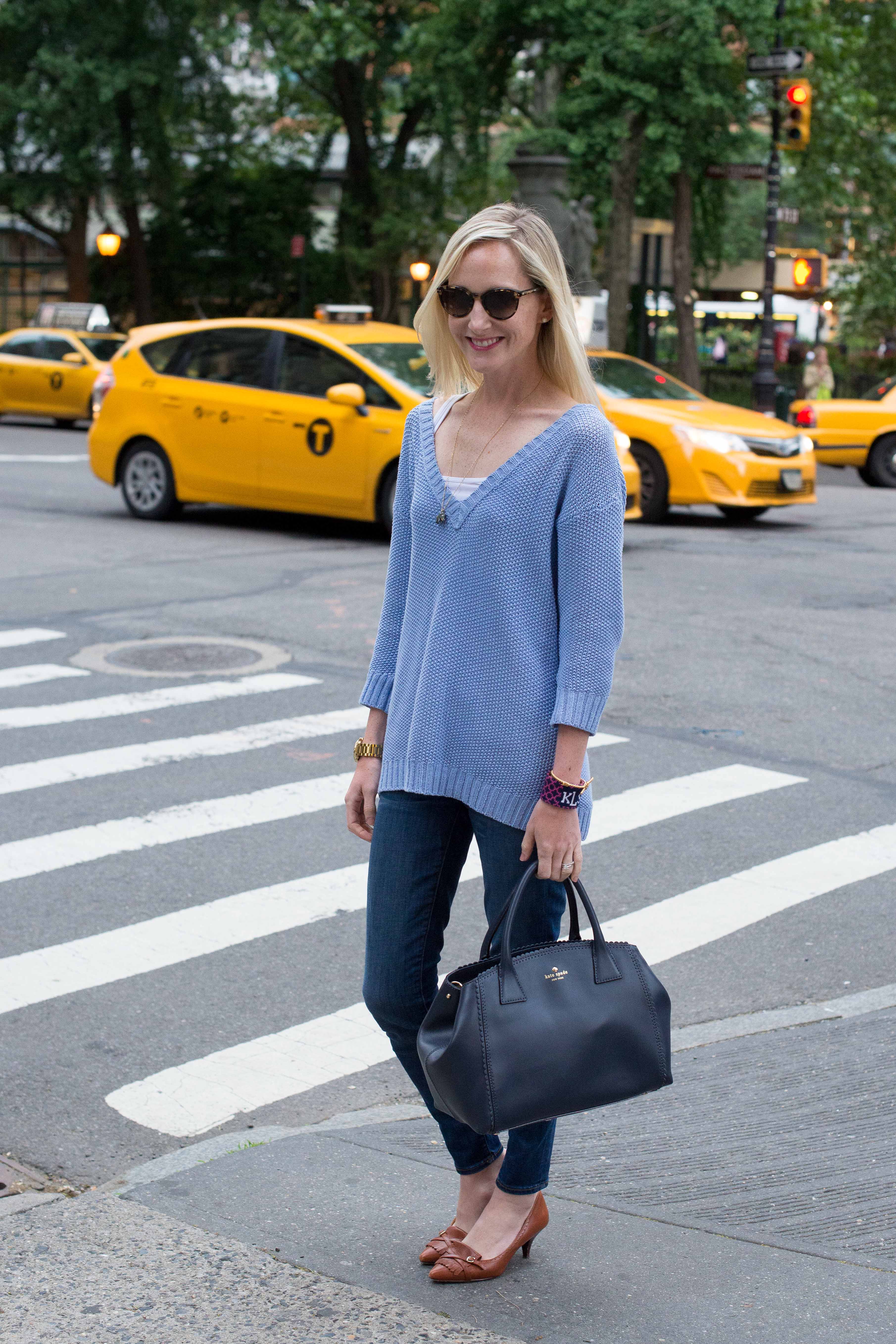 Sweater: C.Wonder (Borrowed from Mom–and sadly sold out), similar here / Jeans: J.Crew / Pumps: Brooks Brothers (Sold out), but I need these bow flats. (If they go on sale, please email me! Haha) / Bag: Kate Spade (Sold out), ASOS scalloped bag in brown, white and black (And larger white version) / Bracelets: York Design Co. (c/o) and Kate Spade (Sold out), regular version here and pave version here / Necklace: J.Crew Factory (It's back!) / Tank: Lilly Pulitzer (c/o) / Sunnies: Kate Spade / Earrings: J.Crew / Watch: Michael Kors / Lipstick: Clinique (In "Pudgy Peony")
In anticipation of summer –cough, cough–I may have packed up all my sweaters and sent them home to my parents. And what hits New York almost immediately thereafter? A cold spell, of course. I totally froze my butt off yesterday while walking around the city in a dress! (Poor planning. Should have checked the weather before leaving my apartment. ;)) Anywho, thanks for letting me borrow your gorgeous sweater, Mom. You saved me. I was so much warmer today.
After school today, Mitch and I headed to the 70s to grab sushi with our friends Darby and Jason on the Upper West Side. What a great night. During the winter, I become such a hermit. I just hate the cold and darkness so much–I can't help but hibernate in my apartment. These days, though, the sun doesn't set until much later… and I finally feel like there's some dimension to my life! Mitch, Darby, Jason and I made big plans for some celebratory graduation/end of the school year get-togethers, so I'm really looking forward to June.
In other (fabulous) news, my brother graduated from medical school today! I am so proud of him. I was super bummed that I couldn't attend his graduation in Philadelphia–the superintendent visited my school today so taking the day was off limits–but I'm incredibly happy that my parents, soon-to-be sister-in-law, aunt, and both grandmothers attended. Thanks for sending me the photos, guys. And sorry about the threatening text messages. (I was really, really excited to see them, haha.) Patrick, I can't wait to celebrate with you this weekend! Love you!
Happy Friday, all! What do you have planned for the weekend?