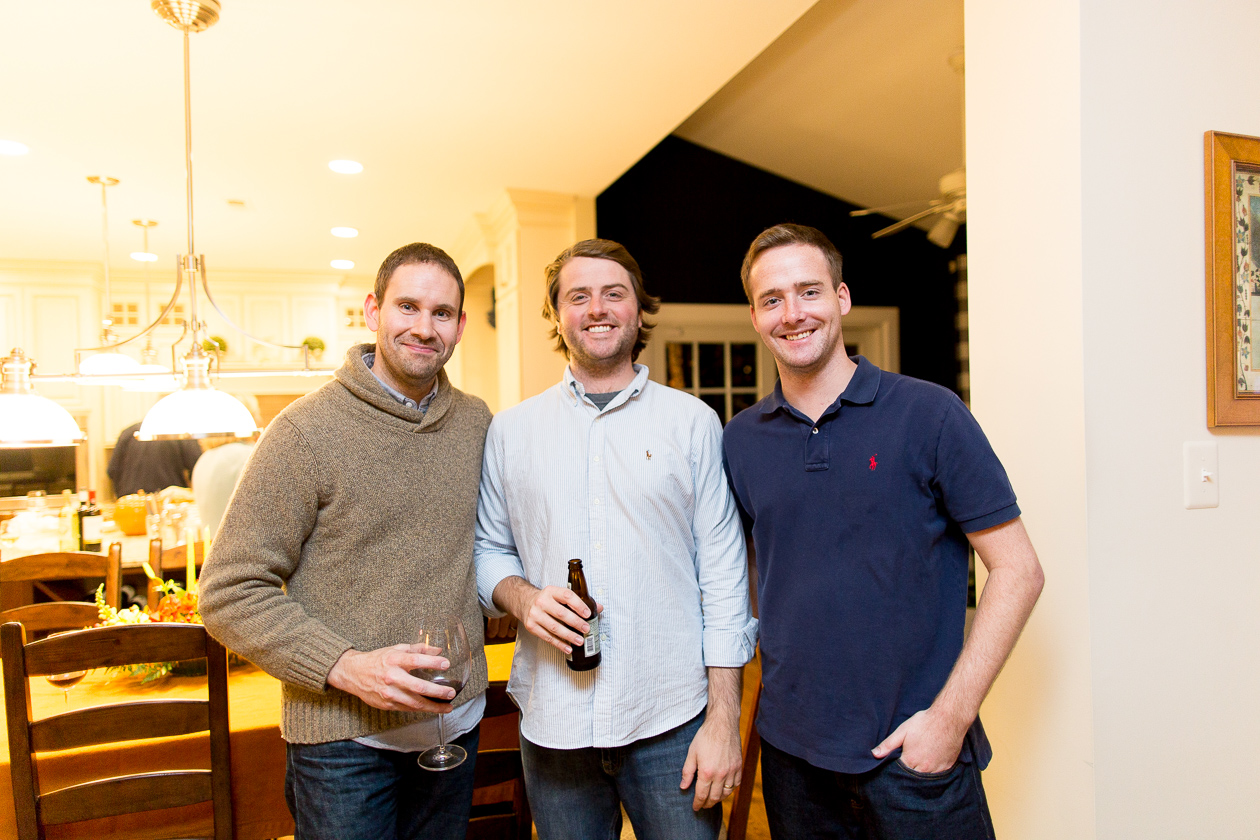 This past Sunday, two groups of our friends (one from Fairfield University and one from New York City) got together at my parents' house for a Friendsgiving celebration. Before we moved to Chicago, we had a Friendsgiving every year–sometimes in Connecticut and sometimes in New York. But once we moved to the Midwest, it was super challenging to get everyone together for it, and the tradition sadly fell to the wayside.
Since there were so many family members who hadn't met Emma yet, we knew that we couldn't squeeze in an additional trip, and therefore assumed that Friendsgiving was, once again, an impossibility. But Tara, one of my very best girlfriends from college, made it happen. Everyone drove from Connecticut and NYC to my parents' home in Bucks County, and we had so much fun. It was seriously the best Friendsgiving we've ever had! I love you, Tara!
Because we arrived at my parents' from Chicago the night before Friendsgiving and also had a brunch at Grammie's the morning of, we decided to have the event catered. We used our American Express Blue Cash Everyday Card to buy two Thanksgiving meals from McCaffery's, my parents' local supermarket, and earned 3% cash back on all our groceries. It was the best decision ever! Not to mention, the total bill came to $200–a lot less than what we would have spent on the ingredients if we'd made the meal ourselves–and everything came hot and ready to be served. The catering allowed us to spend less time in the kitchen and more time with our friends. Again, so worth it! Thank you, American Express, for making our Friendsgiving even more epic!
The American Express Blue Cash Everyday Card gives us cash back on the things we care about, including 3% back at U.S. Supermarkets, 2% on gas and at department stores, and 1% on everything else. As there's no annual fee, Mitch and I feel that using the card is an incredibly smart choice for us: it helps us build toward our future by doing what we want to do and doing what we already do! We also feel that the card helps us embrace our new life stage as parents. Things are busier than they've ever been, but the American Express Blue Cash Everyday Card makes everything easier… and, as a result, life is way more enjoyable and fun.
Clearly, the convenience of having Friendsgiving catered worked really well for us, but we're cooking tomorrow's Thanksgiving meal from scratch. (Did I tell you that we have over 20 family members attending?!) I'm drooling over these amazing Thanksgiving holiday recipes and loving these crazy cool DIY videos from Buzzfeed. Definitely making the Spiced Sweet Potato Soup, and trying those living room upgrades, for sure. The inviting scent and twinkle light bottle ideas are my favorites!
Anyway:
Aside from catching up with our friends over amazing food, I think my favorite part of the whole night was seeing the babies together. Darby and I had our babies only a couple of weeks apart, and Beth had hers only a couple of months before us. Seeing the three cuties interact was crazy adorable! And little Ethan may have put the moves on Emma at one point, haha! She handled it really well, but Mitch told him he'd need to wait a while. ;)
While life has certainly changed a lot over the last few years, the strength of our friendships hasn't. We've never felt luckier that while we don't get to see everyone as often as we'd like to, it's like no time has passed at all when we do get together.
Tara, Mike, Beth, Matt, Darby, Jason, Mandi and George: we love you guys, and thank you so much for making the trip down to celebrate Friendsgiving with us! And Babies: you were the sweetest. Slow down, okay? You're growing up way too quickly. <3
What I wore: Rag & Bone Jeans (On sale! As you guys know, the Capri cut is my fave, and so many great pairs are on sale!) / Tory Burch Flats (Similar here and here) / BP. Sweater (Similar here)
Would you ever have your Friendsgiving or Thanksgiving catered?
What I wore: Rag & Bone Jeans (On sale! As you guys know, the Capri cut is my fave, and so many great pairs are on sale!) / Tory Burch Flats (Similar here and here) / BP. Sweater (Similar here)
This post was sponsored by American Express, but all opinions are my own. As always, thank you so much for supporting the partnerships that keep Kelly in the City up and running!