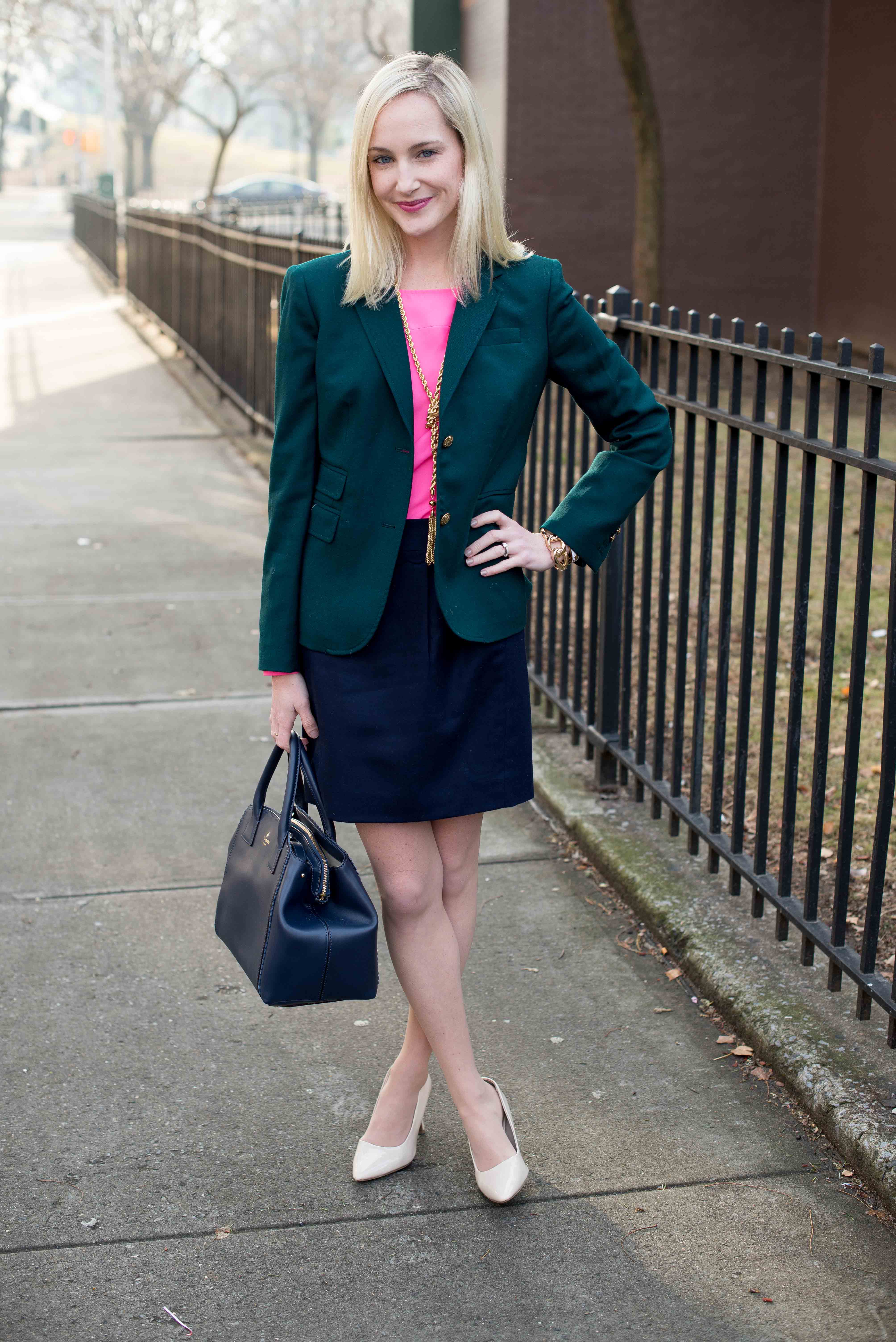 Blazer: J.Crew (Take an extra 40 percent off with code "FUNSALE") / Necklace: Benevolent Jewels (c/o) / Top: J.Crew Factory (Old), but I'm loving this adorable hot pink windowpane top! / Bracelets: Fornash (c/o) and Capwell + Co. (c/o) / Skirt: J.Crew (Sold out), identical copy here in navy, here in red, here in gray and here in maroon / Bag: Kate Spade, also loving this navy Kate Spade bag! (Obvi.) Find my bag here! / Pumps: Kenneth Cole / Watch: Michael Kors / Earrings: J.Crew / Lipstick: Clinique (in "Pudgy Peony")
Warning: [possible] spoiler alert for About Time. Also, please excuse the tiny down feathers all over my blazer!
So, Mitch and I had this really great date night planned for this evening. It was going to be perfect: pizza and a movie at home, a cocktail at the local pub, and then a long walk alongside the Hudson River. For the movie, Mitch's best friend, Shawn, suggested we watch 
About Time.
 (Which was really cute to me, as the film is from the creator of 
Notting Hill
and 
Love Actually
–two of my favorite movies–but not exactly up the boys' alleys. ;))
We're happily sitting there watching it, pizza on our laps (on plates), laughing (it was pretty funny), and I'm thinking, "Wow. I'm watching a feel-good movie with my adorable husband. Life doesn't get any better than this." And then something happens in the film, and I lose my sh*t. (Sorry, Grammie. And Mom. And all of Mom's friends.) It takes me something like 30 minutes to stop crying, too.
Needless to say, we never made it to the pub or the Hudson River.
It's not even like it was a particularly sad movie! I mean, yeah, it had its tear-jerker moment, but it wasn't The Notebook or anything. I would say that it was actually a rather good movie–funny, witty, uplifting–and I'd even go as far as to recommend it to my family and friends!
Movies don't usually get me like this, so I'm a little bit weirded out by my reaction. ;) (Maybe I just needed a good cry?) The last time I reacted similarly was back in 2007 when P.S. I Love You came out. (I was a hot mess for at least a week. I felt as though I'd had my own heart broken and chewed up and spit out. I think it had something to do with the guy's Irish accent.)
Luckily, Mitch was completely understanding about our "ruined" date night, haha. But make me feel better, as I'm still a little teary about that darn movie. (#truth) When was the last time you cried your eyes out over a film?!