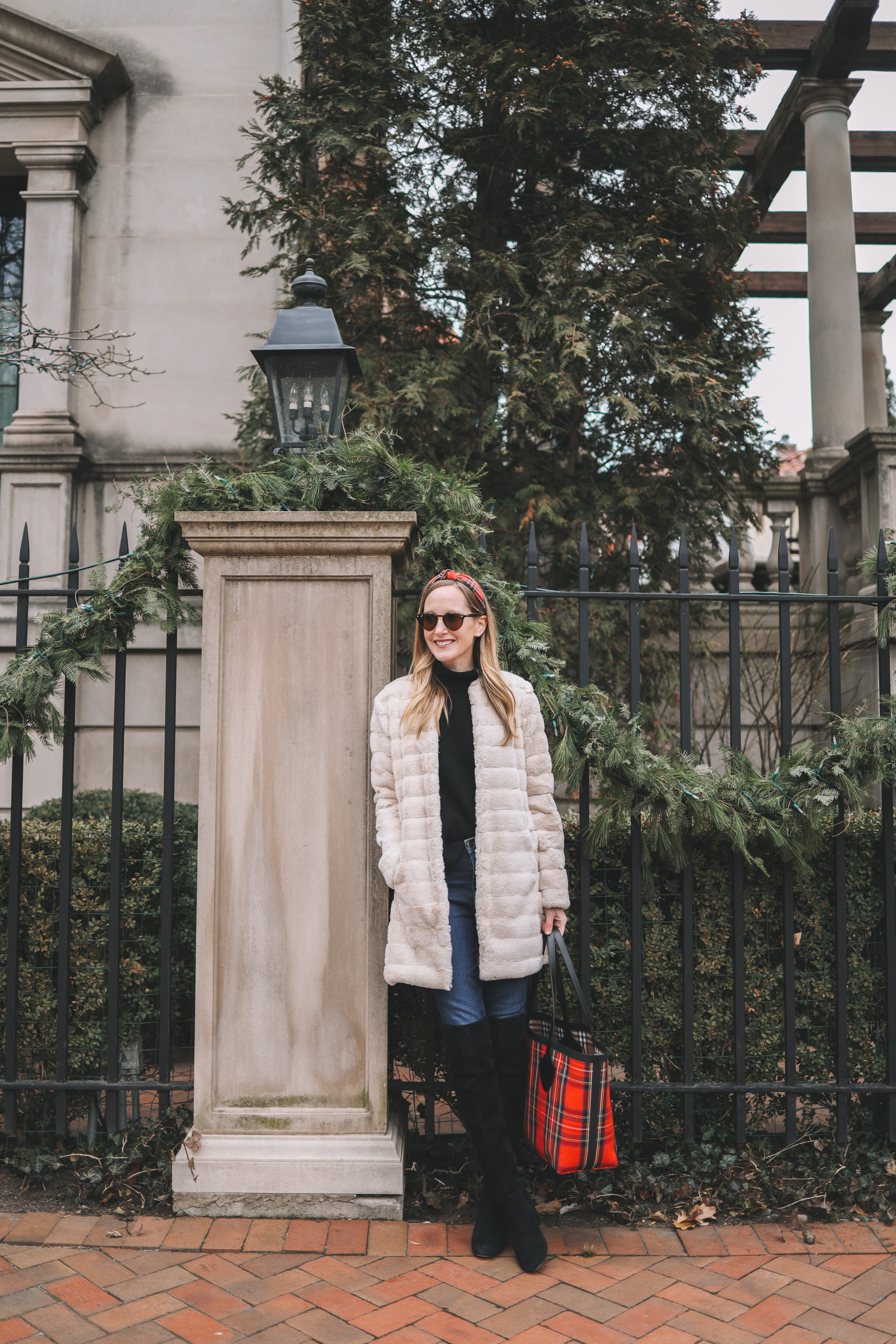 Faux Fur Coat (Available via Nordstrom, Shopbop, Zappos, Amazon and BB Dakota.) / Tartan Headband / High-Waisted Jeans (SO warm. Order one size down. This pair, however, is my all-time favorite pair of Madewell jeans.) / Newer Burberry Tote (Marketed as a diaper bag but just a tote. Looking for a great camel tote that won't break the bank? Try this one!) / Everlane Cashmere Square Turtleneck (I also have this one, which I ADORE. Here's the non-boxy version. Also try J.Crew's Super Soft Mock Neck Sweater. It's as amazing as people say it is!) / Newer Cole Haan Boots (Also love these, these. and these.) / Sunglasses
So this is awesome: I forgot to schedule my blog posts for the end of the year, haha. (#killinit) Sorry for going MIA for a while; currently publishing the content that should have gone up during the end of the season! 😂
~
This is my LAST holiday look! Whaaaaat?

I'll keep this short and sweet, but I've been searching for a faux fur jacket that doesn't swallow my small frame for a while now. And I finally found it! It's called the "Anything for you" Faux Fur Coat, and it's available via Nordstrom, Shopbop, Zappos, Amazon and BB Dakota.)
Style + Quality: Really good! For the price, I can't believe how soft it is. I also like that it's collarless, because that style, in my opinion, is far more flattering than the lapel look. It's also a great length. Works well with casual outfits but also with dresses and skirts. You can't see any buttons, making it look way more expensive than it is, and it has pockets. (Surprisingly a lot of faux fur coats I looked at didn't have 'em!)
Sizing: I would say that this coat runs TTS. I ordered both the XS and the Small, and decided to go with the XS because it looked a little more tailored and I don't plan on wearing bulkier tops and sweaters underneath. (For fear of looking like the Stay Puft Marshmallow Man.) But I think I could have gone with either!
Warmth: This is not a coat I would rely on to get me through a Chicago winter. (For that, I'm currently loving Everlane's Sleeping Bag Coat. Size down. It's huge.) But it's perfect for 40- and 50-degree temps, or for date nights when I'm not walking long distances outside and relying on Uber. ;) The perfect "dress coat," if you will! Fabulous for winter weddings.
xoxo!
Shop the post:
Faux Fur Coat (Available via Nordstrom, Shopbop, Zappos, Amazon and BB Dakota.) / Tartan Headband / High-Waisted Jeans (SO warm. Order one size down. This pair, however, is my all-time favorite pair of Madewell jeans.) / Newer Burberry Tote (Marketed as a diaper bag but just a tote. Looking for a great camel tote that won't break the bank? Try this one!) / Everlane Cashmere Square Turtleneck (I also have this one, which I ADORE. Here's the non-boxy version. Also try J.Crew's Super Soft Mock Neck Sweater. It's as amazing as people say it is!) / Newer Cole Haan Boots (Also love these, these. and these.) / Sunglasses