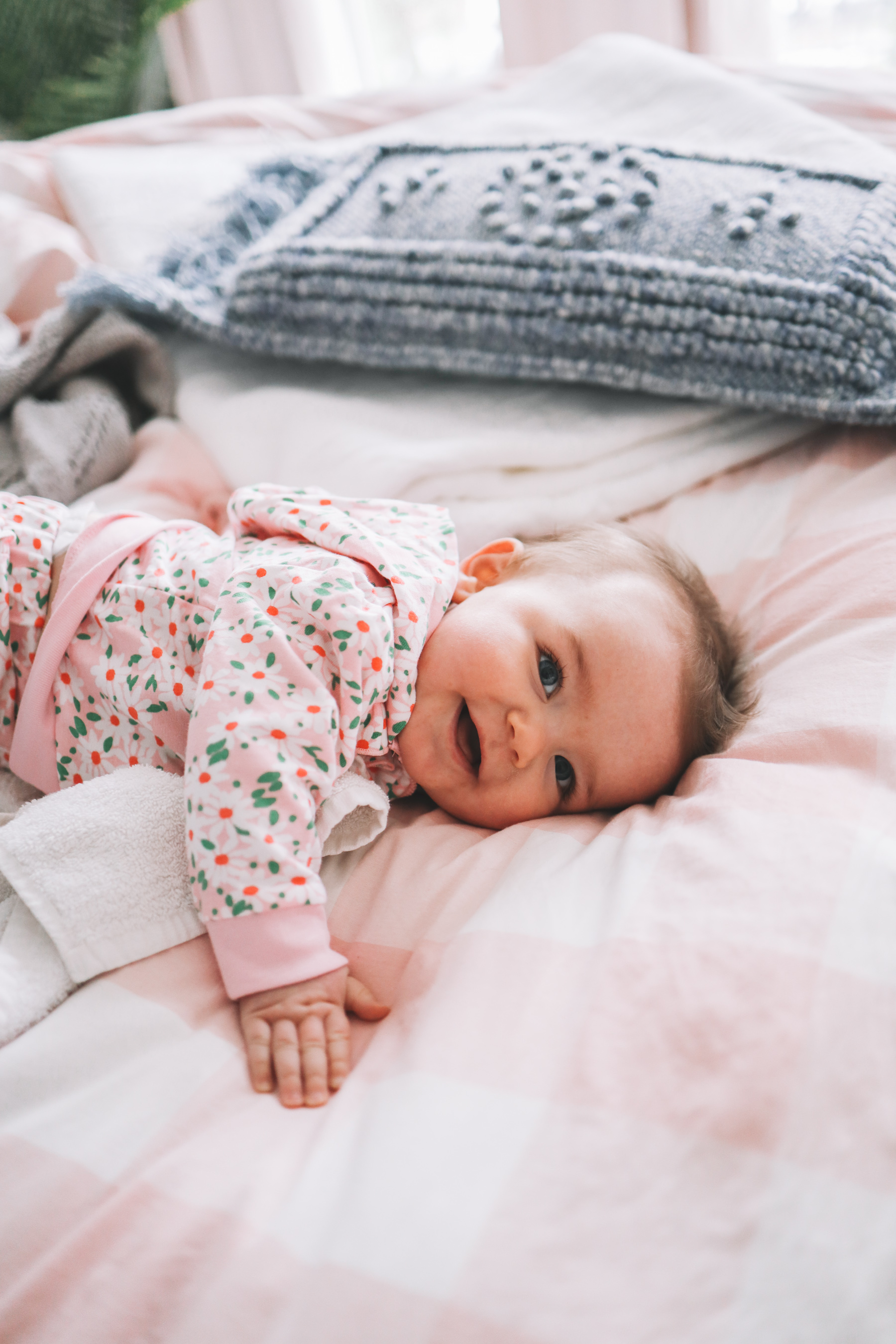 Ikea Gingham Bedding / Serena & Lily Blue Pillow / Similar Rattan Chair and Cushion / Brooke & Lou Wallpaper and Pillow / Serena & Lily Trunk / Pottery Barn Elephant (Newer here.) / Jellycat Ballerina Bunny / Similar Plush Mermaid / PBK Bow Curtains in Blush / Older Pottery Barn Rug (Newer here.) / Amazon Sheets / Canopy Bed / Chandelier / Euro Shams / Children's Place Outfit
Oh my goodness.
I took these photos over the weekend when Lucy was lovin' life. They're actually for an upcoming Instagram project, but I couldn't wait for my mom and grandma to see them… so here we are. 😂 (Hi Mom! Hi Grammie!)
Anyway, my heart is breaking a little because in three short months, Lucy is going to be turning one. How is that even possible?! I am SUCH a baby person, and the fact that she'll never again be a baby is a concept that's difficult for me to grasp. NEVER?! Sigh. Stay little, Luce.
That said, this age is so much fun. Lucy loves to play and spends most of her day laughing. (She's such a happy baby!) She's also in total adoration of her older sister, and their bond grows stronger every day. I can't wait until they can really play together. How lucky are they to have each other?!
And how lucky we are. ♥️
Also, HAPPY BIRTHDAY to my amazing cousin, Annie! Two years ago, Annie was fighting a tremendously big battle, and today, she's livin' life to its fullest out in San Francisco and CANCER-FREE! (Something else I'm feeling wonderfully lucky for today.) Love you, Anne!
Shop the post:
Ikea Gingham Bedding / Serena & Lily Blue Pillow / Similar Rattan Chair and Cushion / Brooke & Lou Wallpaper and Pillow / Serena & Lily Trunk / Pottery Barn Elephant (Newer here.) / Jellycat Ballerina Bunny / Similar Plush Mermaid / PBK Bow Curtains in Blush / Older Pottery Barn Rug (Newer here.) / Amazon Sheets / Canopy Bed / Chandelier / Euro Shams / Children's Place Outfit